Americans' Hunger for Summer Travel Roughly Matches Pre-Pandemic Norms, but They May Take Fewer Trips Than Usual
63% of U.S. adults said they traveled domestically at least once during an average pre-pandemic summer, about the same share planning to do so this summer
Key Takeaways
23% of Americans said they'll take multiple domestic trips this summer, compared to 31% who usually do.

16% are planning at least one trip outside of the country, compared to 21% who travel internationally at least once during an average summer.
Domestic travel in the United States is on track to come back in a big way this summer, with Americans -- and millennials, especially -- planning to fly, stay at hotels and embark on cruises in the coming months at a similar level as they did before the pandemic.
But there's a catch: People are likely to take fewer summer trips than usual this year as they get reacquainted with travel.
Sixty-four percent of U.S. adults said they're planning to travel within the country at least once between June and September, according to new Morning Consult polling, similar to the 63 percent who said they usually did so before the pandemic. 
That sentiment was largely observed along generational and income lines, with similar shares of younger and older adults and higher and lower earners each expecting to return to their pre-pandemic travel norms. The lone exception was Generation Z adults: Those youngest adults were slightly more likely than they were in previous years to say they're planning to travel within the United States. 
Americans do seem to be exercising some level of caution, just about a year after the initial wave of lockdowns in the country started to lift: 23 percent of adults said they plan to take more than one trip this summer, compared with 31 percent who said the same of typical summers past. 
Consumers are also a little more hesitant about international travel heading into the summer months. Sixteen percent said they're planning at least one trip outside of the country, compared with 21 percent who said they usually traveled internationally that often during the summers before the pandemic. 
The generational gap with regard to international travel is also larger than usual this summer. Generally speaking, younger generations tend to travel outside the United States more than their older peers. That divide is even bigger this summer: Gen Zers and millennials are roughly six times as likely as baby boomers to say they'll take at least one international trip. In previous years, they were only about twice as likely to do so.
Millennials especially seem undeterred from international travel, with the same share planning at least one trip out of the country this summer as the share who said they do so in an average summer.
Higher-income Americans also typically participate in international travel more so than those who earn less, but fewer people in the high-income bracket are planning to travel out of the country this summer than who typically did pre-pandemic, which could be contributing to the slower return to growth for international travel compared to domestic. 
However, that sentiment could have shifted over the course of the past month, as the Morning Consult survey was conducted before the European Union announced that it would open its borders to fully vaccinated travelers from certain countries.
Travelers are less wary of hotels, but not quite as eager to book overnight stays as they were before the pandemic.
More than half (55 percent) of U.S. adults are planning to stay at least one night at a hotel in the country this summer. The share who said they typically do so during the summer travel season is not much larger, at 59 percent. 
Millennials, again, are the generation most likely to visit hotels at least once over the course of an average summer and are just as likely to do so this summer as they normally would.
Consumers are more hesitant to book airline flights than they are to book overnight stays at U.S. hotels, but the share who intend to fly at least once this summer (34 percent) roughly matches the share who usually do (35 percent). 
Millennials were also more likely to be found on planes during a pre-pandemic summer than the general population and older generations, and that's not likely to change this summer.
Forty-six percent of millennials are planning to fly at least once from June to September, compared with 43 percent who said they traveled by plane that often during average past summers, suggesting that they could be driving the return to air travel in a significant way.
The appetite for cruises is flat compared to previous years, with 14 percent saying they took or plan to take a cruise in both instances.
While cruises have typically been associated with an older crowd, the survey found that millennials were the most reliable generational demographic: 21 percent of millennials said they took cruises during pre-pandemic summers and slightly more (24 percent) plan to do so this summer, both more than any other generation.
The pandemic may have scared off some of the older crowd: Only 4 percent of baby boomers said they plan to go on a cruise this year, compared with 9 percent who did so in a typical summer.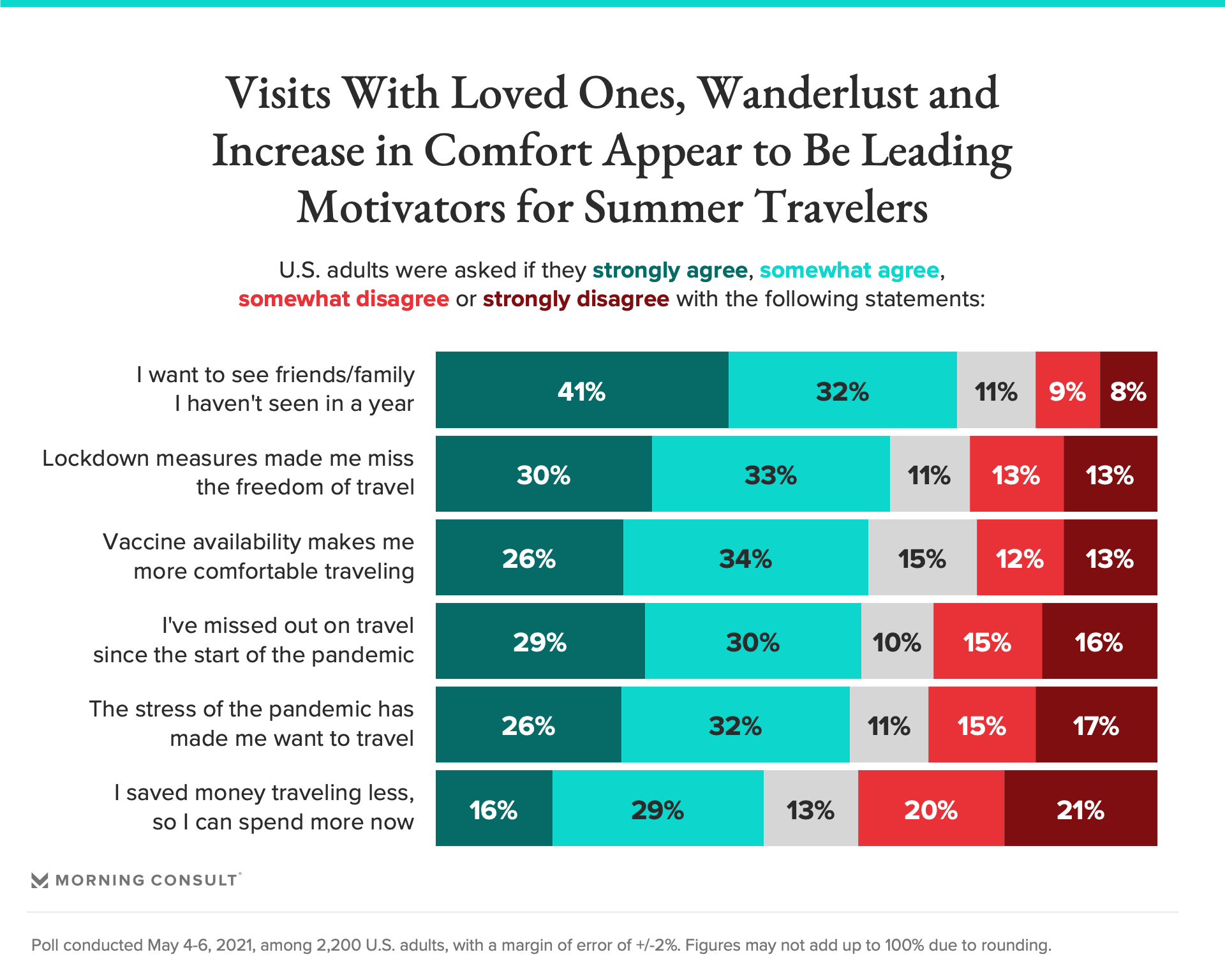 Desire to see friends and family, vaccine availability leading to an uptick in comfort, pandemic-related stress and the general feeling of having missed out on travel for the past year all seem to be motivating Americans to book trips this summer.
Alyssa Meyers previously worked at Morning Consult as a reporter covering brands and marketing.
We want to hear from you. Reach out to this author or your Morning Consult team with any questions or comments.
Contact Us