The Voters Republicans Miss by Sticking to Fox News
Republicans lose exposure to large shares of persuadable voters by avoiding other cable and broadcast networks, Morning Consult data shows
Key Takeaways
Roughly 2 in 5 voters who watch CNN and MSNBC — and even larger shares of the major broadcast networks audiences — are not Democrats.

RNC Chair Ronna McDaniel, who's among those tasked with setting the 2024 GOP debate schedule, wants to expand outreach to TV networks beyond Fox News, whose voting audience has grown to 50% Republican. 

Some Republicans also see opportunity to "performatively punch back" on mainstream outlets to fire up base.
For our latest coverage and data on the 2024 presidential Republican primary, sign up for our Washington newsletter.
Republicans have often found refuge on the comfortable airwaves of Fox News, whose audience has swayed more conservative in recent years as other cable networks have become more reliant on viewership from the left.
But some top Republicans believe the eschewal of what many of their elected officials refer to as "fake news" or "lamestream" media has missed an important chunk of potentially swayable voters who still tune into those cable and broadcast networks — an outlook that's supported by Morning Consult data. 
It raises a quandary for the Republican Party as it considers its posture toward American television media in 2024: Whether to lean into a messaging approach that appeals mostly to the conservative base, or to focus on trying to win back the kinds of moderate voters who've turned away from Republicans in recent election cycles.
Ronna McDaniel, chairwoman of the Republican National Committee, is urging her party to do both as she works to set the 2024 primary debate calendar, and as a growing list of candidates begin the fight for the nod to be the GOP's standard-bearer next year. 
"We haven't been exposed on those platforms enough," McDaniel said of the larger TV media landscape. "I think people are consuming news in totally different ways, where you're watching one channel and aren't getting any of the same news you're getting from a different channel. I think as a party, we have got to find a way to reach the broadest audience possible."
The voter demographics of major TV networks
Since early 2018, Morning Consult surveys have tracked Americans' self-reported usage of the major networks on cable news (CNN, MSNBC and Fox News) and broadcast (ABC, CBS and NBC). This data — collected from hundreds of thousands of responses over the course of the years — shows a polarization in the shares of voters who use the three major cable news networks at least a few times a week.
Party identification of U.S. voters who said they use each of the following networks at least a few times a week or more:
Surveys conducted daily throughout 2018-2022 and Jan. 1-31, 2023, among representative samples of registered voters.
For example, 57% of voters who frequently use CNN or MSNBC identify as Democrats, up from 50% in 2018. In terms of partisanship, it leaves their audiences slightly less balanced than Fox News, which has nonetheless seen its portion of Republican viewers grow during that period, from 45% to 50%. There's less division among the voting audiences of ABC, CBS and NBC, though Democratic voters make up the largest shares of all three. 
Some GOP operatives see the demographics of other major cable and broadcast networks as a ripe opportunity to reach more voters. As one prominent Republican official who recently reviewed this data concluded: Roughly 2 in 5 voters who watch CNN and MSNBC — and even larger shares of the major broadcast networks' audiences — are not Democrats, meaning there is a chunk of both the GOP's base and persuadable voters that Republicans who confine themselves to friendly airwaves miss.
Demographic profiles of U.S. voters who said they use each of the following networks at least a few times a week or more: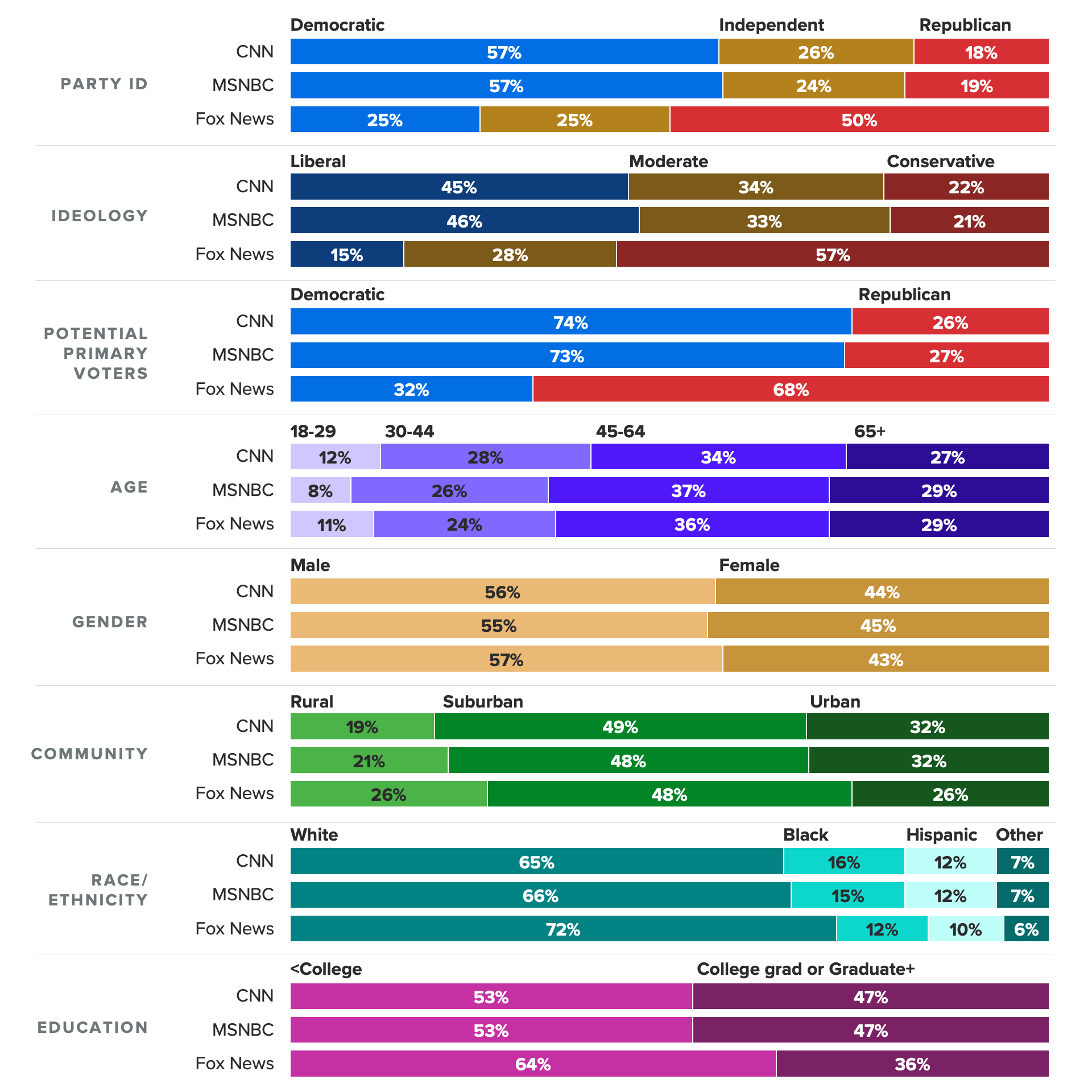 Surveys conducted Jan. 1-Jan. 31, 2023, among a representative sample of U.S. voters.
Indeed, survey data accumulated this year shows college-educated voters and moderates — key demographics for both parties — are least likely to tune in to Fox News. Educational polarization has helped fuel Democratic advances among white voters in recent years, hurting the GOP electorally, and moderates — though currently more likely to opt for President Joe Biden over potential Republican rivals when asked about the 2024 election — are gettable for the GOP, Morning Consult Political Intelligence tracking suggests.
Several strategists interviewed for this story pointed out the obvious: TV appearances are about more than TV audiences, given how political players and their rivals work to splatter hits across the internet. And that's underlined by survey data that shows large shares of voters do not tune in to any of the mainstream television networks.
Shares of U.S. voters who said they never use each of the following networks:
Surveys conducted Jan. 1-Jan. 31, 2023, among a representative sample of U.S. voters.
Roughly 3 in 5 voters don't use CNN or Fox News, and even more say the same of MSNBC, with expected partisan gaps. By comparison, just under half of voters tune out ABC, CBS or NBC.
How Republicans are thinking about media outreach for 2024
The network outreach question will officially come to a head when the RNC decides which channels to grant hosting rights for its 2024 presidential primary debates. Late last month, network heads and prominent anchors were on hand in Washington to make their pitches to an RNC panel leading the process. 
Republicans have traditionally spread their debates beyond Fox News: In 2016, just 3 of the 12 matchups went to the network (two others went to Fox Business Network), and since 2012, more went to CNN than Fox News, according to the American Presidency Project. Given the large audiences that primary debates attract, a larger concern for candidates is who will be at the moderating table, said David Kochel, a Republican who served in senior roles for the presidential campaigns of Mitt Romney's presidential campaigns in 2012 and for Jeb Bush in 2016. 
"The party, in being the sanctioning outfit, needs to be able to say to the candidates that they gave them all an opportunity to put their best foot forward," he said, urging the RNC to maintain influence over mainstream media moderator selections.
McDaniel, who said members of her debate panel have passed a resolution to stay neutral throughout the nominating process, said the RNC is working to have an ideologically aligned voice asking questions on each stage, starting with the first matchup of Republican contenders in Milwaukee in August.
"We want a conservative voice in every debate," she said, "but we also want to broaden our reach and work with partners outside just the Republican ecosystem."
But the question is larger than debates, and McDaniel hasn't been alone in trying to reach beyond that ecosystem. 
Rep. Byron Donalds, a Florida conservative, recently appeared on MSNBC with progressive host Joy Reid just ahead of prime time, and amid House Speaker Kevin McCarthy's dayslong floor fight to secure his post, dozens of GOP lawmakers fanned out across CNN's programing — an apparent reward of post-midterm outreach to Republicans on Capitol Hill by the network's top boss that's yet to yield an uptick in viewership among Republican voters, Morning Consult data suggests.
"I think everybody is always looking for a straightforward interview. We're not expecting easy, but fair but tough. I think we're hoping to see more of that on these platforms, because I don't think it's been that way," McDaniel said. During her TV appearances, she said, "I always think about who's that independent viewer I'm trying to reach."
This approach clashes with the tack often taken by the two top polling contenders for the GOP's 2024 presidential nomination — former President Donald Trump and Florida Gov. Ron DeSantis. Trump, who has seen an uptick in criticism on Fox News, has spent more time recently with lower-profile outlets, while DeSantis has flooded the network's airwaves and his office apparently blacklisted MSNBC and NBC. 
DeSantis has also embraced sparring with the mainstream press, releasing an advertisement in his gubernatorial campaign last year that portrayed himself as a fighter against the "corporate media." Kochel said other Republicans could try to mimic DeSantis' antagonistic approach, using appearances on those networks to take the fight to what a number of GOP voters see as the enemy.
Democratic strategist Kevin Walling, a former surrogate for Biden's 2020 campaign who serves as a frequent commentator on Fox News to defend his party and the president, said some Republicans are overly pugnacious, pointing to mainstream television appearances where lawmakers have portrayed the GOP as focused on oversight probes and other issues few Americans see as a priority.
But Kochel said competent messengers can "performatively punch back, which scores a lot of points in the Republican primary electorate" while also reaching wider audiences of potentially swayable voters — "as long as they are grounded in what the task is at hand." 
"Some of these bigger stages also offer an opportunity to make bigger mistakes," he said.
Eli Yokley is Morning Consult's U.S. politics analyst. Prior to his current role, Eli was Morning Consult's senior reporter covering U.S. politics. Eli joined Morning Consult in 2016 from Roll Call, where he reported on House and Senate campaigns after five years of covering state-level politics in the Show Me State while studying at the University of Missouri in Columbia, including contributions to The New York Times, Politico and The Daily Beast. Follow him on Twitter @eyokley. Interested in connecting with Eli to discuss his analysis or for a media engagement or speaking opportunity? Email [email protected].
We want to hear from you. Reach out to this author or your Morning Consult team with any questions or comments.
Contact Us