How Gen Z Is Impacting 2023 Holiday Shopping Trends
Retail & e-commerce analyst Claire Tassin finds that Gen Z is breaking trend this season — a rarity in holiday tracking — and pulling their shopping forward, with big implications for retailers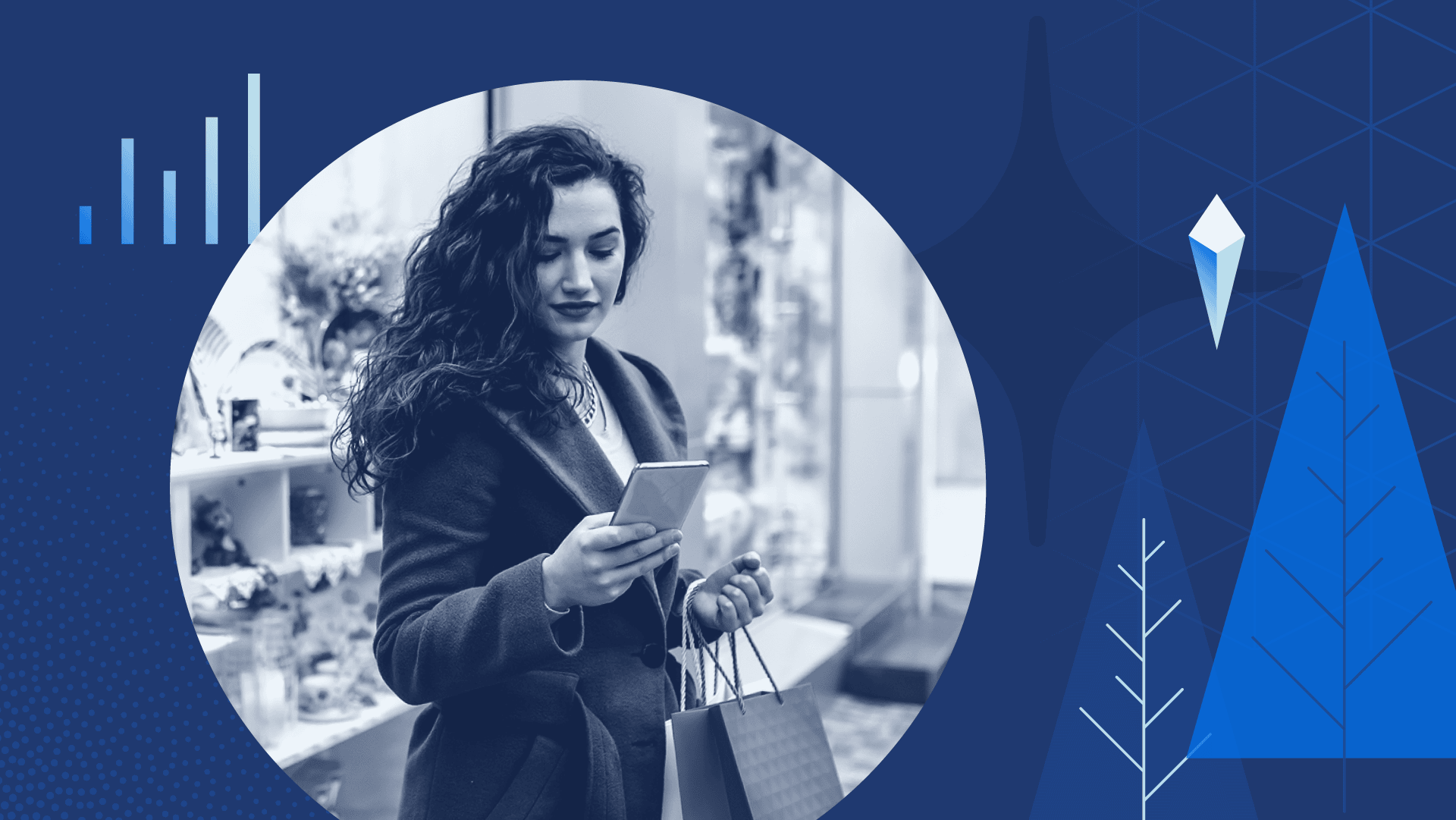 Key Takeaways
Far more Gen Zers have started their holiday shopping earlier this year than last year (34% versus 21%, respectively, who started before late August). This big behavior swing has also led to shifts in fulfillment channel usage for early orders.

Many analysts are hypothesizing that people are shopping earlier to take advantage of retail sales and spread out their holiday expenses. But our data indicates the opposite: Early shoppers are splurging, not saving.

Retailers planning for a discount-heavy holiday season should amplify their marketing on Gen Z-friendly channels early in the season. Whether Gen Zers can sustain this shopping pace is a separate question, but they're out in front early, and just might stay there.
Sign up for our retail alerts for updates on holiday shopping and consumer trends as December approaches.
If you're very quiet and listen very closely, you can hear it: Choirs are rehearsing, sleigh bells are jingling as they're getting a fresh polish and kids are hard at work on first drafts of their Christmas wish lists. The holiday season is nearly upon us. Those in retail have been immersed in holiday planning for a while already, but we've just reached the point in the year where we can begin to get reliable data from consumers about their plans for the upcoming season. As of late August, 26% of U.S. adults had kicked off their holiday shopping.
This year's season will look similar to last year's: Although overall inflation is moderating, consumers have been contending with sticky core inflation for over a year. Add in student loan payments resuming soon, and the 2023 season's key theme will be the challenge of affordability.
Here's what retailers can expect this year:
Some consumers are shopping earlier, but not because of financial stress
Conventional wisdom says that people are shopping earlier and earlier for the holidays to take advantage of sales and spread their spending out over more time. But this is not the case.
In surveys conducted 17 weeks before Christmas in 2022 and 2023, the share of consumers who said they had started their holiday shopping at that point in time was similar year over year, with just a 1 percentage point difference. But digging into the demographics reveals a more interesting trend: Gen Z adults were statistically significantly more likely to have pulled their shopping forward this year. Notably, those who said they'll have difficulty affording this holiday season did not.
Pulling Forward Holiday Shopping Reflects Financial Ease, Not Strain
Shares of consumers who began their holiday shopping at least 17 weeks before Christmas
Surveys conducted Aug. 27-28, 2022, and Aug. 25-27, 2023, among representative samples of 2,211 and 2,204 U.S. adults, respectively, with unweighted margins of error of +/-2 percentage points.
Editor's note: The label for the year-over-year change shown on the first chart has been updated to reflect that it is a percentage point change.
Rather than spreading out their spending or taking advantage of discounts to save money, those shopping earlier seem to have more discretionary income to shop for fun and splurge, despite ongoing sticker shock at stores. Sure, Gen Zers could be getting ahead of student loan payments resuming, but they're hardly the only generation burdened by education debt. Sales are effective at grabbing shoppers' attention (and dollars), but people aren't necessarily shopping these sales explicitly to save money. For example, during Amazon's Prime Day promotion in July, Gen Zers and high-income individuals took advantage of the sale specifically for winter holiday shopping at higher rates than their counterparts. And 62% of Gen Z adults also plan to shop Black Friday sales, a higher share than for any other generation. These sales are good motivation for spontaneous shopping and self-gifting.
Specific demographics at scale: Surveying thousands of consumers around the world every day powers our ability to examine and analyze perceptions and habits of more specific demographics at scale, like those featured here.
Why it matters: Leaders need a better understanding of their audiences when making key decisions. Our comprehensive approach to understanding audience profiles complements the "who" of demographics and the "what" of behavioral data with critical insights and analysis on the "why."
When asked when they'll start shopping, a majority of those who have not yet started said they'll begin in November, similar to respondents' forecasts last year. Currently, those who can and cannot afford this year's holiday gifts and celebrations say they'll do most of their shopping on similar timelines — but retailers should recall that last year, those who reported having trouble affording their holiday shopping dragged their heels and delayed shopping until the last minute.
Early shoppers are taking advantage of omnichannel fulfillment services at higher rates
Gen Z's behavior changes this season are reflected in the share of US. adults using omnichannel fulfillment options. While in-store shopping and having online orders shipped to home are consistent with 2022 rates, use of other fulfillment options has picked up significantly from last year.
Early Holiday Shoppers Are Making More Use of Omnichannel Fulfillment
Share of early holiday shoppers who said they used each type of order fulfillment
Surveys conducted Aug. 27-28, 2022, and Aug. 25-27, 2023, among samples of 555 and 580 U.S. adults, respectively, who reported having already started their holiday shopping, with unweighted margins of error of +/-4 percentage points.
This trend appears to be unique to holiday shopping: Use rates of these services have remained relatively steady over the last year. Still, as retailers are introducing more shipping and return fees, or raising the spending threshold for free shipping, in-store and curbside pickup orders may be more appealing and offer more instant gratification if they can be fulfilled more quickly than a shipment can arrive. The three most notable July sale events — Prime Day, Walmart+ Week and Target Circle Week — emphasized the value of these retailers' membership programs and accompanying apps.
Across the 2022 holiday season, use rates of online and mobile app ordering increased from August to December, and it's reasonable to expect the same trend this year. Retailers should be evaluating their individual BOPIS ("buy online, pick up in store") trends and planning how they'll accommodate increased traffic for in-store and curbside pickup this year.
Consumers forecast nearly identical spending to 2022, and gifts remain the priority 
Though it's always difficult to accurately gauge future behavior, more than half of shoppers (54%) expect to spend the same on the holidays this year as they did last year, and forecasts for both gift spending and total spending are nearly identical to 2022 as well. Last year, those who spent more than they intended leaned on "buy now, pay later" loans to stretch their budgets. BNPL was a popular offering during this summer's Prime Day sale, and it will likely continue to be so across the winter holidays once again. BNPL loans often have 0% interest, which is extremely compelling when credit card interest rates are soaring.
While spending predictions right now can only offer directional guidance for retailers, understanding the priorities for that spending can be more illuminating. Across the course of the 2022 holiday season, those who said they couldn't afford their holiday shopping decreased their prioritization of gifts, clothing and celebrations. Inflation, interest rates and the labor environment across the 2023 season will help determine if the same trend occurs this year, but for now we can look to differences in prioritization across segments to watch this year — namely, Gen Z adults versus the general population, and those who can and cannot afford their anticipated holiday expenses.
Gifts Are the Top Holiday Spending Priority
Net priority* for the following holiday spending categories:
*Net priority is the share who said each category was "a top priority" or "an important but lower priority" minus the share who said "not too important a priority" or "not a priority."
Survey conducted Aug. 25-27, 2023, among a representative sample of 2,204 U.S. adults, with an unweighted margin of error of +/-2 percentage points.
Gen Z's prioritization of apparel and deprioritization of alcohol stand out relative to the general population, and both trends are consistent with the former group's year-round behavior. Gifts are universally important, but celebrations are less so for those who can't afford all holiday expenses.
It's only September, and things will surely change between now and December. Morning Consult will be tracking consumer behavior throughout the season to keep you updated on how these projections evolve. 
Claire Tassin is the lead retail & e-commerce analyst on the Industry Intelligence team, where she conducts research, authors analyst notes and advises leaders in the retail & e-commerce industry on how to apply insights to make better business decisions. Before joining Morning Consult, Claire was an analyst at Gartner, where she conducted research on shifting consumer behaviors and expectations, as well as trends and technology relevant to marketing leaders in the retail sector. She graduated from Washington University in St. Louis with a bachelor's degree in psychology. For speaking opportunities and booking requests, please email [email protected].
We want to hear from you. Reach out to this author or your Morning Consult team with any questions or comments.
Contact Us