4 Lessons for Retailers Planning Their 2023 Holiday Strategies
Retail and e-commerce analyst Claire Tassin examines what last year's holiday season data tells us about what's to come in 2023
Key Takeaways
Last year, inflation hit holiday shoppers hard, with 19% saying they went over their budget for the 2022 holiday season.

This year, consumers will continue to spend, but savings are dwindling and debts are growing; we expect more shoppers to feel the financial pinch as the 2023 holiday season draws nearer.

With economic pressure mounting, retailers should take a look at how it changes consumer behavior around the holidays as they plan 2023 promotions.
For more data and insights on how inflation and financial anxiety impact consumers' holiday plans, download our 2022 holiday report.
When retailers were building out their holiday shopping strategies around this time last year, shoppers were fighting inflated grocery bills and decades-high gas prices. A year later, while things have improved, economic uncertainty is still dominating media coverage and impacting shoppers' wallets. As retailers begin planning their 2023 holiday strategies, looking backward at Morning Consult's 2022 holiday season data can help us read the tea leaves for 2023 — namely, how did inflation's financial pressure shift consumer behavior? Fears of a recession consistently make headlines, layoffs are spreading and interest rate pressure continues as consumers rack up debt.
Despite all this, consumer confidence is on the upswing, and people are still shopping. While we hope that the elusive soft landing is realized and consumption continues unabated, retail planning should encompass scenarios where spending hits a breaking point. While we can't gaze into a crystal ball, we can look at high-frequency data: Read on for four lessons retailers can learn from how consumers shopped last year.
Lesson #1: Retailers should combat consumers holding out for deeper discounts with price adjustment offers
As the 2022 holiday season progressed, inflation weighed on shoppers' plans. Early on in the season, consumers were predicting that their shopping timelines would be virtually unchanged from 2021. By mid-December, however, the share saying they have yet to start their holiday shopping had grown by 3 percentage points from the previous year, showing some shoppers were holding back and starting later than they anticipated at the start of the season.
Inventory gluts in the preceding months led retailers to offer aggressive discounts, teaching shoppers that a better deal could be just around the corner. Economic forces led to delayed shopping: Roughly 1 in 5 people who said they couldn't afford their holiday expenses hadn't started shopping by mid-December 2022, compared with nearly 1 in 10 of those who did not share that concern.
Respondents indicated how much of their holiday shopping they had completed as of mid-December
Surveys conducted Dec. 16-19, 2021, and Dec. 16-18, 2022, among representative samples of at least 2,200 U.S. adults each, with unweighted margins of error of +/-2 percentage points. Shares that said they were not planning to buy holiday items are not shown.
What it means: Retailers should be offering price adjustments throughout the upcoming holiday season to help reassure shoppers that they'll get the best deal possible no matter when they buy. This will encourage people not to wait until the last minute to shop — or worse, not to shop at all.
Lesson #2: Shoppers will chase Black Friday deals all season long
Black Friday and its associated sales continue to be popular: In 2022, more than 2 in 5 U.S. adults (43%) shopped on Black Friday, and 38% shopped on Cyber Monday. Financially anxious shoppers were more likely to shop on Black Friday than the unanxious (46% versus 37%), and were also more likely to plan their shopping strategy ahead of time (57% versus 48%). This data suggests retailers that get deals in front of consumers early are likely to get a spot on their holiday shopping list. Still, it's the holidays that inspire impulse shopping, which is why those earning less than $50,000 annually are less likely to participate in the buying bonanza.
A majority of shoppers believe Black Friday sales begin before Black Friday: Just 28% said they start the day after Thanksgiving. Considering that some brands (we're looking at you, Target) had Black Friday banners on their sites in October, this isn't surprising. The term has become more of a catchall for holiday season sales.
When Black Friday sales begin, according to consumers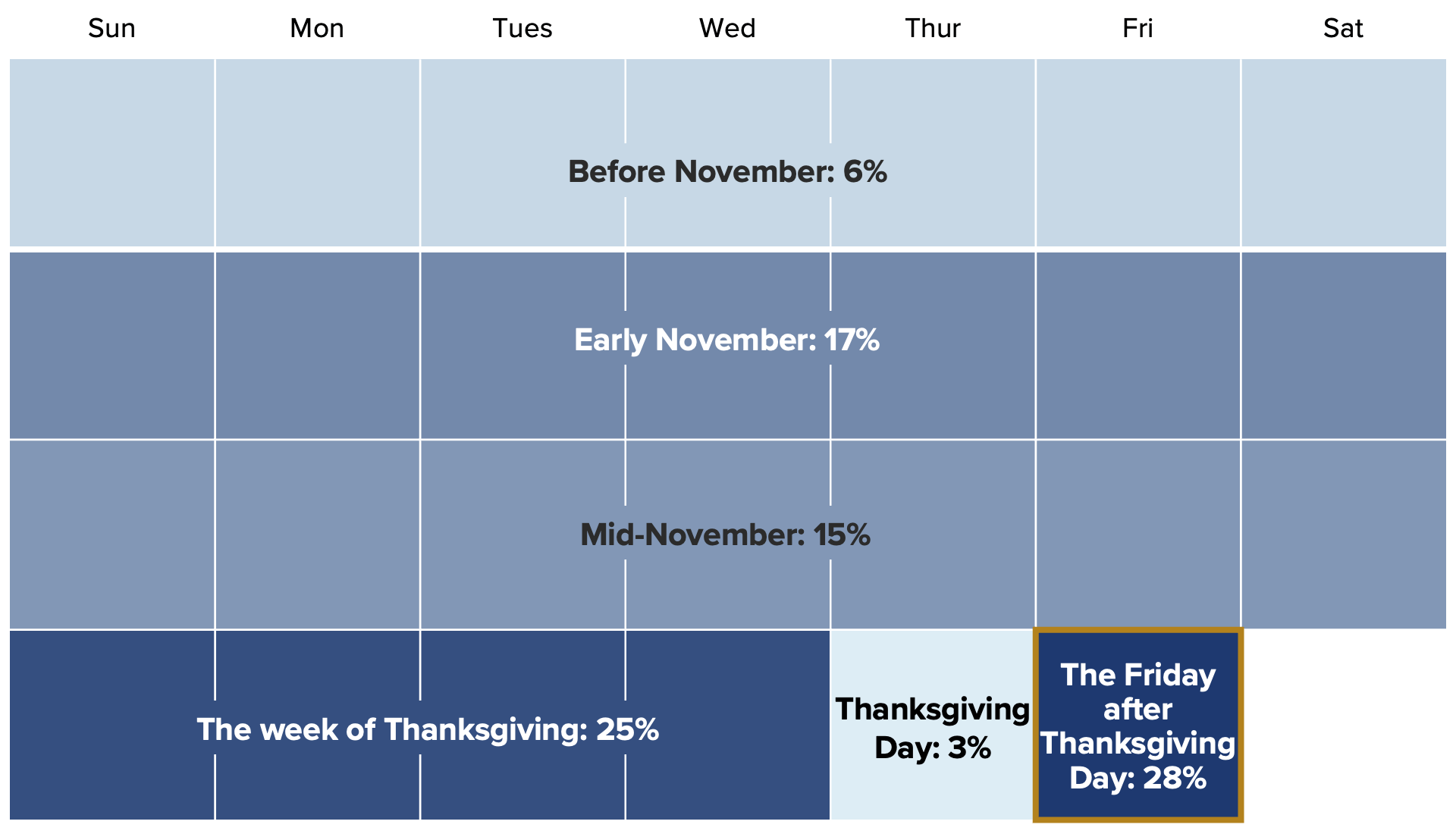 Survey conducted Nov. 29-Dec. 1, 2022, among a representative sample of 2,212 U.S. adults, with an unweighted margin of error of +/-2 percentage points. Share that said "Don't know/No opinion" not shown.
Two-thirds of Black Friday shoppers prefer to get their deals online. The early morning rush of years past has given way to the comfort of shopping from home. This also gives nonessential stores permission to stay closed on Thanksgiving Day: 58% of consumers said they support the stores they shop from closing for the November holiday.
What it means: Retailers planning their 2023 calendar should use Black Friday language to signal the most aggressive discounts available for the season and avoid oversaturation. Two in 5 U.S. adults (41%) believe the discounts found during Black Friday sales are unique to the holiday, but one-third of shoppers believe they're similar to other sales throughout the year. Continued overuse of the phrase will dilute its importance.
Lesson #3: With buy now, pay later expanding its audience, retailers should promote their appealing interest rates
Nearly 1 in 5 consumers went over their holiday shopping budget in 2022, with that figure rising to 27% for financially anxious consumers. Some shoppers eventually accepted inflated prices and spent more than they planned. So how did they afford all that shopping? Last season, financially anxious shoppers were particularly open to using BNPL to spread out payments for their holiday purchases.
In January, shoppers going over budget used BNPL at double the rate of the general population, though their credit card usage was more similar. BNPL is effective at encouraging shoppers to make a purchase that's out of their price range, but retailers promoting such services risk being perceived as predatory. Rather, in a high interest rate environment, BNPL is a better option than high-interest credit cards for consumers who need to stretch their cash flow over a few months. An installment loan at 0% interest should be vastly more appealing than using a credit card.
Share of shoppers who used credit cards and BNPL to pay for holiday gifts
Survey conducted Jan. 7-9, 2023, among a representative sample of 1,732 U.S. adults, with an unweighted margin of error of +/-2 percentage points.
Roughly 2 in 5 of those who said they used BNPL to make purchases over the holidays (42%) said it was their first time using the service, and 15% of consumers, including 31% of Gen Z adults, prioritized shopping at stores that offered BNPL as a way to pay for purchases.
What it means: When used within reason, BNPL services are helpful for shoppers and can make retailers more attractive. As the audience for BNPL usage expanded over the course of the 2022 holiday season, and with the launch of Apple Pay Later slated for this year, the BNPL user base will continue to grow. BNPL is widely embedded in e-commerce shopping carts, but it isn't regularly promoted at the cash register in stores. Apple Pay Later's mobile wallet integration shows promise to move the needle on in-store usage.
Lesson #4: Financial pressure dings prioritization of gifts and celebrations
As financial pressure mounted throughout the 2022 holiday season, shoppers struggling to keep up with inflation had to shift their priorities. Those who worried about their bank accounts deprioritized apparel, gifts and celebrations at the end of the season as the reality of inflation hit home.
Shares who said they consider each of the following holiday purchasing categories a priority:
Surveys conducted Aug. 27-28, 2022, and Dec. 16-18, 2022, among samples of 719 to 1,462 U.S. adults who said they could or could not afford the indicated holiday expenses, with unweighted margins of error of up to +/-4 percentage points. Shares that said they were not planning to buy holiday items are not shown.
Alcohol's slight uptick in importance can be attributed to the proximity to the holiday, as food & beverage purchases are typically made closer to the occasion. It's also more affordable relative to other categories represented here. The decline in the prioritization of travel across the board is largely due to the fact that most people who are planning to travel have made their bookings by mid-December, meaning the money has already been spent.
What it means: Consumers will continue trading down to cheaper options, or in some cases delaying purchases all together. This year, highlighting budget-friendly deals early and often can help retailers capture holiday shoppers' share of wallet, as some retailers are already doing for Easter promotions.
Claire Tassin is the lead retail & e-commerce analyst on the Industry Intelligence team, where she conducts research, authors analyst notes and advises leaders in the retail & e-commerce industry on how to apply insights to make better business decisions. Before joining Morning Consult, Claire was an analyst at Gartner, where she conducted research on shifting consumer behaviors and expectations, as well as trends and technology relevant to marketing leaders in the retail sector. She graduated from Washington University in St. Louis with a bachelor's degree in psychology. For speaking opportunities and booking requests, please email [email protected].
We want to hear from you. Reach out to this author or your Morning Consult team with any questions or comments.
Contact Us