To Build Consumer Trust, Airlines Must Get Back to the Basics
Safety and certainty of service are most closely connected with consumer trust in airlines, writes travel & hospitality analyst Lindsey Roeschke
Key Takeaways
Feeling safe while flying is the top driver of trust in airlines.

While travel volume is on the rise, trust in airlines remains stagnant.

Airlines can build trust with travelers by focusing on the basics of safety and certainty during the busy holiday season.
2023 has been a fantastic year for air travel. Bookings are up, more Americans are taking to the skies, and carriers are reporting near-record profits. But the surge in travel has not translated to growing consumer trust in airlines. In other categories, a lack of trust may result in decreased consumer intent and purchasing, but that's not true in air travel, which is mostly due to lack of choice — for consumers hoping to travel a long distance, it's often a flight or nothing. 
This raises long-term issues: If customers only book with a brand because they have no other choice, that brand is poorly positioned to fend off any future competition. But it also creates immediate concerns. Travelers who don't trust airlines are less likely to give carriers the benefit of the doubt if something goes wrong during their trip, resulting in frustration, complaints to customer service and perhaps even an angry social media rant that threatens to dent brand image. As travel volume heats up over the busy holiday season, airlines must understand what drives trust.
Travel Volume Is Up, but Trust in Airlines Is Not
Share of U.S. adults who said they did the following in the past month: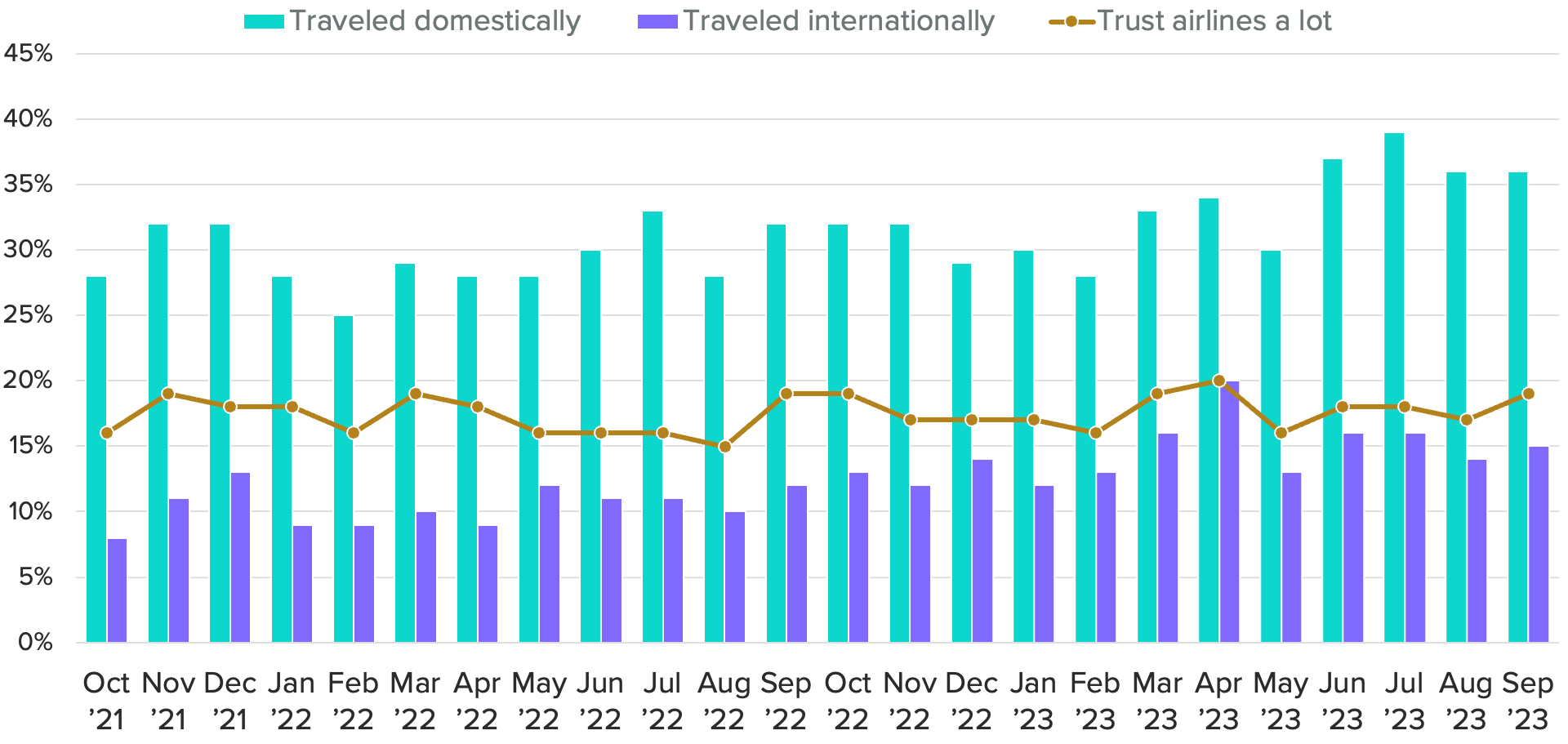 Surveys conducted monthly from October 2021 to October 2023 among representative samples of roughly 2,200 U.S. adults each, with unweighted margins of error of +/-2 percentage points.
To identify the elements of travel most correlated with trust in airlines, Morning Consult conducted a drivers analysis using a dual-model regression-based method, which quantifies the importance of a series of predictor variables (the elements of travel) in determining an outcome variable (trust in airlines). We then created a ranking that illustrates how important each element of travel is in predicting airline trust, both among the general public and key demographic groups.
Airline trust among the general population is driven by the basics
Among U.S. adults as a whole, the top three elements of travel that are predictive of trust in airlines are related to safety and certainty of service — in other words, the fundamentals of air travel. U.S. adults who agreed with the statements "I feel safe while traveling on airplanes" and "I feel I can remain healthy while traveling on airplanes" were among the most likely to say they trust airlines. Fortunately, consumers were more likely than not to agree that they feel safe on airplanes, but only 22% said they "strongly agree."
Feeling Safe in Flight Is the Top Predictor of Airline Trust
Ranked impact of the following elements of travel on consumer trust in airlines, categorized by type of element:
Survey conducted Sept. 23-24, 2023, among a representative sample of 2,207 U.S. adults.
What's not as closely connected with consumer trust in airlines? The extras that one may experience in air travel, such as upgrades and amenities. And, perhaps surprisingly, loyalty — both transactional and attitudinal — did not exhibit a particularly strong relationship with trust.
That's not to say that airlines should put their loyalty programs on the back burner. But to build trust with the flying public, carriers should be more focused on getting back to the basics. Ensuring that operational efficiencies are at the fore is one way of doing so, which is where one major U.S. carrier is focusing. United Airlines recently announced that it would be changing its approach to boarding in an effort to save time and hopefully result in more on-time departures. While many of the factors that contribute to delayed and canceled flights are beyond airlines' control, this move by United could help address the public trust gap in a proactive way.
In-flight experiences are stronger drivers of trust than elements of the purchase journey
The ranking of trust predictors can be parsed any number of ways. Another way of thinking about the list is by what phase of the travel journey each statement applies to. Overwhelmingly, the elements most closely associated with trust relate to the in-flight experience. While a few elements of flying are at the bottom of the list, the top three drivers are all related to the onboard experience. This is perhaps unsurprising — it's the time when travelers are most closely interacting with the brand — but it's also illuminating that search, booking and service considerations land further down the list.
Trust Is More Closely Associated With In-Flight Experience Than the Path to Purchase
Ranked impact of the following elements of travel on consumer trust in airlines, categorized by phase of the travel experience:
Survey conducted Sept. 23-24, 2023, among a representative sample of 2,207 U.S. adults.
Access to good customer service and ideal flight schedules, as well as affordability and flexibility, land in the middle when ranking indicators of trust. But among these path-to-purchase considerations, customer service is the one most closely associated with trust. This, perhaps, is where airlines have the most room to grow — often stories of delayed and canceled flights involve angry passengers waiting on hold or in long lines for help from the airline, which can exacerbate the frustration that comes with disrupted travel plans. Strong customer service can complement a positive in-flight experience to drive trust with customers.
Securing trust among frequent travelers requires a positive pre-flight experience
When airlines think about their key audiences, they often focus on frequent travelers, defined as those who take three or more trips annually. This group is more likely to trust airlines — 36% of frequent leisure travelers and 43% of frequent business travelers said they trust airlines "a lot," compared with just 19% of U.S. consumers as a whole. But carriers must not take this heightened trust for granted and should continue to deliver on the unique drivers of trust for these cohorts.
For both frequent leisure and business travelers, elements of search and booking are more closely associated with trust than they are for the general public. For example, "I can easily book trips for where and when I need them" is the No. 1 airline trust driver for both frequent leisure and business travelers, but it ranks No. 8 among the general population. Perhaps this speaks to the fact that taking more trips equates to more time spent in the travel purchase journey, making those experiences more potent in frequent travelers' memories. It also means that airlines must aim to create a seamless path to purchase for the most frequent travelers to encourage repeat bookings among those most likely to take trips often.
For Frequent Travelers, Trust Is More Closely Connected to the Path to Purchase
Ranked impact of the following elements of travel on frequent leisure and business travelers' trust in airlines:
Survey conducted Sept. 23-24, 2023, among a representative sample of 2,207 U.S. adults, including 287 frequent leisure travelers and 208 frequent business travelers.
One notable difference between the two groups is the role of loyalty in the path to purchase. Specifically, the ability to redeem reward points for flights and amenities is a stronger driver of trust among frequent business travelers, suggesting that despite the overall shifts in business travel volume and behaviors, loyalty programs and rewards redemption remain an important avenue to build relationships with this essential audience.
Lindsey Roeschke is the lead travel & hospitality analyst on the Industry Intelligence team, where she conducts research, authors analyst notes and advises leaders in the travel & hospitality industry on how to apply insights to make better business decisions. Before joining Morning Consult, she served as a director of consumer and culture analysis at Gartner and spent more than a decade working at advertising agencies across three continents. Lindsey graduated from the University of Delaware with a bachelor's degree in communications and holds a master's degree in strategic communications from Villanova University. For speaking opportunities and booking requests, please email [email protected].
We want to hear from you. Reach out to this author or your Morning Consult team with any questions or comments.
Contact Us