Brand Boycotts Are Declining as Inflation Pressures Shoppers
Retail & e-commerce analyst Claire Tassin examines trends in consumers' prioritization of brand values while facing inflationary pressure
Key Takeaways
21% of consumers say they've boycotted a brand for political reasons, a 10 percentage point drop from 2021.

Inflation-driven economic pressures are largely responsible for this shift: Consumers now have less flexibility in their budgets to shop according to their values.

Messaging about environmental, social and governance practices is less relevant to shoppers when their budgets are squeezed, but consumers will still punish brands that cross ethical lines.
Sign up to get the latest global brand, media and marketing news and analysis delivered to your inbox every morning.
2020 saw many brands speaking out in support of racial justice protests after George Floyd's murder. At the same time, consumers were paying attention to how brands were treating their employees amid pandemic lockdowns. In 2021, shoppers were generally supportive of brands speaking out on social and political issues. Now, many of those same brands are staying mum after tragedies and court decisions. So are consumers: In 2023, fewer shoppers are aligning their spending with brands that share their values.
The disruption of pandemic lockdowns meant that all eyes were on the broad issues impacting most Americans at the same time. Since then, people's lives have largely returned to normal, with all the distractions that come with it. Economic pressure from inflation also means consumers can't necessarily afford to shop from all the brands they'd like to support, or might abandon a preferred product for one that's more expensive if their go-to goes against their beliefs.
Shoppers are less willing to boycott — and buycott — brands
Since early 2021, Morning Consult has tracked consumers' decisions to boycott a company based on its political statements, as well as to "buycott" — meaning to shop from a company specifically because of a political stance it has taken. These shopping behaviors peaked in May 2021, when 31% of U.S. consumers said they had boycotted a company and 27% had buycotted. That survey was conducted a month after former police officer Derek Chauvin was found guilty of murdering George Floyd, resurfacing headlines that sparked a summer of nationwide protests and brand statements a year prior. 2022 was a year of decline in consumers making shopping decisions based on brands' political actions, and as of early 2023, the boycott and buycott numbers sit at 21% and 20%, respectively.
This leveling off coincides with shifts in consumer spending after a period of heightened inflation: When prices are higher, shoppers are less willing to prioritize their values when making purchases.
Share of consumers who say they have boycotted a company for political reasons in the last year, or spent money to support a company because of a political stance it has taken
Survey conducted February 2021 to February 2023 among a minimum representative sample of 2,198 U.S. adults, with an unweighted margin of error of +/-2 percentage points.
The share of U.S. adults who reported making a purchase based on shared brand values within the past month fell from 73% in February 2022 to 66% in February 2023. Different shopper values have different degrees of staying power: Consumers' willingness to shop based on brand management practices, like supporting small businesses, and environmental values have declined or stayed flat over the last year. Religious alignment has increased in importance to consumers, though it's still the least important attribute tested in this study.
Share of U.S. adults who said they purchased something from a brand in the last month for the following reasons:
Surveys conducted Feb. 25-27, 2022, and Feb. 24-26, 2023, among representative samples of 2,200 and 2,206 U.S. adults, respectively, with unweighted margins of error of +/-2 percentage points.
Worker treatment was top of mind in 2020 as businesses varied in the pandemic precautions and support offered to their employees, but that consideration has fallen 10 points in consumers' minds in just the last year. While shoppers' prioritization of environmental, social and governance issues has fallen over time, attention to price and product value has remained dominant in consumers' mindsets. Inflation has fallen from its peak, but consumer price index trends suggest heightened inflation will be with us for some time and will continue to push brand values down on consumers' priority list.
Bigger budgets allow wealthier consumers to shop according to their values
Different consumer cohorts place different weights on brand values when it comes to their decision-making. Income and education are important predictors of the likelihood that someone will boycott a brand, based on a dual-model regression analysis. High-income shoppers (those earning at least $100,000 annually) are more likely than those with lower incomes to boycott and buycott companies. Less financial pressure means that wealthier individuals can be more selective in the brands they shop from, and can vote with their dollars. Those with college and postgraduate degrees are also more willing to boycott and buycott based on brands' political values. Of course, it stands to reason that higher educational attainment is associated with higher income.
The demographic makeup of U.S. adults who say they've boycotted a retailer because of its political stance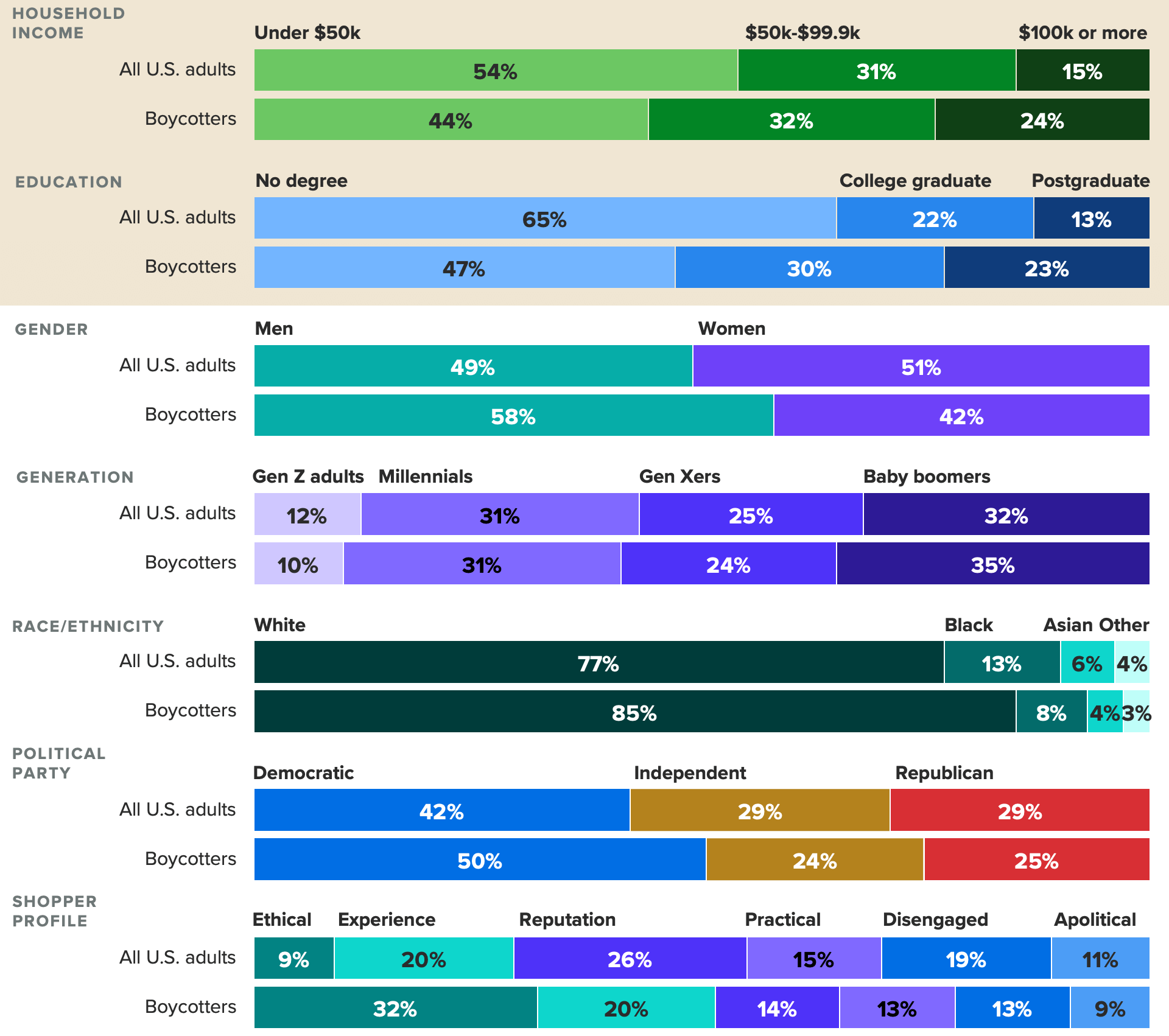 Survey conducted Feb. 24-26, 2023, among a representative sample of 2,206 U.S. adults, including 473 self-identified brand boycotters, with an unweighted margin of error of +/-2 percentage points. Figures may not add up to 100% due to rounding.
Morning Consult's shopper profiles, which represent shoppers' attitudes and behaviors regarding corporate ESG efforts, show that ethical shoppers make up 32% of brand boycotters despite representing just 9% of the general population. This makes sense given that ethical shoppers tend to pay a lot of attention to corporate actions and adjust their spending and brand loyalty accordingly, behaviors they've demonstrated consistently over time. Ethical shoppers also tend to be liberal and wealthy, corresponding to other demographic trends in shoppers' likelihood of boycotting brands. Conversely, reputation shoppers are likely to say that they want the brands they shop from to be a force for societal good but are much less likely than ethical shoppers to actually follow through with their spending.
The decline in consumers' willingness to shop based on their values is not universal: Across income groups, the largest declines since 2021's peak in willingness to boycott or buycott came from middle-income adults (those earning $50k-$99.9k annually), as financial pressure mounted with rising inflation. Millennials — a generation with low financial well-being — also saw a decline in these behaviors. Willingness to boycott is a lagging indicator: It took months of sustained heightened inflation before there was a meaningful downward shift in consumers' boycott behavior, so brands should not expect consumers to immediately begin shopping based on their values again as inflation cools. In fact, a downward trend in financial well-being among high-income individuals could signal that their willingness to spend a bit more in order to feel good about the brands they support could come next. Brands that play heavily into consumer values to justify higher prices have a bumpy road ahead before shoppers will vote with their dollars again.
Many shoppers are still willing to punish brands that step out of line
Boycotting a brand based on its political statements is one thing, but ethical violations are another entirely. While boycott and buycott behaviors have diminished from their peak, shoppers are consistent about their willingness to shop or not shop from brands accused of ethical violations. Roughly one-third of shoppers say that they will not overlook unethical behavior and will stop shopping from brands that behave badly. Another third, however, say they're willing to overlook some issues if the price is right, and the remaining third just aren't paying attention.
Share of respondents who say they will take the following actions if a company acts unethically:
Survey conducted February 2022 to February 2023 among a minimum representative sample of 2,198 U.S. adults, with an unweighted margin of error of +/-2 percentage points. Figures may not add up to 100% due to rounding.
Economic pressure isn't sufficient to sway the third of shoppers who are committed to ensuring that their spending doesn't support unethical behavior. So while consumer behavior is now less likely to be swayed by environmental, social and governance practices, that does not mean consumers are no longer paying attention to companies' actions.
Claire Tassin is the lead retail & e-commerce analyst on the Industry Intelligence team, where she conducts research, authors analyst notes and advises leaders in the retail & e-commerce industry on how to apply insights to make better business decisions. Before joining Morning Consult, Claire was an analyst at Gartner, where she conducted research on shifting consumer behaviors and expectations, as well as trends and technology relevant to marketing leaders in the retail sector. She graduated from Washington University in St. Louis with a bachelor's degree in psychology. For speaking opportunities and booking requests, please email [email protected].
We want to hear from you. Reach out to this author or your Morning Consult team with any questions or comments.
Contact Us