Brands Are Keeping Quiet on the Texas Abortion Law. Public Opposition Could Pay Off
34% of U.S. adults say they'd purchase more from companies that oppose the law
Key Takeaways
46% of consumers said they support brands speaking out about abortion access, while 39% oppose the move and 15% are unsure or have no opinion.

54% of Democrats said they'd purchase more from companies that express opposition to the law.
Though brands are increasingly speaking out on social and political issues, most stayed silent this month when Texas enacted a law banning abortions around six weeks into a pregnancy. New polling from Morning Consult suggests that's a reasonable decision -- but that publicly opposing the law could also boost business if companies are willing to take the risk. 
Consumers feel less confident that companies should weigh in on abortion than they do about other social justice issues such as racism, gender equality and climate change, according to the Sept. 10-12 survey. Morning Consult asked 2,200 U.S. adults if they support brands speaking out about 13 such topics, and majorities said they do for 12. The exception was abortion access.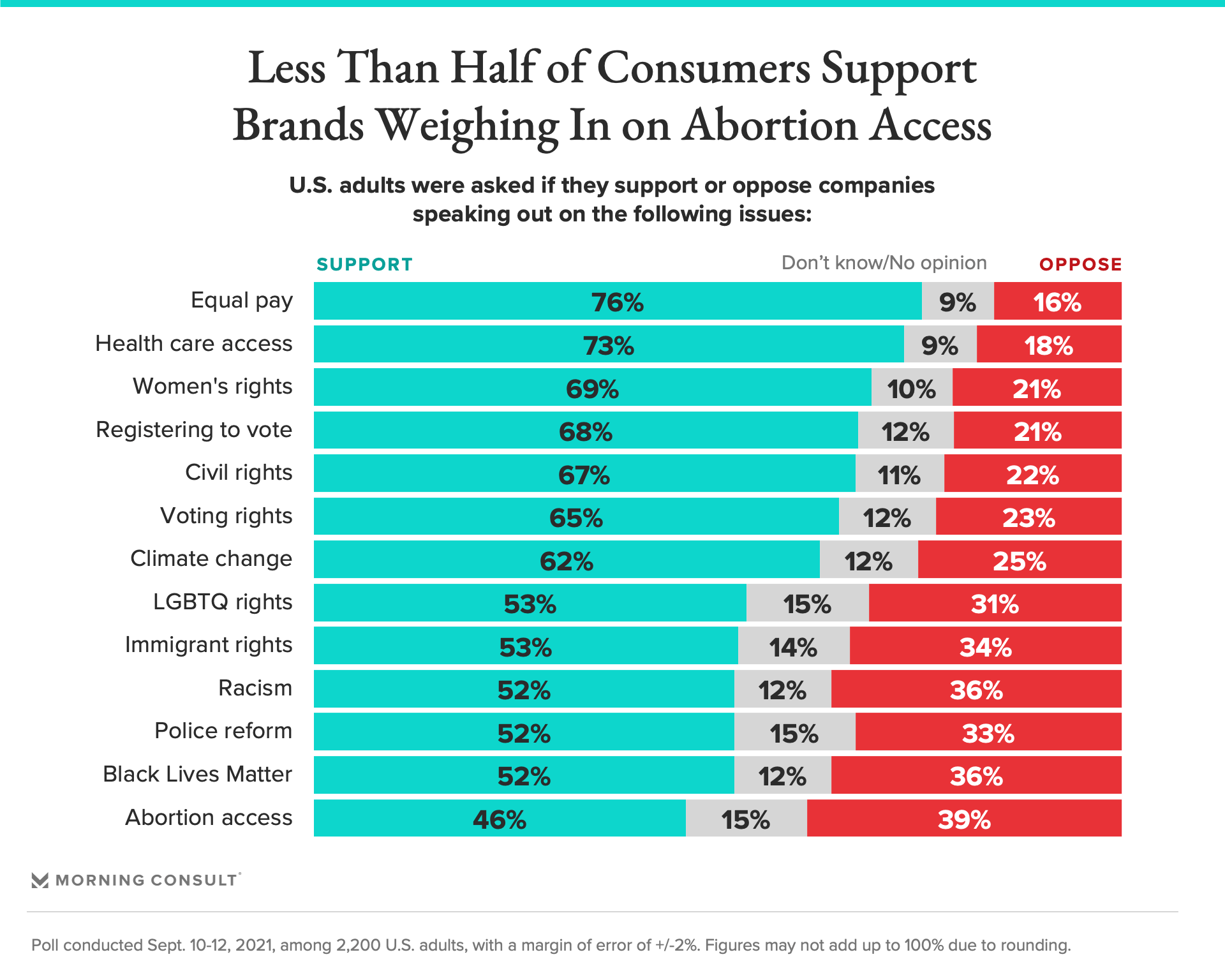 Less than half (46 percent) of respondents said they support companies taking a public stance on the controversial issue, according to the survey, which has a margin of error of 2 percentage points. Thirty-nine percent said they oppose that move, and 15 percent said they don't know or have no opinion.
Some brands have taken action on the issue. Ridersharing apps Lyft Inc. and Uber Technologies Inc. announced they would cover legal fees for drivers who are sued under the law, which enables individuals to take legal action against anyone who "aids or abets" an abortion after six weeks. Dating companies Bumble Inc. and Match Group Inc. -- both based in Texas -- have spoken out against the bill as well. But few others have publicly waded into the topic.
While taking a stance on abortion access is riskier for companies than speaking out about equal pay or health care access, the survey reveals a potential upside for brands that publicly oppose the "heartbeat bill."
Roughly 1 in 3 consumers (34 percent) said they would purchase more from a company they regularly patronize if it made a statement opposing the law. 
Twenty-eight percent said they would buy less or stop purchasing entirely from such a company, leaving a net positive impact — the share who said they'd support a company more minus the share who said they'd support it less — of 6 points for brands that stand against the law.
That net positive sentiment was stronger among some groups than others -- most notably Democrats and younger generations.
Fifty-four percent of Democrats said they'd buy more from brands that publicly oppose the law, while 17 percent said they'd pull back from purchasing -- a net positive impact of 37 points from members of the political party.
That's larger than the 32-point net negative impact among Republicans, indicating that Democrats feel slightly stronger about supporting brands that push back against the Texas law than Republicans do about avoiding them.
Roughly 2 in 5 (42 percent) of Generation Z adults said they'd purchase more from companies that oppose the law. Twenty-nine percent said they'd stop buying or purchase less, creating a net positive impact of 13 points. 
Millennials had a net positive impact of 16 points, with 40 percent saying they'd purchase more and 24 percent saying they'd purchase less or not at all.
Alyssa Meyers previously worked at Morning Consult as a reporter covering brands and marketing.
We want to hear from you. Reach out to this author or your Morning Consult team with any questions or comments.
Contact Us