Dear Brands, Please Lighten Up. Sincerely, Consumers.
Empathetic and somber brand messaging during 'these uncertain times' may have run its course, Morning Consult's Victoria Sakal writes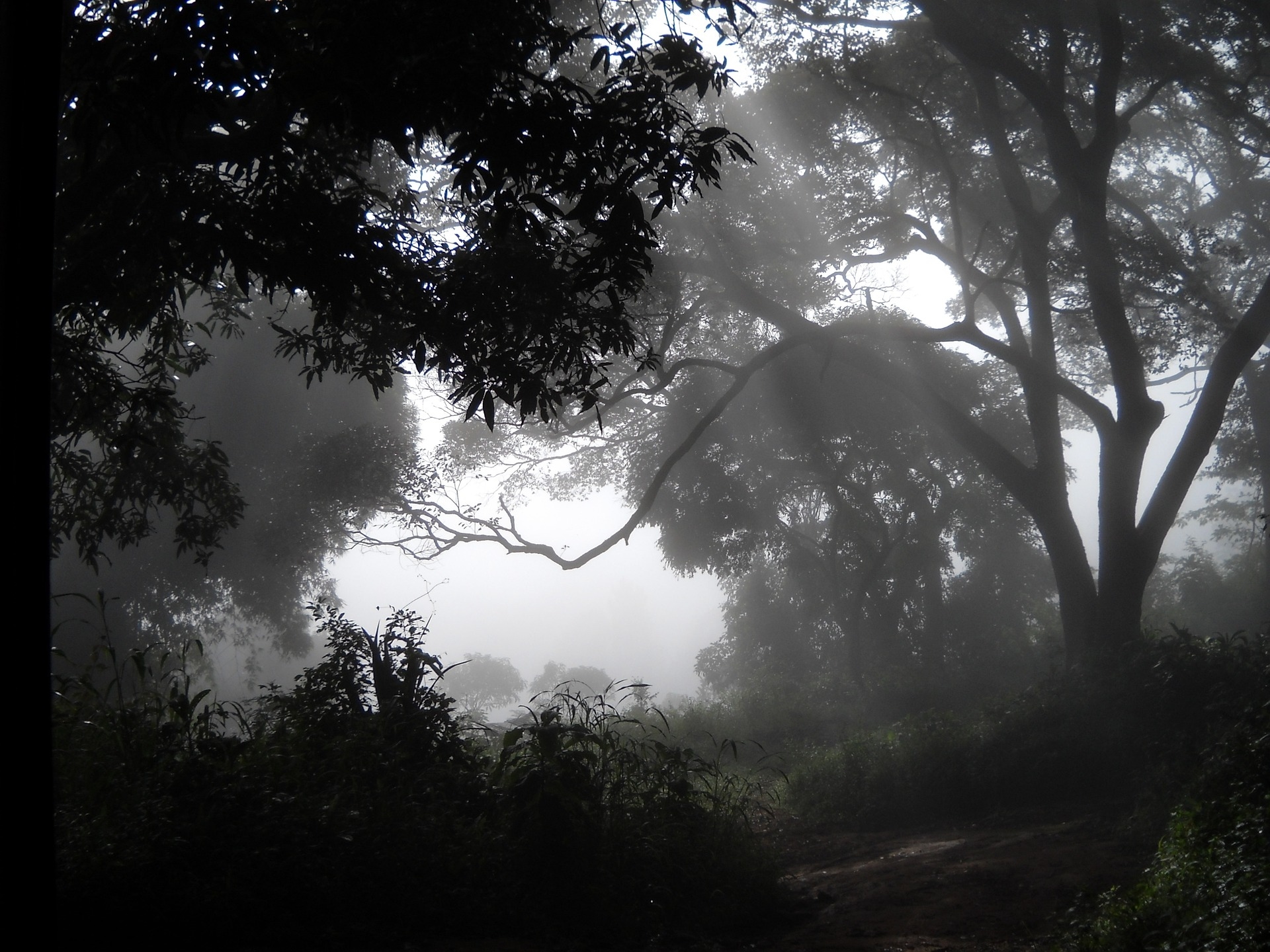 This analysis was authored by Victoria Sakal, Morning Consult's managing director of Brand Intelligence.
Morning Consult has been closely tracking consumer perceptions, attitudes, and behaviors in the context of the coronavirus since the outbreak in early March. As part of this ongoing effort, we began assessing how brands should best communicate with, message to and interact with their audiences in this unique time. 
Early research found that acknowledging the moment and appropriately communicating with and comforting audiences had strong potential to translate to everything from increased affinity in the short-term to unbreakable loyalty in the long-term. 
However, as the crisis unfolds, it appears that for many consumers, the emphatically empathetic messages brands have been invoking to remain top of mind and appeal to consumers during "these uncertain times" (the catchphrase of numerous ads and campaigns lately) may have run their course.
Below, I highlight findings on this topic from three separate waves of Morning Consult research, conducted on March 27-29, April 22-24, and May 7-9, with 2,200 U.S. adults and a 2 percentage point margin of error.
Time for a change in tone?
Consumers still want to know how brands' products or services can help prevent the spread of the coronavirus, or how they can help improve users' well-being. 
However, funny ads, ads about company values, entertaining ads and even ads about the impact of the virus on the advertising company have all gained appeal since late March. With more than a quarter of adults now interested in ads about products and services – an 11 percentage point uptick since late March – it's clear that consumers are increasingly craving a return to normalcy, or at least the semblance of it.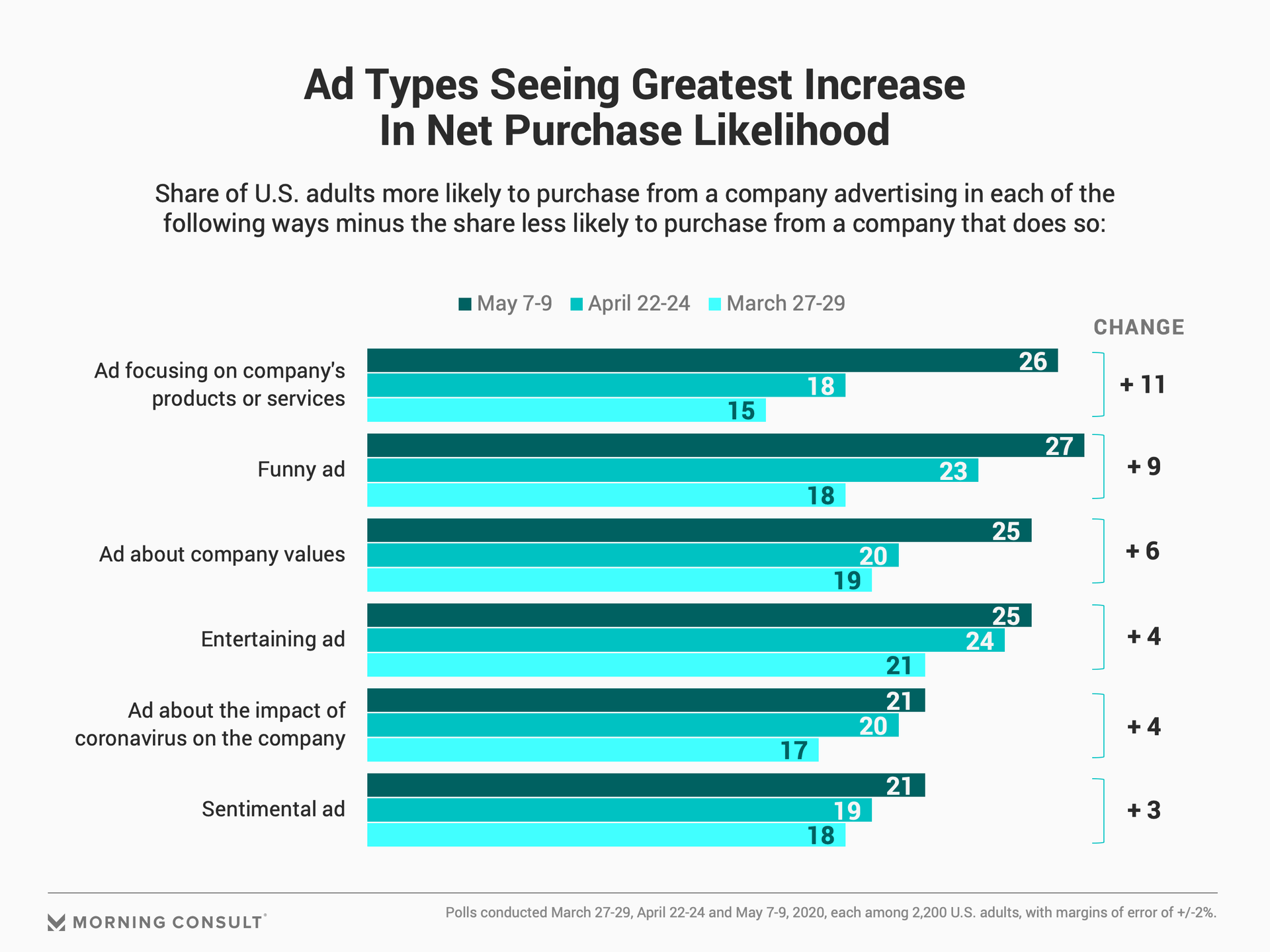 While consumers may be looking for a bit of levity, it appears that there is a growing acceptance around the new normal. Net purchase likelihood among U.S. adults toward companies whose ads show people social distancing, wearing face masks and even participating in video calls has increased in recent weeks.
A shift in the power of purpose?
The general importance of top qualities consumers desire in companies they purchase from hasn't changed significantly since the COVID-19 outbreak, with two exceptions:
Consumers have downgraded the importance of showing sensitivity and empathy toward people like them, possibly due to the recent inundation of empathy in advertising, with the share of adults indicating this is an important driver of choice dropping from 46 percent to 40 percent between March and May. If all companies are now expressing this, especially during a time when we feel closer and more similar to others than usual as we navigate this challenging crisis together as a society, no company is really standing out; perhaps this is no longer a differentiating factor.
Consumers also find it less important that companies they support contribute to society, similarly dropping from 46 percent to 40 percent. Whether this endures or is a temporary trade-off as other actions and attributes take precedence in troubling times remains to be seen.
The appeal of altruistic corporate activities seems to be dwindling as well, given notable declines in the share of U.S. adults indicating that they would feel more favorable toward companies taking these actions. 
Additionally, there seems to be growing backlash toward companies closing their nonessential physical locations. Consumers' expression of favorability toward companies that do this has dropped most significantly, more than any other corporate activity, down 11 percentage points since the end of March; unfavorability toward companies doing this has risen by 7 percentage points, the greatest rise in unfavorability across all actions assessed. 
Closures of nonessential locations may be due to forces beyond companies' control, but this development underscores the criticality of communicating with customers to explain the situation you're in, introducing alternative ways people can access your products, and even creating new ways to engage with your customer base to maintain -- if not grow -- affinity, and stem potential backlash.
Providing real, tangible value to customers has always led to success; though the current situation means brands may need to get creative in how exactly they deliver and communicate that value, it's clear that this has never been truer.
Victoria Sakal previously worked at Morning Consult as a brands analyst.
We want to hear from you. Reach out to this author or your Morning Consult team with any questions or comments.
Contact Us