How 'Buy Now, Pay Later' Consumers Differ From Credit Card Users
U.S. respondents who have used a BNPL service report more income volatility and poorer financial well-being compared to those in a household with a credit card, writes Morning Consult's financial analyst Charlotte Principato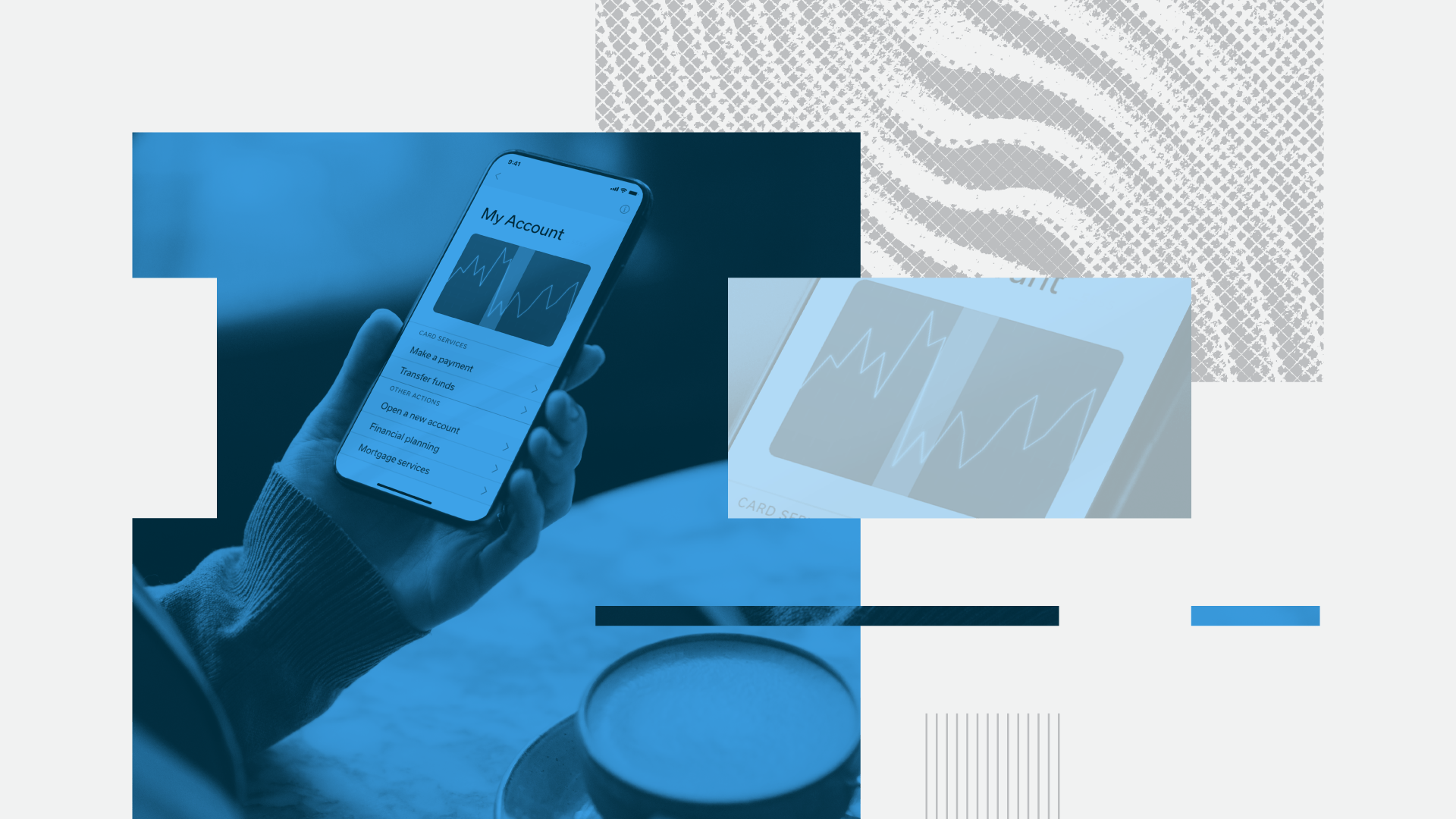 Key Takeaways
U.S. consumers who used a "buy now, pay later" service in June are more likely to be low income and report income volatility than those who live in a credit card household.

BNPL users report less control over their finances than those who live in a credit card household. 

BNPL users also reported more progress towards financial goals such as eliminating debt than those with credit cards. 
With income inequality remaining high amid the pandemic, driven primarily by expected loss of employment income, more adults are using "buy now, pay later" services to make online purchases. New Morning Consult analysis distinguishes how the emerging BNPL consumer differs from customers who have credit cards in their household-- not just their demographic makeup, but their attitudes about financial well-being and goals -- for financial services leaders looking to learn more about the group and gain their patronage. 
Key Difference 1: BNPL users report lower income than households with credit cards, and more income volatility. Sixty-four percent of U.S. adults who used a BNPL service in June reported an annual income of less than $50,000, compared to fewer than half in households with a credit card that do not use BNPL services.
Those who used BNPL services in the last month -- whether they also own a credit card or not -- are also more likely to report income volatility in the past month than the general population. Just 38 percent of BNPL-only consumers and 54 percent of BNPL and credit card households said their income in June was the same as it was in May, compared to 79 percent of credit-card-only respondents.
But demographic differences can only tell so much about a consumer. Understanding BNPL users' perception of themselves, including their financial well-being, gives better insight into their needs and provides financial services leaders the ability to better pinpoint communities to target services towards. 
Key Difference 2: Financial well-being is more elusive for BNPL users. BNPL users are more likely than credit card households to say they're behind on their finances and to report that their finances control them.
Perceptions of financial well-being impact consumers' decision-making and appear to be driving the desire for alternative methods of payment like BNPL. Financial services leaders should be mindful of this greater vulnerability among BNPL users, and be transparent about how BNPL payments differ from traditional credit so as not to risk placing consumers in a worse financial position than they started.
Key Difference 3: Despite, or in spite of, their lack of financial well-being, the majority of respondents who have used a BNPL service reported actively working towards near and long-term financial goals, and a significant share are making progress. That includes progress in evening out spending month to month, eliminating debt, improving credit and even purchasing a home. Moreover, BNPL users were more likely to report that these were goals of theirs in the first place, compared to those who use credit cards but do not use BNPL services.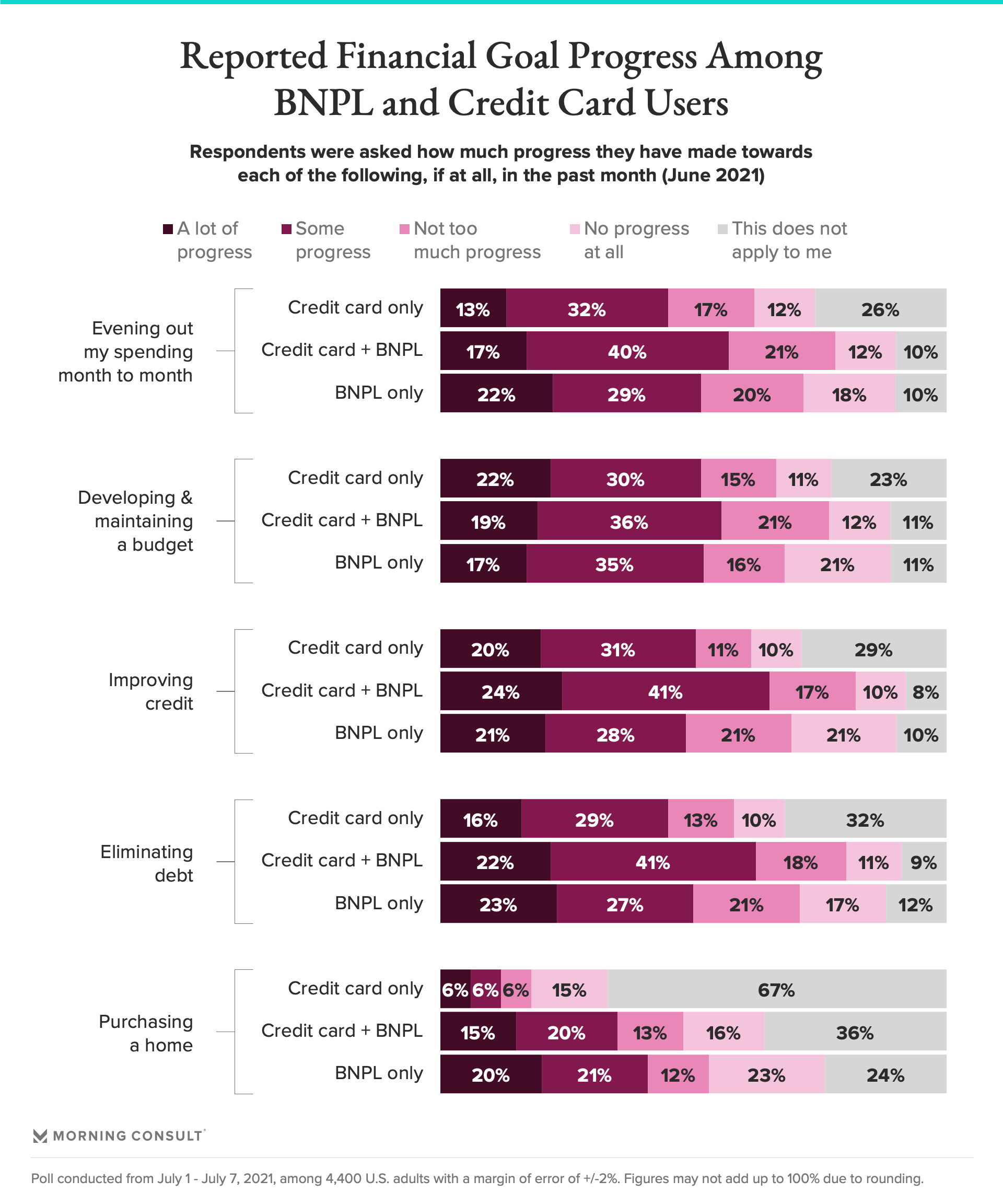 Progress towards these goals is strongest amongst users of both credit cards and BNPL services, suggesting that these consumers are making carefully considered decisions about purchasing methods with their financial goals in mind. (These consumers are also more likely to have said they thought about their finances a lot in the month of June: 58 percent compared to 43 percent for the general population).
What to make of it: Credit card ownership may be common among "buy now, pay later" users, but consumers who use BNPL represent a different demographic, with different financial needs and goals, that financial services leaders need to understand in order to market to and serve these consumers effectively -- and with empathy. As BNPL companies grow their customer base and some expand into traditional financial services, it may be time for traditional financial institutions to ask why they haven't been able to do the same.
Charlotte Principato previously worked at Morning Consult as a lead financial services analyst covering trends in the industry.
We want to hear from you. Reach out to this author or your Morning Consult team with any questions or comments.
Contact Us