Outlining the Potential Growth of BNPL Services, Apple Pay's Newest Reported Venture
Morning Consult's financial services analyst Charlotte Principato details the threat and opportunity of "buy now, pay later" services to traditional credit card companies
Key Takeaways
Purchasing consideration of "buy now, pay later" services such as Afterpay, Affirm and Klarna has risen over the last year -- with particular growth among Gen X.

Gen Z adults and millennials are more likely to use BNPL services than Gen X or baby boomers, and are less likely than older adults to say they have a credit card.

Roughly one-quarter of Apple Pay users say they have used a BNPL service.
While Apple Pay's rumored "buy now, pay later" service is perhaps the most prominent signal of BNPL's growth potential, Morning Consult trend data shows awareness and usage of BNPL services such as Affirm and Afterpay was on the rise since the beginning of the COVID-19 pandemic -- without any signs of slowing down. 
Seventeen percent of U.S. adults said they used a BNPL service to make a purchase in June, a figure that rises to roughly one-quarter among younger consumers. Credit card ownership, whether personally or among someone in the household, is four times that of BNPL usage among the general public, but it's only twice that of BNPL usage among the country's youngest adults.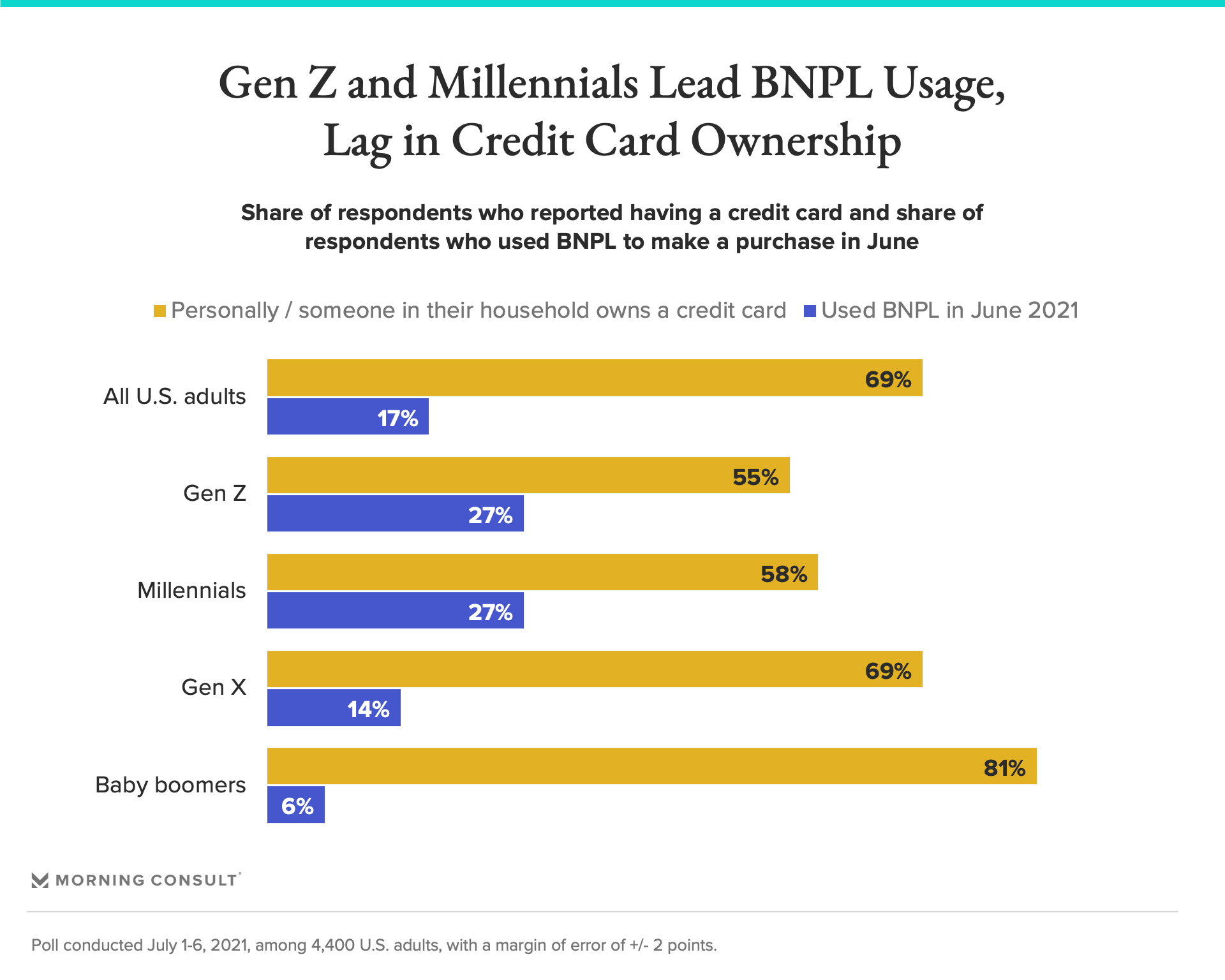 How to read this: Gen Z and millennials are leading the charge on BNPL adoption, and credit card providers should be monitoring the threat these offerings pose to their acquisition of new customers. But there's also untapped opportunity among Gen Xers, who represent an avenue for continued growth if BNPL services become available where the often-overlooked generation shops.
Awareness, usage and purchasing consideration of Affirm, Afterpay and Klarna in the U.S. has risen steadily since April of 2021. Morning Consult Brand Intelligence, the company's flagship platform which collects and organizes nearly 12,000 survey responses every day for thousands of brands in 15 countries, shows these metrics have grown among Gen Z adults and millennials. Purchasing consideration has skyrocketed among Gen X, growing 163 percent between April 2020 and July 2021.
The opportunity: Credit card and BNPL usage are not mutually exclusive, of course, and firms such as JPMorgan Chase have launched BNPL offerings specifically for their Chase cardmembers to retain and attract new customers. Gen X is a great example of a cohort that regularly uses credit cards and is seeing growth in the BNPL space, representing an opportunity for traditional credit card companies. More retailers offering BNPL at check-out, especially retailers with older audiences, will convert the high BNPL purchasing consideration among Gen X to usage.
Apple Pay will likely see a strong share of its Gen X users opt to pay using its BNPL services, because many of them already use such providers, in addition to use among younger consumers. Overall, roughly 1 in 4 Apple Pay users say they currently use one of the big BNPL players -- Klarna, Affirm or, Afterpay -- with Gen Z and millennials, again, reporting more use. 
The takeaway: Financial services leaders looking to offer BNPL services should cater their offerings to Gen Z and millennial customers -- those with credit cards and those without -- but they should also actively seek out partnerships with retailers that Gen X consumers purchase from, in order to capture as much opportunity as possible.
Charlotte Principato previously worked at Morning Consult as a lead financial services analyst covering trends in the industry.
We want to hear from you. Reach out to this author or your Morning Consult team with any questions or comments.
Contact Us