Conferences and Seminars Will Buoy Business Travel in 2023
Employees have been forced to become more discerning about business travel in the wake of recent budget cuts, writes travel & hospitality analyst Lindsey Roeschke
Key Takeaways
The share of U.S. adults who said they traveled for business at least once in the past year is 18 percentage points lower than those who did so in a typical pre-pandemic year.

Work travel will remain muted this year, but when employees do travel, conferences and seminars will be the most popular draws, followed by small team meetings.

Travel brands that support workers as they try to maximize the impact of fewer business trips stand to win loyalty.
For more insights on business travel, download our latest report.
In the travel industry, 2022 represented a reset: The way people travel in the coming years will look much more similar to 2022 than to any pre-pandemic period. When it comes to business travel, the past year saw a much smaller group of workers hitting the road than in 2019 or before. Overall, the share of U.S. adults who said they traveled for business at least once in the past year is 18 points lower than those who said the same for a typical year prior to the pandemic.
The COVID-19 pandemic drastically altered the business travel landscape, forcing companies to re-evaluate their travel policies and adjust to a new reality of virtual meetings and reduced face-to-face interactions. In the years since the initial outbreak, the travel industry has hoped for a "return to normal," and with good reason: Despite making up a smaller share of the market than leisure travelers by volume, business travelers far outspend their counterparts and represent outsize revenue for companies in the industry. But all indicators suggest that business travel will never again be like it was before COVID-19.
U.S. adults' business travel habits in the past year compared with a typical pre-pandemic year
Survey conducted Dec. 22-24, 2022, among a representative sample of 4,422 U.S. adults, with an unweighted margin of error of +/-1 percentage point.
While the category has room to recover further, behavior changes over the past three years are slowly but surely becoming entrenched. For some, this change has been driven by individual circumstances: They may have decided that work travel no longer suits their lifestyle, or may have switched jobs, transitioned to a new career or retired. But much of the decline has also been prompted by changes to corporate policy.
Corporate policy changes have stymied business travel
When asked if their company has made any changes in the past year to limit business travel, nearly one-third of workers said yes. And while most expect these changes to be temporary, 12% of employed adults said they'll likely be permanent. When asked about the reasons for changes in policy, people were more likely to cite general cost-saving measures — a more permanent reality — than concerns for employee health, which have waned since the pandemic started.
The most common adjustment involves cutting down on the overall frequency of business travel, either by reducing the number of trips per employee or shrinking the number of employees who travel on behalf of the company.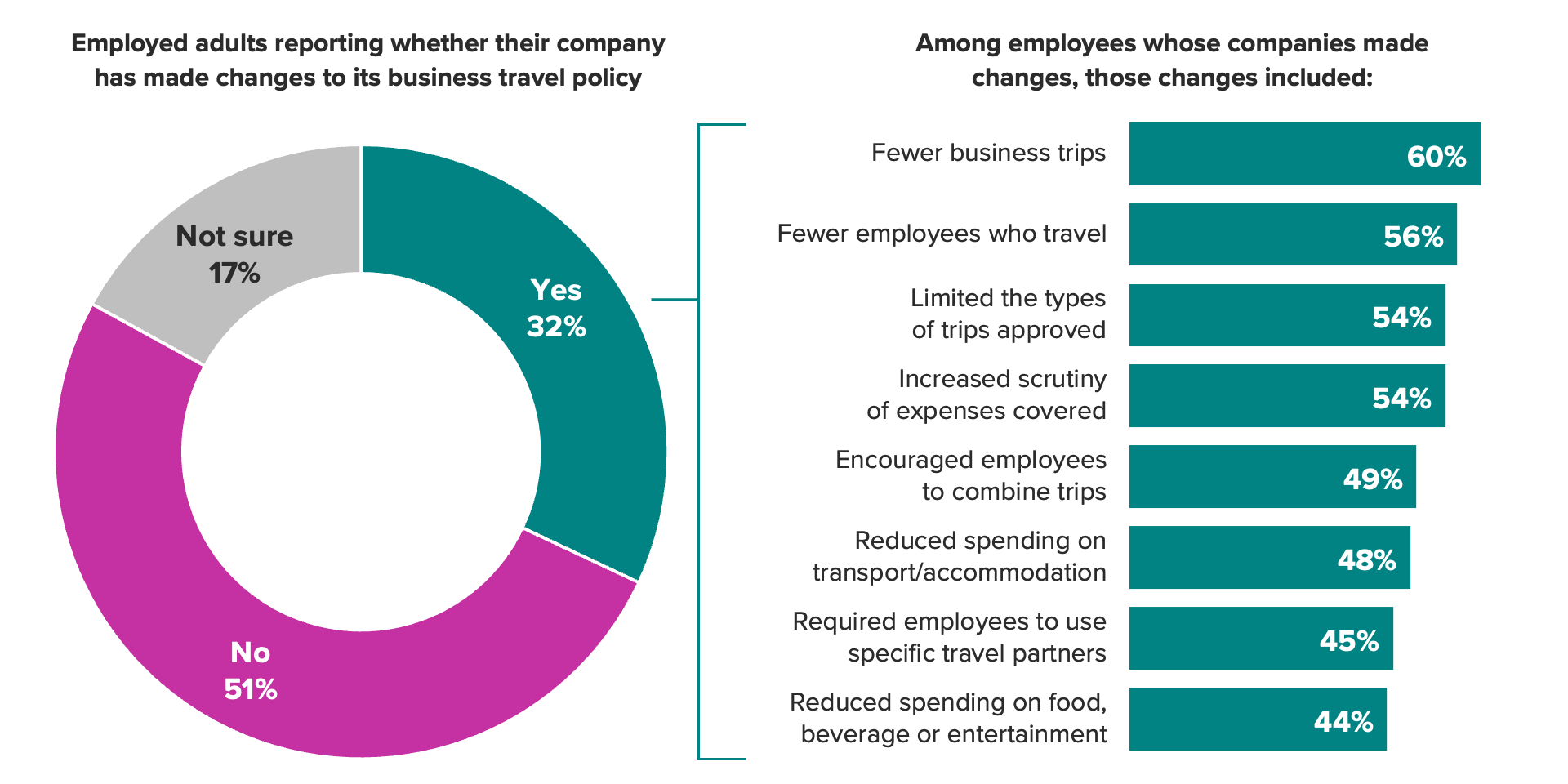 Survey conducted Dec. 22-24, 2022, among a sample of 2,330 employed U.S. adults, with an unweighted margin of error of +/- 2 percentage points. Figures may not add up to 100% due to rounding.
The types of changes made are similar across industries but vary slightly based on the size of the employer. People working for larger businesses (of more than 500 staff) are more likely than those working for smaller ones to say their company has reduced both the number of employees who travel for business and the types of business travel that are approved.
Business travelers may feel pressure to maximize the trips they do take, whether by combining multiple travel occasions into one or by seeking additional opportunities to add value to existing trips by tacking on additional meetings, client visits and the like. Travel brands that make things simple and seamless for business travelers facing this higher level of pressure stand to gain loyalty.
Large events will attract the highest share of business travelers
Naturally, directives to cut back on trips and spending will force companies and employees to prioritize the occasions that are most impactful or provide the best ROI. For many, this comes in the form of conference and event travel, which will be crucial to the continued recovery of the sector: More than 3 in 5 of those with business trips in the coming year say they will travel for a conference or seminar. On the whole though, workers report traveling less for all occasions now compared with a typical pre-pandemic year, and areas with the most significant cutbacks include company retreats, trade shows and incentive travel (trips provided by a company as a reward for employee performance).
Workers with plans to travel in the next year report how often they anticipate doing so for the following reasons:
Survey conducted Dec. 22-24, 2022, among a sample of 972 employed U.S. adults with plans to travel for business in the next 12 months, with an unweighted margin of error of +/-3 percentage points.
Although conferences attract the most travelers, workers say they will be traveling for small team meetings more frequently. Around 23% of business travelers say they'll be on the road for an internal company meeting at least three times in the next 12 months, equal to the share who say the same for client or other external meetings. It is notable that these two occasions look so similar in share and frequency, as many predicted the resurgence of one at the expense of the other as the business travel category recovered.
How frequently one travels varies according to the size of their company. For the majority of occasions, employees working for large corporations report plans to travel more often. However, employees of small businesses are more likely to travel for client meetings or trade shows, suggesting an outsize importance of these occasions to their employers.
Brands aiming to connect with these travelers should take the size of their companies into consideration. While it doesn't appear that there's been a major trade-off between internal and external meetings, incentive travel and company retreats may fall by the wayside in the coming years. As such, betting on the more durable business travel occasions will pay dividends.
Lindsey Roeschke is the lead travel & hospitality analyst on the Industry Intelligence team, where she conducts research, authors analyst notes and advises leaders in the travel & hospitality industry on how to apply insights to make better business decisions. Before joining Morning Consult, she served as a director of consumer and culture analysis at Gartner and spent more than a decade working at advertising agencies across three continents. Lindsey graduated from the University of Delaware with a bachelor's degree in communications and holds a master's degree in strategic communications from Villanova University. For speaking opportunities and booking requests, please email [email protected].
We want to hear from you. Reach out to this author or your Morning Consult team with any questions or comments.
Contact Us