Consumers Are Feeling the Improvements in the Supply Chain
U.S. adults are having an easier time tracking down supply-constrained goods in November compared with October and September
Key Takeaways
Shortages and delivery delays are showing signs of easing at the consumer level.

Burgeoning labor force participation will help smooth out logistical snarls as businesses hire more workers to produce and distribute goods; concurrently, rising employment means more consumers are earning wage incomes, boosting demand.

While loosening supply constraints offer a boost to spending through the end of the year, omicron has the potential to delay progress if, like delta, the new variant triggers a wave of factory shutdowns and port congestion.
With the employment situation improving and the holiday shopping season underway, scarcity of certain items has been limiting the degree to which potential demand is being converted to actual sales. In response to widespread supply disruptions, Morning Consult launched a monthly survey in September to evaluate the impact of ongoing supply chain dynamics on consumers. Each month, a sample of 2,200 U.S. adults are asked which products they're having difficulty procuring and how they have adapted their buying behaviors when confronted with delays and shortages.
From September to October, the survey results were nearly identical: There was no sign of improvement in supply chain congestion. On the third run of the survey, from Nov. 17-21, 2021 — amid signs that producers and shippers were starting to make progress in smoothing the flow of goods — the data showed modest but consistent evidence that these developments had penetrated to the consumer level.
As bottlenecks are alleviated, businesses stand to benefit from a wave of buying demand — though recovering supply chains remain vulnerable to the potential impacts of the omicron variant.
The thaw in supply chains has reached consumers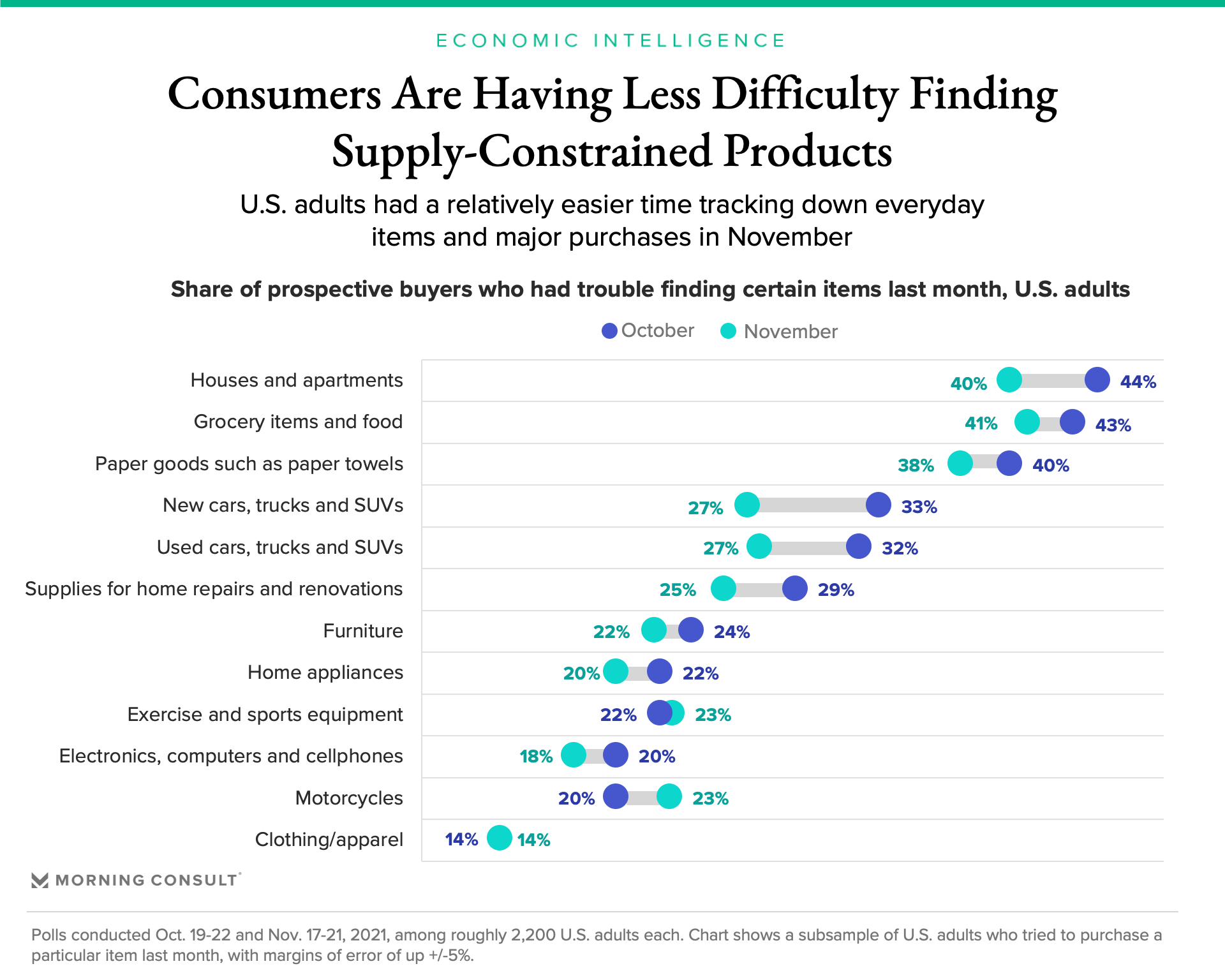 In recent months, consumers are having an easier time finding products affected by shortages. From October to November, fewer respondents reported procurement difficulties for 9 of the 12 categories Morning Consult tracked. Furthermore, categories that registered the most improvement tended to be those more likely to be impacted by supply constraints, such as new and used vehicles, housing and home improvement supplies.
Consumers are adapting to shortages and higher goods inflation by absorbing higher prices and longer wait times
 Even as supply chain disruptions recede, consumer demand appears to have intensified to the point of decreasing the dampening effect of rising prices and delivery delays on purchases. When pursuing a scarce product, fewer adults said they did not end up purchasing the item In November (53 percent) compared with September (57 percent), and a higher share of adults said they paid more to procure the item compared to two months earlier. Employment continues to rise, meaning more adults are working and earning incomes; this enhanced financial security is driving up demand, even in the face of shortages and high prices.
What's more, only 48 percent of consumers said they decided not to buy an item because it was too expensive in November, compared with 53 percent in September. Price sensitivity has fallen the most among younger adults, who tend to be relatively less concerned about inflation. With consumer prices rising at a historic pace — mostly driven by goods — consumers' apparent willingness to pay more for scarce products is a welcome sign for businesses seeking to recover margins squeezed by rising input costs.
Government is bearing most of the blame, with little culpability directed at retailers
Another positive sign for sellers: Consumers are now less likely to blame retailers and brands for the ongoing shortages. Instead, logistics companies and the federal government are the top parties viewed as culpable for supply chain disruptions. Both entities were blamed by a higher share of adults in November compared with September, with the federal government's rank increasing from fourth to second place over the past two months. This is a negative sign for Biden's administration, which is already contending with lackluster approval ratings. Biden recently convened business leaders to discuss supply chain issues, though whether the meeting yields tangible or perceived progress is yet to be seen.
Holiday cheer under threat
Supply chains are untangling just in time to capture spending during the home stretch of the holiday season, and the indication that consumers are increasingly undeterred by price increases and delivery delays speaks to the robustness of demand. Heading into 2022, continued jobs growth should sustain momentum for consumption.
While consumers had begun to reallocate spending toward services in October, the onset of omicron could stall that transition. Instead, rising cases may lead consumers to continue funneling spending toward goods rather than services. Depending on how closely the new variant's impact mirrors that of delta, its spread may once again derail global supply chains by triggering factory shutdowns, border closures and labor constraints. The easing of shortages achieved in November is a positive sign for retailers and consumers, but mounting risks could challenge supply chains going forward.
Kayla Bruun is a senior economist at decision intelligence company Morning Consult, where she analyzes consumer spending, inflation and household finance trends, leveraging the company's proprietary high-frequency data.
Prior to joining Morning Consult, Kayla was a key member of the corporate strategy team at telecommunications company SES, where she produced market intelligence and industry analysis of mobility markets. 
Kayla also served as an economist at IHS Markit, where she covered global services industries, provided price forecasts, produced written analyses and served as a subject-matter expert on client-facing consulting projects. 
Kayla earned a bachelor's degree in economics from Emory University and an MBA with a certificate in nonmarket strategy from Georgetown University's McDonough School of Business.
Follow her on Twitter @KaylaBruun. For speaking opportunities and booking requests, please email [email protected]
We want to hear from you. Reach out to this author or your Morning Consult team with any questions or comments.
Contact Us