As Bitcoin's Price Falls, Retail Investors Stay the Course
Morning Consult's financial services analyst Charlotte Principato examines the bitcoin purchase intentions of current owners and consumers more broadly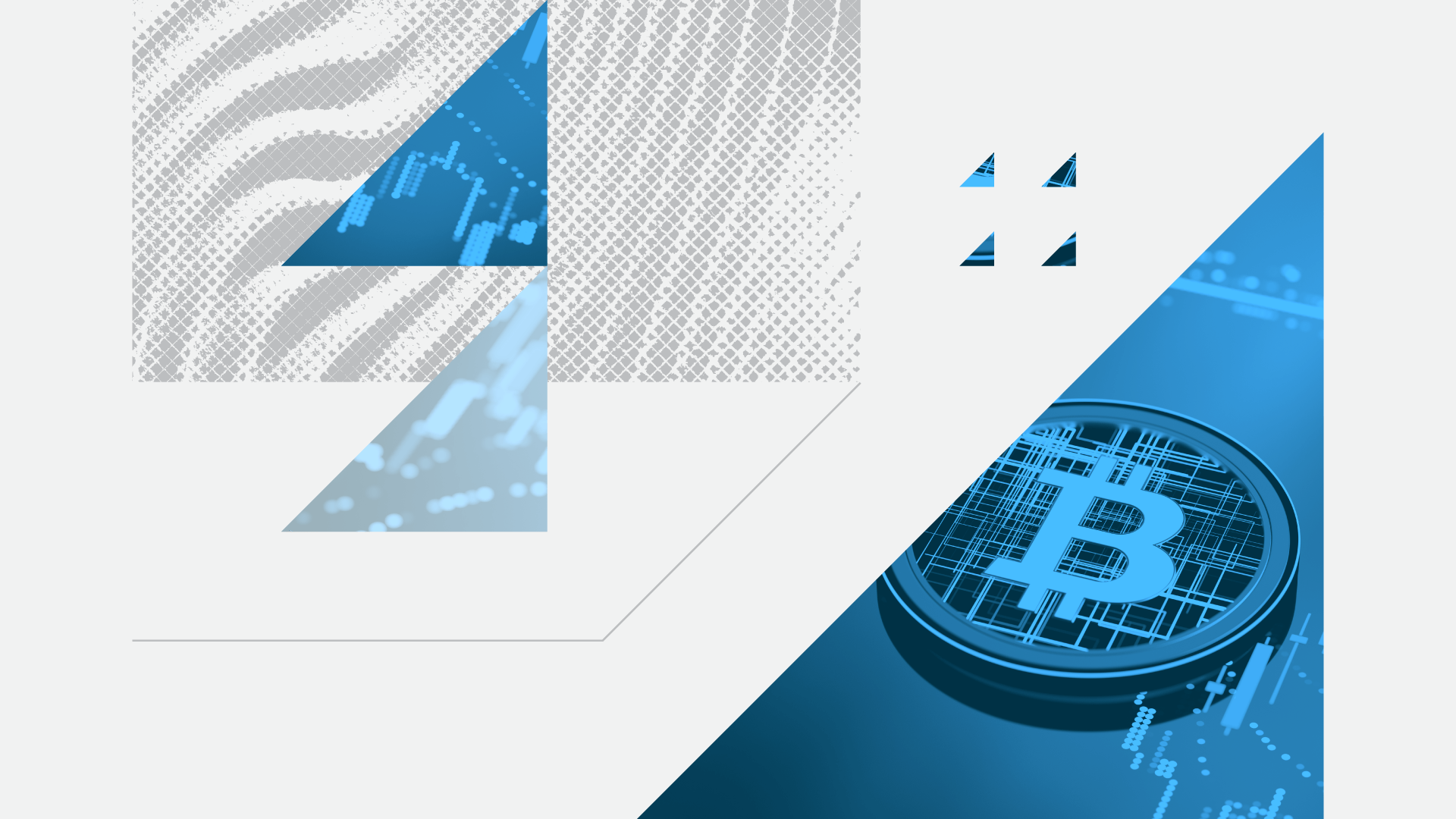 With bitcoin's signature volatility on full display, its price could drive deeper demographic divides between owners and the general population. Cryptocurrency leaders should know that those who buy the bitcoin dip are predicting big price gains over the next six months, and these investors' higher risk tolerance will keep them on the bitcoin rollercoaster.
Concerns over inflation and potential Federal Reserve interest rate hikes are causing market turmoil as investors shed risky assets of all types, especially bitcoin. But even amid the steep drop in bitcoin's value, a majority of owners plan to purchase in the next month and "buy the dip." New Morning Consult data shows which consumers are most likely to purchase bitcoin in the near future and why.
High-income households, millennials and men remain enthusiastic
Retail investors' interest in bitcoin hasn't dampened since the price began dropping in November 2021. According to Morning Consult Brand Intelligence tracking, 21 percent of adults are considering purchasing bitcoin as of last week, equal to the share who said the same at the beginning of November.
That means consumers have so far proved less nervous about bitcoin's price drop this time around compared with last summer, when its price plummeted and even the most enthusiastic cryptocurrency demographics showed wavering confidence before ultimately buying the dip. Overall bitcoin purchase consideration dropped from 17 percent among all U.S. adults in May to a 2021 low of 13 percent in July.
Currently, the same groups that have historically driven cryptocurrency growth — millennials, men and high-income households — continue to show the most interest in purchasing bitcoin. This will deepen existing demographic divides when these groups continue to purchase bitcoin at higher rates than the general population.
Bitcoin owners, likely investors predict its price will recover to 2021 highs
To owners, bitcoin's current price represents just a dip, not a permanent loss of value. On average, they expect the price to increase substantially, to $55,223 in six months.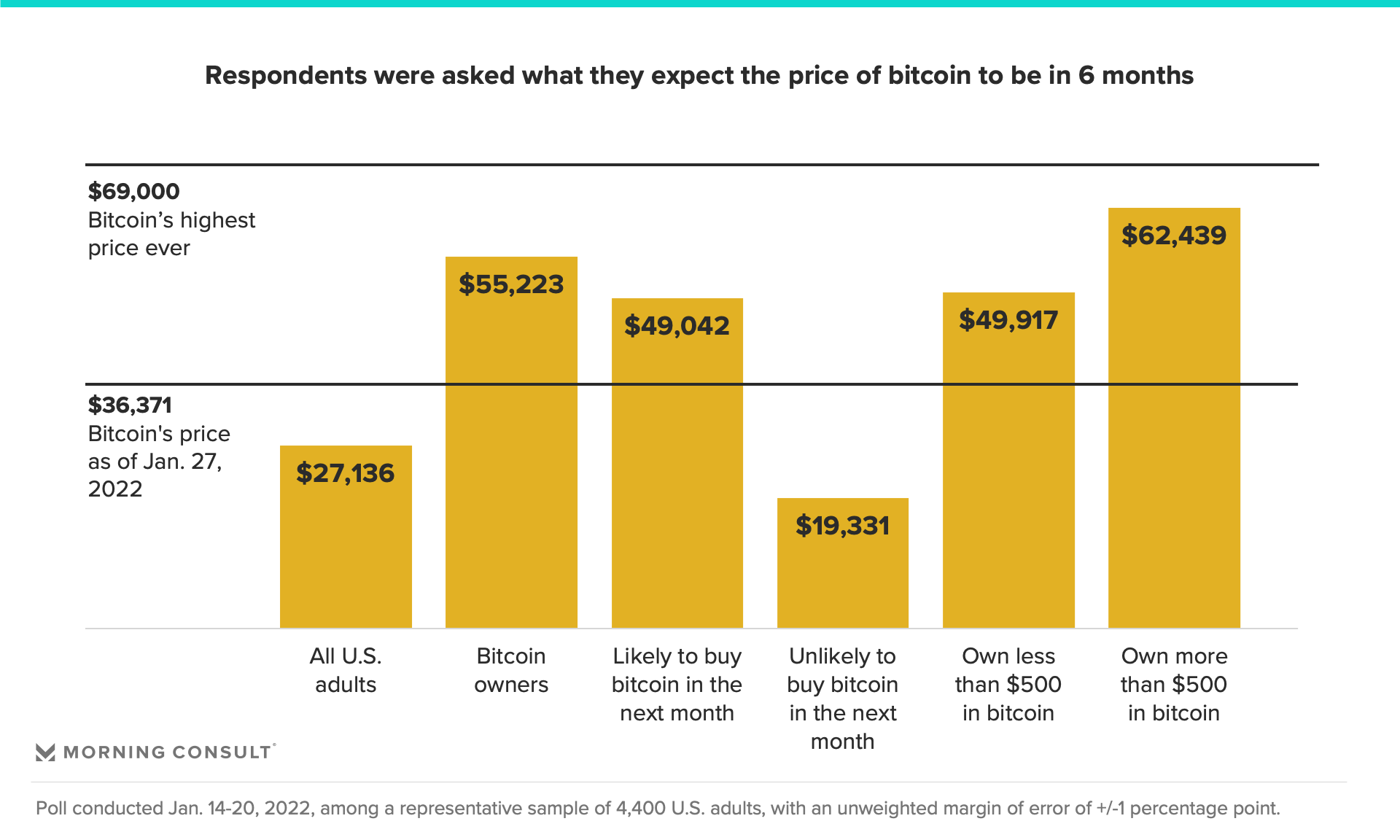 The highest estimate came from respondents who own more than $500 in bitcoin. This group expects bitcoin's price to reach $62,439 in six months — a few thousand dollars shy of its all-time high value of $69,000 in November 2021. But bitcoin owners who have been in the cryptocurrency market for more than a year are also optimistic about the next six months, anticipating that the price will reach $57,950.
Bitcoin owners' high risk tolerance and high motivation to make money keep them in it for the long haul
Current owners' optimism about pricing and their steadfast commitment to bitcoin are driven by their view of cryptocurrency as an asset rather than a payment method. They're in the game to make money, and it is their higher risk tolerance that's keeping them there.
Bitcoin owners are over four times more likely to be willing to accept financial risk than the general population, and twice as likely to tolerate substantial or above-average risk.
Risk tolerance also seems to increase in proportion to bitcoin ownership: Adults with more than $500 in bitcoin are about 60 percent more likely than those who own less than $500 in bitcoin to be willing to accept substantial or above-average risks.
In case it's not already clear from the price predictions, bitcoin owners aren't in the game because they view cryptocurrency as the future of payments or for other idealistic reasons. Instead, 70 percent of bitcoin owners say making money is  their "major reason" for investing. Meanwhile, ideological motivations — believing that cryptocurrencies are the future and enjoying the community of people who invest in them — registered a relatively distant second and ninth, respectively.
Charlotte Principato previously worked at Morning Consult as a lead financial services analyst covering trends in the industry.
We want to hear from you. Reach out to this author or your Morning Consult team with any questions or comments.
Contact Us