Key Takeaways
Consumers are spending more time on activities such as cooking, streaming, and spending time on social media because of the coronavirus outbreak.

At least 16% of people plan to play video games, spend time on social media, stream TV or movies, and shop online for non-necessities less post-pandemic.

Online grocery and food delivery services are certainly seeing an increase in sales now given people's mobility constraints and safety concerns, but these businesses shouldn't get too comfortable just yet, as the data suggests consumers are divided on whether they will continue using these services after the crisis passes.
Morning Consult's "Favorited or Forgotten" series explores if – and how – consumer behavior will change in a post-COVID-19 world and what business leaders can do to prepare for those changes.
The coronavirus outbreak has separated many Americans from their typical pastimes, relegating people to their homes during any free time they may have. With this, certain pastimes are seeing new life. But how likely is it that consumers will continue to enjoy these pastimes post-pandemic, and which ones are just temporary ways to pass the time?
Activities such as cooking, streaming, and spending time on social media are seeing a notable uptick in activity due to the coronavirus outbreak.
Additionally, certain demographic groups are exhibiting noticeable propensities to do some of these activities more than their peers. 
Women are spending more time than men on familial responsibilities and relationship-driven activities, suggesting that women may be bearing the brunt of this new normal. 
Those with higher education levels and incomes are generally doing more of nearly all of these activities since the outbreak, likely indicative of having more free time due to less commuting, having fewer alternative options to fill the time, and having more disposable income to spend on online services and non-essential items.
Meanwhile, those with lower education and income levels are doing most of these activities less; these people are likely on the front lines and busy staffing essential businesses and  therefore have less free time, as well as less disposable income, to spend on these pastimes.
Additionally, heightened activity levels in urban areas likely reflect government mandates, which are more common and constricting in those areas, as well as the types of activities residents of these communities tend to have at their disposal. Those in urban settings have few other options beyond increased streaming, video chatting or social media for entertainment; those in more rural settings have a greater ability to move about freely outside while still maintaining social distance.
From a generational perspective, Generation Z is more likely than other generations to have increased its activities since the outbreak forced people into their homes. However, it is also more likely than other generations to say it is easing back on its activity level.
In contrast, doing activities with the same frequency as pre-pandemic levels increases with age: Boomers are most likely to be doing all activities the same amount now as they did before. This dyad is explained by elder generations having no choice but to lean into professional and familial responsibilities during this situation and therefore having less time or fewer options for new pastimes, while Generation Z in particular is more likely to be insulated from the harsher realities caused by the crisis. Now back home from school and college, this cohort is socially distanced from friends and favorite out-of-home pastimes, and the generation is necessarily less preoccupied than older counterparts with paying bills and providing for families; as such, Gen Z is much more likely to be experimenting with new activities to pass the time.
How Pastimes Will Change Post-Pandemic
Digging deeper, the reasons behind the upticks in certain activities shed light on how post-pandemic behavior will adjust.  
For pastimes that consumers already engaged in pre-pandemic, such as spending time with people they live with, reading and doing yardwork, post-pandemic activity levels will most likely return to pre-pandemic levels.
However, at least 16 percent of people who say they are doing more of an activity because they always do it are planning to play video games, spend time on social media, stream TV or movies, and shop online for non-necessities less post-pandemic – meaning companies in these spaces will need to find new ways to appeal to and intrigue habitual doers of these activities.
Meanwhile, for pastimes that are newly embraced by consumers during the pandemic, such as board games or new hobbies, predicting post-pandemic activities levels is less obvious. What's certain is that Americans are not likely to do the same amount of these activities as they did pre-pandemic; whether they opt to do these activities more often or less often remains to be seen. The data suggests, however, that Americans are enjoying starting a new hobby and learning new skills, and they do intend to do these more than they did pre-pandemic.
Additionally, this is a particularly defining time for online grocery and food delivery companies. People are choosing to use these more given their mobility limitations and heightened safety concerns, but they are nearly evenly divided as to whether they will do these more or less post-pandemic. This means that for these companies, delivering a positive customer experience and clear value above and beyond the groceries or food orders themselves is especially critical for seeing success when consumers are freer to purchase these items however they please post-pandemic.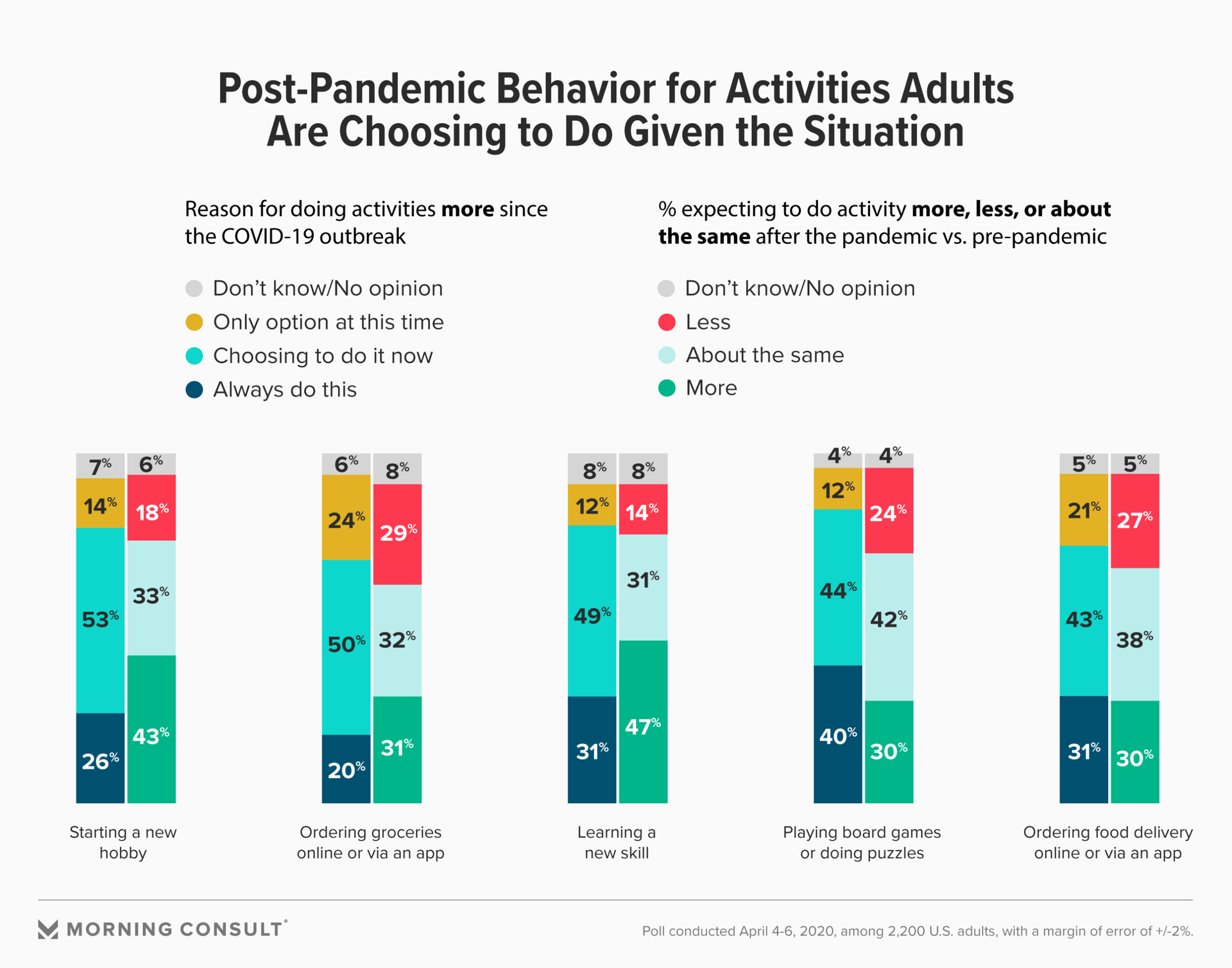 Brand & Business Implications
Brands and companies playing a role in the activities that people are choosing to spend more time doing because they are staying at home more — whether it's facilitating new hobbies, aiding in skill-building or providing games and puzzles — should begin to think strategically about how to create stickiness and positive association with customers. They should also think about how they can continue to create relevance post-pandemic, when people are freer to revert to those pastimes. It will likely be critical to forge new associations and emotional connections with consumers post-pandemic, when pastimes they pursued during these strange and strained times may be tainted with negative connotations.
Companies involved in pastimes that Americans already enjoyed and that are seeing heightened activity levels need to think defensively. Though consumers are likely to return to pre-pandemic activity levels, they may also have discovered new pastimes while stuck at home, and they may continue to pursue those activities post-pandemic. Or, once pandemic-related mandates begin to lift, they may be more inclined to embrace novel activities they hadn't previously considered but which now represent a return to the freedom of choice and exploration we've all become accustomed to.
With women bearing the brunt of this new normal, employers and brands alike would be wise to consider how to alleviate or simplify responsibilities, potentially by providing tailored entertainment and/or stress-relief offers.
When it comes to urban consumers, the brand opportunity is not only to create positive and sticky sources of entertainment for those in urban settings, but to plan for ways to help adults celebrate the greater freedom to leave their homes once mandates begin to lift.
Brands need to explore different strategies to engage both high- and low-income consumers at this time. Companies offering products or services related to activities higher-income audiences are doing more during the pandemic should think strategically about how to capitalize on a more engaged audience, but they should also be sensitive to the financial, emotional, and health-related strains lower-income populations are experiencing as they face layoffs and health risks from working on the front lines, among other hardships.
Brands should bear these divergent realities in mind in targeting, communications and positioning strategies: Recent Morning Consult research confirms that consumers want brands to acknowledge consumers' current reality and provide solutions to their unique needs during the crisis, but that reality and those needs look very different depending on income levels.
Victoria Sakal previously worked at Morning Consult as a brands analyst.
We want to hear from you. Reach out to this author or your Morning Consult team with any questions or comments.
Contact Us