Global Supply Chain Disruptions Are Widespread, but Starting to Clear
Most of the world's largest economies continue to be impacted by supply chain disruptions and rising inflation.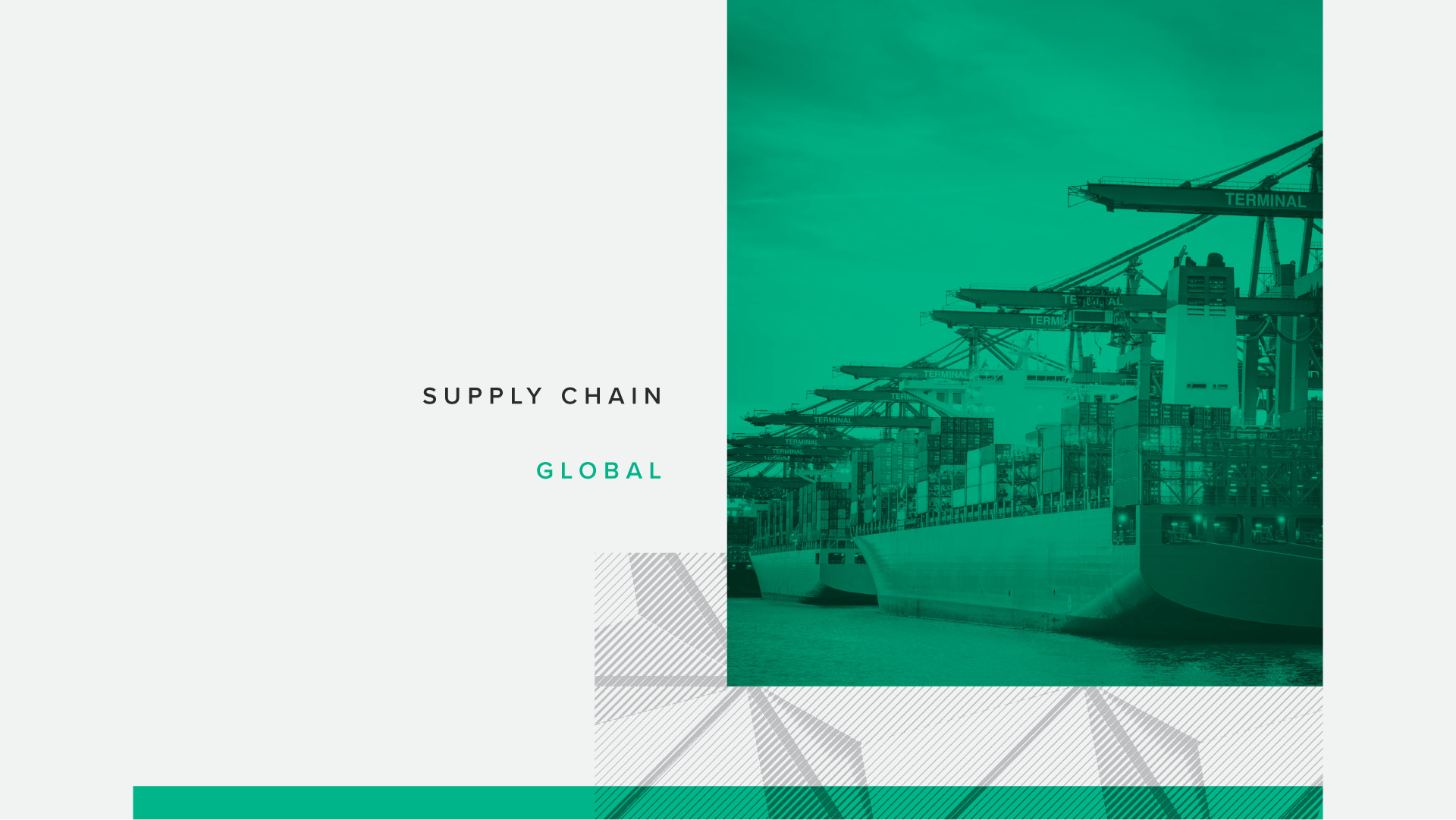 Key Takeaways
In November, consumers in 11 of the world's largest economies reported substantial shortages for at least one product category.

Supply disruptions appear to be contributing to rising inflation: Countries with more severe shortages generally experienced faster price growth.

The severity of supply chain bottlenecks showed signs of easing, but the omicron variant threatens to resurrect certain aspects of delta-driven disruption.
Supply chain disruptions have rippled across the global economy in recent months, triggering widespread impacts in both rich countries and emerging markets. Shortages and logistical bottlenecks have stoked inflation concerns as supply-constrained goods prices rose in response to pent-up demand following a recovery in household spending.
To evaluate the impact of supply chain disruptions around the world, Morning Consult began surveying consumers in the 15 largest economies at the end of September. Each month, consumers are asked which products they had difficulty procuring and who they blame for the shortages. 
November's results showed that supply chain disruptions continue to be widespread, and there is some evidence that these disruptions are driving up inflation rates. However, half of all product categories registered some improvement compared with the previous month, suggesting that the worst phase of disruption may have already passed.
Global bottlenecks are starting to loosen
Entering the final month of the year, supply chain dynamics appear to be trending in a positive direction. Several categories impacted by shortages showed modest improvement last month; the share of prospective buyers reporting buying difficulties across all 15 countries fell in 6 of 12 categories between October and November. Improving the flow of goods is a critical component of growth, especially for countries like the United States, where consumer spending not only drives GDP domestically, but has implications for trading partners as well. 
Wealthy countries are shortest on housing; consumers in emerging markets struggle to find vehicles
Shortages and supply chain bottlenecks are impacting developed economies and emerging markets alike, but the effects are being felt in different ways. Richer countries are contending with limited housing stock, while emerging economies have been most acutely impacted by restricted availability of vehicles. 
In 11 of the 15 countries surveyed, at least one product category had more than a quarter of prospective buyers reporting procurement difficulties in November. India, the United States and Brazil had the most pervasive supply disruptions, with substantial shortages reported for six or more categories each. The presence of the United States among the most impacted countries underlines the severity of current supply chain disruptions: Even in normal times, developing countries like India and Brazil might experience some degree of chronic shortages, but the United States' inclusion in this group — despite its comparatively robust logistical infrastructure — is unusual. 
The type of products most impacted by supply constraints in each country varied. In countries with relatively higher GDP per capita — Canada, Australia, France and Germany — housing tended to be the category that proved most elusive. In developing nations like Brazil, Russia, India and China, vehicles — including cars and motorcycles — were the most impacted categories.
Supply chain disruptions driving up inflation
Supply constraints have been met with robust demand as the global economy progresses in its pandemic recovery, and shortages of goods have corresponded with rising prices.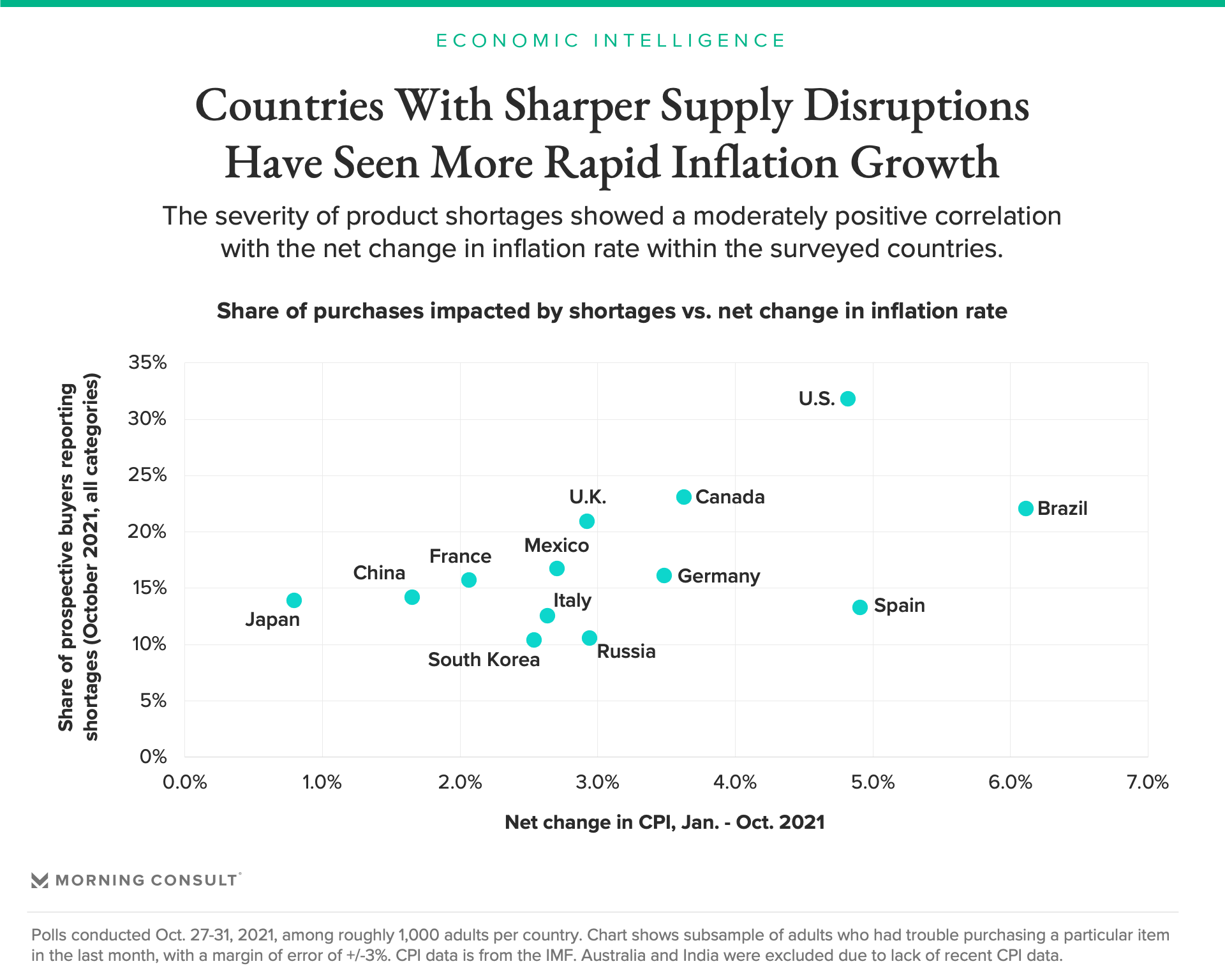 Among the countries surveyed, more acute supply chain disruptions tended to be associated with rising inflation this year. The share of respondents reporting shortages across all categories within a given country had a moderately positive correlation (0.53) with the net change in that country's inflation rate from January through October. This data suggests that global inflation pressures will ease as supply chain disruptions abate, making it a key indicator to watch going forward.
Countries agree on blaming manufacturers and hoarders, but disagree on leadership's role in shortages
Manufacturers, hoarders and logistics companies tended to receive the most blame for shortages, while stores, local government and the weather were generally viewed as least culpable. 
The federal government was one of the most polarizing entities in terms of blame: Respondents in the United States, Brazil, Japan and Russia held national leaders more responsible for shortages than most other entities, whereas France, Mexico, India, Italy and China ranked the federal government as one of the least blameworthy parties.
The degree of blame directed at the federal government was somewhat correlated with approval ratings: National leaders in Brazil, the United States and Japan all have approval ratings of less than 50 percent, while the leaders of India and Mexico currently have the highest approval ratings among the countries tracked by Morning Consult (72 percent and 66 percent, respectively).
The omicron threat
While supply chain issues appear to be trending in a positive direction, the omicron variant is a looming risk that may slow progress if its impact mimics that of delta. However, climbing vaccination rates worldwide and adaptations implemented during prior surges may help blunt the effect of the new variant on the global supply chain.  
Kayla Bruun is a senior economist at decision intelligence company Morning Consult, where she analyzes consumer spending, inflation and household finance trends, leveraging the company's proprietary high-frequency data.
Prior to joining Morning Consult, Kayla was a key member of the corporate strategy team at telecommunications company SES, where she produced market intelligence and industry analysis of mobility markets. 
Kayla also served as an economist at IHS Markit, where she covered global services industries, provided price forecasts, produced written analyses and served as a subject-matter expert on client-facing consulting projects. 
Kayla earned a bachelor's degree in economics from Emory University and an MBA with a certificate in nonmarket strategy from Georgetown University's McDonough School of Business.
Follow her on Twitter @KaylaBruun. For speaking opportunities and booking requests, please email [email protected]
We want to hear from you. Reach out to this author or your Morning Consult team with any questions or comments.
Contact Us