How TikTok Can Help Brands Increase In-Store Shopping
Shopping enjoyment is declining, but those who do enjoy shopping in stores also tend to be avid TikTok users. Retail & e-commerce analyst Claire Tassin examines the opportunity for stores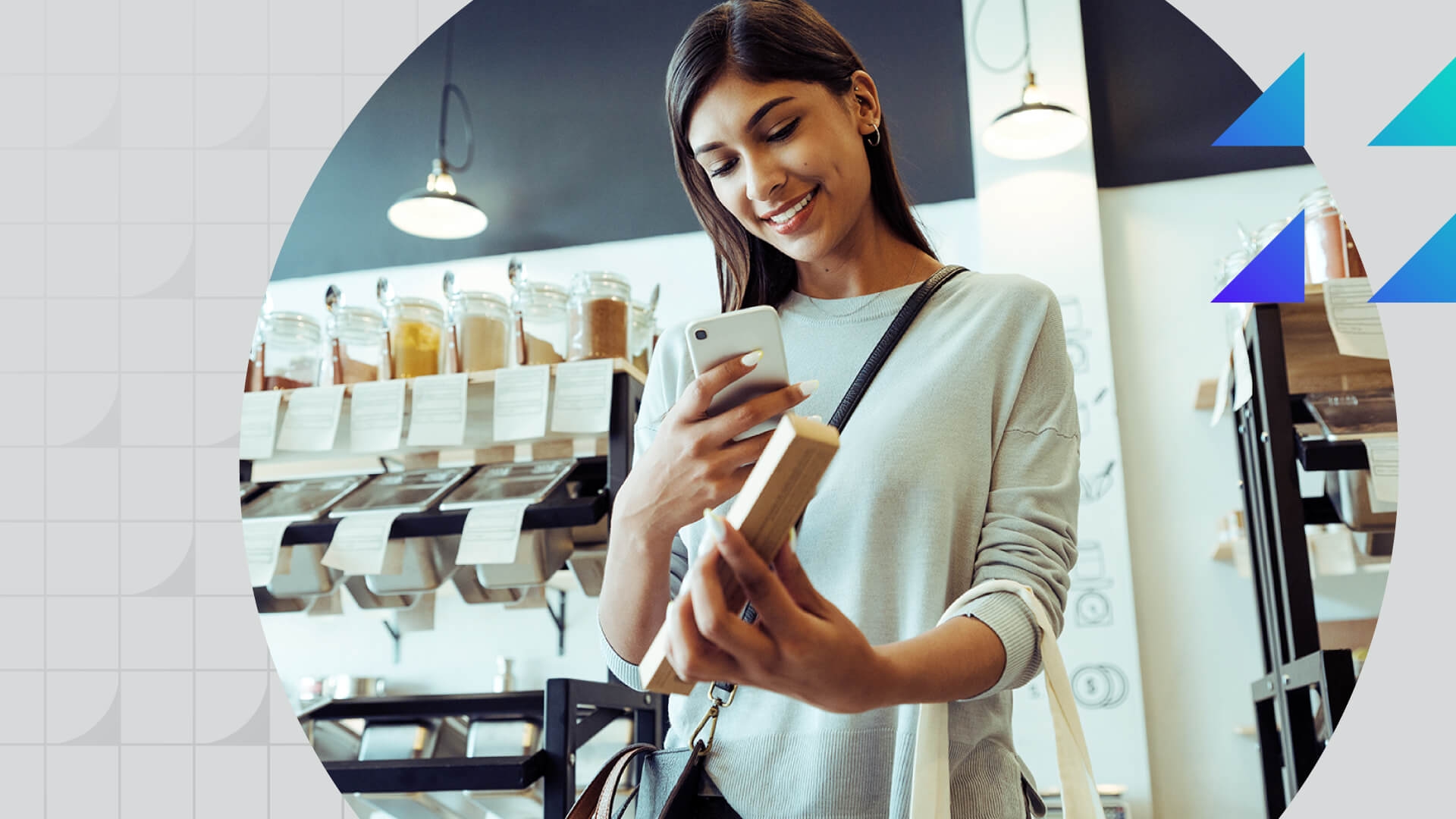 Key Takeaways
Shoppers' enjoyment of stores is diminishing. The share of consumers who say they prefer shopping in stores rather than online because the experience is enjoyable has dropped 10 percentage points, from 62% in April 2022 to 52% in July.

People who say they enjoy shopping in stores use TikTok more often than the general public (39% versus 28%), pointing to an opportunity to bring fans of the platform and its popular creators into brick-and-mortar stores.

Inflation has dampened shopping enjoyment, but retailers have an opportunity to highlight both the fun and the convenience of shopping in stores through partnerships with TikTok influencers.
 For more exclusive data on inflation's impact on consumer shopping attitudes and behaviors, download Morning Consult's latest State of Retail & E-Commerce report.
Shopping in person should be enjoyable, but inflation has driven down the fun factor for Americans. In July, 52% rated the experience as enjoyable, a 10-point drop from a series high of 62% in April 2022.
Drivers of shopping enjoyment vary across income groups. Shopping as entertainment is a strong driver for those in households earning less than $100,000 annually, and new product discovery is a much stronger driver for those earning at least $50,000. Simply put, discovering new products isn't fun when you can't afford them.
Specific demographics at scale: Surveying thousands of consumers around the world every day powers our ability to examine and analyze perceptions and habits of more specific demographics at scale, like those featured here.
Why it matters: Leaders need a better understanding of their audiences when making key decisions. Our comprehensive approach to understanding audience profiles complements the "who" of demographics and the "what" of behavioral data with critical insights and analysis on the "why."
Some factors are more consistent drivers of in-store enjoyment: Shopping as a social activity is universal across all income groups, as is a desire for efficient checkout.
Stores also need to be fully staffed to create enjoyable experiences, so the current challenge for retailers to hire and retain sales associates is dampening the customer experience. 
TikTok and Instagram can connect shoppers to stores
People who say they enjoy shopping in stores also tend to use TikTok, Instagram and Spotify at higher rates than the general population, per Morning Consult Audience data. While they might spend more time on social media, they're nearly just as likely as all U.S. adults to make purchases through such apps. The forthcoming U.S. TikTok Shop is poised to take advantage of the platform's power to drive product sales.
People Who Enjoy Shopping in Stores Use TikTok More Than the General Population
Respondents' reported social media usage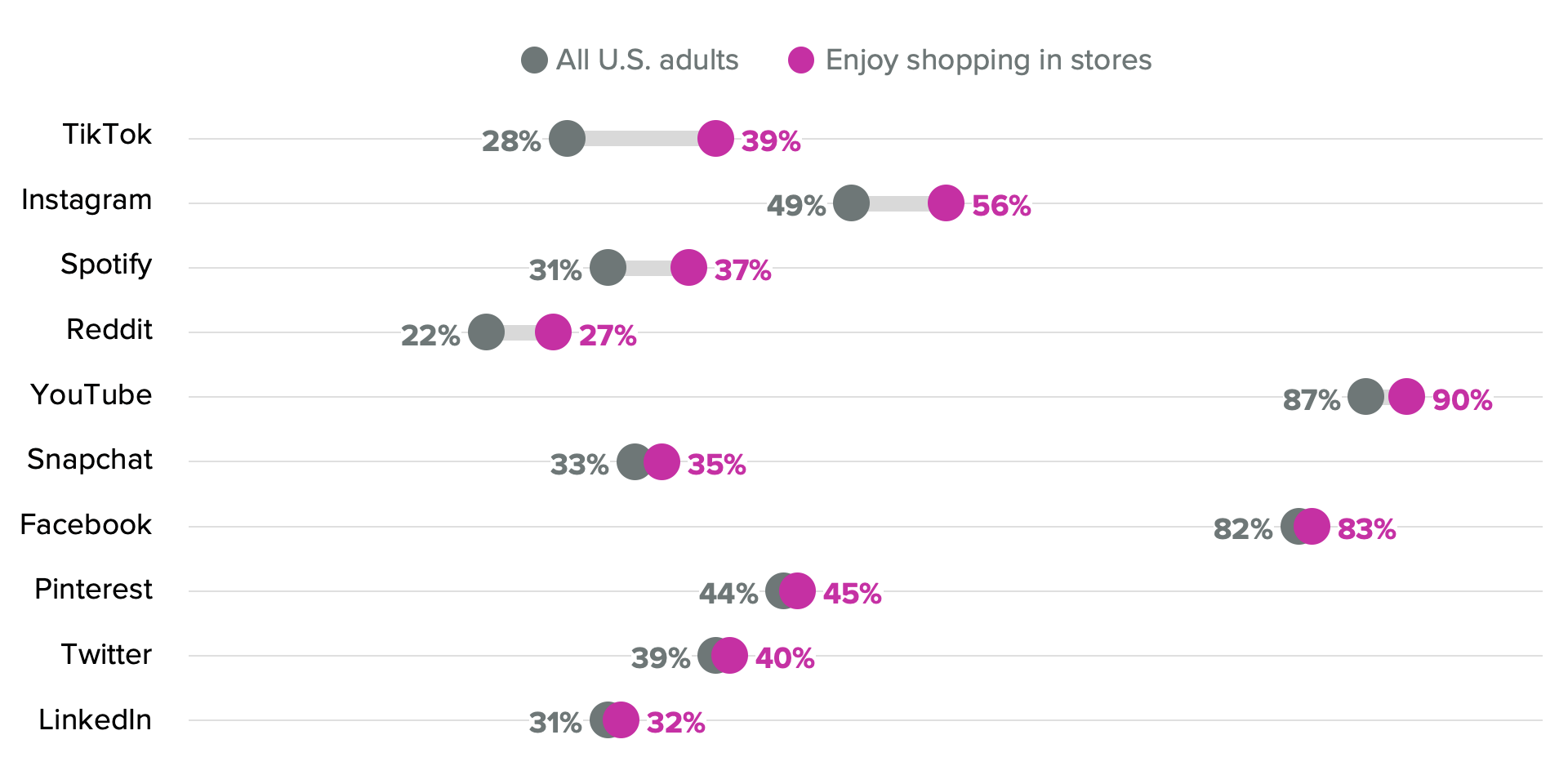 Source: Morning Consult Audience
This group may enjoy shopping at stores, but that doesn't mean brick and mortar is their exclusive channel: They are 7 points more likely than the general population to be Amazon Prime users (64% versus 57%). Instead, their enjoyment of stores is linked to a desire to be out and about. This group also reports seeking out variety (73%) and having a keen sense of adventure (64%) at higher rates than all U.S. adults (65% and 57%, respectively).
Bringing TikTok users into stores
Welcoming TikTok challenges into stores may be a hassle for staff, but inviting influencers to film "shop with me" videos can help convert online viewers into in-store shoppers. Retailers should use their influencer relationships to showcase new product launches and underused in-store services. Brand founders with a strong social media presence can bring their followers into stores via meet-and-greets. Prior to 2020, stores put a stronger emphasis on event strategies, and it's time to bring that back. 
Claire Tassin is the lead retail & e-commerce analyst on the Industry Intelligence team, where she conducts research, authors analyst notes and advises leaders in the retail & e-commerce industry on how to apply insights to make better business decisions. Before joining Morning Consult, Claire was an analyst at Gartner, where she conducted research on shifting consumer behaviors and expectations, as well as trends and technology relevant to marketing leaders in the retail sector. She graduated from Washington University in St. Louis with a bachelor's degree in psychology. For speaking opportunities and booking requests, please email [email protected].
We want to hear from you. Reach out to this author or your Morning Consult team with any questions or comments.
Contact Us