Deal-Centric Messaging and Loyalty Program Perks Will Engage Inflation-Weary Travelers
Travel & hospitality analyst Lindsey Roeschke identifies opportunities for travel brands to combat consumers' cost-cutting
As a discretionary category, travel has the potential to be deeply impacted by consumers' financial concerns and cutbacks. In order to maintain volume, brands must adapt to cost-conscious mindsets that vary by demographic, and lean into areas of opportunity like loyalty and rewards programs.
Inflation and concerns about a potential recession are impacting consumer behavior across categories. In travel, a busy early summer has given way to a drop in bookings and lower intent to travel in the late summer and fall. But not all consumers take a similar approach to managing financial concerns in this category. To align with consumer expectations and encourage people to hit the road, travel brands must understand where the opportunities are greatest.
Despite falling gas prices, most consumers worry about inflation's impact on car travel
Consumers are relatively less concerned about inflation in categories they engage with infrequently. Inflation's impact on air travel, for example, is less concerning for consumers than on a category like groceries because people don't purchase airfare, or even think about it, nearly as often. Frequency of use, then, coupled with a constant drumbeat of media coverage about high gas prices through the summer, means that consumers are far more concerned — 27 percentage points, to be exact — about costs in car travel than air travel. However, while nearly three-quarters of consumers currently say they're concerned about inflation in car travel, this number may decline as gas prices tick downward.
Shares of U.S. consumers who said they are concerned about inflation in travel
Survey conducted Aug. 6-7, 2022, among a representative sample of 2,210 U.S. adults, with an unweighted margin of error of +/-2 percentage points.
Concerns vary slightly by demographic. Specifically, income plays a role when it comes to car travel. Those in middle-income households are the most concerned about inflation in this area at 78 percent — 9 percentage points higher than people in low-income households. This is likely because the former are now feeling financial pressures especially acutely, while the latter are used to budgeting carefully and adjusting their spending.
Gen Zers are the most determined to keep travel plans on their terms
Encouragingly for brands, consumers are amenable to taking steps to save money on travel before they cancel their trips entirely. Generally, consumers prefer to look for less expensive travel options — but again, their approaches vary by demographic.
Gen Z adults are the most likely generation to have made any sort of adjustment in the past month, though their tendency toward finding lower-priced alternatives outweighs their inclination to change plans. Over half of Gen Zers said they searched for cheaper travel options in light of inflation compared with 43% who reported rescheduling or adjusting their plans. But perhaps most interestingly, these young travelers are the only group who are more likely to cancel plans than change them.
This scrappy attitude reflects that this cohort, who have already had to delay or cancel many experiences because of the pandemic, are determined to travel on their own terms. For travel brands, this means that it's crucial to lock in Gen Z travelers early in the planning process with deal-driven messaging, and to keep them engaged between booking and departure to minimize cancellations.
Baby boomers, on the other hand, are the least likely of any generation to search for lower fares, engaging in this activity at nearly the same rate that they reschedule travel plans or cancel them completely. This doesn't mean baby boomers aren't concerned about inflation — nearly half are concerned about costs in air travel, and they are the most likely group to say the same about car travel.
Shares of U.S. consumers who said they have taken the following actions to save money in the past month:
Survey conducted Aug. 6-7, 2022, among a representative sample of 2,210 U.S. adults, with an unweighted margin of error of +/-2 percentage points.
Income breaks fall along predictable lines, with lower-income consumers being the most likely to fully cancel their travel plans and the highest earners leaning toward finding cheaper alternatives rather than adjusting their plans or scrapping them altogether.

Given consumers' tendency to search for lower-priced options, travel companies should spotlight deal-centric messaging to encourage engagement among budget-conscious travelers.

Loyalty programs represent an engagement opportunity for travel companies
Though they are less likely to have taken action in response to inflation in the travel industry, older consumers — especially baby boomers — show an outsize willingness to do so in the future.
Shares of U.S. consumers who said they have done or would do the following due to inflation concerns: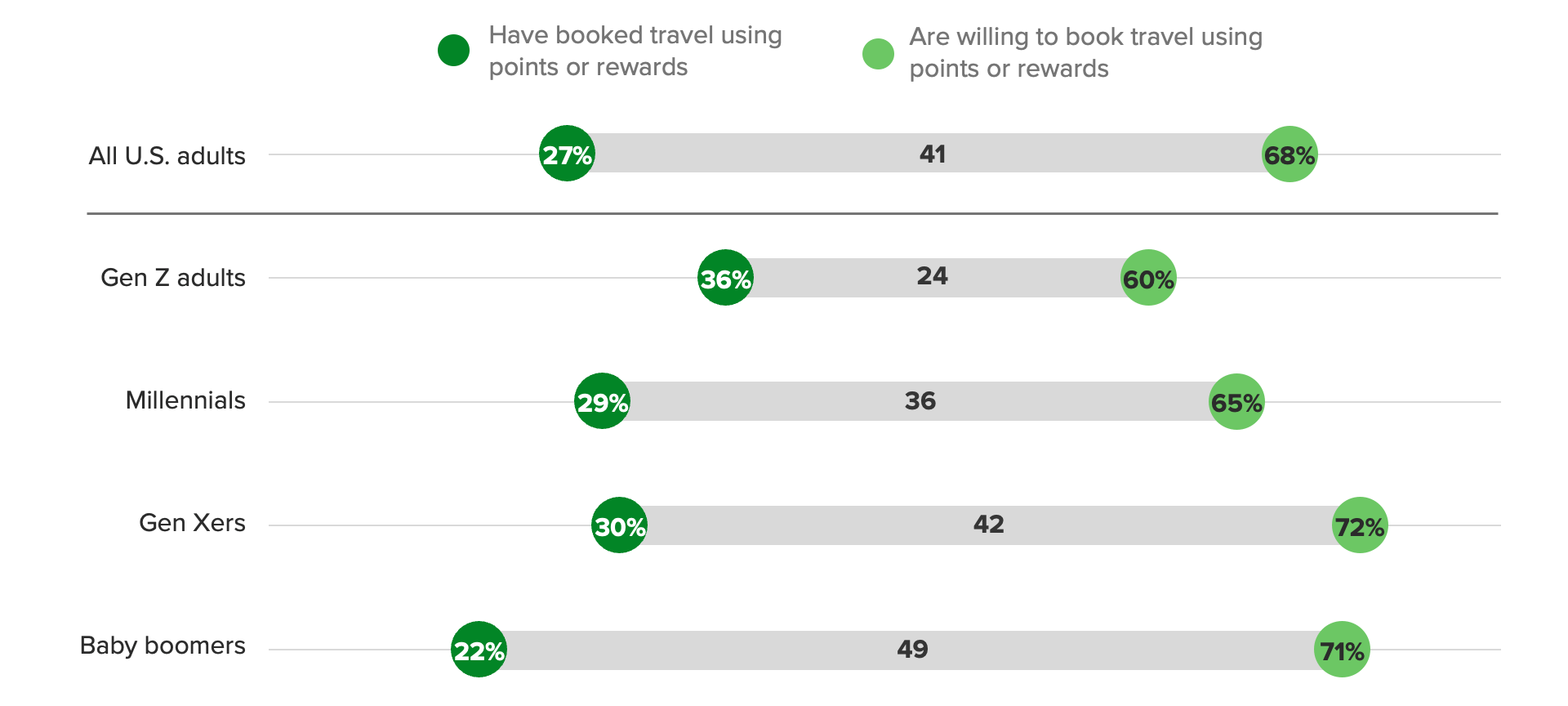 Survey conducted Aug. 6-7, 2022, among a representative sample of 2,210 U.S. adults, including 1,605 who said they had not booked travel using points or rewards in the past month, both with unweighted margins of error of +/-2 percentage points.
One area of opportunity for travel brands is loyalty and rewards programs. Less than a quarter of baby boomers say they have booked travel using points in the last month, but nearly three-quarters of this group who have yet to take action to save money due to inflation say they would be willing to do so in the future. While baby boomers present the biggest untapped opportunity, consumers across all major demographics express at least some interest in leveraging loyalty points to cover travel costs in lieu of cash or credit, with more than two-thirds of all consumers who have yet to take action to save money saying they would be willing to book with points or rewards if inflation continues to rise.
This interest signals an opportunity for travel companies to leverage loyalty programs as a way to encourage travel among those who are hesitant due to cost concerns. This approach could capture existing members through offers and cross promotions as well as new members through sign-up bonuses in the form of points, miles or deals.
Lindsey Roeschke is the lead travel & hospitality analyst on the Industry Intelligence team, where she conducts research, authors analyst notes and advises leaders in the travel & hospitality industry on how to apply insights to make better business decisions. Before joining Morning Consult, she served as a director of consumer and culture analysis at Gartner and spent more than a decade working at advertising agencies across three continents. Lindsey graduated from the University of Delaware with a bachelor's degree in communications and holds a master's degree in strategic communications from Villanova University. For speaking opportunities and booking requests, please email [email protected].
We want to hear from you. Reach out to this author or your Morning Consult team with any questions or comments.
Contact Us