Why Meal Planners Are an Attractive Audience for Food & Beverage Brands
Food & beverage analyst Emily Moquin takes a look at consumers' meal planning habits
To better understand consumers' current cooking habits, Morning Consult conducted a series of weekly surveys in February 2022 on how people are eating and preparing food. This research is part of a collection. Click here to read about when and how consumers are cooking.
Meal planners — those who plan most or all of their meals for the week before grocery shopping — are a receptive audience actively seeking inspiration and solutions. These younger, wealthier and more urban-skewing consumers are intentional and mindful about researching and planning their meals, offering brands crucial avenues for messaging. And when meal planners find products and recipes that meet their needs, they'll likely return to them time and again, forming a loyal consumer base for food & beverage brands and grocery retailers. 
Who's meal planning
Roughly 1 in 3 U.S. adults say they plan most or all of their meals for the week prior to grocery shopping. Millennials, higher-income consumers, urban dwellers and those with children in the house are most likely to do so — at least 40% of each group said they plan all or most of their meals. The time spent upfront on meal planning can help these busy consumer groups save time during the rest of the week. These groups also tend to express higher interest in health and wellness, and advanced planning may help them achieve related goals.
These cohorts are also more likely to be vegetarian or vegan, two other groups that tend to be meal planners: 65% of vegetarians and 70% of vegans said they plan all or most of their meals. For those following a specific diet, this forethought may be an effort to stay on course, or it might reflect the fact that these groups are more involved with their food choices in general. 
Men are 5 percentage points more likely than women to plan out meals in advance of grocery shopping, which may be a function of different shopping styles. More men (33%) than women (25%) say they make a large scheduled trip to the grocery store at least weekly, necessitating pre-planning. 
While affordability is the top reason cited by all consumers for cooking at home, meal planners are much more likely than nonplanners to cite control over ingredients and flavors, health, and enjoyment of cooking as major reasons for preparing meals at home.
Meal planners view cooking differently than nonplanners do: More than half of meal planners (52%) say they cook because they enjoy it, compared with 36% of those who don't plan meals. Tapping into the joy of cooking — particularly at a time when dining at restaurants remains uncomfortable or financially unappealing for many — is key to appealing to these proactive planners.
Share who said each of the following is a major reason they cook at home:
Weekly surveys conducted Feb. 1-21, 2022, among a representative sample of roughly 8,840 U.S. adults, with an unweighted margin of error of +/-1 percentage point.
For every cooking activity surveyed, the data shows that meal planners are cooking more frequently than nonplanners. Meal planners use recipes significantly more often than nonplanners: Almost 80% cook with a recipe at least one or two days a week, compared with 50% of nonplanners, and around 3 in 10 meal planners cook with a recipe five or more days a week. 
Brands in every aisle have an opportunity to connect with these plan-driven cooks: Meal planners are also more likely to bake using box mixes, cook with prepackaged foods and make cocktails at home. 
Just over half of meal planners — nearly twice the share of all adults — also prepare meals ahead of time to eat throughout the week. Brands can offer ideas and solutions to facilitate this weekly meal prep.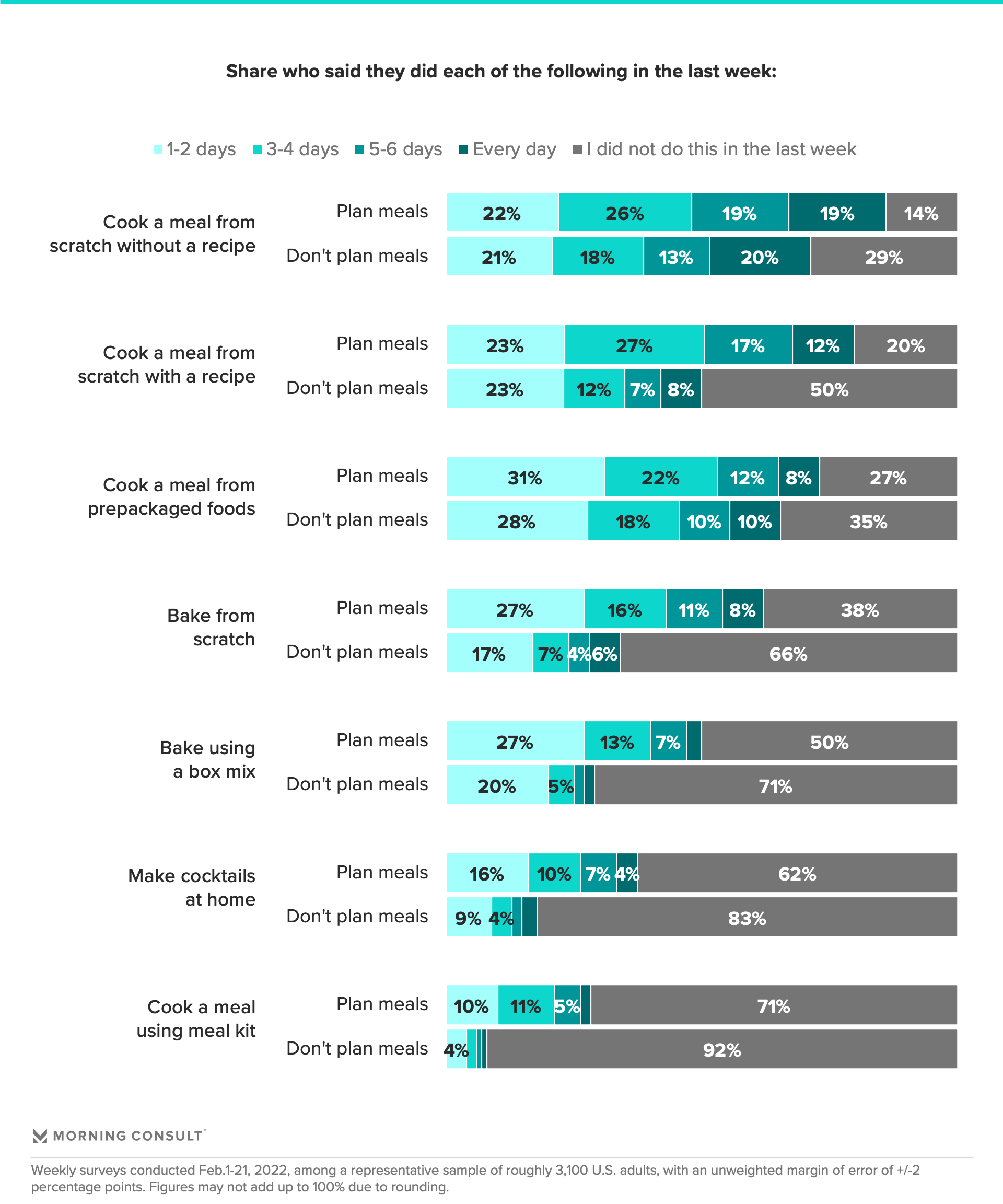 Who's using meal kits
For the consumers who want to plan and prep but don't always have the time, there are meal kits, which have seen a resurgence during the pandemic, especially among the groups that plan meals the most. There is significant overlap between meal kit users and meal planners: 6 in 10 meal kit users say they plan most or all of their meals — nearly twice the share of all adults. Turning to a meal kit, even for just one night a week, helps lighten the meal planning load.
The demographic profile of meal kit subscribers aligns with the groups that spend the most on groceries and at restaurants. At grocery stores, meal kits shift sales away from not only the ingredients that come in those kits, but also from the incremental purchases consumers would have otherwise made while picking up dinner ingredients in person. And despite the hands-on cooking time that meal kits require, the pre-planned element of these meals makes them a competitive alternative to the restaurant experience. 
Emily Moquin previously worked at Morning Consult as a lead food & beverage analyst.
We want to hear from you. Reach out to this author or your Morning Consult team with any questions or comments.
Contact Us