When and How Consumers Are Cooking in 2022
Food & beverage analyst Emily Moquin unpacks consumers' weekly cooking habits
To better understand consumers' current cooking habits, Morning Consult conducted a series of weekly surveys in February 2022 on how people are eating and preparing food. This research is part of a collection. Stay tuned for more.
Amid the COVID-19 pandemic, safety and comfort have played an outsized role in consumers' decisions about what to eat and where. Now, more than two years into the pandemic, consumers' comfort levels with dining out are at record highs, but Americans' economic and inflation concerns, exacerbated by the conflict in Ukraine and its impact on gas prices, have continued to dampen their appetite for eating in restaurants. 
Morning Consult wanted to know what Americans' cooking and eating habits look like on a daily basis. The following research examines weekly patterns across demographics to reveal who's cooking the most (and least) often and when people are least likely to cook. Understanding these behaviors can help food & beverage brands inform messaging content and timing, concentrate on target consumer groups, and ensure relevant positioning in the marketplace.  
When people are cooking
Most meals are sourced from home. Across breakfast, lunch and dinner, more meals are cooked from scratch at home than sourced from a restaurant, prepared from prepackaged or frozen food, or skipped altogether. Cost is the key driver: Nearly two-thirds of consumers cite affordability as a major reason for cooking at home.
Dinner is the meal consumers are most likely to cook from scratch. The share of consumers cooking dinner declines throughout the week, from roughly 60% on Sunday and Monday to around 50% on Friday and Saturday, when consumers are significantly more likely to turn to restaurants. Consumers' mid-week dinners also tend to shift slightly toward restaurants and frozen or pre-packaged meals. 
Those uncomfortable with dining at restaurants are doing more cooking at home. They are no more likely to order takeout or delivery or to prepare a meal from prepackaged or frozen food than the general population.
Who's cooking most often
Dinnertime cooking varies across generation, income and community. While the pattern of more cooking on weeknights applies across groups, the degree to which restaurant meals play a role throughout the week — especially on Fridays and Saturdays — diverges significantly.
Across generational lines, Gen Xers and baby boomers cook dinner at home far more often than millennials and Gen Zers. On an average weeknight, about half of millennials say they cook dinner from scratch, compared with roughly 7 in 10 baby boomers. Roughly one-quarter of millennials, a group that has the highest share of children under 13, are getting dinner from a restaurant on weeknights.
Gen Zers and millennials formed their adult eating habits alongside a landscape of ever-expanding to-go and prepared food options and services. Their digital connectedness helps further ingrain these habits in their lives. For those in a life stage that often requires balancing family and other personal commitments with work demands, restaurant options save both time and mental energy.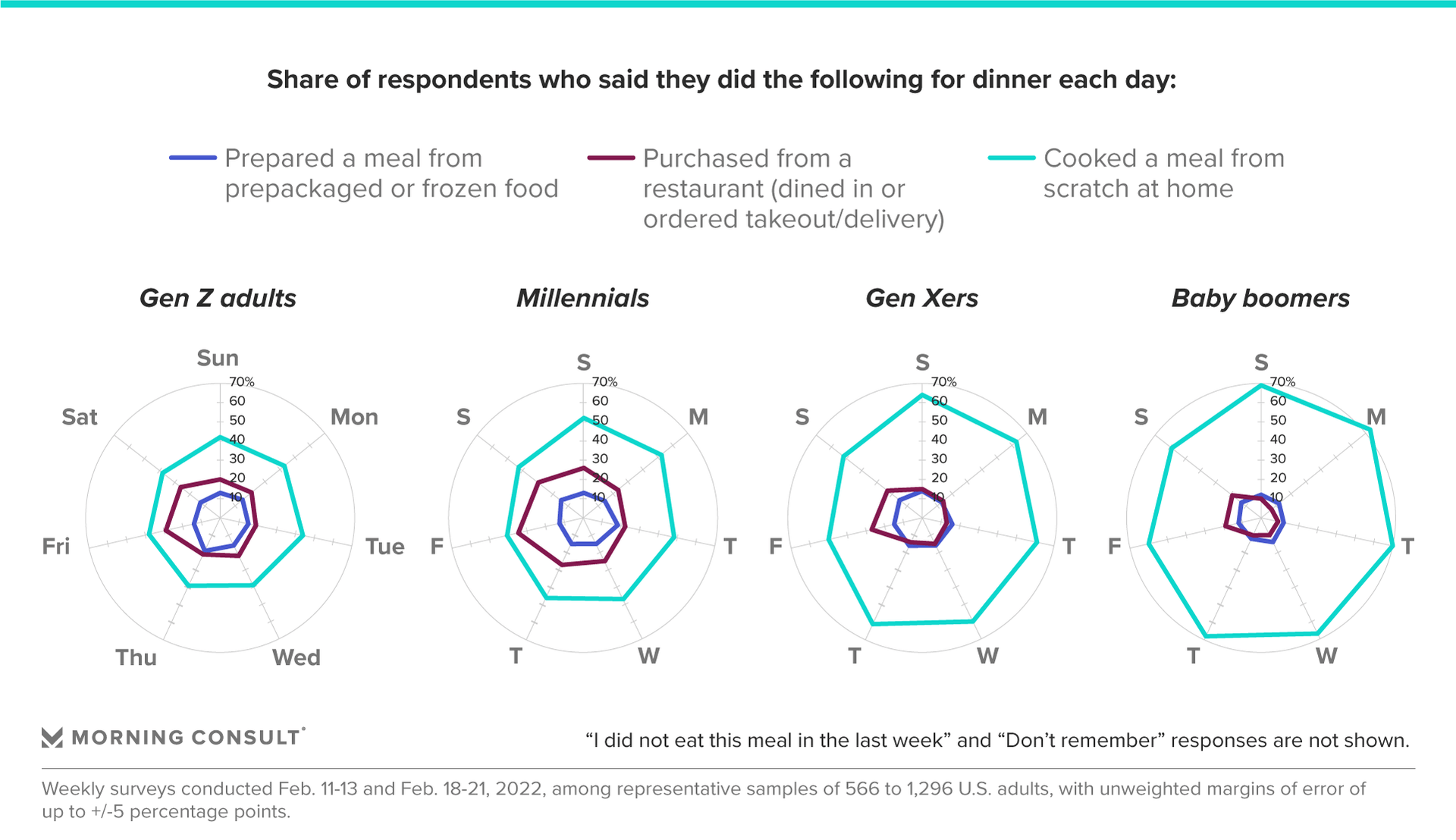 A similar share of consumers across income levels cooked weeknight dinners from scratch in February. Affordability is the top reason cited by all consumers for cooking at home, but wealthier consumers are more likely than the general population to cook at home for health reasons: 54% say it is a major reason, compared with 46% of all adults. 
Higher-income consumers are also, on average, 10 percentage points more likely to purchase meals from restaurants on weeknights. This difference is even more pronounced on Fridays and Saturdays, when those with an annual income of more than $100,000 are roughly twice as likely to get dinner from a restaurant than those with an annual income of less than $50,000. Those in the lowest income bracket are about 5 percentage points more likely to prepare dinner from prepackaged or frozen foods than those in the highest income group.
Brands looking to target home cooks should study the needs of consumers across income levels, as cooking at home is relatively popular and consistent across groups. Higher-income consumers are much more likely to include restaurants among their dining choices, but both food & beverage and restaurant brands should note that for now, the health factor is helping tip the scales toward home cooking.  
Looking at community, urban consumers are roughly twice as likely to get dinner from a restaurant on weeknights as rural and suburban residents. A similar share of suburban and rural consumers cook dinners throughout the week, but suburban consumers are slightly more likely than rural ones to get restaurant food on Fridays and Saturdays. 
Vegan and vegetarian consumers — who skew urban, millennial and higher-income — cook far less than adults in general. On average, they are about as likely to get dinner from a restaurant throughout the week (43%) as they are to cook dinner (37%). 
An array of restaurant options and a plethora of digital ordering and delivery services beckon urban-dwelling consumers away from their (potentially tiny) kitchens on a regular basis, but they are just as likely as their suburban and rural counterparts to cite affordability as a major reason for preparing meals at home, so current economic conditions may impact these behaviors.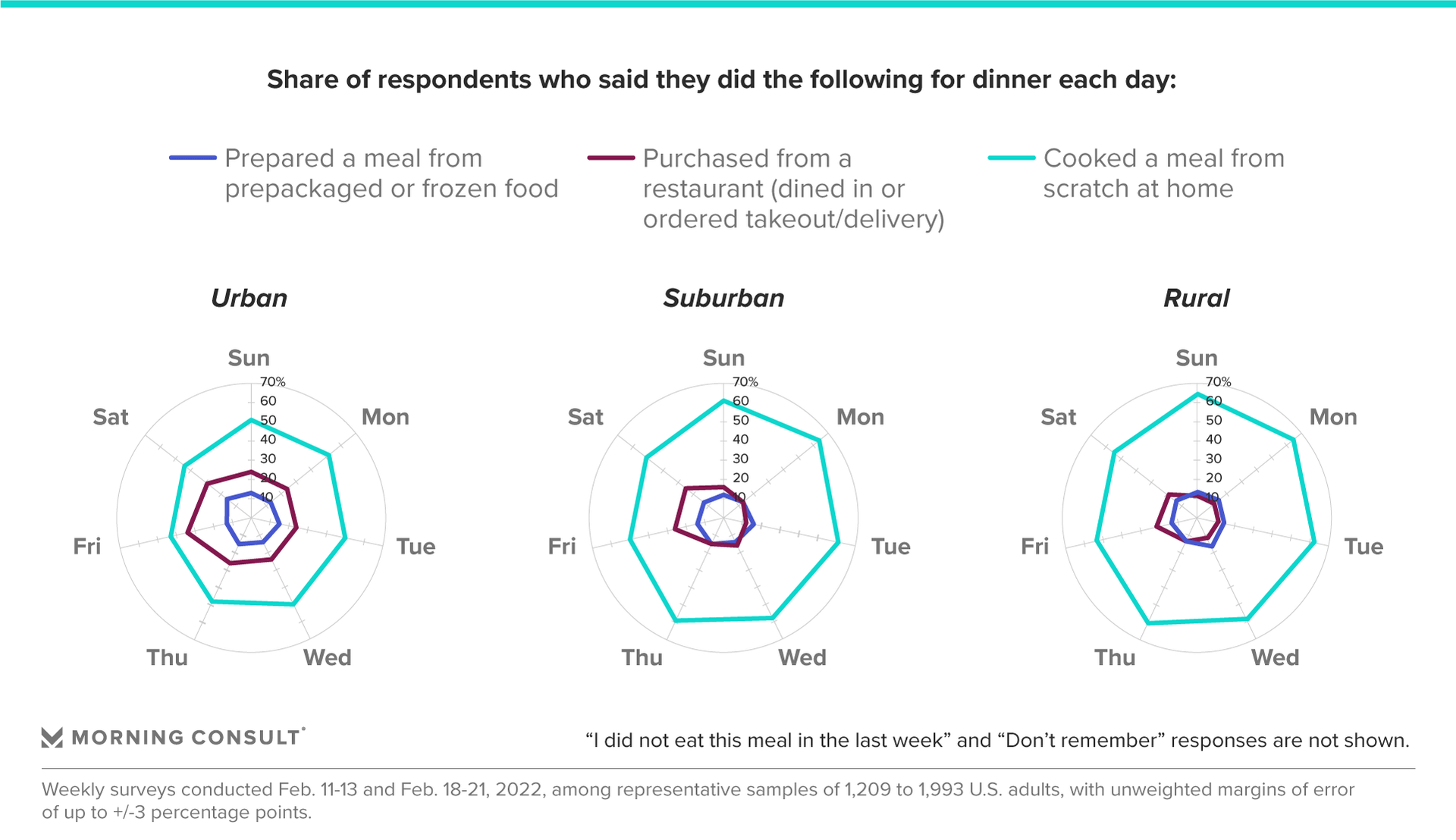 When people aren't cooking
Around half of adults say they cook a meal from scratch at home for breakfast or lunch every day of the week. Breakfast is the meal consumers are most likely to skip: Around 1 in 5 people say they skip breakfast each day. Gen Xers, baby boomers, women, suburban and rural consumers, and white adults are the most likely to forgo breakfast. Differences across income levels are minimal.
Whether breakfast is the most important meal of the day is up for debate, but marketers looking to connect with breakfast eaters should take note of which consumers may be tougher to convince, especially as intermittent fasting continues to be a popular option for weight control and energy regulation.
Emily Moquin previously worked at Morning Consult as a lead food & beverage analyst.
We want to hear from you. Reach out to this author or your Morning Consult team with any questions or comments.
Contact Us