Millennial Parents' Ongoing Safety Fears Will Limit Holiday Activities as Omicron Variant Looms
Millennial parents are some of the biggest spenders during the holidays, but ongoing pandemic concerns are limiting in-store shopping in favor of curbside options, writes retail and e-commerce analyst Claire Tassin
Millennials are often characterized by their bleak financial outlooks, but parents in this cohort still plan to spend big for the holidays. Raising Gen Alpha amid a pandemic has heightened millennial parents' safety concerns, despite current vaccine availability for young children. With the omicron variant looming large in consumers' minds, that will likely translate to the youngest generation experiencing another virtual Christmas, and to millennial parents leaning more heavily on omnichannel services.
The approval of COVID-19 vaccinations for kids ages 5 to 11 by the Centers for Disease Control and Prevention in early November was a hopeful indicator of a more normal holiday season for families with young children. But Morning Consult's holiday tracking data shows that millennial parents — those with children newly eligible for vaccines — have had more complex reactions to that news, as concerns about safety remain at the forefront for this group. With 71 percent of U.S. adults worried about the omicron variant, holiday plans are likely to shift quickly.
Despite financial anxiety, millennial parents are big holiday spenders
Millennial parents are ahead of nonparents in completing their holiday shopping, but fulfilling wish lists is expensive. Pressure to deliver great gifts means millennial parents are likely to spend substantially more than nonparents this holiday season. Moreover, millennials' gloomy financial well-being isn't dampening holiday budgets; instead, parents are much more likely to extend their budgets through "buy now, pay later" services (57 percent versus 40 percent for nonparents). Retailers not offering these services risk missing out on significant revenue.
Respondents were asked how much they plan to spend on gifts for the holidays
Poll conducted Nov. 24-27, 2021, among 2,200 U.S. adults, with an overall margin of error of +/-2%. Figures may not add up to 100% due to rounding.
Millennial parents' holiday anxiety persists despite vaccine availability for children
After a quick decrease in plans for virtual events when vaccines were approved for kids under 12, millennial parents' holiday plans have now shifted back in favor of virtual celebrations, illustrating their ongoing concerns about planning holidays during a pandemic. With this week's news of the omicron variant, parents are likely to maintain high levels of caution in the coming month, and retailers should take care to reflect this reality of smaller-scale or virtual holidays in their messaging on social media, email and other flexible channels.
Share of respondents who said they "strongly" or "somewhat" agree that their holiday gatherings will shift from being in-person to virtual this year
Surveys conducted weekly among roughly 2,200 U.S. adults, with margins of error of +/-2%.
Millennial parents find safety and convenience in omnichannel services
Millennial parents and nonparents are equally likely to shop online, but parents are 10 percentage points more likely than nonparents to say pandemic safety concerns are driving that preference. While ordering online for home delivery is millennial parents' most utilized shopping method, they are significantly more likely than nonparents to lean on curbside and in-store pickup to ensure that their shopping trips are safe and convenient. Retailers should ramp up store safety messaging throughout the holiday season as the omicron situation develops and continue to emphasize curbside options via their digital channels.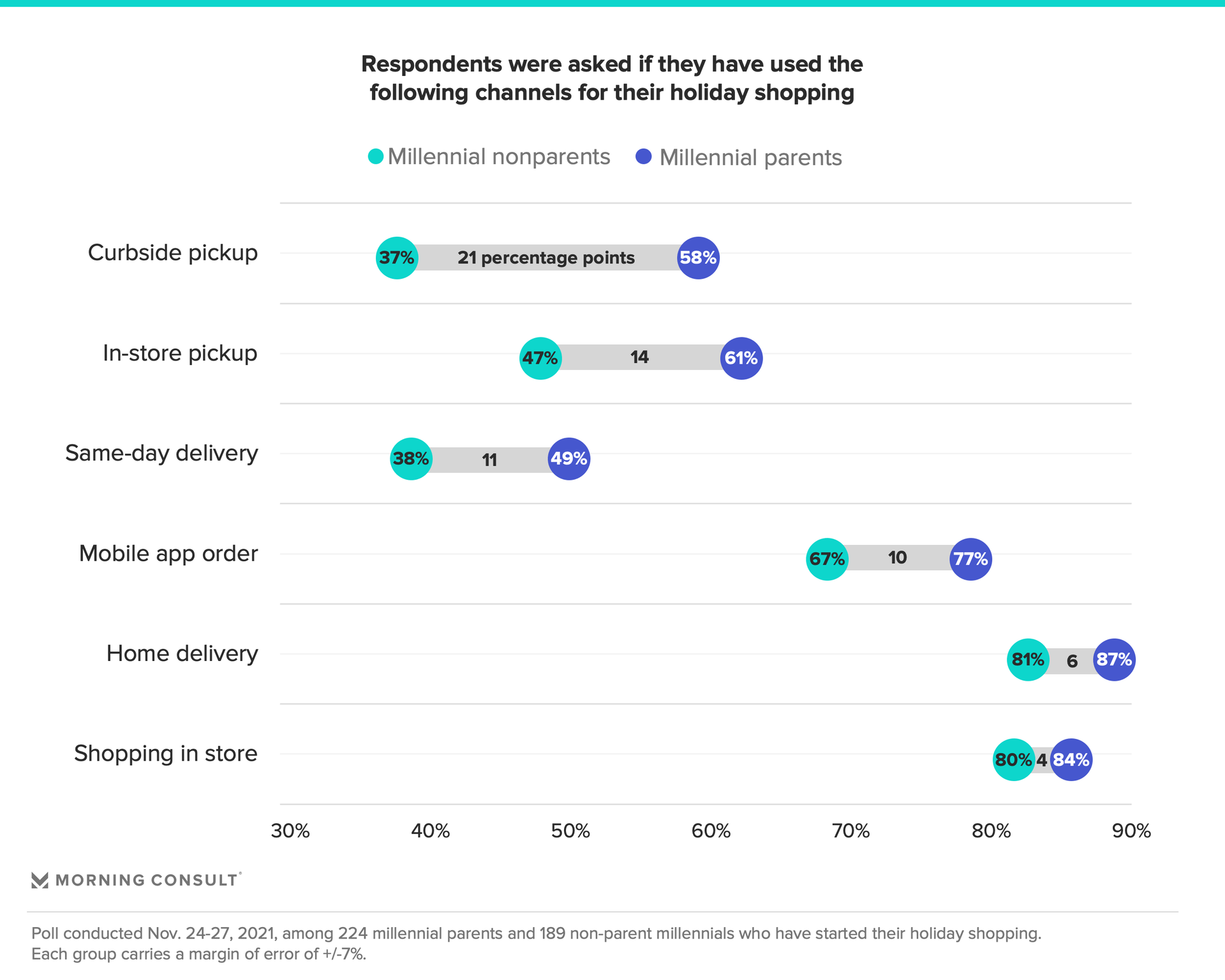 Claire Tassin is the lead retail & e-commerce analyst on the Industry Intelligence team, where she conducts research, authors analyst notes and advises leaders in the retail & e-commerce industry on how to apply insights to make better business decisions. Before joining Morning Consult, Claire was an analyst at Gartner, where she conducted research on shifting consumer behaviors and expectations, as well as trends and technology relevant to marketing leaders in the retail sector. She graduated from Washington University in St. Louis with a bachelor's degree in psychology. For speaking opportunities and booking requests, please email [email protected].
We want to hear from you. Reach out to this author or your Morning Consult team with any questions or comments.
Contact Us