Americans' Most Trusted Universities, and the Need to Bridge Gaps in Public Trust
Morning Consult's Most Trusted Universities report by Rahul Choudaha, managing director of higher education, measures public trust in top universities and highlights the importance of building trust among key demographics.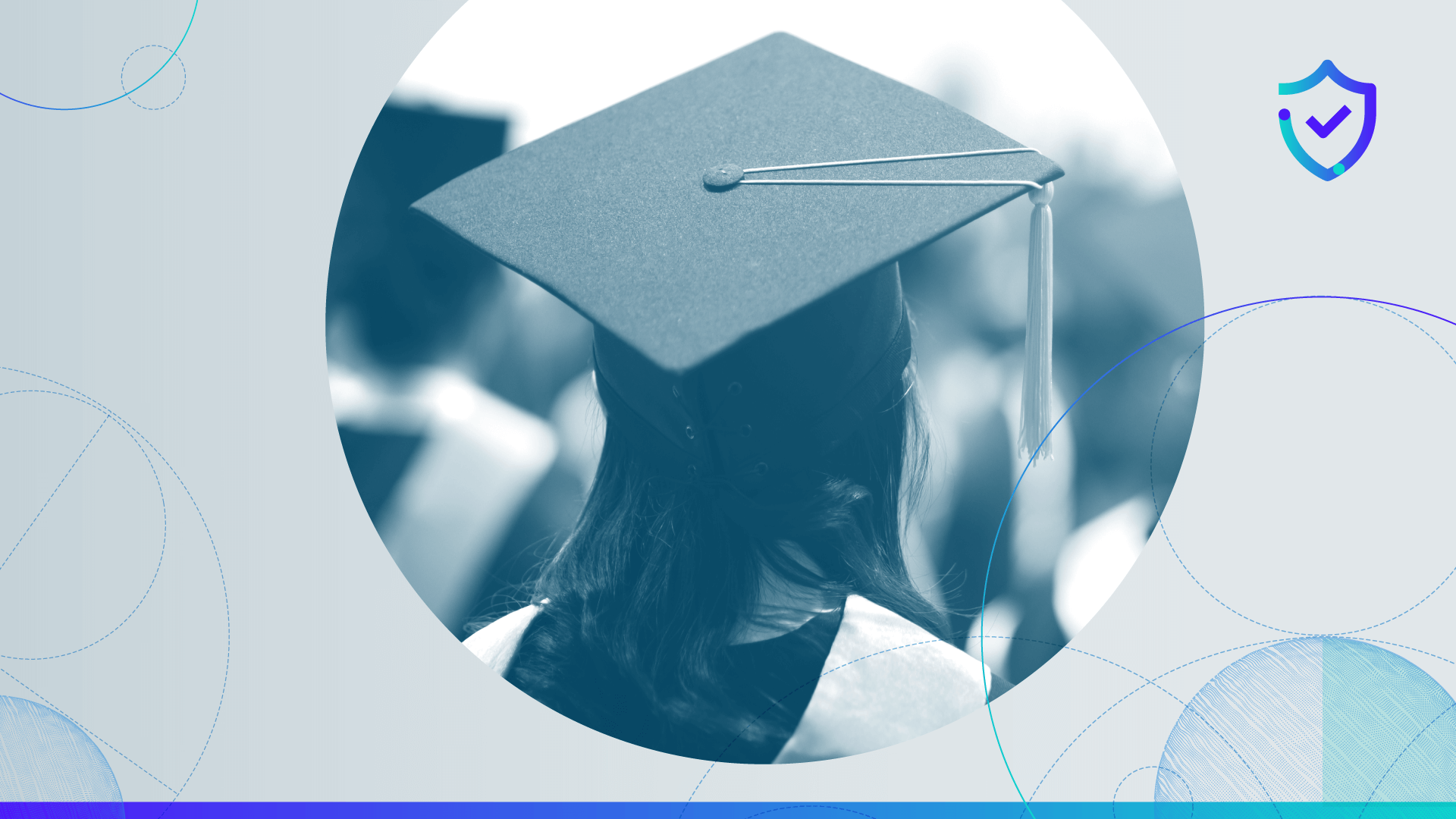 Higher education faces several long-term and immediate challenges in attracting future students. Morning Consult research highlights the importance of building trust for higher education and how it varies by key audiences and types of universities. Low trust among young adults signals a call to action for higher education leaders to establish baseline brand metrics that matter to their institution and track them over time to inform strategies.
This is a preview of our Most Trusted Universities report. Download the entire report here and register for the webinar.
The universities that Americans trust the most are all private higher education institutions. That's according to a new report gauging public trust in the top 135 doctoral universities and identifying important gaps in trust among the general public.

Doctoral research universities are complex entities that serve multiple stakeholders through their teaching, research and service mission. Before the pandemic, higher education faced several long-term challenges related to the declining college-age population and rising cost of education. In the last couple of years, the pandemic has accentuated these challenges due to the "Great Reprioritization" and more recent concerns about the impact of inflation on the cost of college.
In this context, trust is one of the leading metrics of the overall brand health of a university, as it is the key to unlocking the potential for growth in enrollments and endowments, according to Morning Consult's Most Trusted Universities research, based on a survey of 11,050 U.S. adults.
Johns Hopkins, an institution that established an early and public presence in the fight against the novel coronavirus, took the top spot as the country's most trusted university. Many of the universities that made the top 10 list benefited from trust generated by their promoters while avoiding distrust fomented by their detractors — polarity that was more pronounced further down the rankings.
Trust in higher education is politically divisive
Our research measured public trust in the top 135 doctoral research universities according to U.S. News' 2022 Best National University Rankings. Johns Hopkins claimed the top spot in part because of the minimal trust gap along party lines compared with other universities.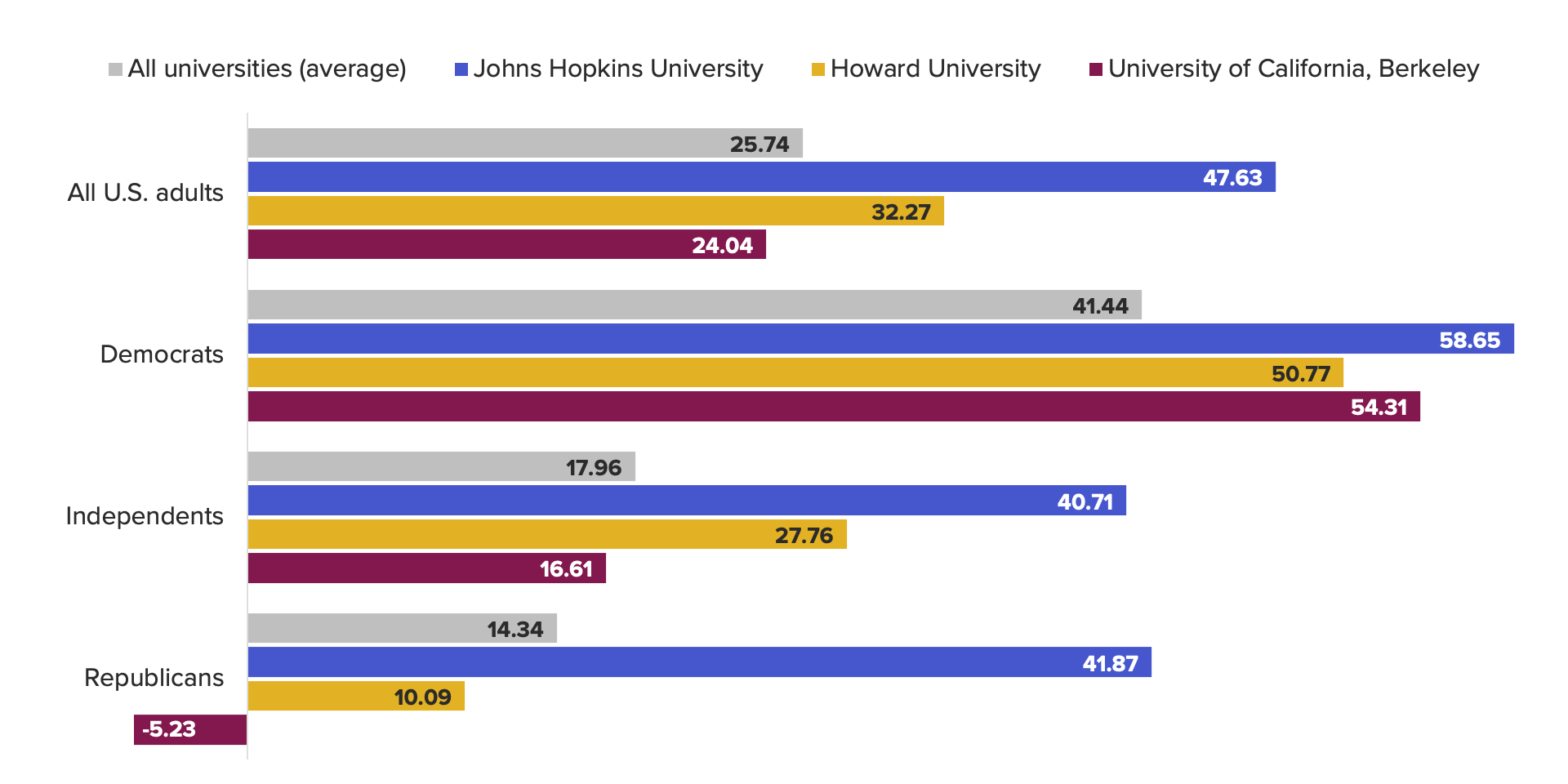 Survey conducted June 11-15, 2022, among a representative sample of 11,050 U.S. adults, with an unweighted margin of error of +/-1 percentage point.
Republicans tend to trust higher education institutions less than Democrats do, a historical divide that could be widening as political polarization deepens in the United States. Nearly every university surveyed had higher trust levels among Democrats, while the colleges that made the top 10 suffered the smallest blows from Republican respondents.
While political unification isn't a must-have for every university, institutions should become more vigilant when it comes to understanding the potential impact of political divisiveness on brand trust.
The Gen Z trust gap should alarm colleges and universities
Higher education holds strong public trust compared with other American institutions such as the government, corporations and the media. However, trust in colleges and universities is lower among one of the most critical segments of the population: young adults. Among generational groups, the level of trust decreases with age. While this phenomenon is not unique to higher education — Gen Z tends to trust all institutions less than other generations — it's especially important for universities to understand and possibly correct this trust gap.
Gen Z respondents are 14 percentage points less likely to trust U.S. higher education relative to baby boomers. This trust deficiency among Gen Z becomes starker when compared with parents. Only around 2 in 5 Gen Zers said they tend to trust U.S. universities compared with nearly 3 in 5 parents.
Respondents were asked which statement they agree with more, even if neither is exactly right
Survey conducted June 11-15, 2022, among a representative sample of 11,050 U.S. adults, with an unweighted margin of error of +/-1 percentage point. Responses of "Don't know/No opinion" not shown.
To ensure future enrollment sustainability, universities need to double down on understanding what drives trust among their target audience and build strategies to strengthen it. Cultivating a sustainable and impactful brand on a foundation of trust would require higher education leaders to work toward creating brand metrics that matter to their institution and tracking them over time.
Rahul Choudaha is the managing director of higher education at Morning Consult, where he conducts research, authors analyst notes and advises leaders in higher education on how to apply data-driven insights to make better business decisions. Rahul has given over 200 presentations at professional conferences and has been quoted over 300 times in global media. He holds a doctorate in higher education from the University of Denver.
For speaking opportunities and booking requests, please email [email protected].
We want to hear from you. Reach out to this author or your Morning Consult team with any questions or comments.
Contact Us