How the Gender Imbalance in the 'Great Reprioritization' Is Impacting Higher Education
Working adults' education and employment priorities are shifting with the economic upheaval, writes Rahul Choudaha, managing director of higher education
More college-aged working women reported intent to leave their positions to pursue higher education than working men of the same age, but women's desire to do so decreases steeply with age, while their male counterparts' intent declines only slightly. Higher education institutions need to inform and adapt their marketing, communication and enrollment strategies in line with these prospective students' shifting priorities.
We've already seen evidence that the "Great Reprioritization" taking place in the economy is negatively impacting higher education, with nearly 1 million fewer students enrolling across all levels of postsecondary education in fall 2021 compared with fall 2019. Now there's evidence that it could be emboldening the sector's gender divide. 
While higher education institutions are seeking enrollment growth, prospective students are searching for a new balance between work and life. Nearly a quarter of employed adults (24%) plan to leave their current job for a new job or to take time to look for a new job this year, and another 16% plan to leave to pursue further education.
Young adults — a prime recruiting segment for undergraduate, graduate and professional programs — have higher churn rates overall, according to analysis in Morning Consult's New Workers, New Normal report. More than one in three (36%) working adults ages 18-34 are planning to look for a new job over the next year, and more than one in four (27%) working adults in this age group plan to leave their current job to go to school.
This data also reveals a gender divide in young people's intention to further their education after entering the job market. 
Although college-aged working women (those between the ages of 18 and 24) are more likely than men to report plans to go to school by a margin of 8 percentage points (45% versus 37%), their interest deflates with age. By contrast, male respondents between the ages of 25 and 34 (a group that encompasses nontraditional college students or candidates for graduate programs or professional certificates) showed only a slight decline in interest in pursuing higher education in their older years.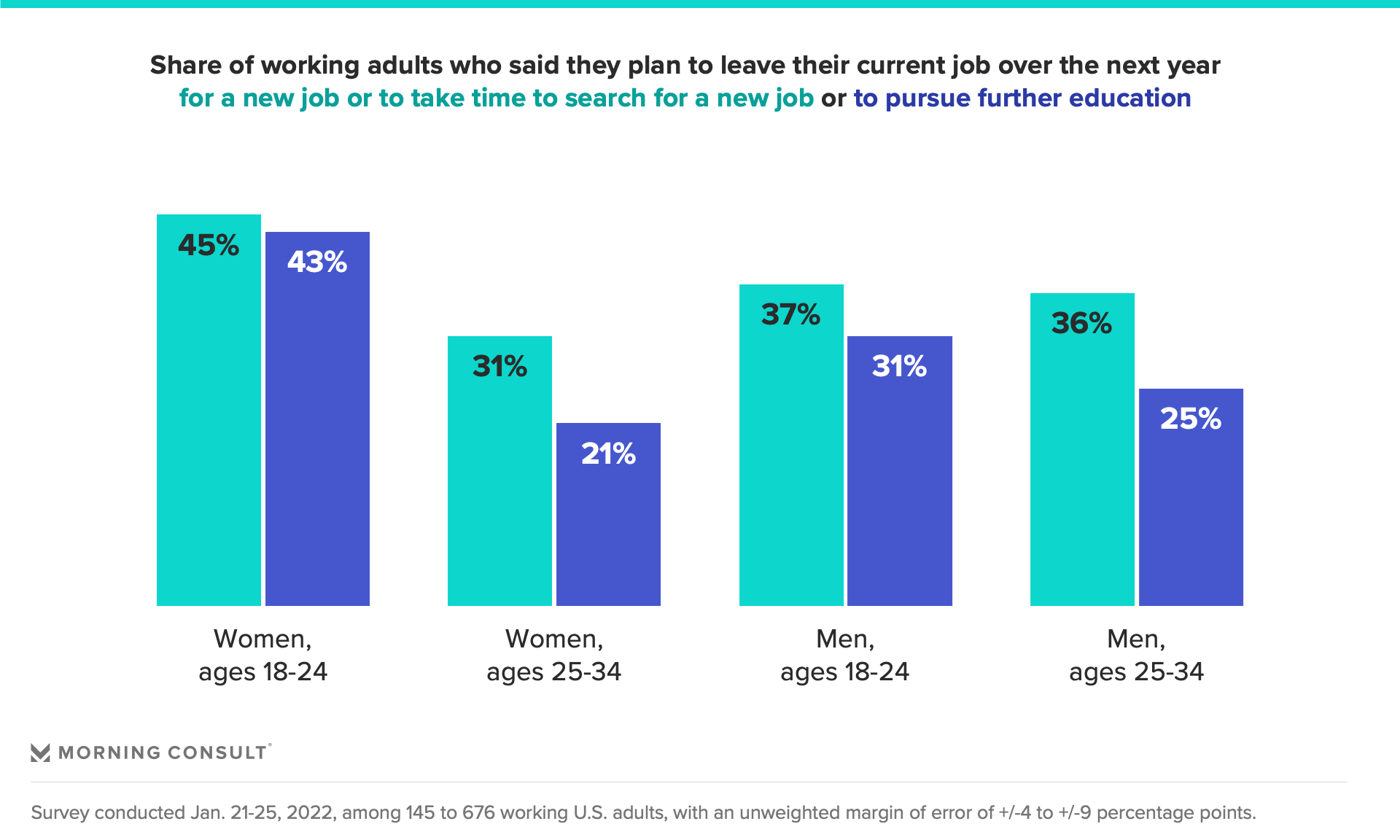 This data reveals at least two key areas of further exploration to bridge enrollment gaps in higher education: first, how to increase the proportion of college-aged men planning to go to school, and second, how to address the decline in the share of women planning to pursue education as they get older.
These gender gaps relate to the labor market inequities and societal norms that shape preferences for pursuing higher education. The Great Reprioritization is continuing to influence the choices and priorities of men and women differently as they aim to strike a balance between education and employment opportunities. In this context, a deeper understanding of these differences is even more important for universities aiming to manage enrollment priorities for fall 2022 and beyond.
This research shows how vital it is for higher education institutions to proactively and continuously monitor, understand, and adapt their strategies in line with the evolving needs, preferences, and aspirations of their key target audience — especially if these organizations hope to balance out any enrollment gender inequities. 
Rahul Choudaha is the managing director of higher education at Morning Consult, where he conducts research, authors analyst notes and advises leaders in higher education on how to apply data-driven insights to make better business decisions. Rahul has given over 200 presentations at professional conferences and has been quoted over 300 times in global media. He holds a doctorate in higher education from the University of Denver.
For speaking opportunities and booking requests, please email [email protected].
We want to hear from you. Reach out to this author or your Morning Consult team with any questions or comments.
Contact Us