The Next Phase of the Streaming Wars Needs to Involve a Lot More Conservatives
Video streaming services are leaving money on the table by not catering well enough to the tastes of conservative audiences, writes media and entertainment analyst Kevin Tran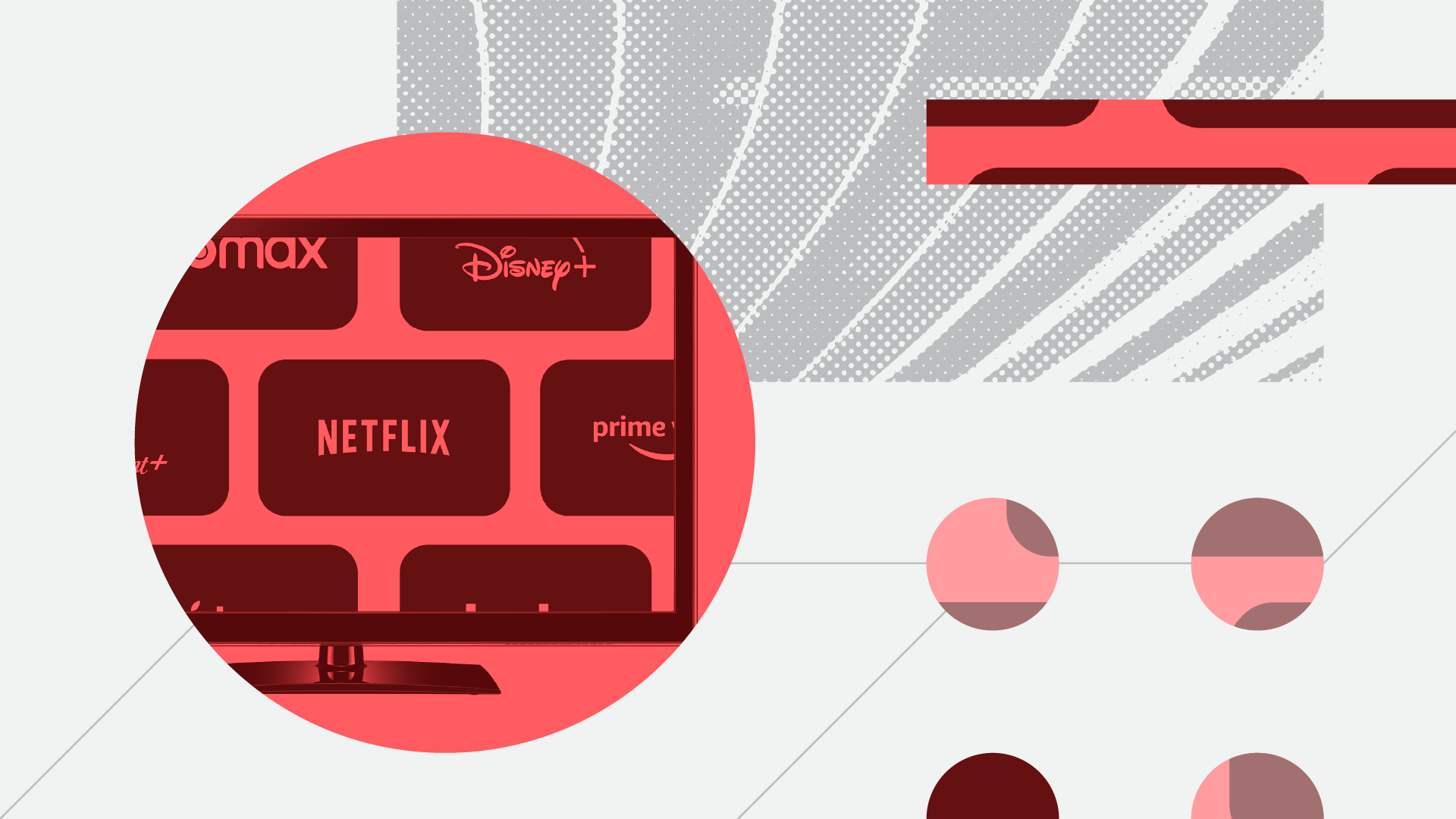 As domestic video streaming growth stagnates, major services must look to a group of consumers that they've done a relatively poor job of winning over thus far: conservatives. Morning Consult data suggests that focusing less on pop culture-related content and more on certain sports could help streaming services move the needle with this group.
The days of unfettered video streaming subscription growth in the United States are long gone. That's why Netflix and Disney+ have resorted to developing ad-supported tiers, and why Warner Bros. Discovery is no longer greenlighting $90 million movies for HBO Max. It's also why video streamers have increasingly looked to diversify the types of consumers they reach amid market saturation, whether that's through customers abroad, gamers or live sports fans.
While we've seen that news- and politics-only streaming services are clearly unsuccessful growth plays, better serving audiences who are strongly opinionated about that type of content — particularly from a conservative viewpoint — stands as a notable growth opportunity that more widely used streamers are overlooking, particularly because a significant share of those who identify as conservative are also high earners.
New Morning Consult research shows that conservatives are currently underserved in the video streaming market: 25% of U.S. adults who self-identified as conservative aren't subscribed to any video streaming services, which is 5 and 11 percentage points higher, respectively, than the shares of all U.S. adults and self-identified liberals who said the same.
Shares of adults reporting how many video streaming service subscriptions they have
Survey conducted Aug. 24-25, 2022, among a representative sample of 2,210 U.S. adults, with an unweighted margin of error of +/-2 percentage points. Figures may not add up to 100% due to rounding.
Moreover, the share of conservatives who said that they don't subscribe to or use someone else's password for any of the major streaming services in August was higher than the shares of liberals and all U.S. adults saying the same. The difference in usage by conservatives and liberals was particularly high (at least 10 percentage points) for Netflix, Hulu, Disney+, HBO Max and Peacock Premium.
Shares of consumers who said they subscribe to or use someone else's password for each of the following streaming services:
*Responses include those who said they subscribe to Peacock Premium or Peacock Premium Plus.
Survey conducted Aug. 24-25, 2022, among a representative sample of 2,210 U.S. adults, including 690 self-identified liberals and 649 self-identified conservatives, with unweighted margins of error of up to +/-4 percentage points.
One reason for this is conservative Americans tend to skew older than liberals, and older consumers are less likely to have access to video streaming subscriptions in general. But even then, it's not only about age: While 39% of those who identified as liberal were Gen Z adults, a not-insignificant share of 17% identified as conservative.
Hollywood and most major media companies have long been viewed as catering to liberals more than conservatives, and as a result there's an imbalance in media diets among the two groups. "People on the left like more pop culture than people on the right," University of Toronto associate sociology professor Clayton Childress said recently.
This has translated to less media consumption overall among conservatives, which is reflected in our data. The shares of conservatives who reported using a video streaming service, listening to a podcast or streaming music in August were 9, 5 and 12 percentage points lower, respectively, than the equivalent shares of liberals. An outlier is traditional radio, with 80% of conservatives saying they listened to AM/FM radio at least once in August, compared with 74% of liberals who said the same, likely because radio is a more influential news source for the former cohort.
But companies that are able to attract more conservatives can tap in to an audience of higher-earning consumers they aren't already reaching. Nearly 1 in 3 (31%) of those who identify as conservative report earning at least $100,000 annually. While this is lower than the share of liberals (36%) saying the same, it's still noteworthy considering media companies' lower penetration into right-leaning households. Meanwhile, reaching more conservatives could help media companies reach more kids — via their parents — and better position themselves to build brand recognition with the next generation of consumers. Over a quarter (28%) of respondents who said they were homemakers in August identified as conservative, while just 22% said they were liberal.
Media companies can attract a bigger conservative audience through sports
To bridge the streaming gap, a few services such as Fox Nation and The Daily Wire+ have launched to appeal to conservatives, despite being relatively niche plays for now. Fox Nation has never publicly disclosed subscriber numbers, and Puck recently reported that The Daily Wire+ has 940,000 paying subscribers. While nearing 1 million subscribers is no small feat, it's tiny in comparison to the 43 million global subscribers that Paramount+ — the most recent major video streamer to launch — counts globally. Meanwhile, video platform Rumble has grown its profile as a conservative alternative to YouTube, though its self-reported usage of 78 million monthly users in August pales in comparison to that of the Google-owned platform, which says it has over 2 billion monthly logged-in users.
But the bigger opportunity to make inroads with conservative consumers — without necessitating a major pivot to news or political content — is sports. Like liberals and the general population, conservatives are unsatisfied with their access to sporting events, per Morning Consult data from June. Conservatives are also similarly dissatisfied with the news they get in their video subscription mixes, but sports is a better way for streamers to appeal to right-leaning audiences. Though sports is not necessarily apolitical, streamers generally run less of a risk of being seen as ideologically biased through sports content.
Our data shows that conservatives favor the NFL, MLB and college football most. The broadcast rights for these sports are largely locked up for years to come, with streamers like Peacock and Paramount+ standing to gain much from their parent companies' aggressive promotion of their streaming rights to games from the Big 10 and the NFL.
But an underexplored area is conservative interest in motor sports: There's a 7-point difference between conservatives who say they're casual or avid fans of motor sports and liberals who say the same. Companies in particular should pay attention to NASCAR rights negotiations, given how prominent right-wing figures and themes have long resonated with NASCAR fans.
Shares of respondents who said they are avid or casual fans of…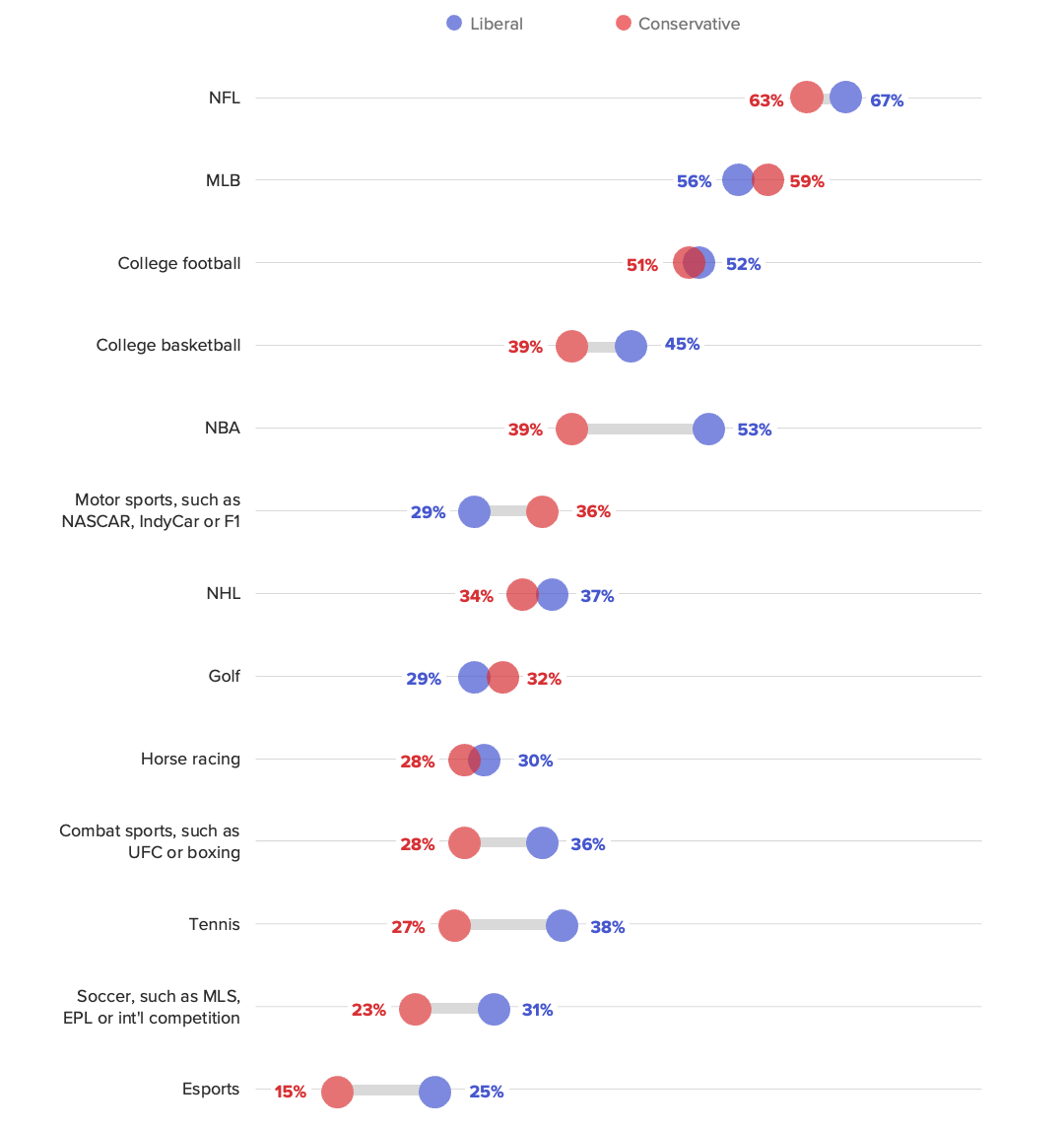 Survey conducted Aug. 24-25, 2022, among representative samples of 690 self-identified liberals and 649 self-identified conservatives, with unweighted margins of error of +/-4 percentage points.
NASCAR livestreams are currently available through Peacock Premium as well as certain virtual multichannel video programming distributors like FuboTV and Hulu with Live TV. NASCAR will be re-entering negotiations with Fox and NBCUniversal in 2023, though if one of the latter partners chooses not to renew due to a price increase, a company like ESPN could jump in to nab NASCAR rights, complementing the F1 rights it secured earlier this year. But given that right-learning consumers are 12 points more likely than liberals to say they don't currently subscribe to or use somebody else's password for Peacock Premium, NBCUniversal should fight hard to retain its NASCAR rights if it's interested in gaining ground with conservatives.
It should be noted that the fandoms of IndyCar and F1 may not be as conservative-skewing as that of NASCAR. But it stands to reason that somebody who's interested in either or both of the former two types of racing would be more interested in NASCAR than somebody who doesn't follow any motor sports.
Media companies need to take note of other soon-to-expire rights deals as they prepare to ramp up coverage of live sports on their services in the next phase of the streaming wars. Major sports leagues and competitions will be more amenable to granting exclusive broadcasting rights to streaming services as the reach of some will finally become significant enough to justify said privileges.
Kevin Tran is the senior media & entertainment analyst on the Industry Intelligence team, where he conducts research, authors analyst notes and advises leaders in the media & entertainment industry on how to apply insights to make better business decisions. Prior to Morning Consult, Kevin was a media analyst at Variety Intelligence Platform, Variety's premium subscription service. Kevin graduated from the Haas School of Business undergraduate program at the University of California, Berkeley. @ktran223
For speaking opportunities and booking requests, please email [email protected].
We want to hear from you. Reach out to this author or your Morning Consult team with any questions or comments.
Contact Us