6 Charts Illustrate Where Pent-Up Demand Is Strongest (and Weakest) in a Post-Pandemic Economy
A vacation boom is on the horizon, with 63% of U.S. adults saying they are excited about taking a holiday
Key Takeaways
63% of U.S. adults said they're excited about the opportunity to take a vacation once the pandemic is under control and the economy has fully reopened -- including 57% of Gen Z adults, 65% of millennials, 61% of Gen Xers and 64% of baby boomers.

But just 29% of the public said they currently feel comfortable flying on a plane.

Millennials reported the most excitement about returning to leisure activities, including going to the movies (60%) and going to a sporting event (50%).

The concert, movie theater and sports industries could also benefit from pent-up demand: 46% of respondents, for example, reported anticipation about going to a concert, but just 24% said they currently feel comfortable doing so.
Prepare yourself for a summer of revenge vacations.
New analysis of public opinion polling shows the public is itching for some rest and relaxation, with 63 percent of respondents in a March survey saying they're excited about taking a vacation when the pandemic is under control and the economy has fully reopened.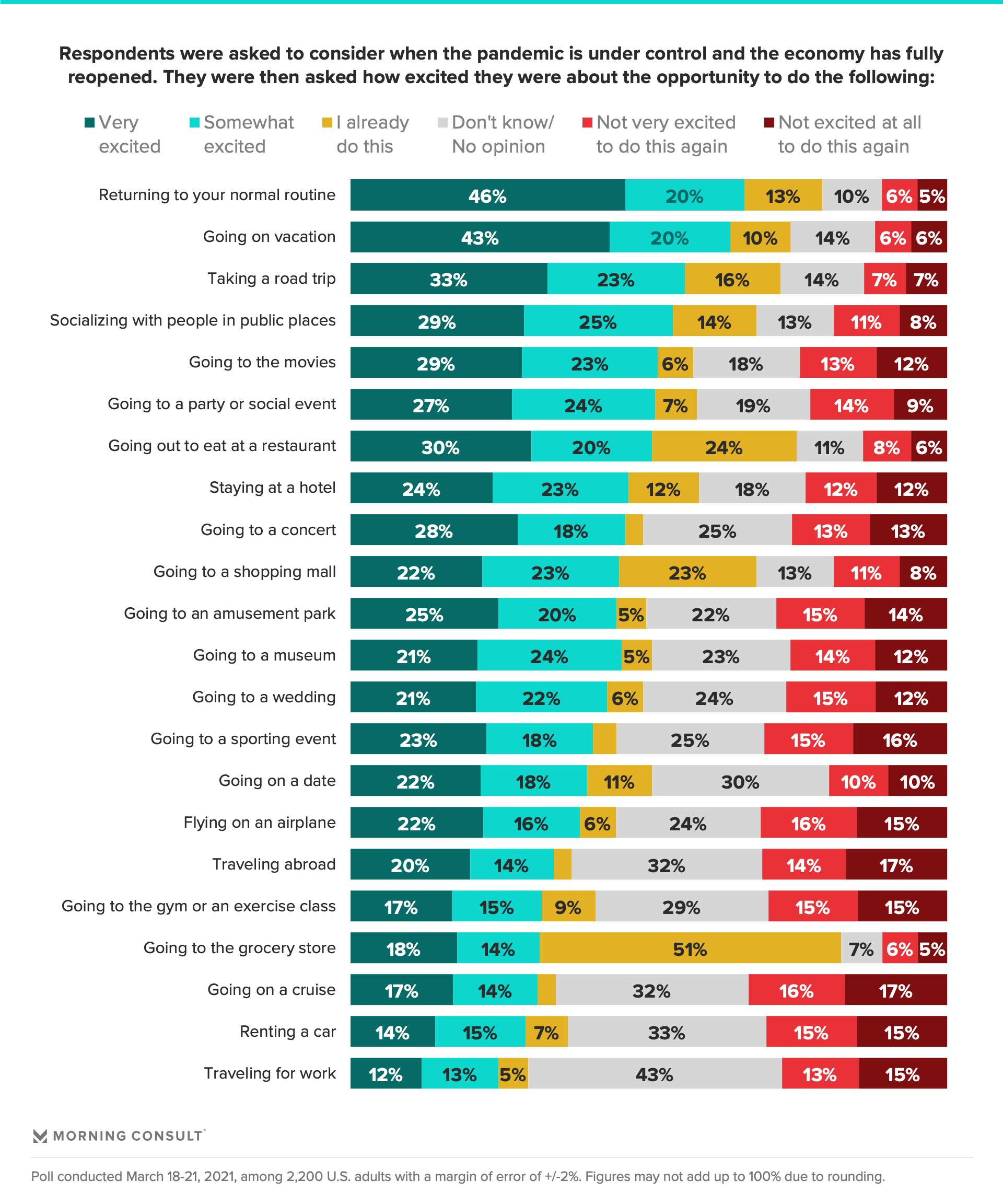 Morning Consult has been tracking consumers' comfort levels with re-engaging in various leisure activities, such as going to the mall or movies, since April 2020. But comfort in engaging in the activities that once defined our free time is one thing -- and excitement about doing them again is another. The latest figures show which industries will benefit from pent-up, pandemic-induced demand among the public.
Most notably, it's the travel industry, provided that consumer comfort levels rise. The latest survey results show that every demographic is excited about vacationing, although less excited about certain aspects of vacations. 
This will come as welcome news to an industry that saw U.S. spending fall 42 percent, or $492 billion, in 2020 from the prior year, according to the trade group U.S. Travel Association. That includes a 30 percent drop in leisure travel spending.
Leading enthusiasm are wealthy Americans and those with a postgraduate degree: Roughly three-quarters of those respondents say they're excited about taking a vacation when the pandemic is under control.
The results come amid optimism over the United States' rollout of COVID-19 vaccines. The Centers for Disease Control and Prevention said on Monday that more than 128 million doses have been administered, with over 45 million people, or 13.5 percent of the population, fully vaccinated. Infectious disease specialists put herd immunity between 70 percent and 90 percent, a goal the country will reach by the end of July if the current pace of vaccinations is maintained.
The travel industry will have to increase consumers' comfort levels of getting on an airplane, however, at least if it wishes to improve its air travel economy.
A deep discrepancy exists between the share of consumers who want to take a vacation (63 percent) and the share who are comfortable flying right now (29 percent).
Current air traveler figures are about half of what they were in 2019, according to the Transportation Security Administration. But passenger figures are on the rise, with roughly 1.5 million travelers going through TSA security on March 21, a number not reached in more than a year.
Until comfort levels improve, it's likely more Americans will continue to travel more via car, with more than double (62 percent) saying they're comfortable taking a road trip right now, and a roughly similar figure (56 percent) reporting they're excited about doing so.
Excitement about vacationing is somewhat unusual in its appeal across generations: More than half of Gen Z adults (57 percent), Gen Xers (61 percent), baby boomers (64 percent) and millennials (65 percent) said they're at least somewhat excited about taking a vacation. 
When looking at other leisure activities, however, the generations tend to have different levels of anticipation. For example, just 30 percent of baby boomers report being excited about the idea of going to an amusement park, compared to 59 percent of Gen Z adults.
Indeed, it appears that millennials and, to some extent, Gen Z adults will bolster the post-pandemic economy. Millennials are nearly consistently the most eager to return to everyday activities, including going to the movies (60 percent), going to a sporting event (50 percent), traveling abroad (50 percent), going back to the gym (50 percent) and even traveling for work (42 percent). 
This is despite millennials being the most likely to report that the pandemic is having a "major" impact on their finances, per a Morning Consult analysis from September.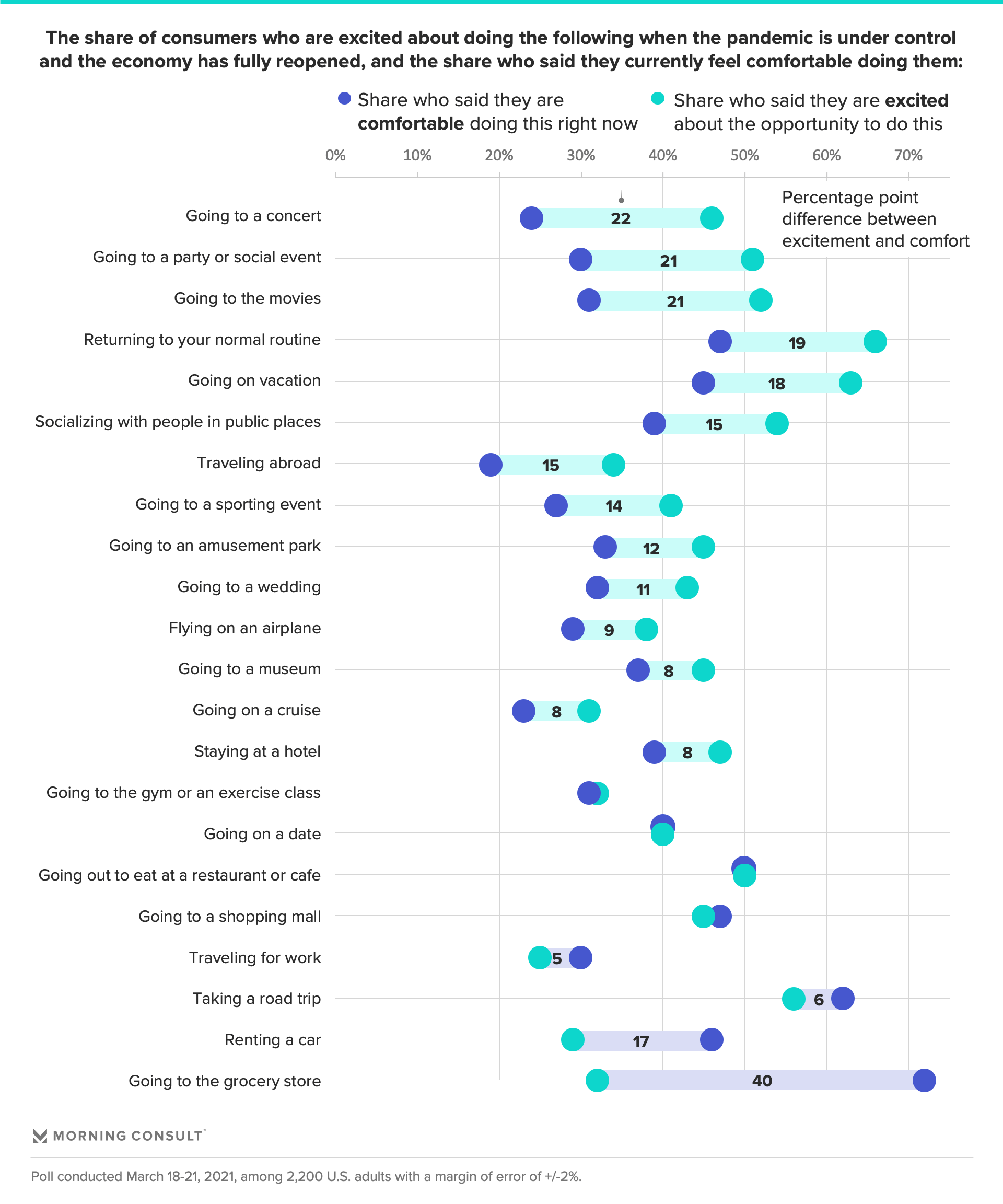 The concert, movie theater and sports industries are also poised to benefit from pent-up demand, assuming that a continued successful vaccination rollout in the United States protects Americans against new COVID-19 variants.
Those industries have some of the largest gaps between the share of adults who currently feel comfortable doing key activities ("going to a concert," "going to the movies" and "going to a sporting event") and the share who are the most excited about the opportunity to do them again.
But the polling results also spell bad news for some sectors, such as the cruise industry.
One-third of respondents said they're not excited about going on a cruise, including 45 percent of baby boomers, a key demographic for the industry.
Cruise lines are struggling with their very public connection to the COVID-19 pandemic, following a February 2020 outbreak on a Diamond Princess ship that sparked international headlines. While most U.S. cruise lines are not yet operating, Royal Caribbean announced in mid-March that it will resume its first North American cruise in June.
Joanna Piacenza leads Industry Analysis at Morning Consult. Prior to joining Morning Consult, she was an editor at the Public Religion Research Institute, conducting research at the intersection of religion, culture and public policy. Joanna graduated from the University of Wisconsin-Madison with a bachelor's degree in journalism and mass communications and holds a master's degree in religious studies from the University of Colorado Boulder. For speaking opportunities and booking requests, please email [email protected].
We want to hear from you. Reach out to this author or your Morning Consult team with any questions or comments.
Contact Us