With Canceled Plans in the Rearview Mirror, People Are Tweaking Itineraries and Hitting the Road for Vacation
As traffic returns to the roads, out-of-home advertising is also bouncing back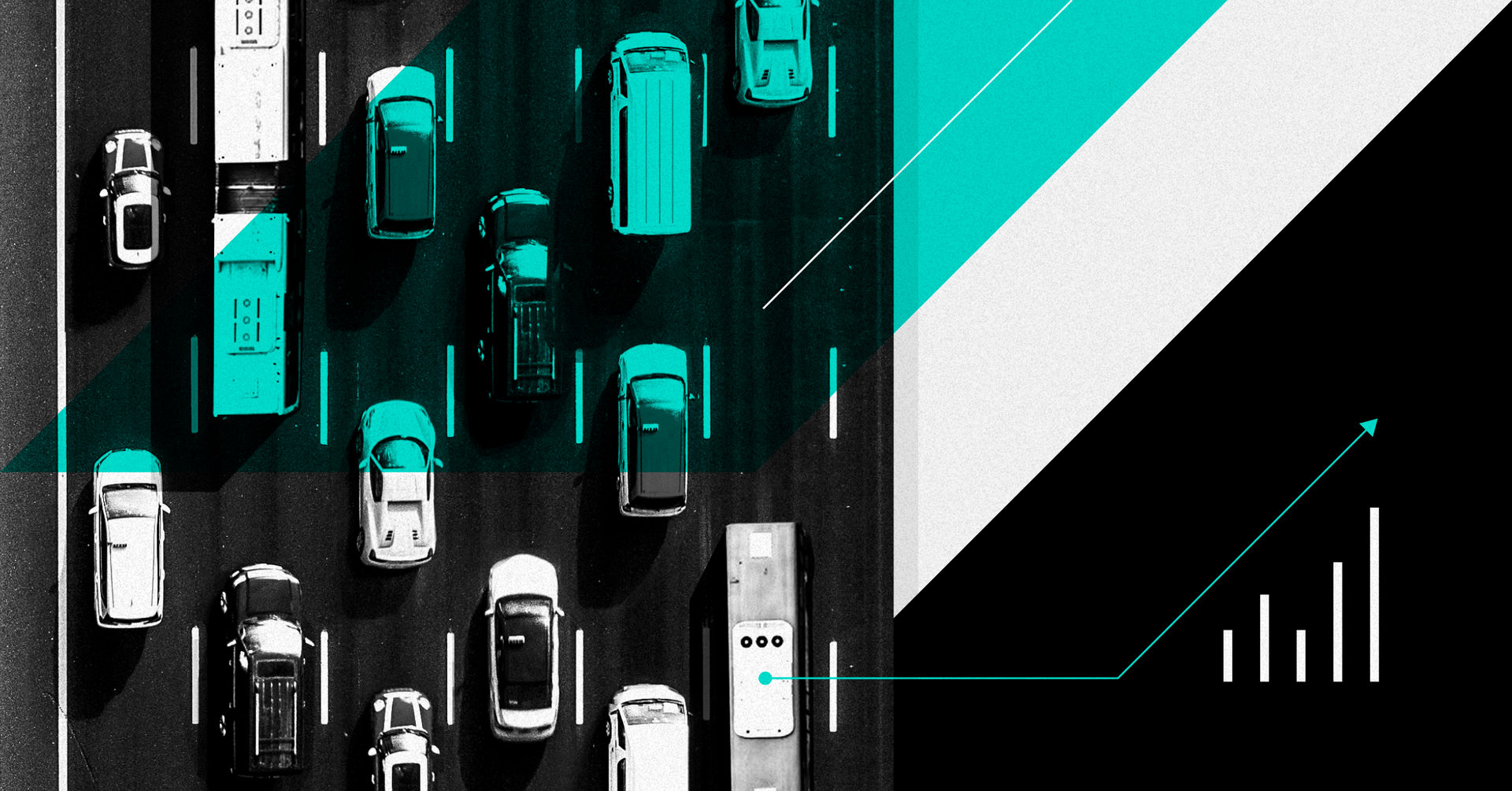 Key Takeaways
48% of U.S. adults said they have canceled vacation plans to some extent in 2020.

45% said they have changed their travel plans, such as postponing or adjusting trips.

Road tripping in cars has become one of the most popular summer travel options, as has boating.
Most Americans' lives ground to a halt when the coronavirus reached pandemic status in March — their travel plans included. Now, halfway through the summer, cooped-up travelers are eager to hit the road again, but new data shows that vacations in 2020 are looking a lot different than they did in years prior.
Nearly half (48 percent) of adults said they've canceled travel plans in some capacity this year, with March and April plans the most impacted. Forty-five percent of the public has also changed their travel plans, altering trips in ways that reflect the current financial health of the country (spending less money) or our new social distancing world (opting to cook at home instead of dine out or drive instead of fly).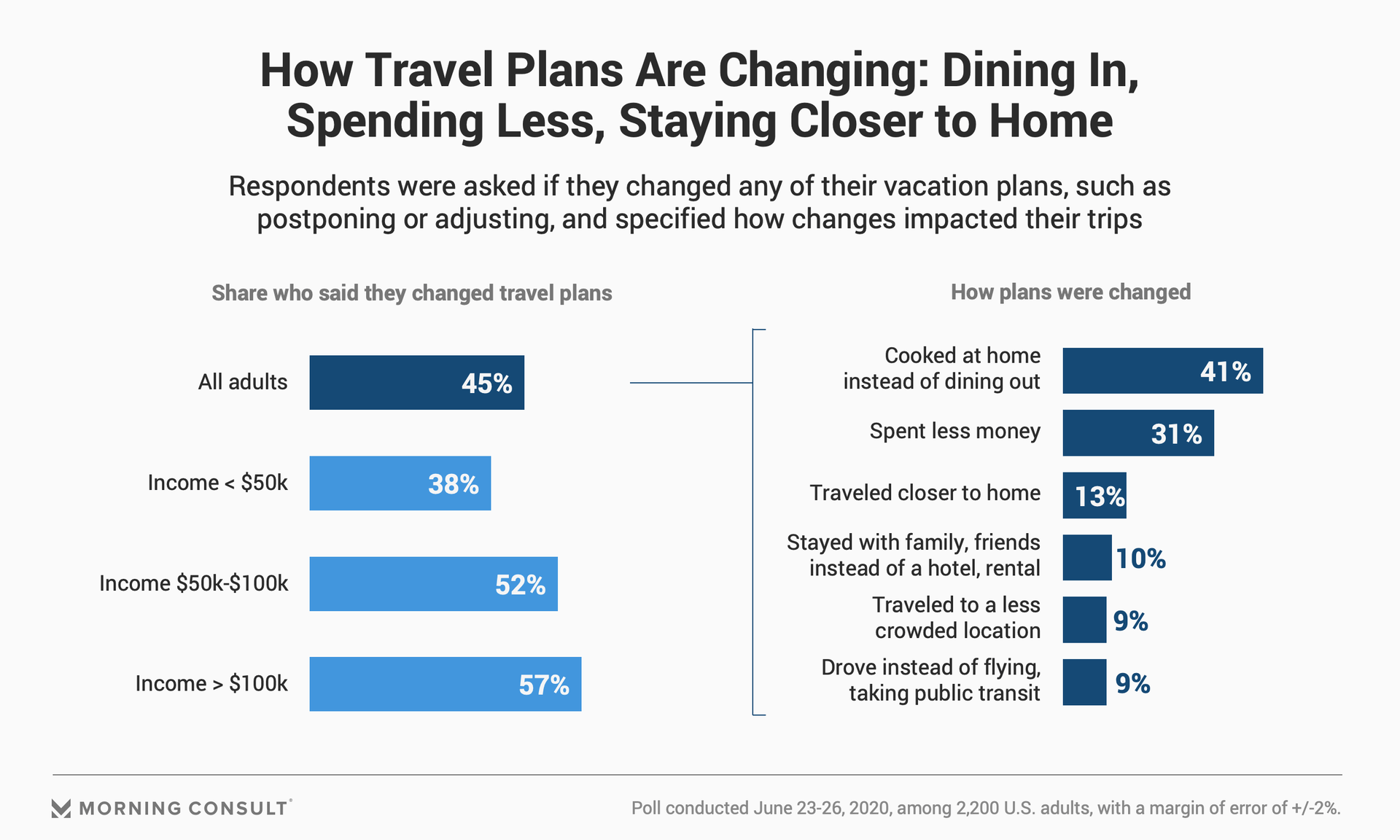 The share of those who have canceled and changed travel plans expands among those with higher incomes, a group whose spending significantly helps to keep the travel industry — and the economy overall — afloat. 
But it appears the country is nearing a travel turning point. Data from search intelligence company Captify shows that the Fourth of July represented a significant rise in interest for travel: searches for travel plans associated with that weekend spiked 352 percent from the second to third week in June, according to Anand Siddiqui, Captify's global vice president of insight and analytics.
While people might not be ready to travel in planes and trains, they are taking advantage of automobiles to get away from home for the summer, and even getting out on the water in boats. The high interest in local trips serves not only as a boon to the travel industry, but also signals a potential boost in the out-of-home advertising business.
Interest in road trips, boating rises
During the month of June, searches for road trips increased 22 percent compared with the month prior, with cars as the most commonly searched-for travel option, followed by boats and ferries, according to Captify. 
Tripadvisor Inc., which analyzed recovery in the global travel and hospitality industry in a white paper published in May, also found that road trips became more popular after the onset of the pandemic. When asked what sort of trips they were more likely to take now compared with the pre-coronavirus era, 59 percent of consumers said road trips, and 68 percent said they're more likely to stay local, said Shibani Walia, the company's associate director of research and insights.
That said, the American Automobile Association reported that Americans will take nearly 15 percent fewer trips this summer compared with last year, the first decline in summer travel since 2009, although the association's booking trends do show that people are cautiously making more spur-of-the-moment travel plans.
The vast majority of travelers prefer cars this summer, according to AAA, which found that travel via automobile will experience the smallest decline in volume at just 3 percent year over year, compared with much larger declines in air and railroad travel.
And travel agency Kayak.com found that searches to rent cars for July 2-6, 2020, were up 20 percent compared with July 3-7, 2019 — both Fourth of July weekends — while more than 1 in 5 Americans said they plan to take a road trip before the end of the year.
"Car rental is up alongside road trips, because not everybody has a car," Captify's Siddiqui said. Urban dwellers in particular are less likely to have access to cars than those in suburban or rural areas, instead relying on public transit to get around, but are now seeking safe ways out of their cities. 
"And boats are open areas," he added. "There's lots of room, so you're not packed into one another, and ferries you can get on with your car." 
Boatsetter, a peer-to-peer boat rental company based in Fort Lauderdale, Fla., saw a 40 percent increase in revenue from bookings year over year in June, said Chief Executive Jaclyn Baumgarten, just as coronavirus cases in the state started to spike. The boat rental industry is estimated to reach $26 billion by 2027, per Transparency Market Research Pvt. Ltd.
While business suffered at the end of March and through April when lockdowns kept consumers home and marinas closed, the summer months have ushered in a period of high demand for boats, Baumgarten said, with most Boatsetter renters now millennials and more than a third (36 percent) women, a departure from boating's traditionally older male demographic. 
Boat renters typically opt for half-day experiences, but Baumgarten said that eight-hour rentals have become increasingly common amid the pandemic.
"There has been a complete shift in consciousness and behavior," she said. "People want to do things close to home. Everyone's been stuck inside, and you can't go to concerts or sporting events anymore, so being able to rent a boat for a day is a great option for people who want to be outside while social distancing."
RVs have also emerged as a popular choice for consumers looking to get away from home while practicing social distancing. Jon Gray, chief executive of peer-to-peer RV rental company RVshare, said that bookings increased 16-fold from the beginning of April to the middle of June, adding to the industry's estimated $282 million market size, according to market research firm IBISWorld.
For the month of April, Gray said that most of the company's business came from "relief bookings," such as first responders renting vehicles to live in so as to not spread the virus to their families, or people booking RVs to travel to out-of-state medical appointments instead of flying.
But once summer rolled in, Gray said leisure bookings made their return: RVshare bookings over the Fourth of July weekend more than doubled year over year.
RVshare's platform lets people search for vehicles by location, allowing the company to track popular destinations. National parks have long been go-to destinations for RV renters, Gray said, but that trend has shifted slightly in light of the pandemic. 
"What's different this year is that if you look at our top 100 search terms, you're seeing more state parks as opposed to national parks, and I think that's an indication that people want to stay close to home this year," he said. 
Travelers hit the road; out-of-home advertising revival begins
As the travel industry suffered, so did out-of-home advertising. But with the public hitting the roads again and many businesses reopening, major out-of-home companies are seeing more steady interest in outdoor ads such as billboards. 
Geopath, a nonprofit organization made up of ad agencies and media companies focused on sharing insights into how consumers engage with out-of-home advertising, reported that average total miles traveled daily bottomed out at the beginning of April, but has been climbing and stabilizing since, and as of July 9 reached 92 percent of what it was prior to the pandemic.
Tommy Teepell, chief marketing officer at Lamar Advertising Co., said that in mid-sized and smaller towns especially, it only took about a week after lockdowns began for the company to notice an increase in traffic again, as consumers started heading to stores to stock up on essentials. 
And while Teepell said he could not share specific revenue figures ahead of Lamar's Aug. 6 second-quarter earnings call, the company was "pleasantly surprised" with its June sales figures.
About 80 percent of the outdoor advertising company's business is from local advertisers, Teepell said, and close relationships with small businesses helped Lamar keep clients from pulling their out-of-home campaigns amid the pandemic. 
Lamar also gave clients incentives to keep them spending, such as waiving charges for difficult months and instead allowing those payments to be spread out over the remainder of contracts.
Dan Levi, executive vice president and chief marketing officer of Clear Channel Outdoor Americas, said that as traffic began to rebound in April, the company started to see clients looking ahead to pending reopenings and launching advertising campaigns tied to ongoing services such as deliveries.
"Advertisers were more concerned about diminishment of audiences in dense urban transit environments," he said. "But after the first four to six weeks, their questions for us became significantly more about looking forward."
Lucy Markowitz, head of U.S. sales at digital out-of-home advertising company Vistar Media, performed some informal research to persuade brands not to miss an opportunity to capture consumers, including taking photos in traffic to remind clients that people are on the road. She is also leaning into the digital and programmatic options Vistar provides to point out to clients that campaigns can be paused or altered quickly.
"Flexibility is going to have to almost be guaranteed going forward," she said. "I don't think people are going to take risks of owning a location for a long time." 
While business declined in the short term following the start of the pandemic, Markowitz said some brands that previously worked with Vistar have already started to return. Some of the first clients to resume out-of-home advertising were travel and tourism brands looking to remind people that they can still travel safely within the United States, she said. 
That's in line with advice from Captify's Siddiqui, based on search trends he observed at the end of April and early in May. Travel research was up, he said, but intent to book was down, signalling that people were starting to look ahead in hopes of traveling later this year or next year. 
"There's a value in being present as a brand," he said. "The question for me looking at billboard advertising is that generally, your high stock values are in transportation hubs, but at the moment those are relatively quiet."
Less than 1 percent of searches for travel destinations at the time were in and around cities, according to Captify, with beaches, camping and hiking locations taking over as the top searched-for destinations this year.
Tripadvisor has also noticed a rise in interest in beaches, said Christine Maguire, the company's vice president of global advertising revenue, making those spots more attractive to advertisers.
"Coastal destinations have definitely started to trend," she said. "But those situations are changing on the daily, so it's really important for brands to make sure that the traffic is there and that stay-at-home orders aren't in place in that area."
While consumers might not be flooding back to crowded cities just yet, or feeling fully comfortable with the idea of traveling, the summer has encouraged at least some to test the waters with trips closer to home.
One-third of consumers have domestic trips planned for July or August, according to Tripadvisor, and the company predicts that even international travel could make its return next year. 
"Consumers are feeling more confident right now traveling," said Tripadvisor's Walia. "And even though a lot of consumers are still staying indoors, they are planning and researching trips and engaging with travel to some extent."
Alyssa Meyers previously worked at Morning Consult as a reporter covering brands and marketing.
We want to hear from you. Reach out to this author or your Morning Consult team with any questions or comments.
Contact Us