Food & Beverage
How the Eating Habits of Remote, Hybrid and Office Workers Differ
Remote, hybrid and in-person work impacts when, where and how consumers eat and drink, writes food & beverage analyst Emily Moquin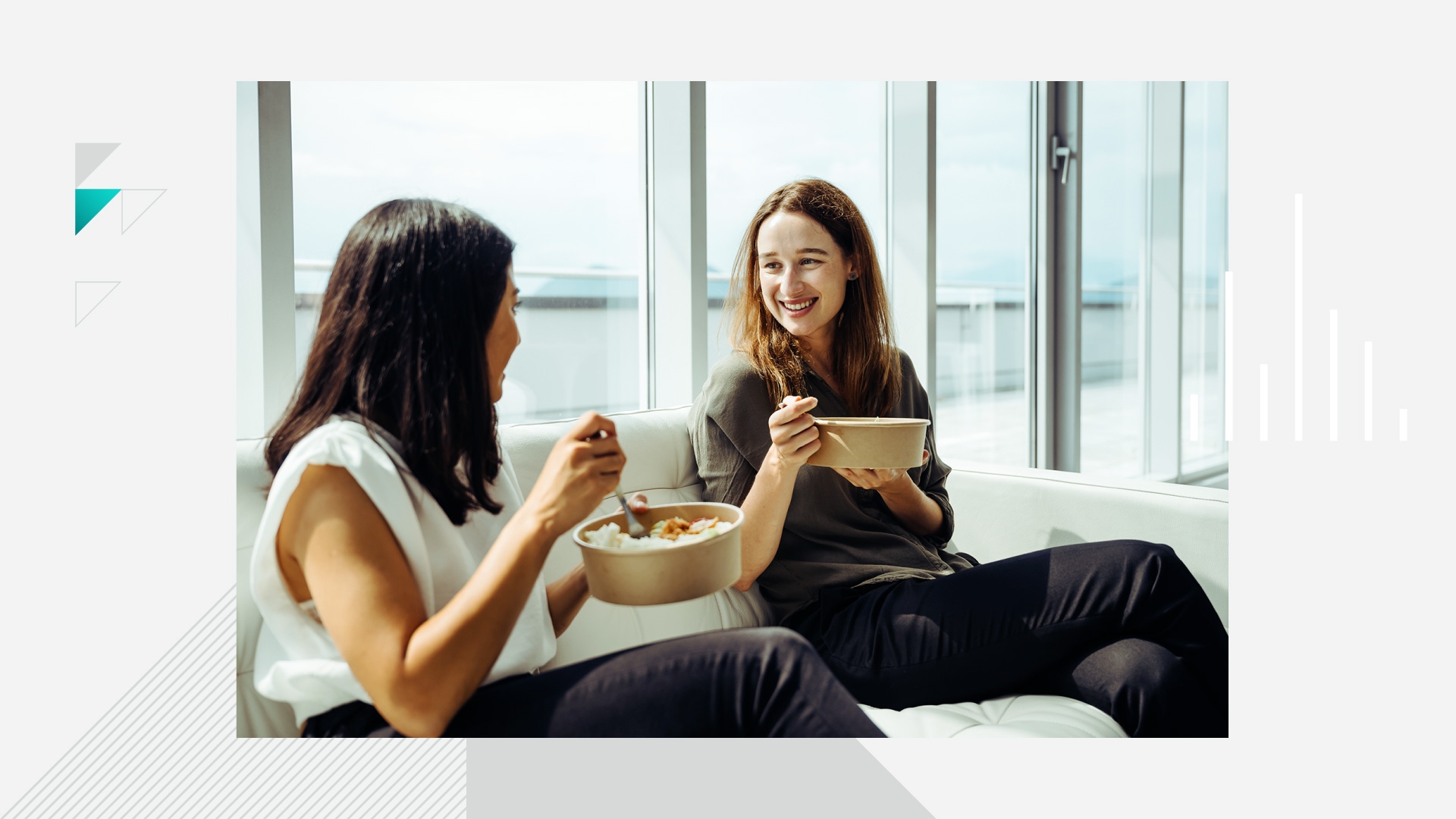 Key Takeaways
Remote workers are 10 percentage points more likely than in-person workers to eat breakfast daily.

Meals aren't the only difference: Remote workers are nearly twice as likely as office workers to order groceries online. 

Work schedules shape employees' daily routines and thus their choices about when, where and what to eat. For food & beverage brands, it's imperative to better understand each worker type to best position both existing and future product and service offerings. 
Americans' work priorities continue to shift more than three years into the COVID-19 pandemic. Workers now face high inflation and a barrage of negative headlines about the economy, while employers struggle to strike a balance between in-office and remote work. Download Morning Consult's 2023 State of Workers report here.
Workers (and their schedules) have been on quite the ride since the onset of the coronavirus pandemic, when many offices closed and then reopened — and, for some, reclosed and reopened again. Three years later, companies and workers are still trying to strike the right balance of days in and out of the office. 
These workforce dynamics are important for food & beverage companies to pay close attention to because they have an impact on a wide range of decisions consumers make about eating and drinking. Understanding where and how employees work can help brands shape marketing messages, new products and services, personalized deals, and overall strategy. 
Remote, hybrid and in-office workers differ demographically
Work location isn't the only difference among remote, hybrid and in-office employees; they also diverge demographically. Hybrid workers are the most distinct from the profile of all employed adults. Those who said they work from home one to four days a week are more likely to be male, younger, middle- or high-income and to have kids under 18 at home. 
Remote workers, who work from home all or nearly all the time, share some demographic similarities with hybrid workers: They're more likely than the general working population to be high-income and parents. But they differ on gender; fully remote workers are more likely than all employed adults to be female. 
The types of roles where remote and hybrid options are possible tend to be higher-paying. In addition, caregivers may self-select into remote and hybrid roles, prioritizing the flexibility to balance work and personal life.
Demographic profile of employed adults
Responses collected from surveys conducted Jan. 31-Feb. 5, 2023, and Feb. 28-March 4, 2023, among 2,533 working U.S. adults, with an unweighted margin of error of +/-2 percentage points.
Many existing food & beverage products, from an on-the-go breakfast or snack to specific offers like a restaurant's lunch special, inherently cater to one group over another. These categories and others like them have seen changing consumption patterns over the past few years, and different types of work are partially responsible. The rise of remote work also brought a reduction in foot traffic in urban centers, which could mean a reallocation of restaurant visits to suburban locations or fewer visits overall. Hybrid employees may be more likely to go out to lunch or for happy hour on days when they are in the office because those days are fulfilling a social component of work life.
Work location impacts meal habits
Breakfast habits are most likely to differ across worker types. Remote workers, who perhaps have more time in their morning schedule sans commute, are 10 points more likely to eat breakfast daily than in-person workers (63% versus 53%). Where they are eating also varies: Among those who do eat breakfast, hybrid and in-office workers were more likely to say they eat it on the go or at work on a typical weekday. This "when" and "where" in turn influences the products consumers select for breakfast.
Where workers said they eat breakfast and lunch on a typical weekday
Responses collected from surveys conducted Jan. 31-Feb. 5, 2023, and Feb. 28-March 4, 2023, among 559 to 1,211 working U.S. adults who eat breakfast or lunch, with an unweighted margin of error of up to +/-4 percentage points.
A similar pattern emerges for lunch, though overall people are less likely to skip the midday meal. Notably, despite at-home workers' proximity to their own kitchen, similar shares of remote and in-person workers said they eat lunch at a restaurant (14% and 11%, respectively). 
Dinner habits are less impacted by working hours for many consumers, and thus are similar across worker types. Hybrid workers were the most likely to say they eat at restaurants for both lunch and dinner, but this is attributable as much to who they are as it is to work location. Men, higher-income consumers and parents all tend to order from restaurants more frequently than their demographic counterparts.
Remote and hybrid workers order groceries online most often
Grocery shopping habits also vary depending on work location. Remote and hybrid workers could have more time in their schedules for errands like grocery shopping, yet they are far more likely to order groceries online than in-person workers. Remote (25%) and hybrid workers (31%) were around twice as likely as in-person workers (14%) to say they ordered groceries online at least weekly. 
Not only do they place online grocery orders more often, but remote and hybrid workers are buying the bulk of their groceries that way. Among those who bought groceries online, 71% of remote workers and 66% of hybrid workers said they got all or most of their groceries that way, compared with 44% of in-person workers. Remote and hybrid workers are also more inclined to use apps for grocery shopping and meal planning.
Online grocery shoppers were asked how much of their grocery shopping they do online
Responses collected from surveys conducted Jan. 31-Feb. 5, 2023, and Feb. 28-March 4, 2023, among 266 to 367 working U.S. adults who bought groceries online, with an unweighted margin of error of up to +/-6 percentage points. Figures may not add up to 100% due to rounding.
This is partially demographically driven, as remote and hybrid workers skew toward demographics that tend to order groceries online the most: parents and high-income individuals. But it's also driven by daily schedules and, in particular, what those schedules mean for car travel. Workers who are already at home might find it easier to place an online order than to make a special trip out of the house for groceries.
Workers' schedules will keep influencing food & beverage choices
The schedules of remote and hybrid workers will continue to have ramifications on food & beverage choices, from mealtimes to grocery shopping behaviors. Learning the "who" behind worker profiles can help food & beverage brands more effectively tune messages and products as the landscape continues to shift.
Emily Moquin is the lead food & beverage analyst on the Industry Intelligence team, where she conducts research, authors analyst notes and advises leaders in the food & beverage industry on how to apply insights to make better business decisions. Prior to joining Morning Consult, she worked at Gartner as a director analyst, covering consumers and food & beverage, and on the consumer insights team at H.J. Heinz. She graduated from Penn State University with a bachelor's degree in advertising and public relations, as well as political science. @emilybmoquin
For speaking opportunities and booking requests, please email [email protected].
We want to hear from you. Reach out to this author or your Morning Consult team with any questions or comments.
Contact Us