Small- and Medium-Sized Businesses Are More Optimistic Despite Banking Turmoil
Small- and medium-sized businesses ended the second quarter with improved business optimism and stable access to credit despite bank failures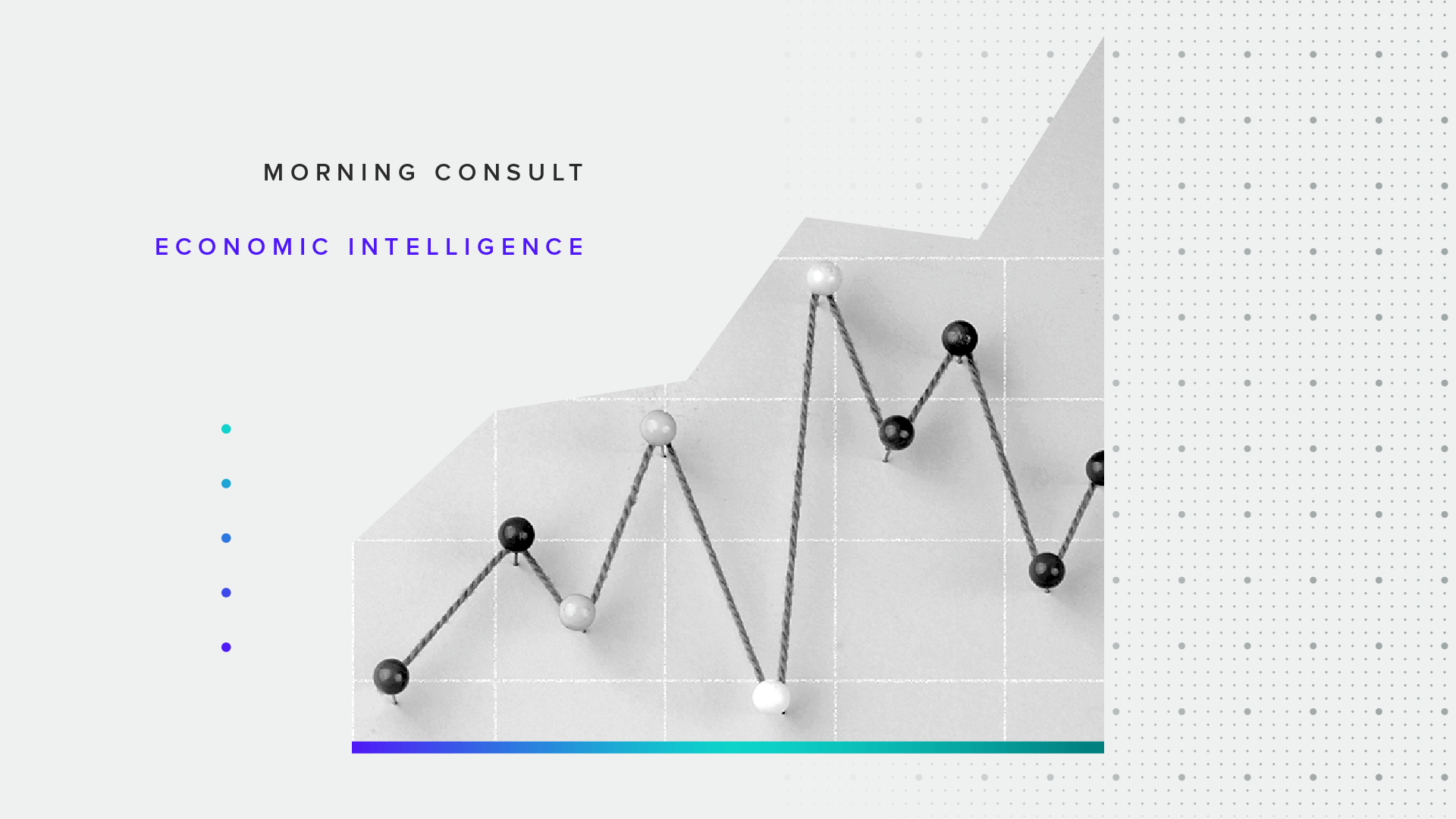 Key Takeaways
Sentiment among small- and medium-sized businesses broadly improved in Q2 2023 despite recession fears and banking sector turmoil. 

Sales growth accelerated in Q2 as inflation concerns began to moderately recede, while access to loans became easier for SMBs in Q2 despite reports of tighter lending standards.

The pace of hiring picked up marginally in Q2 2023, and roughly a quarter of SMBs plan on increasing their headcount over the next three months, consistent with last quarter.
Sign up to get our data on the economy, including trends in consumer spending and consumer confidence.
Sentiment among SMBs broadly improved in Q2 despite heightened financial market uncertainty, with higher shares of SMBs expressing optimism about the macroeconomic outlook.
The share of SMBs reporting higher sales increased to 39% in Q2 2023, up from 28% the prior quarter. Only 14% of SMBs reported lower sales volumes in Q2 2023. The upward movement largely reversed two quarters of declines, with the improvement in sales growth driven primarily by SMBs with 100 employees or fewer. On the other hand, larger SMBs saw little change quarter over quarter. 
Inflation remained the top challenge facing SMBs for the fourth consecutive quarter, but the share of SMBs citing inflation as a major business challenge fell to 40% in Q2 from 46% in Q1. However, a rising share of SMBs say it's easy to pass along elevated input costs to their buyers, with more expecting their prices to rise over the next 12 months.
Inflation Remains Top Business Challenge, but Numbers Are Falling
Respondents who said they experienced the following "major challenges" to their businesses:
Top 10 among small businesses
Source: Morning Consult Economic Intelligence
Despite banking turmoil in March and April, more SMBs reported easier access to loans relative to three months ago, continuing the trend that began in Q1. SMBs benefited from the contained nature of the banking sector turmoil, which has yet to create widespread, persistent financial market stress, thereby limiting its impact on the broader economy. 
Access to Credit Is Stable Despite Banking Turmoil
Share who said loans were easier or harder to get than 3 months ago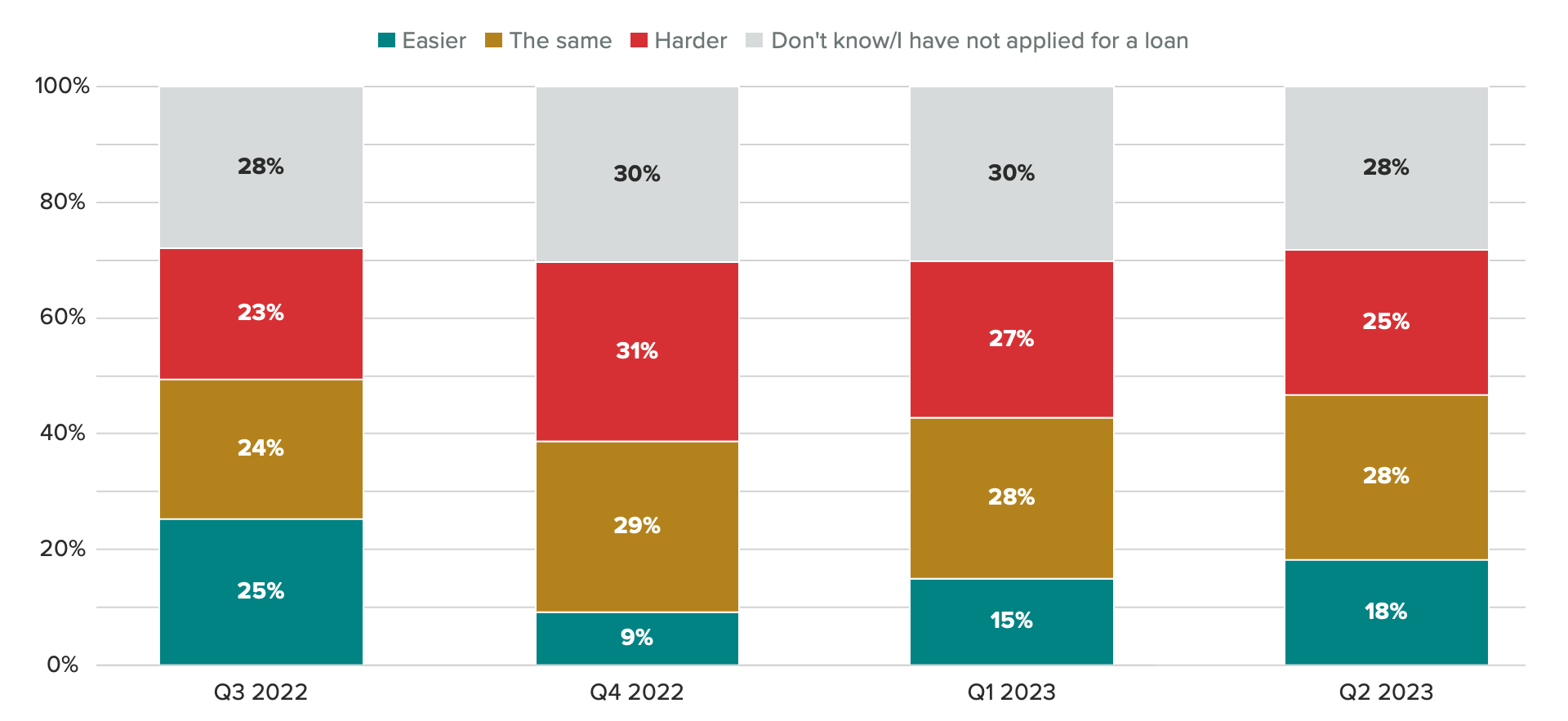 Figures may not add up to 100% due to rounding.
Source: Morning Consult Economic Intelligence
Actual and expected stress in the banking sector also prompted the Federal Reserve to slow its pace of interest rate hikes, effectively easing credit conditions relative to market expectations. Borrowers, including SMBs, benefited from easing financial conditions in Q2. 
Looking ahead, the Fed has increasingly signaled its willingness to raise interest rates again this year, given the persistence of elevated inflation. However, if financial markets do not believe in the credibility of the Fed's commitment to fighting inflation, financial conditions may remain relatively laxed, allowing SMBs to continue benefiting from easy access to loans.
This memo provides a preview of the Q2 2023 Morning Consult SMB Report, drawn from Morning Consult's quarterly survey of small- and medium-sized business owners and decision-makers. The survey and report provide quarterly updates into the experiences and expectations of SMBs on a range of economic, financial and business conditions.