Global Uncertainty Toward Taiwan Could Mean Inaction in a Crisis
Views of Taiwan remain favorable worldwide, but high uncertainty carries a risk of muted support if China were to invade
Key Takeaways
Both in the United States and globally, public views of Taiwan are generally positive — and in many instances improving — as countries become wary of Beijing.

Yet high public uncertainty could constrain political leaders' willingness to intercede on Taiwan's behalf should China invade.

In the United States, Democrats hold more favorable views of Taiwan than Republicans, though large shares of both are unsure of their views. Uncertainty outpaces favorability among independents.

Public attitudes among America's Western allies are especially uncertain, whereas views among its Asian allies and partners — and among ASEAN nations in particular — are more favorable overall, perhaps owing to their firsthand experience with Beijing's territorial bullying.

To China's detriment, close relations with Beijing are no guarantee of negative public attitudes toward Taiwan: More Russian and Saudi adults view Taiwan favorably than don't.
As U.S.-China relations continue to deteriorate and American policymakers' attitudes toward China harden across the political divide, Taiwan has emerged as an acute source of bilateral tension. Beijing claims the self-governing island as its own, and Chinese President Xi Jinping has repeatedly vowed to oppose pro-independence forces there. He has also refused to rule out the use of force to achieve "reunification," viewed as critical to his signature goal of national rejuvenation.
Officially, the United States maintains a policy of "strategic ambiguity" as to whether it would come to Taiwan's defense in the case of a Chinese invasion. But recent diplomatic displays of support for Taiwan by senior U.S. political leaders — including former House Speaker Nancy Pelosi, who visited Taiwan in August 2022 and current House Speaker Kevin McCarthy, who recently met with Taiwanese President Tsai Ing-wen — provoked furious reactions from China and raised military tensions in the region.
Positive public views of Taiwan are tempered by uncertainty
While many adults in the United States (and globally, as we discuss below) hold favorable views of Taiwan, there are also large shares who remain uncertain. The island's complicated geopolitics are at least partly to thank. Taiwan is an important linchpin in the global technology supply chain as well as a vibrant democracy located in a strategically important naval corridor. Yet its complicated relationship with Washington and Beijing risks drawing the United States and China — both nuclear superpowers — into a direct conflict that in a worst-case scenario could spiral into a cataclysmic world war.
Democrats hold the most favorable views of Taiwan
Since 2021, favorability of Taiwan has risen among U.S. adults, yet the share of those professing uncertainty remains high. The share with favorable views is currently around 42%, while 36% say they are unsure about their views.
Democrats evince the most favorable sentiment toward Taiwan: 47% of them now hold favorable views of the de facto nation, up roughly 7 percentage points over the last two years. The Biden administration's hardening stance on China and growing public concern about the country's increasingly bellicose rhetoric under Xi are two possible drivers. Meanwhile, despite hawkish views of China among many senior Republican legislators, uncertainty remains high among GOP constituents, likely reflecting isolationist tendencies in the party and wariness of what a closer friendship with Taiwan could entail, even as GOP voters are more likely than Democrats to rank U.S.-China relations among America's top five foreign policy concerns.
Among independents, uncertainty outpaces favorability. While Taiwan seems to have benefited from attempts by party leaders on each side of the aisle to out-hawk each other on China, their efforts do not seem to have shifted the needle much among this group.
U.S. Views of Taiwan Are Net Positive, but Uncertainty Is Also High
Shares of U.S. adults with favorable, unfavorable and uncertain views of Taiwan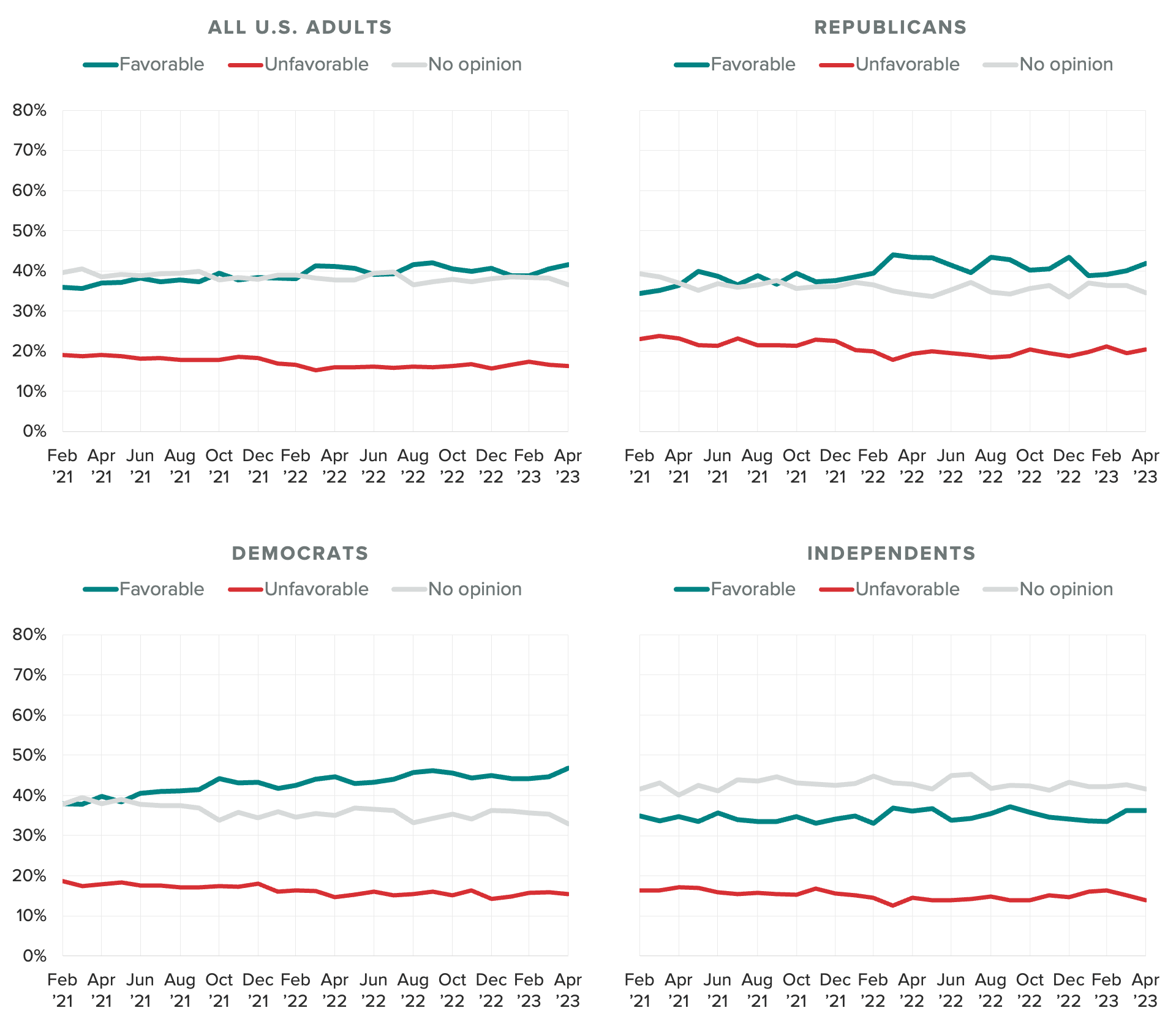 Source: Morning Consult Political Intelligence. Data points represent monthly rollups of daily surveys. Shares of respondents who said they have never heard of Taiwan are not shown.
Public uncertainty is especially high among other major Western powers
Our previous research has shown that U.S. allies' publics would prefer that the United States take the lead if China were to invade Taiwan, and are wary of getting involved themselves. Likewise, public uncertainty about Taiwan is especially high among America's major European allies.
Until recently, a clear plurality of U.K. adults were unsure of their opinions toward Taiwan. Uncertainty has declined markedly since the end of 2022, while favorability has risen, leaving only a small gap between. The United Kingdom's decision to move closer to the United States in its combative categorization of China in recent months — Prime Minister Rishi Sunak recently stopped just short of labeling Beijing a "threat" — is a possible contributing factor, or at least reflects the sensibilities behind this shift.
Germany and France, meanwhile, are conflicted in their views. Both countries show slightly lower levels of public uncertainty toward Taiwan compared with U.K. adults. But larger shares of French and German adults hold unfavorable views of Taiwan relative to their northern neighbors. French President Emmanuel Macron's recent attempt to woo China and buoy bilateral relations with a visit to Guangzhou does not appear to have substantially altered French public opinion about Taiwan, with favorability seeing a slight uptick in recent months. Still, such muted views among major European allies' domestic constituents could pose challenges for U.S. efforts to rally their governments to support Taiwan militarily, should the need arise.
Many in Major European Countries Are Uncertain About Their Views of Taiwan
Adults in the following countries indicated whether they hold favorable or unfavorable views of Taiwan:
Source: Morning Consult Political Intelligence. Data points represent monthly rollups of daily surveys. Shares of respondents who said they have never heard of Taiwan are not shown.
Positivity among major Asian powers
Public views are less ambiguous among American allies in Taiwan's more immediate geopolitical neighborhood. Alongside the United States, Australia, India and Japan constitute the Quadrilateral Security Dialogue, with South Korea taking a "gradual approach" to formal participation in the group. Public views of Taiwan are net positive for all of them, with Japanese adults the most bullish of the group.
Though Japanese favorability toward Taiwan has declined since last summer, it still hovers above the 60% mark after a recent uptick. But public uncertainty has also risen steadily during this time, paralleling uncertainties about the merits of proceeding with constitutional reforms — favored by Japan's current prime minister — that would see Tokyo develop a formal military, an issue that is intimately linked to growing concern about heightened Chinese warmongering over Taiwan.
Among this regional group, Australian adults are most uncertain about Taiwan. Australia's greater distance from Taiwan offers a partial explanation. Rampant fears about Chinese meddling in their domestic politics likely also play a role: While Australians may have empathy for Taiwan, they might hesitate to involve themselves in an issue that would place them more directly in Beijing's crosshairs.
Unfavorable opinions of Taiwan are highest among South Korean adults, though somewhat larger shares are uncertain. South Korea's fraught relations with North Korea — and by extension, with China — are a likely driver. Beijing has historically been North Korea's primary benefactor and has periodically played a critical role in stabilizing the bellicose nation. It may feel less inclined to do so if it feels threatened by growing public support for Taiwan, in turn playing into many South Koreans' uncertain views.
Major Asian Powers Are Bullish on Taiwan, Though Uncertainty Persists
Adults in the following countries indicated whether they hold favorable or unfavorable views of Taiwan:
Source: Morning Consult Political Intelligence. Data points represent monthly rollups of daily surveys. Shares of respondents who said they have never heard of Taiwan are not shown.
ASEAN publics are empathetic toward Taiwan over Beijing's bullying
Southeast Asian nations are far less conflicted in their views of Taiwan. In recent years, many countries in the region have struggled with Chinese territorial encroachment, specifically in the South China Sea. Despite competing territorial claims among these countries, China's increasingly assertive posture in the region has led to an emergent unity by necessity, culminating in calls for the politically disparate economic grouping known as the Association of Southeast Asian Nations to transform itself into a more cohesive "minilateral" security community in order to better withstand Beijing's bullying.
While Taiwan is not an ASEAN member, its close proximity to the member states and similar struggles with Beijing over its political autonomy and territorial integrity clearly resonate. Our data suggests China may be reaping the consequences of its own bad behavior in the region, even as ASEAN nations are undoubtedly wary of getting pulled into a conflict between China and the United States over Taiwan.
Taiwan's ASEAN Neighbors Hold the Island in High Regard
Adults in the following countries indicated whether they hold favorable or unfavorable views of Taiwan: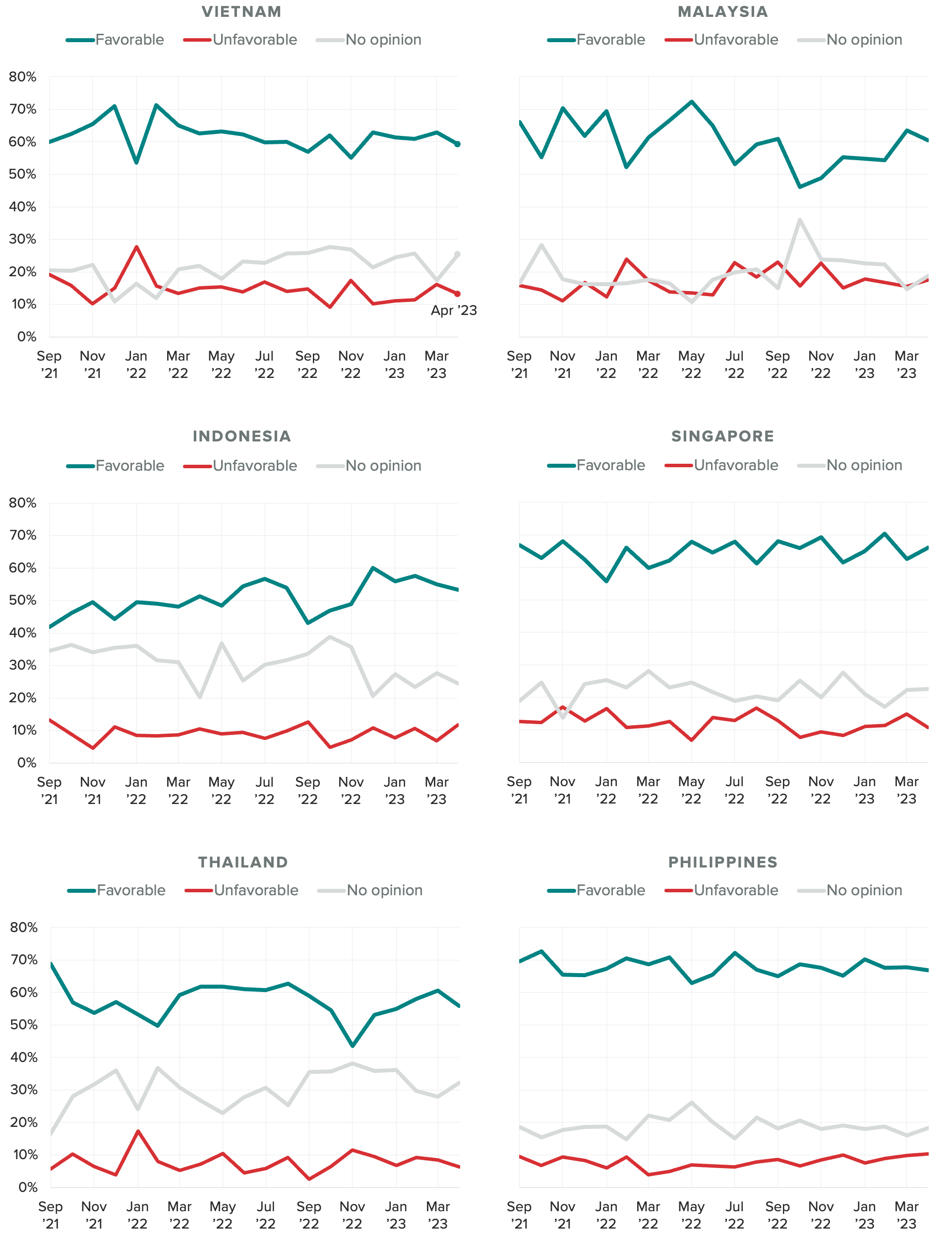 Source: Morning Consult Political Intelligence. Data points represent monthly rollups of daily surveys. Shares of respondents who said they have never heard of Taiwan are not shown.
For China, friends without benefits?
When it comes to China's friends and allies, close ties with Beijing are no guarantee of animosity toward Taiwan. Russia is China's most powerful military ally, and Presidents Xi Jinping and Vladimir Putin have repeatedly professed their friendship for each other, despite any misgivings Beijing may harbor over Moscow's bloody incursion into Ukraine. Saudi Arabia has recently drawn closer to Beijing as well, much to the chagrin of Washington. Yet both nations' publics hold largely favorable opinions of Taiwan: At the start of this year, around half of Saudi adults held Taiwan in high regard. Although uncertainty has risen lately, 45% still hold favorable views. Meanwhile, a third of Russians have favorable views of the island, outweighing the share with unfavorable views.
This is not to say that Beijing's cozying up to Moscow has had no effect. Russian adults' favorability toward Taiwan has fallen dramatically since 2021 as Russia has turned away from the West, dropping roughly 13 percentage points since invading Ukraine in February 2022. Russia has pulled closer to China since the attack and has publicly affirmed its support for Beijing's position on Taiwan. At the same time, tensions between Russia and much of the West have skyrocketed as the United States and its major democratic allies have sought to isolate Russia with punishing sanctions. Taiwan's close association with America and its antagonistic relationship with China have likely impacted its favorability in Russia during this time. And yet, in a striking finding, Taiwan until very recently was polling more favorably among Russians than among Americans and their major European allies.
Allegiance to Beijing Doesn't Guarantee Opposition to Taiwan
Adults in the following countries indicated whether they hold favorable or unfavorable views of Taiwan:
Source: Morning Consult Political Intelligence. Data points represent monthly rollups of daily surveys. Shares of respondents who said they have never heard of Taiwan are not shown.
Where does this leave Taiwan?
Global perceptions of Taiwan are undoubtedly shaped by its conflicted relationship with the belligerent nuclear superpower next door that claims the island as its own. Yet global views of Taiwan remain largely positive, even among China's presumed allies. This will frustrate Beijing as it attempts to use its substantial political and economic — and potentially military — heft to unilaterally settle the so-called Taiwan question in its favor.
At the same time, high levels of uncertainty persist in most countries, speaking to strong public doubts about whether supporting Taiwan, either explicitly or implicitly, is ultimately worth the price of incurring China's wrath. In the last few years, Beijing has stepped up its efforts to further isolate Taiwan diplomatically with some success. Despite overwhelmingly positive perceptions of Taiwan, high levels of uncertainty — especially among major Western powers — speak to the limits of Taiwan's ability to win global hearts and minds. Should China move against Taiwan, our data suggests public uncertainty could constrain policymakers' willingness to intercede on the island's behalf more than is commonly presumed, both in the United States and abroad.
Scott Moskowitz is senior analyst for the Asia-Pacific region at Morning Consult, where he leads geopolitical analysis of China and broader regional issues. Scott holds a Ph.D. in sociology from Princeton University and has years of experience working in and conducting Mandarin-language research on China, with an emphasis on the politics of economic development and consumerism. Follow him on Twitter @ScottyMoskowitz. Interested in connecting with Scott to discuss his analysis or for a media engagement or speaking opportunity? Email [email protected].
We want to hear from you. Reach out to this author or your Morning Consult team with any questions or comments.
Contact Us