The Share of Employed U.S. Adults Looking for New Jobs Is Still on the Rise
A strong labor market is providing options for many workers, who are considering more than just pay
Key Takeaways
Morning Consult's Lost Pay and Income Tracker ticked higher in August but remains near series lows.The rise was driven by lower-income workers, while employment outcomes among high-income workers continued to improve as a short-lived wave of pay losses earlier in the year recedes.

Job search activity swung higher in August, with a relatively large share of workers still being drawn into an active job search by the prospect of a pay bump. In August, 22.0% of employed adults and 23.3% of prime-age employed adults were actively applying for a new job.

Wages top the list of what workers view as important when considering a potential employer, with 66% ranking it No. 1. Traditional benefits like medical insurance and paid time off follow closely behind.
Sign up to get our latest data on the economy, including trends in job markets, consumer spending and consumer confidence.
Morning Consult data continues to show little weakness in the labor market, with the incidence of lost pay or income near series lows and the share of employed adults who are actively looking for a new job on the rise. While quits rates have fallen from their post-pandemic peaks, a large share of workers are still finding it beneficial to seek out new jobs. Workers continue to feel they have relatively strong leverage, adding upward pressure to wages, where nominal wage growth has surpassed the pace of inflation in recent months.
Potential Workers Most Likely to Care About Pay and Tangible Benefits
Share of potential workers who ranked each of the following (1 through 5) as one of the top 5 most important items when considering an employer: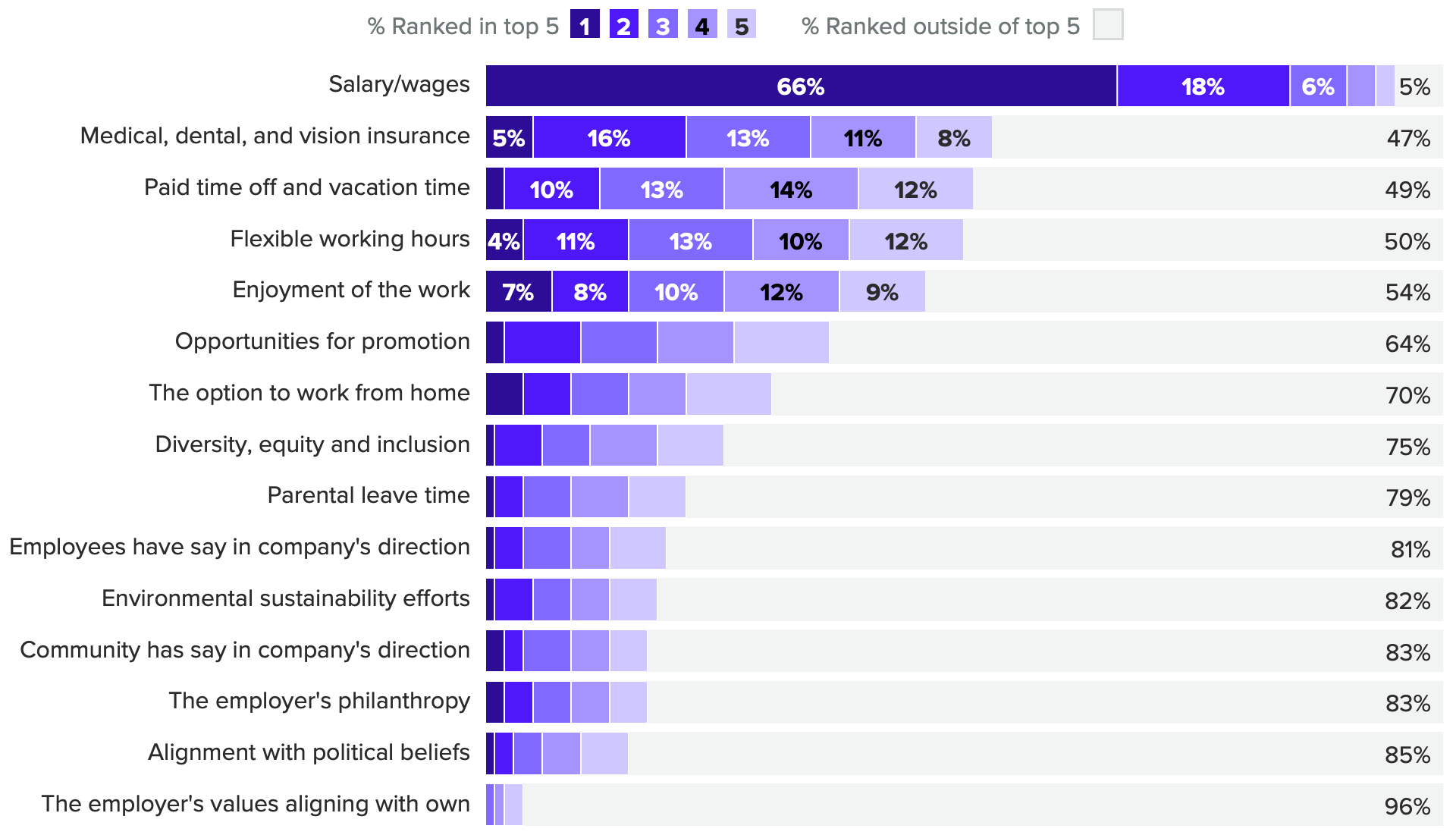 Source: Morning Consult Economic Intelligence. Survey conducted Aug. 18-21, 2023, among a representative sample of 2,193 U.S. adults. "Potential worker" includes employed and unemployed adults, students, and people in "other" situations while excluding retirees and homemakers.
What we do that's different: We survey thousands of U.S. adults every day to determine labor market conditions, including lost pay, job search activity, job security and more. The enhanced scale, frequency and depth of these measurements are not captured by more traditional or legacy datasets.
Why it matters: Our labor force calculations are simplified and standardized versions of the ones you're already familiar with, including those used by the U.S. Bureau of Labor Statistics.
When it comes to considering a new job, salary is No. 1 — 66% of respondents ranked it as the most important factor when considering an employer. The second most-selected option (enjoyment of the work) was only ranked No. 1 by 7%. Looking at the share who rank an item in the top 5 most important items, we see that 95% of potential workers selected salary/wages. This was followed by medical insurance, which effectively serves as additional compensation. 
Moving down the list, we see other traditional benefits — paid time off and flexible working hours — high on the list, followed by enjoyment of the work itself.Corporate Social Responsibility issues tend to be ranked lower than traditional benefits. 
Proving its resilience, the U.S. economy is still chugging along, adding roughly 200,000 jobs per month despite a nearly unprecedented cycle of interest rate hikes by the Federal Reserve. However, we are seeing some signs of cooling, with average hours worked per week sliding lower along with job openings, potentially releasing some steam from the still-hot labor market.
These will be welcome signs from policymakers at the Fed hoping for the "immaculate disinflation" that would see the pace of inflation decelerate without substantial job losses. There are still plenty of risks to the U.S. economy and the labor market, but the likelihood that the Fed sticks to a soft landing is on the rise. However, headwinds for job growth will persist over the coming quarters as the Fed maintains higher interest rates for longer. 
This memo offers a preview of Morning Consult's September U.S. Jobs & Labor Report. Morning Consult Economic Intelligence subscribers can access the full report here.
Jesse Wheeler is a senior economist at decision intelligence company Morning Consult, where he delivers insights on economic and geopolitical trends impacting the United States and major global markets.
Prior to joining Morning Consult, Jesse worked as an economic and political risk analyst at MUFG Bank, where he focused on U.S. fiscal, monetary and foreign policy, and at Fitch Solutions, where he conducted macroeconomic research and forecasting for Latin American markets.
Jesse received a bachelor's degree in history and environmental science from the University of South Carolina and a master's degree in international economics from George Washington University.
Follow him on Twitter @JesseSprWheeler. For speaking opportunities and booking requests, please email [email protected]
We want to hear from you. Reach out to this author or your Morning Consult team with any questions or comments.
Contact Us