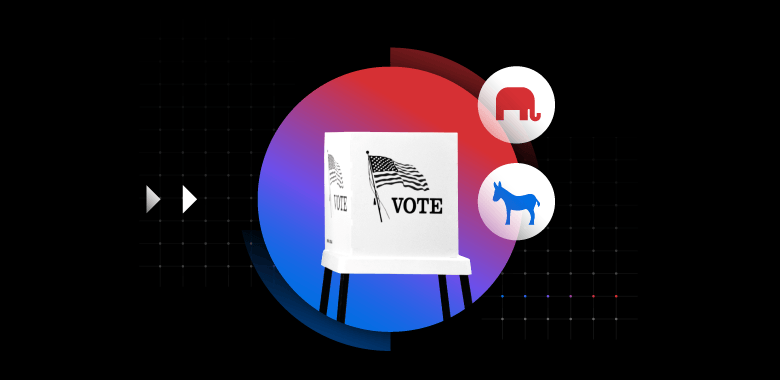 U.S. Politics
2024 U.S. Election Watch Report | October 2023
Report summary
For more recent data and analysis, see the 2024 U.S. Election Watch Report | November 2023.
The 2024 U.S. elections are shaping up to be another monumental moment in America's modern history, and Morning Consult's high-frequency tracking capabilities will provide political observers with an essential source of public opinion data to help them keep a finger on the pulse of the nation.
On a daily and weekly basis, Morning Consult Political Intelligence surveys thousands of registered U.S. voters on how they view their politicians at the national and state level and whom they currently plan to vote for. We also track the issues voters consider most important when making their decisions at the ballot box, whom they trust most to handle those issues and the extent to which media coverage of those issues is reaching them.
Each month, the 2024 U.S. Election Watch report will provide a comprehensive look at what the U.S. electorate thinks about the major issues and personalities around next year's contests, including the prospective general election matchup between President Joe Biden and former President Donald Trump, as well as how vulnerable incumbents in the Senate are faring with voters in their states and how potential shifts in issue importance may favor either party next November.
Methodology
All national-level data presented in this report reflects monthly roll-ups of views among registered voters derived from two sources: (1) interviews from Morning Consult's daily U.S. tracking survey and (2) weekly interviews from a nationally representative survey on the 2024 U.S. elections and the Republican presidential primary. Data on approval ratings for President Joe Biden derives from the former source; all other data presented in this report derives from the latter source.
All state-level data represents trailing three-month averages of monthly roll-ups derived from Morning Consult's daily U.S. tracking survey.
Consult our 2024 Republican Primary Methodology primer for additional details on both data sources, including sampling and data collection procedures, weighting and representativeness, margins of error and question wording.
About the author
Cameron Easley is Morning Consult's lead analyst for U.S. politics. Prior to moving into his current role, he led Morning Consult's editorial coverage of U.S. politics and elections from 2016 through 2022. Cameron joined Morning Consult from Roll Call, where he was managing editor. He graduated from the University of North Carolina at Chapel Hill. Follow him on Twitter @cameron_easley. Interested in connecting with Cameron to discuss his analysis or for a media engagement or speaking opportunity? Email [email protected].