Economics
October 2023 Global Consumer Confidence Charts
Report summary
This Chart Pack provides a curated summary of Morning Consult's proprietary Economic Intelligence data on global consumer confidence. 
Chart Pack highlights:
A resilient United States remains a bright spot in the global economy, but waning consumer sentiment is a cause for concern. 
Morning Consult data shows a clear downtrend emerging in consumer sentiment across Europe's major economies. 
Consumer confidence has plateaued in China in recent months and dipped lower in September.
Highlights from this report
Global consumer confidence fell in September amid rising economic uncertainty. Inflation remains elevated in many of the world's largest economies, eroding purchasing power and leading central bankers to keep monetary conditions tight. Geopolitical risks are also intensifying, bringing additional uncertainty to the global economy as the war in Ukraine continues and Hamas and Israel enter open conflict after a devastating attack in early October. With much of Europe still teetering on the cusp of a recession and demand in China weak, a resilient U.S. economy is a global bright spot, but it is unclear how long this will last as headwinds mount.
North America, Europe and China All Saw Broad Declines in Sentiment in September
Morning Consult Index of Consumer Sentiment
Monthly % change (August 2023 to September 2023)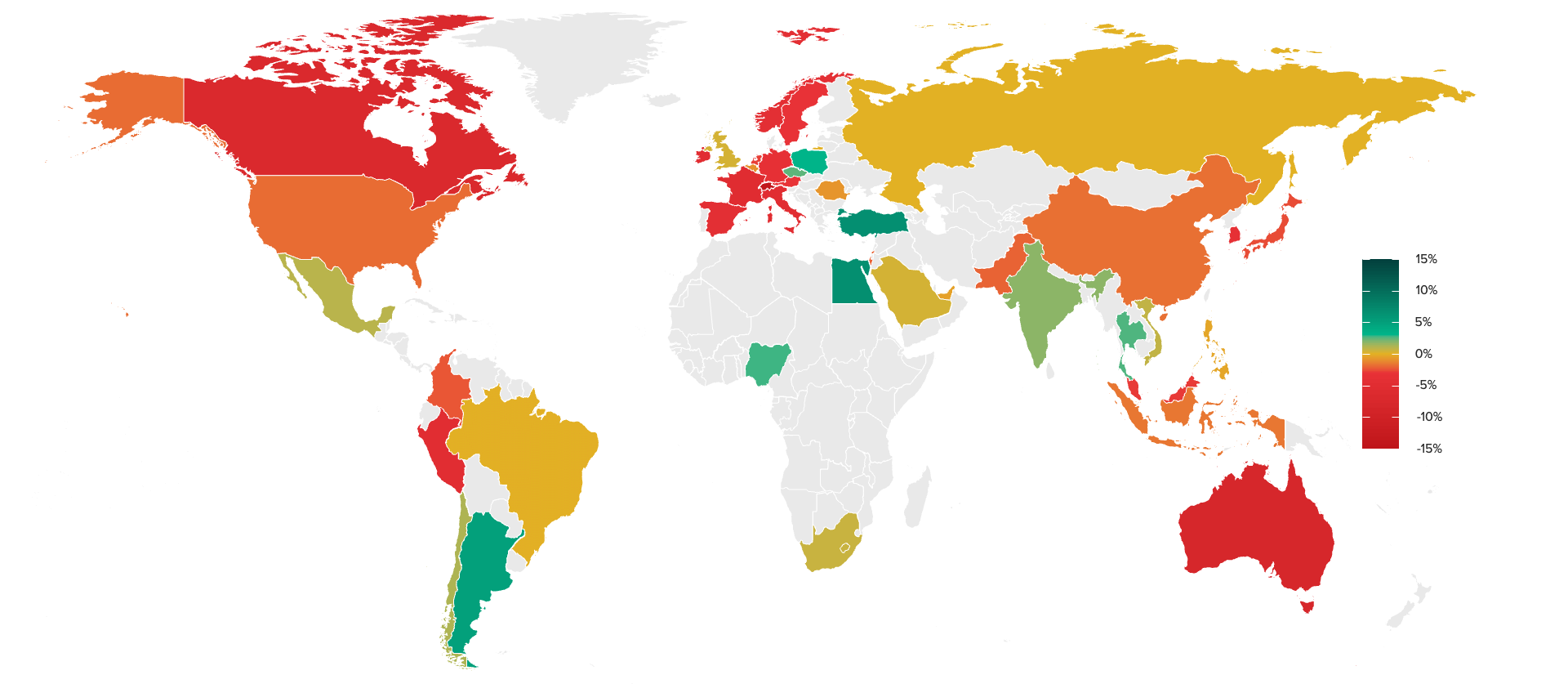 Morning Consult Economic Intelligence
Consumer confidence in the Asia-Pacific region has been relatively weak in recent months, with sentiment plateauing in China and India and falling in Australia. The latter especially has seen a sharp deterioration in confidence as the economy faces mounting headwinds. In Japan, despite a recent uptick, sentiment has broadly deteriorated since the middle of 2023. Inflation has outpaced wages, weighing on purchasing power, and consumer spending declined for the sixth consecutive month in August. 
This chart pack offers a preview of Morning Consult's October Global Consumer Confidence Report. Morning Consult Economic Intelligence subscribers can access the full report here.
Download This Report with Your Morning Consult Pro Subscription
Download the Chart Pack