2 in 5 Adults Rate Social Media as 'Poor' at Curbing Coronavirus Misinformation
Facebook, Twitter and others have been working with WHO to contain spread of false health claims
Key Takeaways
38% said social media is doing a "poor" job of combating coronavirus misinformation, while 25% said they were doing a "fair" job.

71% said that users are at least somewhat responsible for controlling the spread of the misleading information that they post.
Earlier this week, a fake BBC account tweeted that "Harry Potter" actor Daniel Radcliffe had contracted the coronavirus -- a false claim that was later retweeted by prominent journalists like Maggie Haberman of the New York Times and Politico editorial director Blake Hounshell, who both later apologized for sharing the hoax. 
The false story about Radcliffe is only the tip of the iceberg as the amount of misinformation shared on social media platforms like Facebook Inc. and Twitter Inc. grows with the continued spread of the coronavirus. And new polling suggests that few U.S. adults have faith in the tech companies to handle the problem. 
According to a new Morning Consult survey conducted March 10-12, 2020, a plurality of 38 percent said social media companies are doing a "poor" job of preventing the spread of false information about coronavirus on their platforms, while another 25 percent said they were doing a "fair" job. The survey, conducted among 1,252 adults, has a margin of error of 3 percentage points.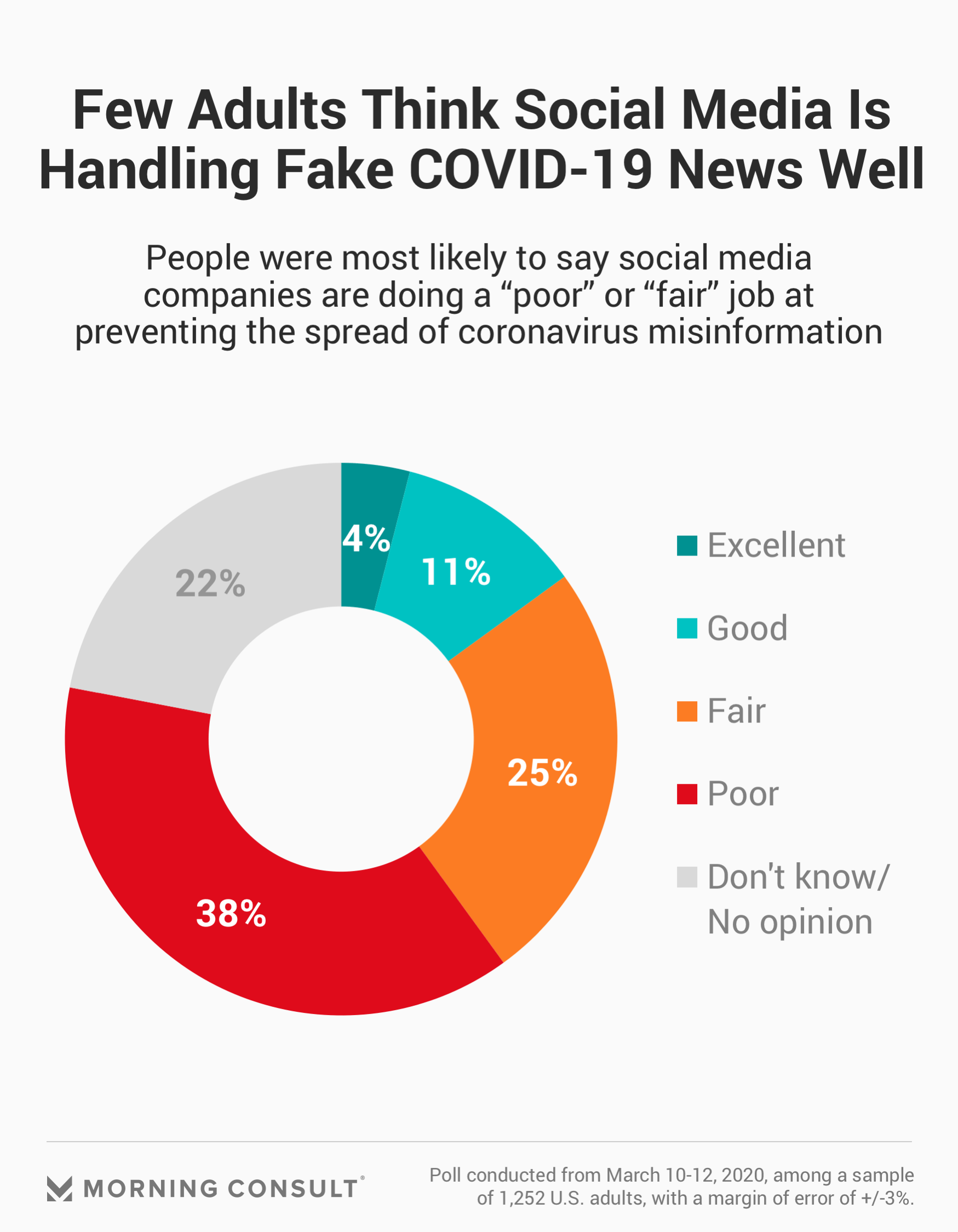 At the same time, respondents are more inclined to hold the user who originally posted the misleading information responsible for controlling its spread, with 71 percent saying that the user is at least somewhat responsible, compared to 64 percent who said the same about the social media platform. More than half (55 percent) said the user is "very responsible" for stemming the tide of misinformation about the pandemic.
"It is particularly difficult because it is a sudden and global crisis," said Andy Tan, assistant professor of social and behavioral sciences at Harvard's T.H. Chan School of Public Health, who researches communications about health information. "Even with the capabilities of new artificial intelligence tools that social media platforms are developing and deploying right now, these tools are just not going to be foolproof in terms of blocking all kinds of misinformation in real time." 
Social media companies, which were already struggling to keep up with the content moderation cases on their platforms, have been making proactive efforts to combat misinformation about coronavirus. 
Both Facebook and Twitter have adjusted search results on their sites so that coronavirus-related queries will be first met with information from the World Health Organization and other legitimate health entities. Google and Facebook have also both placed restrictions on advertising that includes health claims about the virus, as well as ads for surgical face masks.
But U.S. adults were more supportive of the removal of users' false posts about coronavirus vaccines or cures (77 percent backed this move) than the blocking of ads that claim to prevent the spread of the virus (47 percent). 
Tan said that one of the best ways to counteract misinformation seen online is to encourage a "healthy skepticism" in users so that they aren't so easily fooled when false claims pop up in their feeds. He also suggests that people share evidence to debunk false or misleading content, rather than just simply saying that something is wrong. 
"People are less likely to accept debunking when an initial message is just labeled as wrong, versus conquering that wrong information with new evidence," Tan said. 
Sam Sabin previously worked at Morning Consult as a reporter covering tech.
We want to hear from you. Reach out to this author or your Morning Consult team with any questions or comments.
Contact Us