2020 Could Reimagine Conventions, but Democratic Chairs See Value in Tradition
As coronavirus upends politics this year, some have called to cancel or overhaul traditional nominating contests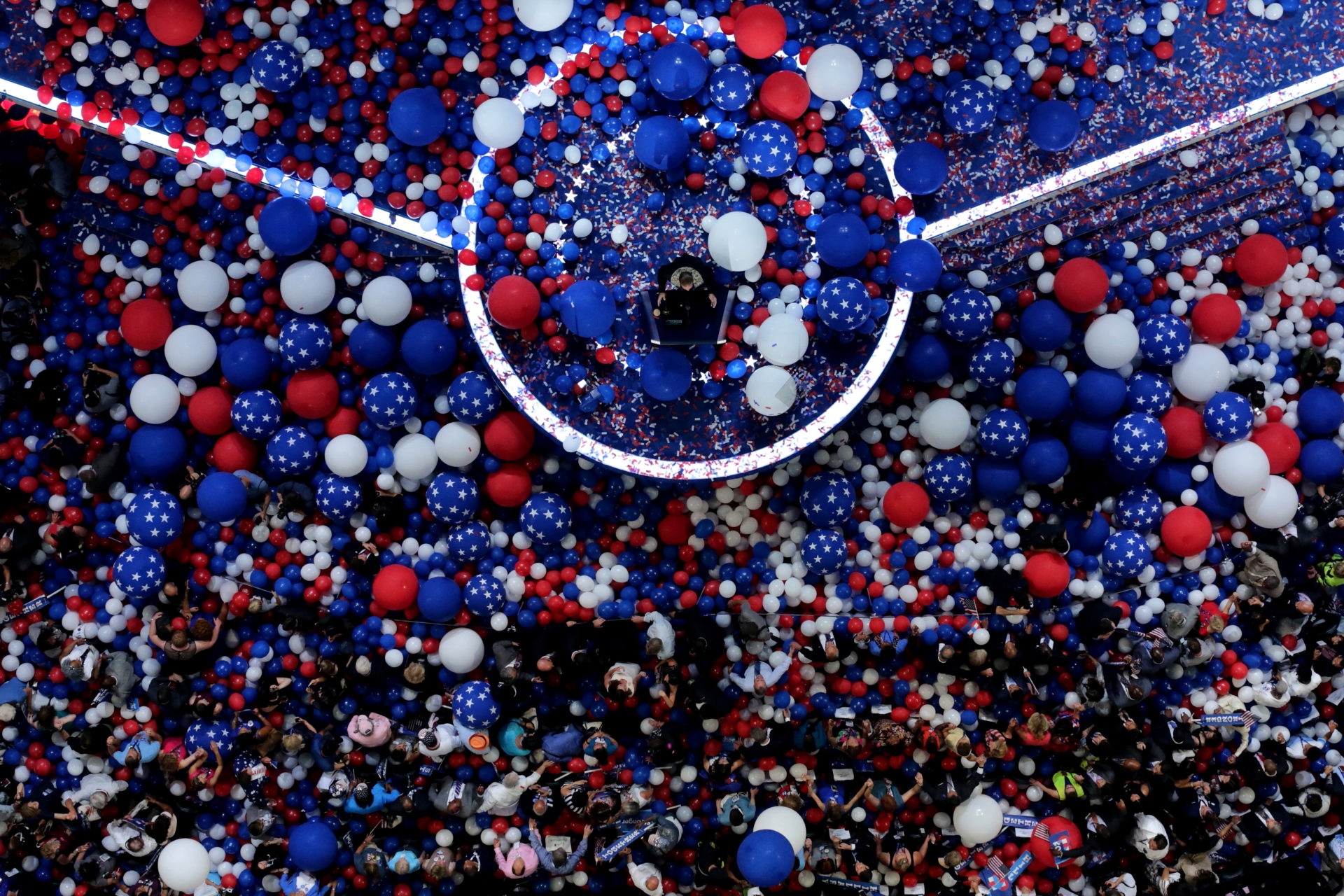 With the Democratic Party forced to reassess whether to hold its national nominating convention in person this year, at least one of the party's prominent strategists expressed hopes that the changes to traditional campaigning accelerated by the COVID-19 pandemic would also bring the end of the national conventions.
"Burn it to the ground," Lis Smith, the former senior adviser to Pete Buttigieg's 2020 campaign, said on Twitter earlier this month. Her comments echoed timeless critiques -- that the convention is an "outdated, expensive, time suck" that preaches to the choir and lacks real news value to help candidates sway the overall electorate.
But while there is smoke in the air around the state of the Democratic National Convention in Milwaukee this year, party leaders across the country have concerns about torching the in-person event entirely, extolling its impact on public opinion locally, on media across the country and on the enthusiasm of the party's troops ahead of November.
"When you have an option that has an extraordinary level of political potency," Wisconsin Democratic Party Chairman Ben Wikler said, "moving towards something that is less proven is a challenge unless certain things demand it."
Wikler pointed to research showing that conventions have had strong effects on communities in and around the places where they're held, especially for Democrats. One such study, published by The Journal of Politics in 2014, found "conventions significantly affect the presidential candidates' county-level vote shares," and concluded that "Democrats are more likely to gain support in convention host communities than Republicans."
Wisconsin, the location of this year's convention, is one of a handful of states that will decide the winner in this year's election. Democrats have a mixed record in recent years when it comes to matching convention sites with victories, winning Colorado in 2008 after assembling in Denver but losing North Carolina in 2012 and Pennsylvania in 2016 after respective meetings in Charlotte and Philadelphia. 
Nationally, polling has shown a post-convention bounce does still exist for candidates, but data collected by The American Presidency Project since 1964 indicates it offers little value in predicting the ultimate national winner. In six of the 14 elections it has tracked, including the 2016 contest, the challenger party got a bigger bounce than the incumbent party, while the incumbent party got a bigger boost in seven contests.
Beyond the impact on public opinion, Ken Martin, chairman of the Minnesota Democratic-Farmer-Labor Party, said conventions offer a level of closure to highly contested primaries that high-profile endorsements and big political rallies can't fully replace. He added that the wall-to-wall press coverage from the national events bleeds down to local news outlets, which often send reporters to cover state delegations and report back to their own communities -- reaching far beyond convention host communities.
"That media coverage is invaluable, not just for the nominee, but for Democrats in the states," said Martin, who also leads the Association of State Democratic Committees, which represents state party chairs at the Democratic National Committee.
But in an ever-changing media landscape, former DNC Chief Executive Amy Dacey said campaigns have to adjust their perspectives to account for that and "go where people are consuming information."
"I still think the party can capitalize on a huge national event that brings people together from different parts of the party and has a meeting and celebrates the party and has a platform," said Dacey, now the executive director of the Sine Institute of Policy and Politics at American University. "The question is: Does it have to be at that event? Or do you pivot and try to figure out other ways to do that?"
Carolyn Fiddler, a Democratic communications strategist who's worked in labor and state-level politics, echoed the view that conventions are powerful organizing and messaging tools. But she believes that could be supplanted by other gatherings. 
This year gives Democrats a "great opportunity to at least significantly rethink" conventions, she said, especially as they relate to the election timeline.
"Campaigns are perceived to be in a sprint between the convention and Election Day," said Fiddler, communications director for the Daily Kos. "I think not having a fully formed ticket and platform before then -- even if it's just a matter of perception that doesn't reflect the reality of the situation -- is an unnecessary limitation campaigns historically placed on themselves."
If we don't have it, it's not the end of the world and we'll do a virtual one and it will save us a lot of headaches.
Former DNC Chair Terry McAuliffe
With thousands of Democrats, from the grassroots to members of Washington's political class, cramming into the same place for a week of meetings, speeches and parties, party conventions are also breeding grounds for activists who may be out of tune with party leaders. 
State delegates have influence over the party platform, potentially putting nominees in a difficult situation as they seek to appeal to those beyond the party's base. And even if the convention is not contested, activists at the event have a captive audience of journalists with whom they can raise concerns about the party's nominee -- as former Secretary of State Hillary Clinton experienced in 2016 when supporters of Sen. Bernie Sanders (I-Vt.) protested at that year's convention.
One party insider, former Gov. Terry McAuliffe (D-Va.), a Clinton confidant who chaired the DNC from 2001 to 2005, expressed little concern about postponing the 2020 convention, noting that the potential to curtail those intraparty squabbles is something of a blessing in disguise. 
"If we don't have it, it's not the end of the world and we'll do a virtual one and it will save us a lot of headaches," he said on April 15 during a video call with diplomats and reporters. "A lot of times at conventions -- there's a lot of mischief going on, problems with the platform. That all goes away."
But Gilberto Hinojosa, chairman of the Texas Democratic Party since 2012, said that from his perspective as a party leader, in-person conventions give him the chance to connect with members and nip potential problems in the bud. 
"If I'm in the convention, I'm walking through all the membership and talking to people," he said. "When something is going wrong, I promise you there's someone coming at me and saying fix this."
Besides, he added, everybody loves a party. 
"People want to be at this convention to send off our candidate with a good pep rally to make sure he's pumped up and ready to win this election," he said. 
Eli Yokley is Morning Consult's U.S. politics analyst. Prior to his current role, Eli was Morning Consult's senior reporter covering U.S. politics. Eli joined Morning Consult in 2016 from Roll Call, where he reported on House and Senate campaigns after five years of covering state-level politics in the Show Me State while studying at the University of Missouri in Columbia, including contributions to The New York Times, Politico and The Daily Beast. Follow him on Twitter @eyokley. Interested in connecting with Eli to discuss his analysis or for a media engagement or speaking opportunity? Email [email protected].
We want to hear from you. Reach out to this author or your Morning Consult team with any questions or comments.
Contact Us