How 2020's Haters Compare to Their 2016 Peers
Voters who dislike both presidential candidates this year tend to be younger, more liberal than in 2016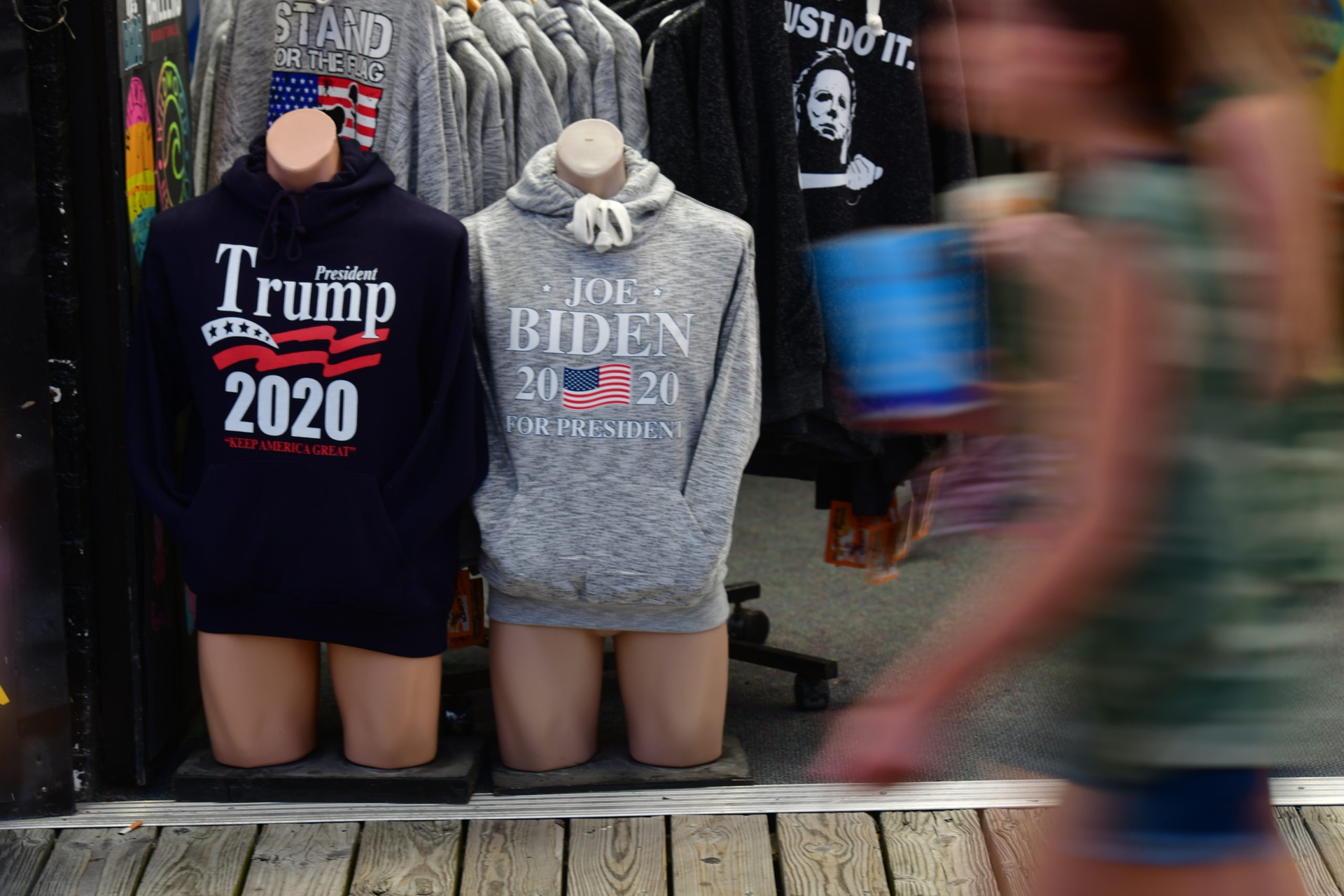 Following the 2016 election, voters with unfavorable views of both Donald Trump and Hillary Clinton -- two historically unpopular presidential candidates -- were crucial to the Republican's razor-thin victory. The cohort was largely white, older, working class, independent and conservative -- the kinds of people susceptible to Trump's outsider pitch. 
Four years later, there is a new set of voters who dislike both of the major party presidential candidates, and they look quite different than their predecessors. And with just under four months until the November contest, these voters -- the so-called haters -- are not inclined to back Trump, simply due to their demographic makeup, potentially eliminating another advantage Trump had in 2016 as he prepares for his race against Democrat Joe Biden.
While the group is about as likely to be made up of independents (50 percent) and white people without a college degree (46 percent) as it was four years ago, it leans significantly farther to the left, according to a new Morning Consult analysis of polling tracking the 2020 contest and 2016 exit polling.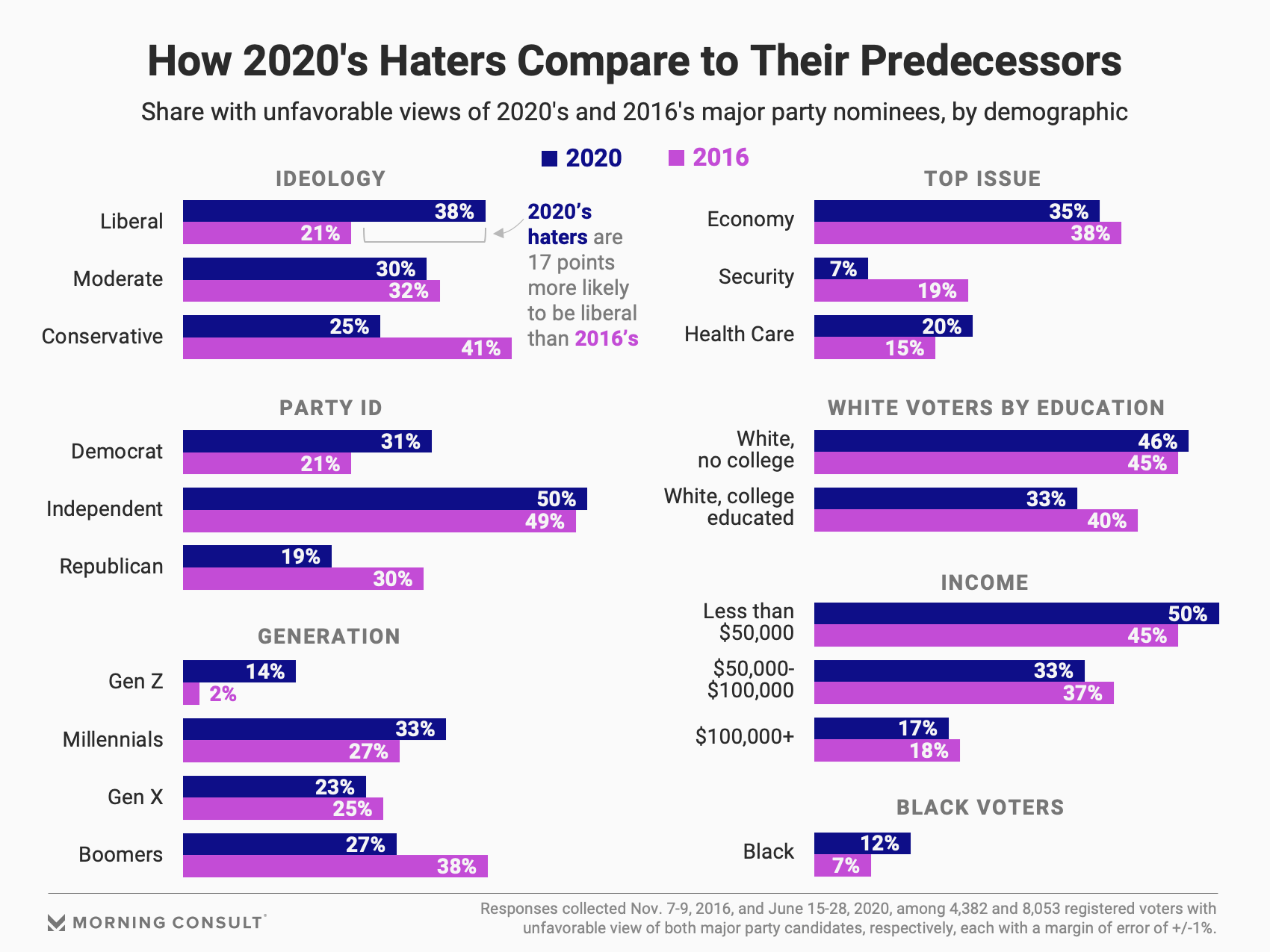 Members of the 2020 group are more likely to be Democrats and to identify as liberal. Compared to 2016, the new bloc is also younger, with swaths of Generation Z reaching the age of voter eligibility since the last presidential election. The poll, conducted June 15-28, 2020, surveyed 8,053 registered voters with unfavorable opinions of Trump and Biden and has a 1-point margin of error. 
Along with the ideological differences, the haters this time also have a different set of priorities. 
Those with unfavorable views about both candidates are less inclined to prioritize security (including issues such as immigration that propelled Trump last time around) when thinking about their votes in federal elections and are more likely to care about the economy, an issue where Trump has a slim advantage over Biden, and health care, where Biden and Democrats are favored by the overall electorate.
Clinton, who was much less popular among all voters in 2016 than Biden is now, trailed Trump by 17 points with the haters, according to exit polling, while the latest data shows Biden with a 29-point lead among those voters. And among the 43 percent who are still undecided, Biden leads by 19 points when they are forced to pick.
Having consolidated the low-hanging fruit, the remnant is bound to be skeptical of Trump, unpersuaded by the mere fact of his win, and more open to Biden as a non-Hillary alternative.
Liam Donovan, a Republican consultant and former finance strategist for the National Republican Senatorial Committee
"I view these gains as addition by subtraction for Biden," said Liam Donovan, a Republican consultant and former finance strategist for the National Republican Senatorial Committee. Many of the voters with unfavorable views of both Clinton and Trump were conservatives who disliked him because they were bearish on his chances, Donovan said, but that changed once he won.
"Having consolidated the low-hanging fruit," he said, "the remnant is bound to be skeptical of Trump, unpersuaded by the mere fact of his win, and more open to Biden as a non-Hillary alternative."
Kyle Kondik, managing editor of Sabato's Crystal Ball at the University of Virginia Center for Politics, said, "It makes some sense that these kinds of voters would prefer change to the status quo, and Biden is the change candidate in this race."
But Rachel Bitecofer, a senior fellow at the Niskanen Center, said the haters' disproportionate propensity to be younger and liberal reaffirms that Biden is "soft" with the kinds of voters who backed Vermont Sen. Bernie Sanders' bid for the Democratic nomination for president. That raises questions about whether some of these voters will opt to sit out the 2020 election.
Voter sentiments can change over time, and while Morning Consult data has shown stability in its numbers among the hater demographic, Election Day is just under four months away. Trump's 2016 campaign didn't even begin tracking the double-haters until August of that year, and dramatic moments that hurt voter sentiments, such as then-Federal Bureau of Investigation Director James Comey's letter regarding Clinton's emails or the release of the Access Hollywood tape, didn't happen until October. 
At this point, negative views about Biden among those who see him and Trump unfavorably are soft. Two-thirds said they have "very" unfavorable opinions about Trump, compared with 40 percent who have "very" unfavorable opinions about Biden, even after a grueling Democratic primary campaign and repeated attacks from Trump and his allies that are already filling the nation's airwaves. 
"They hate Trump a lot more, just like they hated Clinton," said Shermichael Singleton, a consultant who worked on the Republican presidential campaigns of Mitt Romney in 2012 and Ben Carson in 2016. "It seems clear that what assisted Trump and harmed Clinton in 2016 could assist Biden in November."
While Singleton said Biden is in a strong position, he noted there is some reason to be concerned about apathy among some younger progressives. He said the presumptive nominee has an opportunity to improve his standing with those who may be wary of his candidacy by selecting a forward-looking running mate who can appeal to younger voters on the left. 
"If they are smart and choose the right person, that's one of the areas where they can breathe a sigh of relief," he said.
Correction: A chart in a previous version of this story misstated the size of the gap between the share of haters with very unfavorable views of Trump and the share with very unfavorable views of Biden.
Eli Yokley is Morning Consult's U.S. politics analyst. Eli joined Morning Consult in 2016 from Roll Call, where he reported on House and Senate campaigns after five years of covering state-level politics in the Show Me State while studying at the University of Missouri in Columbia, including contributions to The New York Times, Politico and The Daily Beast. Follow him on Twitter @eyokley. Interested in connecting with Eli to discuss his analysis or for a media engagement or speaking opportunity? Email [email protected].
We want to hear from you. Reach out to this author or your Morning Consult team with any questions or comments.
Contact Us