Trump's Strength With Military Households Persists in Wake of Atlantic Report
But the president's advantage with the group is smaller than it was in 2016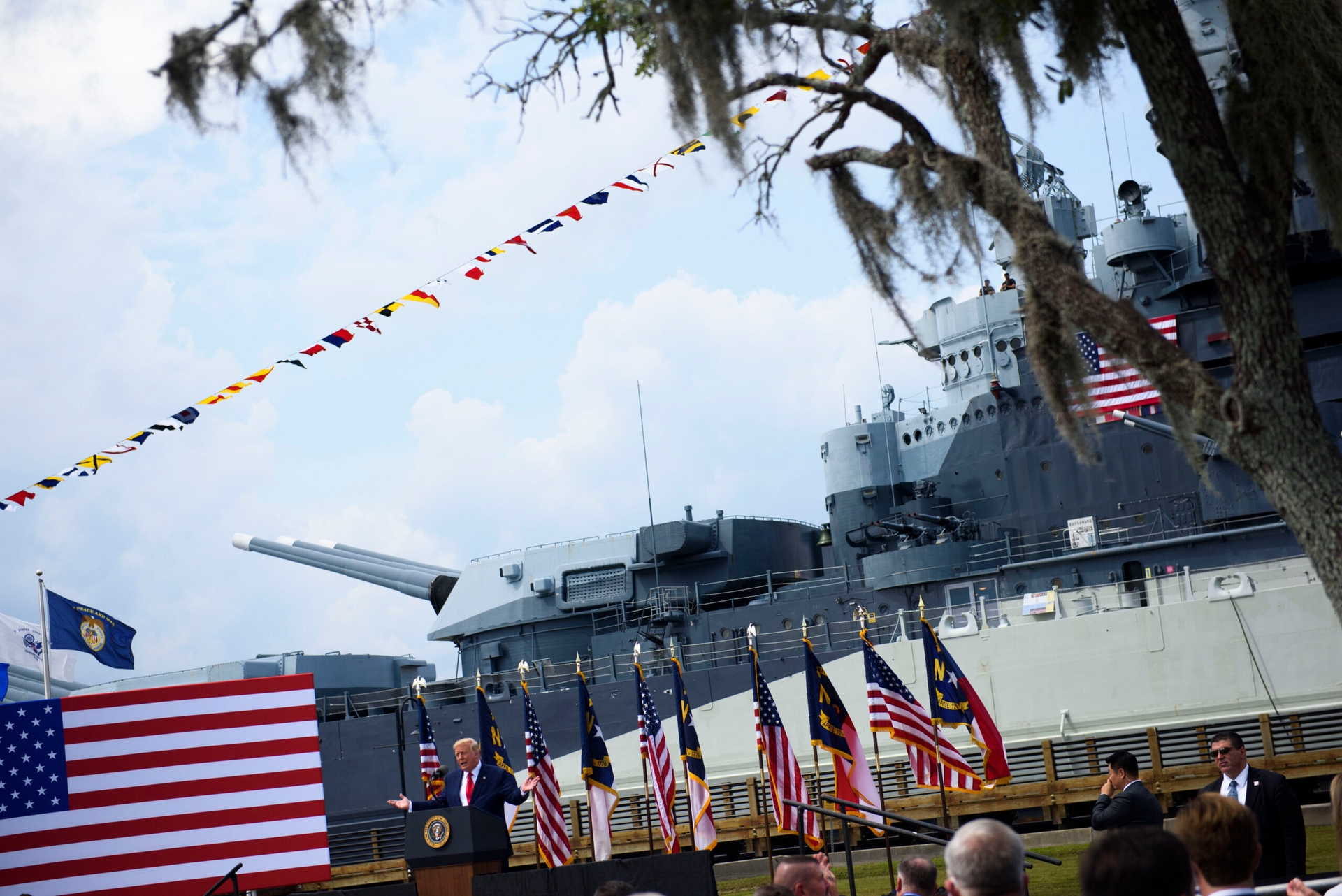 Key Takeaways
Donald Trump leads Joe Biden by 10 points among military-affiliated voters, compared with an 18-point edge in 2016 exit polling.

Biden is currently polling 7 points ahead of where Hillary Clinton was with likely voters in military households at roughly the same time four years ago.

53% of voters in military households approve of Trump's job performance, roughly the same share that did at the beginning of his presidency.
President Donald Trump's lead over Democratic nominee Joe Biden among military families has not wavered in recent days as he's faced fallout following a report from The Atlantic that said he routinely denigrated service members in private conversations with aides and advisers. Still, despite a significant edge with military-affiliated voters, new Morning Consult polling shows Trump's advantage with the group is smaller than it was four years ago.
Morning Consult daily tracking conducted Sept. 6-8 found Trump leading Biden by 10 percentage points, 52 percent to 42 percent, among 2,711 likely voters in military households -- those who said they are, or live with, an active-duty service member or veteran. But his advantage with the group has decreased since the 2016 election, when he won military-affiliated voters by 18 points, 57 percent to 39 percent, according to Morning Consult exit polling.
The latest polling comes after The Atlantic published a Sept. 3 article citing four sources who said the president referred to people who died in wars as "losers" and "suckers." The White House and former administration officials have strongly refuted the piece, though elements of it were also confirmed by reporting from Fox News and The Associated Press. Trump's advantage with the group is statistically unchanged from responses gathered Aug. 31 through Sept. 2, when he led Biden by 9 points.
Trump leads by 22 points among white respondents, who make up the bulk of the sample of military households, while Biden has a 35-point edge with voters in military households of color. Trump also leads among men and respondents older than 45, while the two candidates split the youngest voters and women almost evenly. (These figures were largely stable between the two polls.)
Like Hillary Clinton before him, Biden has sought to use Trump's reported and public statements about the military to persuade service members, veterans and their families to support his bid. Whereas Clinton highlighted Trump's disparaging comments about the war service of then-Sen. John McCain (R-Ariz.) and his attacks on Khizr and Ghazala Khan, a Gold Star family, Biden has touted his own son's military service, and criticized the president for downplaying U.S. intelligence that suggested Russia had offered bounties to militants in Afghanistan for killing American soldiers.
With fewer undecided voters this year, Biden is currently polling 7 points ahead of where Clinton was with likely voters in military households at a comparative point in the race four years ago. His standing is consistent with his average deficit to Trump among the group since The Associated Press first reported the Russian bounty program at the end of June.
Trump's strength with the demographic has proven durable. When he took office, 55 percent of voters in military households approved of his job performance, and 51 percent approved in January 2019, when Democrats took control of the House after the 2018 midterms. The latest Morning Consult/Politico poll found 53 percent of voters in military households approved of his job performance, while 46 percent disapproved.
Trump is similarly popular among likely voters in military households: 51 percent view him favorably and 47 percent view him unfavorably. As with the broader electorate, positive sentiment about Trump is weaker among younger people, women and military households of color than it is among older voters, men and white households. 
But Biden only has a popularity edge with nonwhite voters in military households, while he's roughly tied with Trump among the group's youngest voters.
Eli Yokley is Morning Consult's U.S. politics analyst. Prior to his current role, Eli was Morning Consult's senior reporter covering U.S. politics. Eli joined Morning Consult in 2016 from Roll Call, where he reported on House and Senate campaigns after five years of covering state-level politics in the Show Me State while studying at the University of Missouri in Columbia, including contributions to The New York Times, Politico and The Daily Beast. Follow him on Twitter @eyokley. Interested in connecting with Eli to discuss his analysis or for a media engagement or speaking opportunity? Email [email protected].
We want to hear from you. Reach out to this author or your Morning Consult team with any questions or comments.
Contact Us