44% Plurality Say Kevin Hart Was Right to Exit as Oscars Host
But public is split over the Academy's alleged ultimatum that he apologize for homophobic tweets or step down
Key Takeaways
36% said the Academy of Motion Picture Arts and Sciences would have been right to pressure the comedian to leave his role as host.

34% said it would have been wrong for the Academy to make such an ultimatum.

Hart's Instagram video defending himself improved his favorability among 42% of respondents, while 30% soured on the Academy.
With Hollywood still grappling with the fallout of Kevin Hart's brief tenure as Oscar host, a new Morning Consult/The Hollywood Reporter survey finds the public is fairly ambivalent about the entire debacle -- but ultimately approve of Hart's decision to step down.
Hart, who had revealed on Dec. 4 that he was going to host the 91st Academy Awards, withdrew from those duties on Friday after facing criticism over a number of old tweets that contained homophobic remarks.
In an Instagram video posted Thursday evening a few hours before he stepped down, the "Jumanji: Welcome to the Jungle" actor alleged that the Academy of Motion Picture Arts and Sciences gave him an ultimatum after the backlash began: Apologize for the resurfaced tweets, which were sent between 2009 and 2011, or the Academy would find another host. (The Academy has not confirmed whether it had issued the ultimatum.)
Adults were split on whether the Academy's reported move was the right one: Thirty-six percent said it should have pressured the comedian, while 34 percent disagreed.
Despite this, a 44 percent plurality said Hart made the right decision to step aside, while 26 percent of the 2,202 U.S. adults surveyed said he shouldn't have pulled out. The Dec. 7-10 poll has a margin of error of 2 percentage points.
A 41 percent plurality said that the incident hasn't shifted their opinion of Hart. While 29 percent of U.S. adults said the kerfuffle soured them on the entertainer, a roughly similar share (26 percent) said the same of the Academy.
In September, Hart ranked 23rd on Morning Consult's most-loved entertainer list, with a net favorability of 47 points. He was the ninth most-loved among millennials, with a 63-point net favorability.
Hart is a highly sought-after figure in the entertainment industry, with dozens of producer and writer credits to his name and five confirmed headlining films in the works, according to IMDb.
Although the news about the Hart's withdrawal as Oscar host made waves in the entertainment industry, just 15 percent of the public said they had heard "a lot" about the news, and 9 percent said they had heard "a lot" about the controversial tweets.
Hart kept his fans up to date on developments in the controversy via Instagram, posting two selfie videos.
The second video, in which Hart says the Academy gave him an ultimatum to apologize or step aside, may have helped bring some of the public to his side: A 42 percent plurality said they had a more favorable view of the star after viewing it. Meanwhile, 30 percent said they had a more unfavorable view of the Academy post-viewing, but a plurality of 38 percent said their opinion didn't change.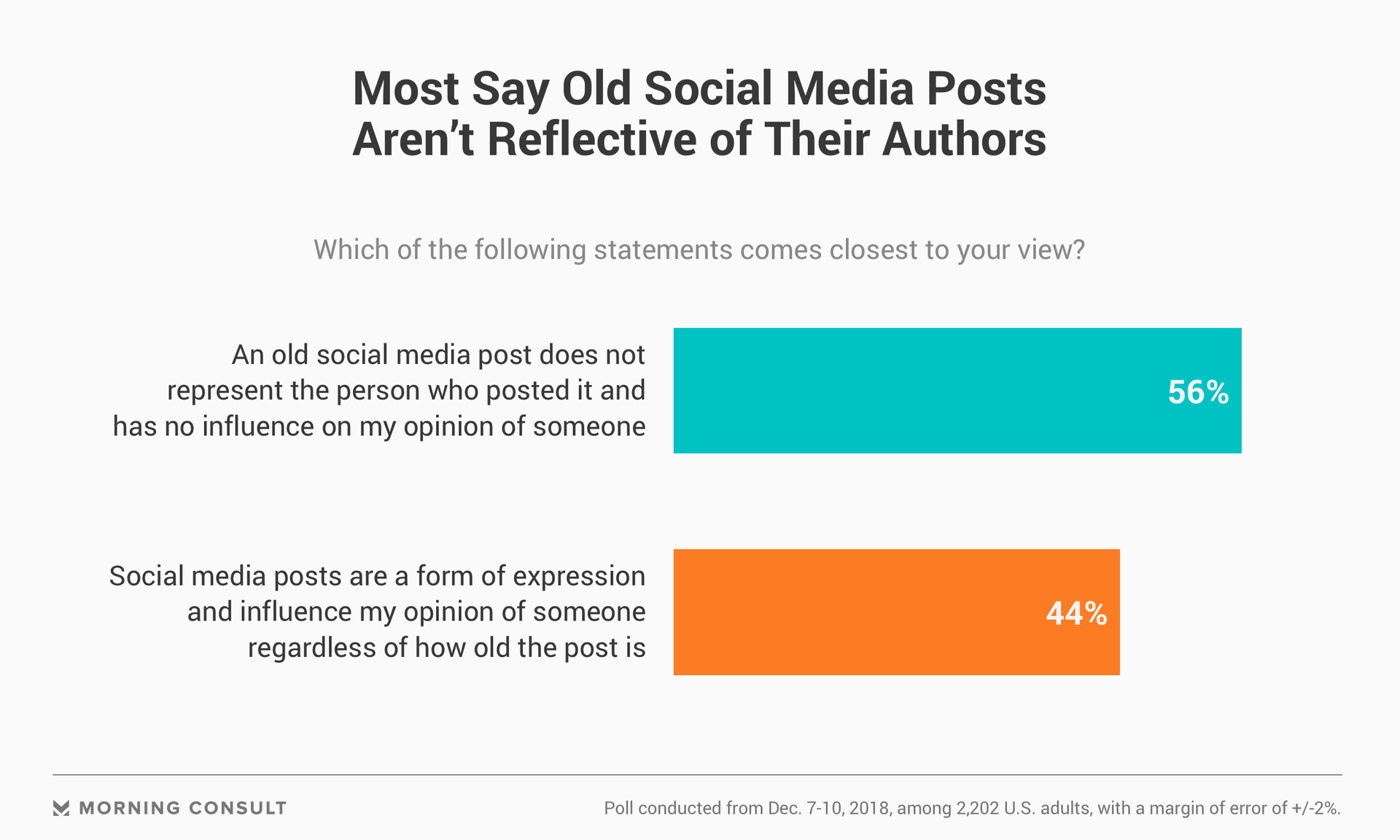 In the video, Hart encourages viewers not to judge him -- or others -- from old social media posts, and it appears the public agrees: Most (56 percent) of the respondents said old social media posts don't represent the person who posted it and have no influence on their opinion, while 44 percent said old posts are a form of expression and do impact their view of the author.
After posting the videos and leaving his role as host, Hart showed remorse over his old posts, saying in a tweet: "I sincerely apologize to the LGBTQ community for my insensitive words from my past." He deleted some of the Twitter posts that had drawn criticism, but other old tweets including an anti-gay slur and using the word "gay" as an insult still remain on his Twitter feed.   
Joanna Piacenza leads Industry Analysis at Morning Consult. Prior to joining Morning Consult, she was an editor at the Public Religion Research Institute, conducting research at the intersection of religion, culture and public policy. Joanna graduated from the University of Wisconsin-Madison with a bachelor's degree in journalism and mass communications and holds a master's degree in religious studies from the University of Colorado Boulder. For speaking opportunities and booking requests, please email [email protected].
We want to hear from you. Reach out to this author or your Morning Consult team with any questions or comments.
Contact Us