Most Adults Sour on Carlson's Show After Hearing Radio Remarks
48% say they're "much less likely" to watch Fox show, including a third of Republicans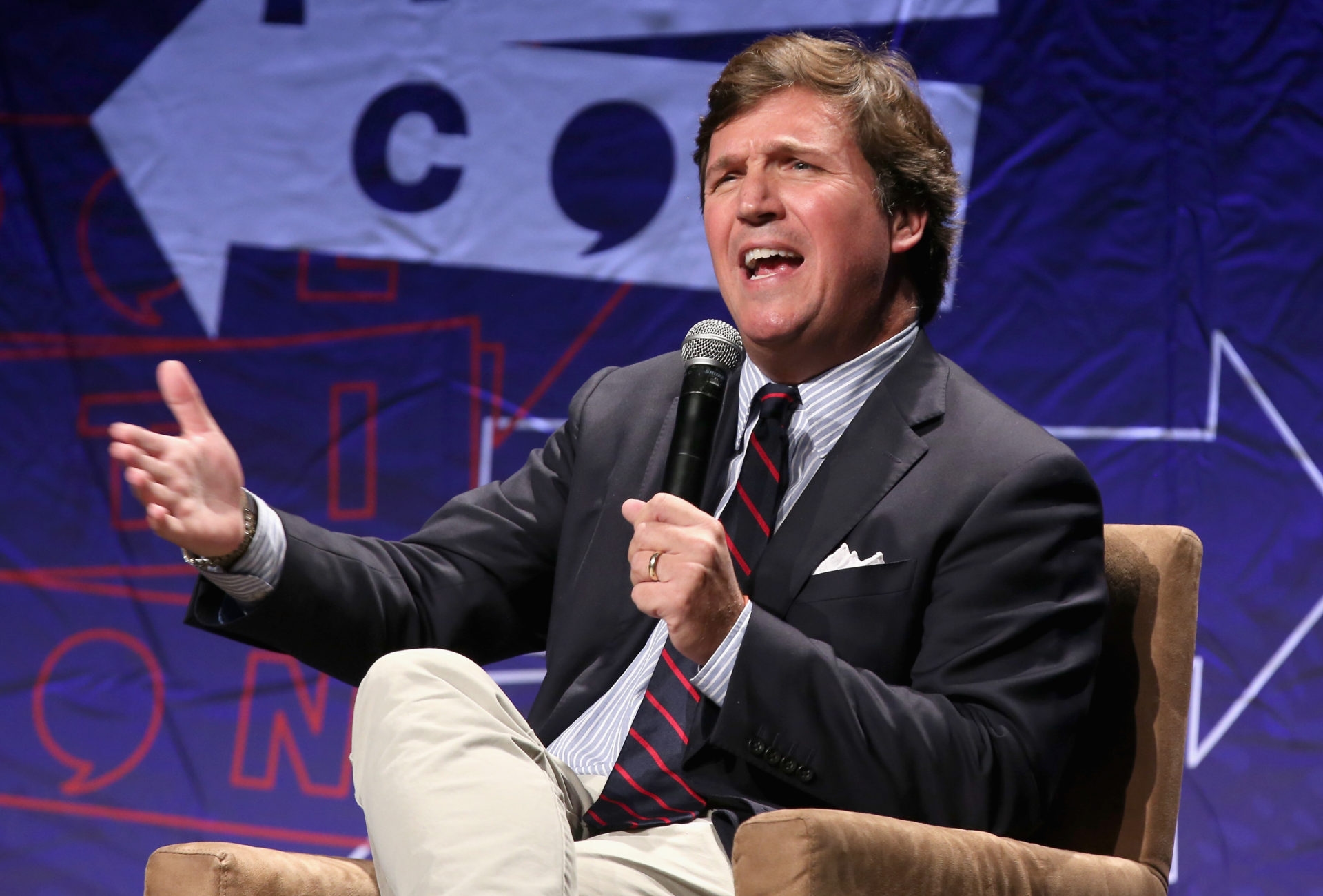 Key Takeaways
His comments about a man convicted of facilitating rape prompt the sharpest negative views, a video analysis shows.

34% of GOP men say they're more likely to watch his show.
Unearthed audio of Tucker Carlson's comments on a range of sensitive topics have prompted advertisers to drop the Fox News host's show this week.
While this is not the first advertiser boycott he's faced, a new Morning Consult analysis shows the uproar could pose problems for Carlson: Fifty-five percent of U.S. adults -- and a 42 percent plurality of Republicans -- say they're less likely to watch "Tucker Carlson Tonight" after hearing some of his remarks.
Carlson originally made the comments on the "Bubba the Love Sponge" radio show between 2006 and 2011, but they were dug up and republished by longtime Fox critic Media Matters for America on Sunday and Monday.
The March 12-15 survey, which featured Media Matters' videos excerpting some of those comments, elicited strong views among respondents.
Nearly half (48 percent) of the general public said they'd be "much less likely" to watch Carlson's show after hearing the excerpts, including a 33 percent plurality of Republicans.
Respondents in the survey -- who were asked to react to Carlson's comments in real time as they watched the videos -- found some of his remarks more objectionable than others.
Negative views were strongest during Carlson's statements in 2009 concerning Warren Jeffs, former president of Fundamentalist Church of Jesus Christ of Latter-Day Saints, who was at the time seeking an appeal of his conviction on two counts of first-degree felony rape as an accomplice.   
"Well, actually, he's not in prison for that. He didn't -- Warren Jeffs didn't marry underage girls, actually," Carlson said. "He's in prison because he's weird and unpopular and he has a different lifestyle that other people find creepy."
He went on: "He's got like some weird religious cult where he thinks it's OK to, you know, marry underage girls, but he didn't do it. Why wouldn't the guy who actually did it, who had sex with an underage girl, he should be the one who's doing life."
His 2008 reference to the Iraqi people as "semiliterate primitive monkeys" also engendered antipathy among respondents.
While nearly every demographic group in the survey was more likely than not to be turned off by Carlson's comments, there were exceptions.
For example, 34 percent of Republican men said they'd be more likely to watch Carlson's show after viewing the videos, compared with 31 percent who said they'd be less likely. And people who strongly approved of President Donald Trump's job performance or viewed the president very favorably were split almost evenly on how the video impacted their likelihood of tuning into "Tucker Carlson Tonight."
But among all Republicans, fewer see Carlson in a positive light these days: Thirty-five percent of this group viewed the host favorably in the new poll, compared with 42 percent in a November survey. Among all adults, his favorability rating dropped 9 percentage points, from 29 percent to 20 percent, over the same period.
Cameron Easley is Morning Consult's lead analyst for U.S. politics. Prior to moving into his current role, he led Morning Consult's editorial coverage of U.S. politics and elections from 2016 through 2022. Cameron joined Morning Consult from Roll Call, where he was managing editor. He graduated from the University of North Carolina at Chapel Hill. Follow him on Twitter @cameron_easley. Interested in connecting with Cameron to discuss his analysis or for a media engagement or speaking opportunity? Email [email protected].
We want to hear from you. Reach out to this author or your Morning Consult team with any questions or comments.
Contact Us