Texas Governor's Job Approval Rating Falls After He Ends COVID-19 Restrictions
News about Abbott's pandemic handling appears more damaging than the fallout from the state's winter storm
Key Takeaways
52% of Texas voters approve of the Republican's job performance, down 6 points since he announced the elimination of the COVID-19 restrictions.

Initial fallout from the state's winter weather crisis didn't make much of an impact on voter sentiment about the second-term governor.

Abbott is more popular than the Lone Star State's two Republican senators among both GOP voters and the overall electorate.
As Texas was emerging from a winter crisis earlier this month, Republican Gov. Greg Abbott made a show of his decision to repeal a statewide mask mandate and limits on restaurants that were imposed to mitigate the spread of COVID-19. 
Abbott's move earned praise from some conservatives and placed him with some other Republican executives in opposing calls for a more cautious approach to reopening from President Joe Biden and public health officials amid fears about new viral variants. But the move appears to have contributed to a drop in his standing among Texas voters. 
According to Morning Consult Political Intelligence tracking conducted March 5-14, 52 percent of Texas voters approve of the Republican's job performance, down 6 percentage points since he announced the elimination of the COVID-19 restrictions. Over the same time period, the share who disapproved of Abbott increased 8 points, to 43 percent.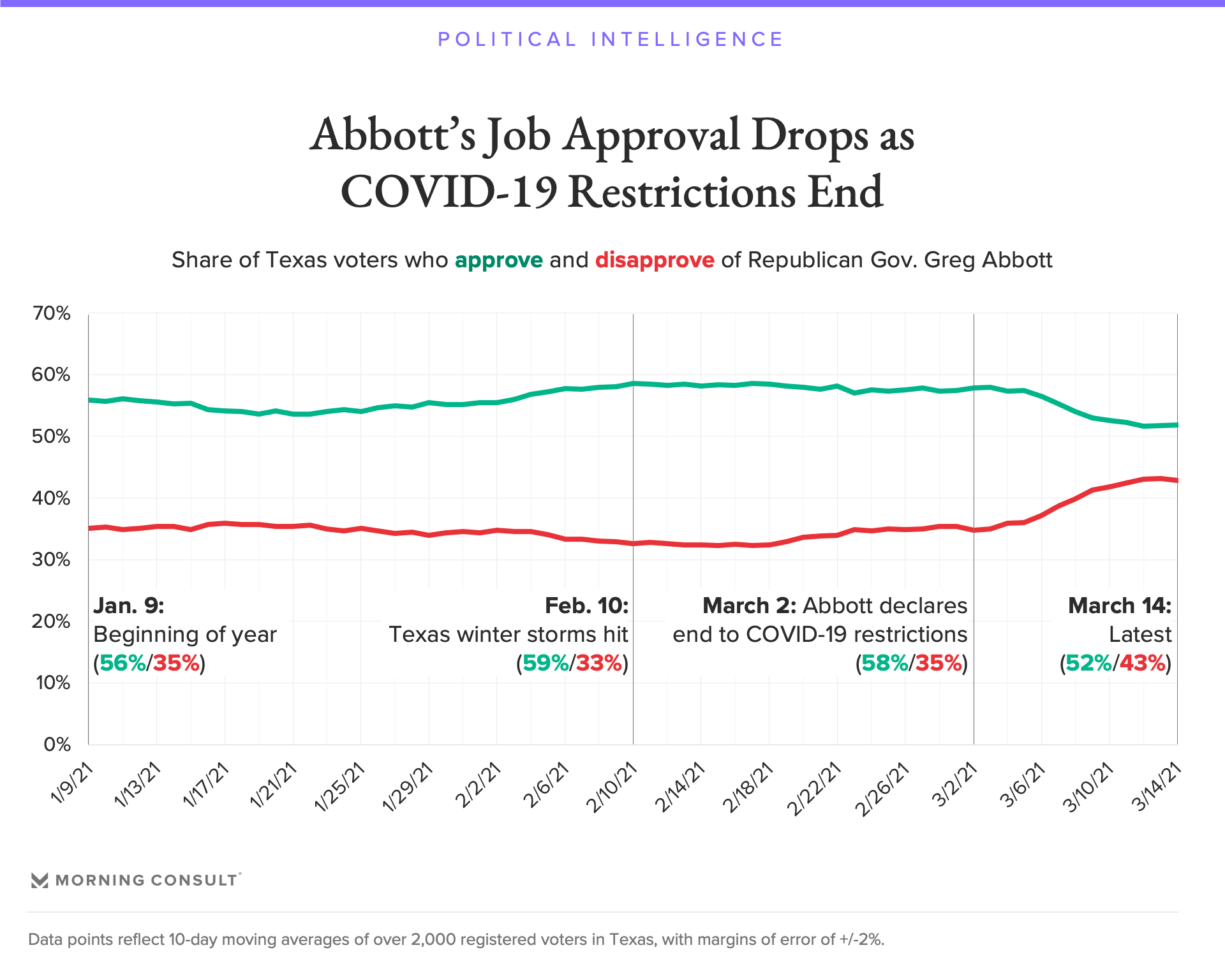 The decline in sentiment about the second-term governor follows a period of relative stability in views of Abbott, even as the state experienced a utility crisis sparked by an intense period of winter weather that swept across Texas last month.
Along with the end of most statewide COVID-19 restrictions in the Lone Star State, the latest polling was conducted as the state was learning about $16 billion in power overcharges during the winter crisis, something Abbott has asked state legislators to correct, and as the governor publicly sparred with the Biden administration over how to handle migrants at the state's border with Mexico.
Abbott's decision on COVID-19 restrictions prompted pushback from local officials, such as Democratic Mayors Sylvester Turner of Houston and Steve Adler of Austin, as well as some in the state's restaurant industry, whose trade group has encouraged people to continue wearing face coverings and take pandemic precautions.
As Abbott eyes a third term next year, he remains on strong footing with Republican voters, who make up the bulk of the state's electorate, despite a slight decline in recent weeks: 81 percent approve of him (including 41 percent who do so strongly), while 15 percent disapprove.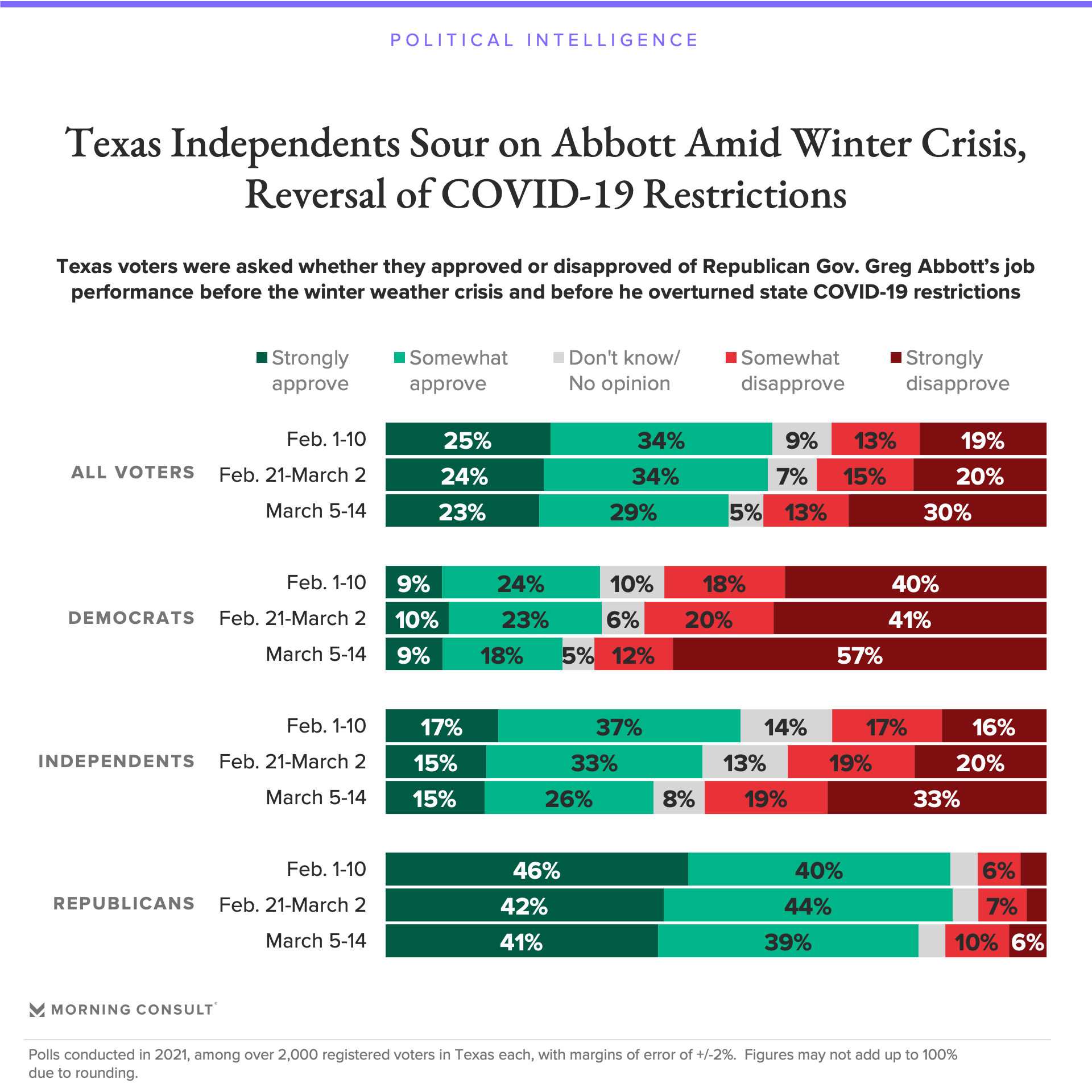 But Abbott's standing with independent voters has taken a hit in recent weeks: Between the start of the winter crisis and Abbott's repeal of COVID-19 restrictions, his job approval rating among independents fell 6 points, to 48 percent, and dropped another 7 points, to 41 percent, after he announced his executive action on the pandemic. The latest survey found 52 percent of Texas independents disapprove of the governor's job performance, up 20 points since early February.
Abbott remains more popular than both of Texas' Republican senators, Ted Cruz and John Cornyn, among both GOP voters in the state and the overall electorate. Forty-seven percent of Texas voters approve of Cornyn's job performance, mostly unchanged since the beginning of the year, while 46 percent approve of Cruz -- roughly where he was two weeks ago after a decline in sentiment following his Cancún getaway at the height of the winter crisis.
The latest surveys polled 2,536 registered voters in Texas, with a 2-point margin of error.
Eli Yokley is Morning Consult's U.S. politics analyst. Prior to his current role, Eli was Morning Consult's senior reporter covering U.S. politics. Eli joined Morning Consult in 2016 from Roll Call, where he reported on House and Senate campaigns after five years of covering state-level politics in the Show Me State while studying at the University of Missouri in Columbia, including contributions to The New York Times, Politico and The Daily Beast. Follow him on Twitter @eyokley. Interested in connecting with Eli to discuss his analysis or for a media engagement or speaking opportunity? Email [email protected].
We want to hear from you. Reach out to this author or your Morning Consult team with any questions or comments.
Contact Us