Sports
After Trial Run, MLB Fans Have No Clear Preference on Expanded Postseason
Commissioner Manfred said expanding playoffs beyond 10 teams 'would be a good change'
Key Takeaways
36% of MLB fans don't know or have no opinion on the MLB's postseason format going forward.

About a quarter of MLB fans think the league should stick with a 16-team postseason format.

And roughly a quarter of fans would like the league to go back to the 10-team postseason format.
Prior to the 2020 season, the MLB playoffs were characterized by their exclusivity. Even after the league expanded from eight teams to 10 in 2012, baseball's postseason was still the toughest to qualify for in major U.S. sports. 
Amid financial struggles brought on by the pandemic, MLB opened the playoffs up to 16 teams in 2020, allowing the league to recoup some revenue lost by playing without fans in the stands. It remains to be seen whether the new format will return for 2021, and new polling shows there's no prevailing opinion among fans of the sport.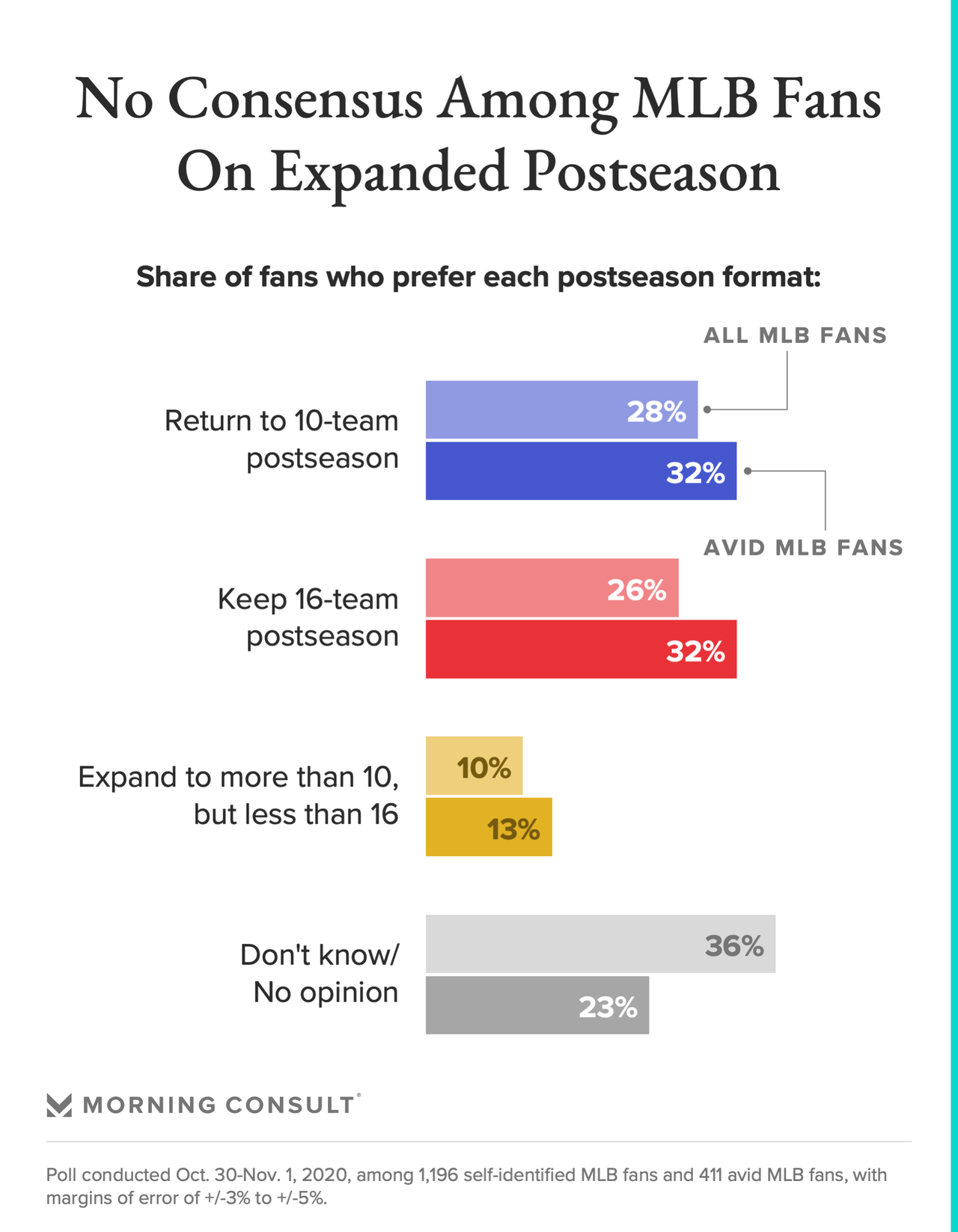 In fact, a Morning Consult survey conducted following the Los Angeles Dodgers' World Series victory last week found that more than a third of self-identified MLB fans don't have a preference on the postseason format going forward. Twenty-eight percent of fans said the league should return to the 10-team format, while 26 percent said MLB should keep the 16-team format and 10 percent said the number of teams should be more than 10, but less than 16.
Those who identified as avid fans of the league were more likely to have an opinion on the postseason format, but were also torn. The 10-team and 16-team formats each had the support of 32 percent of avid fans, while another 13 percent said they prefer more than 10 teams, but less than 16.
The postseason format is one of several issues the league and the MLB Players Association will have to reach an agreement on prior to the start of the 2021 season. MLB Commissioner Rob Manfred said in an interview with the Associated Press last month that he would like to see the league expand the playoffs beyond 10 teams, but he doesn't expect to stick with 16. 
"We do have to be cognizant of making sure that we preserve the importance of our regular season," Manfred said. "But I think something beyond the 10 that we were at would be a good change."
It's unclear whether a permanent expansion of the playoffs would coincide with a reduction of the league's marathon 162-game regular season.
According to Sports Business Journal, expanding the playoffs from 10 teams to 16 in 2020 allowed MLB to increase postseason television revenue from $780 million to nearly $1 billion by selling media rights for the eight additional series to ESPN and Turner Sports. Once fans are allowed to return to games, an expanded postseason would also allow more teams to host postseason games each season, for which they can sell higher-priced tickets.
Overall, MLB fans expressed positive sentiments about the 2020 season, with 48 percent saying they enjoyed the shortened season as much as a typical baseball season and 65 percent saying MLB teams and players did a good job handling the coronavirus. 
The positive reception runs counter to viewership, which was down throughout the postseason, highlighted by a 30 percent year-over-year drop for the World Series on Fox. MLB was not alone, however, as virtually the entire sports industry has seen drastic ratings declines this year during the pandemic.
The Morning Consult survey was conducted Oct. 30-Nov. 1 among 2,200 U.S. adults, with a margin of error of 2 percentage points. The subsample of 1,196 MLB fans has a 3-point margin of error.
Alex Silverman previously worked at Morning Consult as a reporter covering the business of sports.
We want to hear from you. Reach out to this author or your Morning Consult team with any questions or comments.
Contact Us