Ahead of House Vote, Half of Voters Support Trump's Impeachment
Sentiment statistically stagnant throughout inquiry, with both sides dug in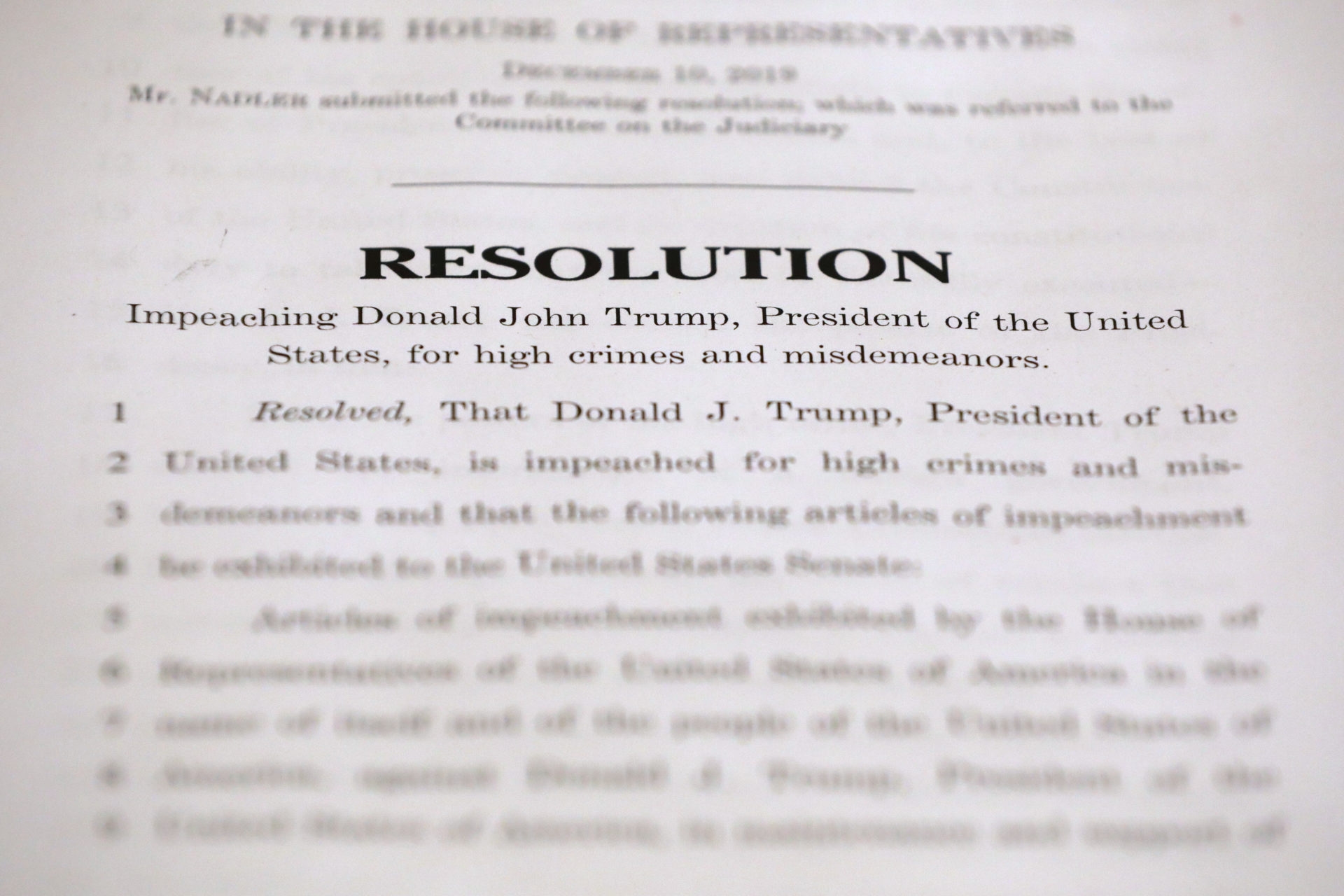 Key Takeaways
50% support impeaching Trump; 43% oppose.

Republican voters are more likely than Democratic voters to see impeachment as an advantage in the 2020 presidential election.
As the House prepares to vote to impeach President Donald Trump on charges of abuse of power regarding his interactions with Ukraine and obstructing Congress in its impeachment investigation, the president's opponents have the lion's share of the voting public in their corner. 
The latest Morning Consult/Politico nationwide poll found half of voters support the historic vote to send presidential articles of impeachment to the Senate for the third time in U.S. history, while 43 percent are opposed.
Public support for impeachment now more closely resembles American sentiment at the height of the scandals that led to former President Richard Nixon's resignation, when a majority supported it, compared to where it was ahead of the House's vote to impeach President Bill Clinton in December 1998, when most Americans opposed it, according to Gallup and other public polling at the time of Clinton's problems.
The figures have been more or less statistically unchanged, ranging from inside to just outside the surveys' 2-percentage-point margins of error, since Morning Consult began weekly tracking of the question in October following the start of the House's impeachment inquiry. That steadiness is driven by entrenchment among voters on both sides of the aisle, with 75 percent of Democrats strongly in favor of Trump's impeachment and 79 percent of Republicans strongly opposed, according to the latest survey, conducted Dec. 14-15.
Voters made no distinction between the House side of the process and the upcoming Senate trial: Fifty percent also backed Trump's removal from office, with equal shares of Democrats and Republicans (86 percent each) in support and opposition respectively.
The public was more likely to differ on the political ramifications of impeachment for 2020, with 55 percent of Democrats saying the inquiry will make Trump's re-election next year less likely, while 64 percent of Republicans said the opposite. 
Heading into this week, the impeachment process dominated the headlines compared to other big developments in Washington: Forty percent of voters said they had seen, read or heard "a lot" about the House Judiciary Committee's advancing articles of impeachment, roughly four times the share who heard a lot about the upcoming Democratic presidential debate in California on Thursday and roughly twice the share who heard about the release of a highly anticipated Department of Justice inspector general report about the government's investigation into Trump's 2016 campaign. 
The House Judiciary Committee's vote was one of the more salient events of the impeachment investigation, eclipsed only by House Speaker Nancy Pelosi's late September call for the impeachment inquiry and roughly tied with the House's Oct. 31 vote to formalize its impeachment inquiry. 
Eli Yokley is Morning Consult's U.S. politics analyst. Prior to his current role, Eli was Morning Consult's senior reporter covering U.S. politics. Eli joined Morning Consult in 2016 from Roll Call, where he reported on House and Senate campaigns after five years of covering state-level politics in the Show Me State while studying at the University of Missouri in Columbia, including contributions to The New York Times, Politico and The Daily Beast. Follow him on Twitter @eyokley. Interested in connecting with Eli to discuss his analysis or for a media engagement or speaking opportunity? Email [email protected].
We want to hear from you. Reach out to this author or your Morning Consult team with any questions or comments.
Contact Us