Voters Narrowly Agree That Congress Is Responsible for Holding Trump Accountable
43% say Congress should be responsible for holding Trump accountable; 37% say voters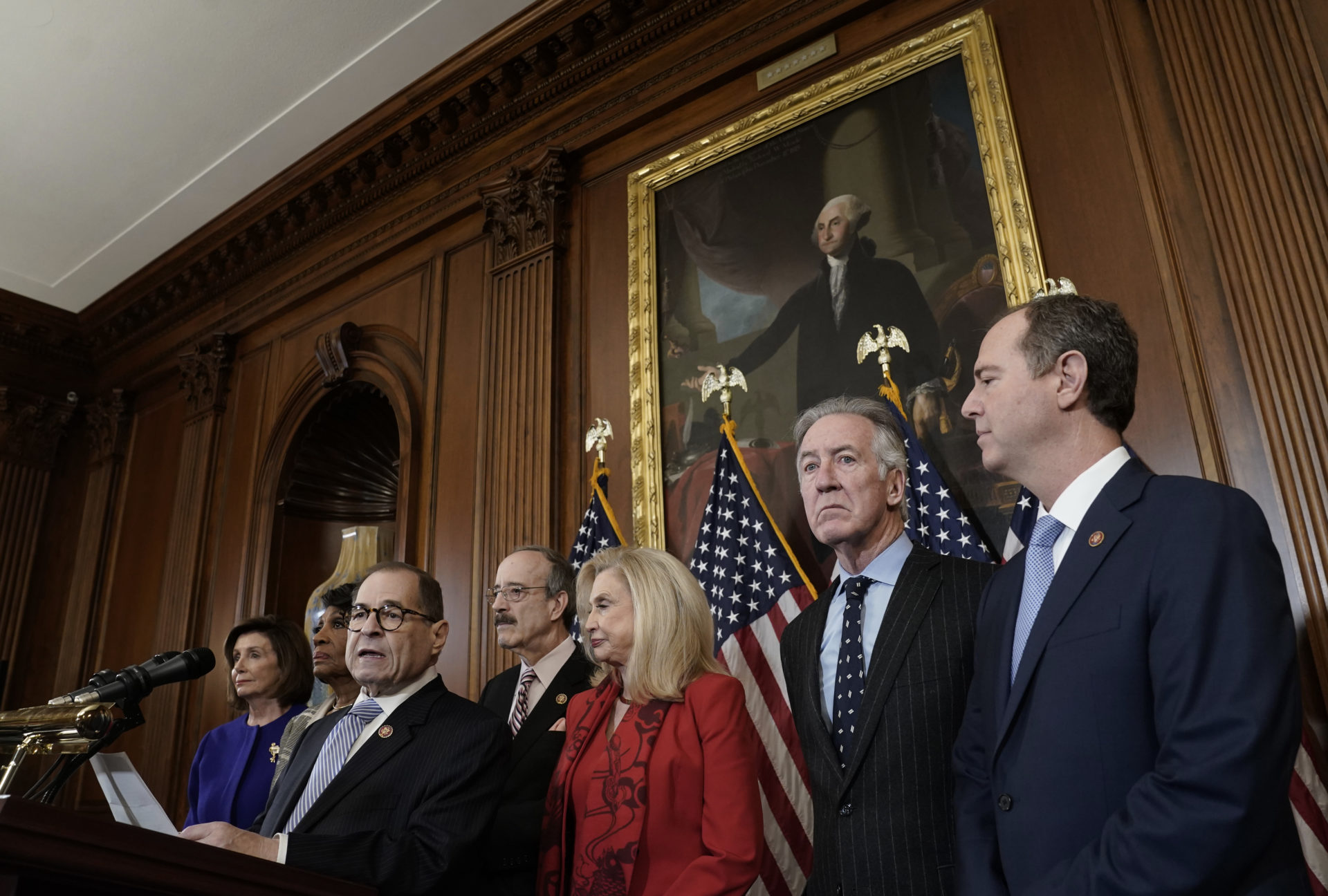 Key Takeaways
50% support impeaching Trump as lawmakers prepare for House vote. 

Views on impeachment, removal and whether Trump abused power have been relatively stable since inquiry began.
President Donald Trump and his allies have framed the House Democrats' impeachment push as an admission of weakness ahead of the 2020 elections, arguing that voters should ultimately decide the president's fitness for office when they go to the polls next year.
"They know they can't win, so 'Let's try to impeach him,'" he said of impeachment proponents at a Nov. 1 campaign rally, comments he's riffed on throughout the House's probe into his alleged efforts to compel Ukraine to investigate his domestic political rivals. 
While voters are divided over the question of who should decide his fate, according to a new Morning Consult/Politico poll, they're slightly more likely to agree with House Democrats that Congress should be responsible for holding Trump to account.
The Dec. 6-8 nationwide poll of 1,994 registered voters found 43 percent said Congress should be responsible for holding Trump accountable, compared to 37 percent who said Americans should hold him accountable at the ballot box.
The survey was conducted ahead of Tuesday's announcement that the House Judiciary Committee would take up articles of impeachment for abuse of power and obstruction of Congress, with a House vote likely next week. House Judiciary Committee Chairman Jerrold Nadler (D-N.Y.) spoke directly to the question of next year's elections in his remarks.
"Elections are the cornerstone of democracy and are foundational to the rule of law, but the integrity of our next election is at risk from a president who has already sought foreign interference in the 2016 and 2020 elections, and who consistently puts himself above country," he said. "That is why we must act now." 
Nadler and House Democrats are armed with the support of the voting public: Half of the electorate supports a vote to impeach Trump, while 41 percent oppose it. 
Support for a House to impeach Trump has tracked with support for the impeachment inquiry and the Senate's voting to remove him from office. Since the beginning of October, when the impeachment inquiry began in earnest, support for the inquiry, Trump's impeachment by the House and his removal by the Senate has hovered around 50 percent, while opposition has floated in the low 40s -- within the surveys' 2-percentage-point margins of error. 
And compared to a poll conducted after House Speaker Nancy Pelosi (D-Calif.) announced her support for an impeachment inquiry in late September, the share of voters who say Trump abused his power to influence the 2020 election has also gone virtually unchanged. In the latest survey, 50 percent said he abused his power to influence the 2020 election and 35 percent said he was acting within his power as president.
Eli Yokley is Morning Consult's U.S. politics analyst. Prior to his current role, Eli was Morning Consult's senior reporter covering U.S. politics. Eli joined Morning Consult in 2016 from Roll Call, where he reported on House and Senate campaigns after five years of covering state-level politics in the Show Me State while studying at the University of Missouri in Columbia, including contributions to The New York Times, Politico and The Daily Beast. Follow him on Twitter @eyokley. Interested in connecting with Eli to discuss his analysis or for a media engagement or speaking opportunity? Email [email protected].
We want to hear from you. Reach out to this author or your Morning Consult team with any questions or comments.
Contact Us