Alabama Abortion Law Takes Toll on Kay Ivey's Popularity
Governors of Missouri, Georgia and Louisiana did not feel similar pain
After facing national furor over the restrictive abortion laws they signed in May, the governors of Missouri, Georgia and Louisiana didn't see much change in voter opinions on their job performance between the first and second quarters of 2019. 

But that wasn't the case for Alabama Gov. Kay Ivey, the Republican whose state's abortion law did not include exceptions for victims of rape or incest and sparked a national debate that prompted the party's leaders in Washington to distance themselves from the hard-line position. 
According to the latest edition of Morning Consult's Governor Approval Rankings, Ivey's net approval — the share of voters who approve of her job performance minus those who disapprove — fell 17 percentage points between the first and second quarters, with the latest data showing 57 percent approving and 29 percent disapproving. The drop pushed Ivey — who was just elected to her first full term in November after taking office in 2017 following the resignation of embattled Gov. Robert Bentley in April 2017 — off of the top 10 list of America's most popular governors for the first time.
The latest rankings are based on 487,624 surveys of registered voters conducted April 1 through June 30.
Republican Govs. Brian Kemp of Georgia and Mike Parson of Missouri saw respective 2- and 3-point drops in their net approval between the first and second quarters of the year. 
A Morning Consult poll conducted in May found that among U.S. adults who oppose abortion in all or most cases, just 8 percent backed making abortion illegal in cases of rape or incest. 
Kemp took office earlier this year after his 2018 race against Democrat Stacey Abrams, and Parson — who was elected statewide as lieutenant governor in 2016 — took office in May 2018 after Gov. Eric Greitens resigned as a result of scandal. 
Amid the controversy and their first full legislative sessions, the share of voters who said they didn't know or have an opinion about Kemp dropped 9 percentage points, and the share who said the same of Parson dropped 8 points. Voters who developed opinions about the two were almost as likely to form negative ones as positive ones. 
Despite the lack of impact on Kemp and Parson's quarterly ratings, the short-term political damage from the divisive debate over abortion laws that swept through their states was evident in Morning Consult's daily tracking of views among U.S. adults in those states. In the days leading up to and after each of the three governors signed their state's bill into law, the share of voters who disapproved of them rose and the share who approved fell — though it ultimately stabilized for Parson and Kemp.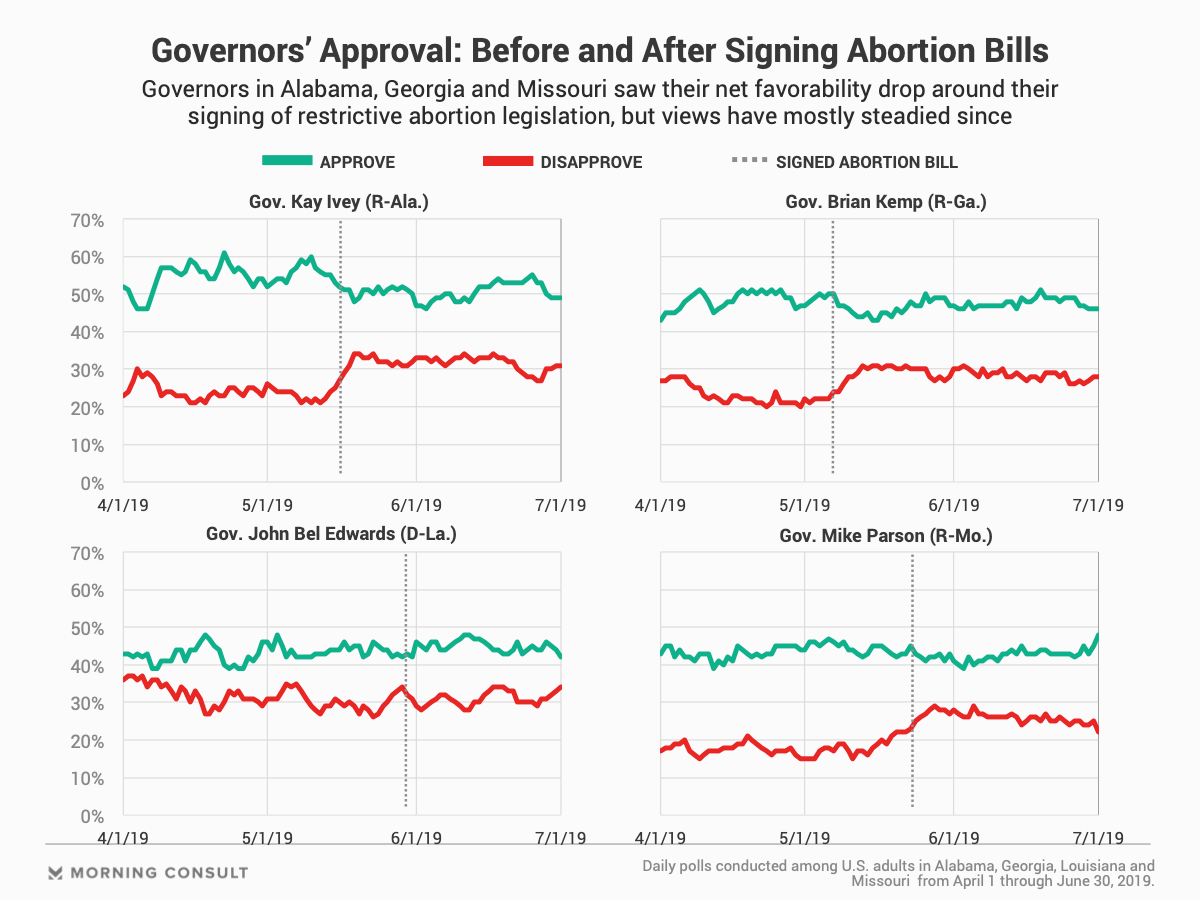 In addition to the three Republican governors, Democratic Gov. John Bel Edwards of Louisiana signed his own abortion bill into law, banning the procedure after the detection of fetal cardiac activity. Topline views hardly changed: 47 percent of voters in his state approved, 33 percent disapproved. 
But, Edwards' base coalition changed as he faces re-election this fall. Among Democrats, there was a 6-point drop in his net approval, while it improved 5 points among independents.
Correction: A previous version of the graphic tracking daily views of the governors' job performance misstated the population sample.
Eli Yokley is Morning Consult's U.S. politics analyst. Prior to his current role, Eli was Morning Consult's senior reporter covering U.S. politics. Eli joined Morning Consult in 2016 from Roll Call, where he reported on House and Senate campaigns after five years of covering state-level politics in the Show Me State while studying at the University of Missouri in Columbia, including contributions to The New York Times, Politico and The Daily Beast. Follow him on Twitter @eyokley. Interested in connecting with Eli to discuss his analysis or for a media engagement or speaking opportunity? Email [email protected].
We want to hear from you. Reach out to this author or your Morning Consult team with any questions or comments.
Contact Us