Allegations of Sexual Misconduct Against Trump Largely Fall on Deaf Ears
Since his 2016 victory, few voters have heard about Trump's alleged assaults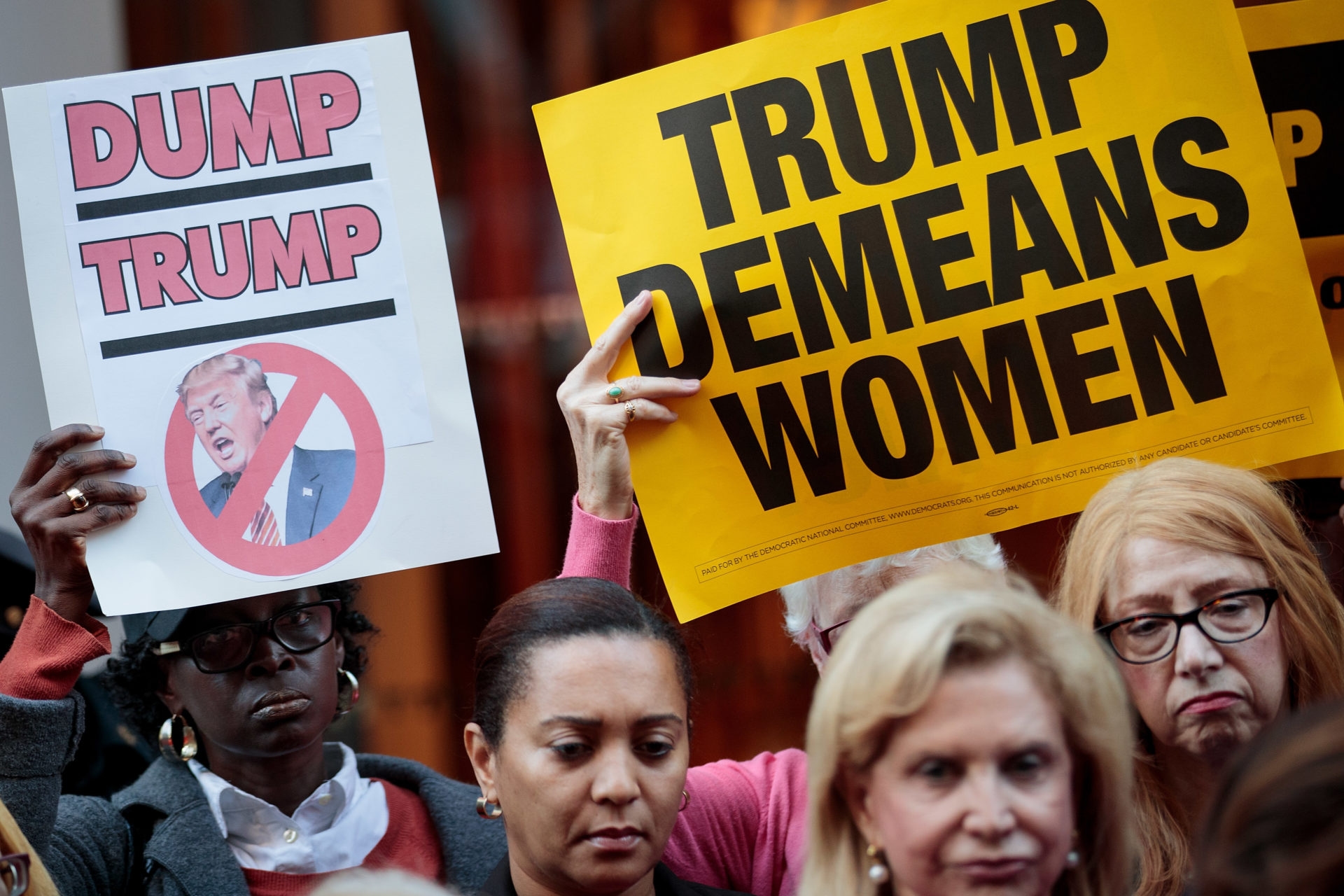 Key Takeaways
15% of registered voters said they heard "a lot" about the latest accusation of sexual assault against President Donald Trump.

It's nearly one-third of the share (42%) who said in April that they heard a lot about former Vice President Joe Biden touching women in ways that made them feel uncomfortable.

Only 11% said they heard "a lot" earlier this year about a former Trump campaign staffer accusing the president of kissing her without her consent.
Journalist and advice columnist E. Jean Carroll accused President Donald Trump last month of sexually assaulting her in a dressing room in the mid-1990s, but voters hardly noticed. 
A Morning Consult/Politico poll, conducted in the days after New York Magazine published the account as an excerpt from her new book, found just 15 percent of registered voters said they'd seen, read or heard "a lot" about the explosive allegation. It's similar to the 11 percent who said they'd seen, read or heard a lot about another claim against the president earlier this year from former Trump campaign staffer Alva Johnson, who said Trump forcibly kissed her during his 2016 campaign.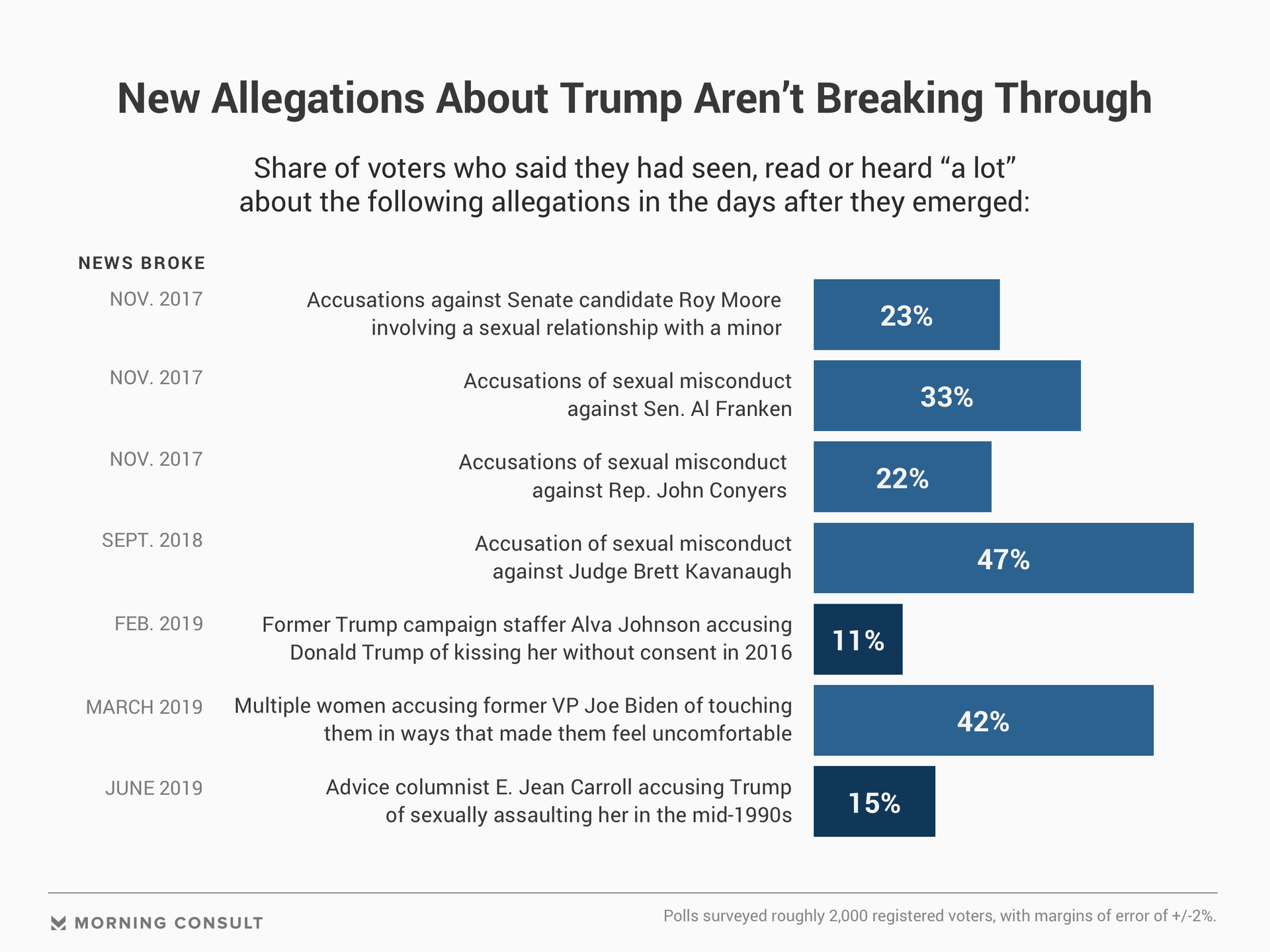 News consumption among voters for both of those accusations against the sitting president — both of which he's denied — ranked near the bottom of the more than 100 news events Morning Consult has tested so far this year. 
But they're both the kind of stories that might have caused a crisis for another president or public official, forcing them to shift their focus away from the agenda item of the day to defending themselves against a serious charge of sexual misconduct and the ensuing political fallout.  
Experts on gender studies and the press describe a shock fatigue with Trump — a "dog-bites-person story, rather than the person-bites-dog story," as UCLA sociology and gender studies professor Abigail Saguy put it — noting the public's desensitization due to more than a dozen well-known earlier allegations of sexual misconduct against him and the lack of amplification by his critics. 
When asked to comment, White House pointed to the president's previous statement on the matter, in which he denied Carroll's allegations.
Democratic leaders have been mostly quiet about Carroll's account. House Speaker Nancy Pelosi (D-Calif.) said at a press conference after Carroll's allegations emerged that she hasn't "paid that much attention to it," and the recent allegations did not come up in either of the first Democratic presidential debates. 
It stands in contrast to the way stories about former Vice President Joe Biden broke through this year. When former Nevada Assemblywoman Lucy Flores (D) published her own essay on New York Magazine's website on a Friday in March accusing Biden of touching her in ways that made her feel uncomfortable, and other women followed, 42 percent of voters said they'd heard a lot about the stories, according to polling at the time. It dogged him for weeks, with Republicans and Democrats on the attack. 
While Jane Hall, an associate professor in the school of communication at American University, said she thought the coverage of the Biden allegations was fair, she also thought the media's handling of the two stories failed to reflect the severity of the allegations — with less attention going to Carroll's allegation of sexual assault against Trump. Asked about the difference in coverage, she said, "it has to do with the newness of the Biden stories" in the public's mind, in contrast to what voters have already heard about Trump.
Biden's office did not respond to a request for comment. Carroll's publisher, St. Martin's Press, also did not respond to a request for comment from the author.
Democrats have tried before to politically capitalize on accusations of sexual misconduct against Trump. In October 2016, they saw a silver bullet when a tape was released of Trump describing interactions with women in vulgar, sexually explicit terms. The news of the famed "Access Hollywood" tape grabbed the public's consciousness in the days following its release, with 42 percent of voters saying they'd heard a lot about it. But less than a month later, Trump beat Democrat Hillary Clinton — the first woman to be a major-party presidential nominee. 
Robin Leeds, a former official in President Bill Clinton's administration who has advised corporations and Democratic campaigns, said the Democratic Party is in a complicated position when choosing its attack lines on Trump.
"From a communications strategy, what are you going to hit on today, and how are we going to achieve some gains here," she said. 
"It's not that the Democrats are not concerned" about the Carroll allegations, Leeds said, but that "the party is being pulled in so many directions," noting the border crisis and recent tensions with Iran. 
With Democrats giving little fodder to prolong the news cycle, the Carroll story got little pickup.
According to a Media Matters analysis provided to Morning Consult, the story appeared in at least five segments on original programing on weekday Fox News programs between June 21- 28, at least 45 segments on CNN and at least 20 on MSNBC. In print, The Washington Post put the story below the fold on its front page one day after Carroll published her essay, and the news was absent from the covers of major newspapers such as The Wall Street Journal, The Los Angeles Times and The New York Times, which led their papers with news on tensions with Iran. 
Dean Baquet, the executive editor of The New York Times, later told his paper that it was "overly cautious" about Carroll's allegations. And in the week after Carroll published her account in New York Magazine, the New York Times reported an interview with two of her friends attempting to corroborate her story, featuring it on The Daily — one of the top podcasts in the U.S.
Other allegations against prominent people in the public eye — including those raised against Supreme Court Justice Brett Kavanaugh amid his confirmation hearings last September and former Sen. Al Franken (D-Minn.) and Republican Senate candidate Roy Moore of Alabama in 2017 — were at least twice as likely to trickle down to voters. 
Christina Bellantoni, former assistant managing editor of politics at the Los Angeles Times, said the reach of Carroll's story was comparatively limited by the mechanics of how she released it: a first-person essay without the deep corroborating reporting that accompanied some of the other poignant stories of the #MeToo era or a made-for-television moment that could stop the public — and its elected representatives — in their tracks.
"Her magazine piece was beautifully written and heart wrenching," said Bellantoni, now director of the Annenberg Media Center at the University of Southern California. "She didn't come out at a press conference with Gloria Allred or in a beautifully lit '60 Minutes' interview." 
Despite the lack of coverage of the allegations, Leeds said the stories hold political consequences for Trump, adding fuel to the Democratic Party's base, who have been more likely to hear about allegations against the president than the overall population.  
"I think people care," she said. "There is fatigue in general, but on the other hand, people are getting mobilized."
This story has been updated with the White House's comment and requests for comment from former Vice President Joe Biden and author E. Jean Carroll. 
Eli Yokley is Morning Consult's U.S. politics analyst. Prior to his current role, Eli was Morning Consult's senior reporter covering U.S. politics. Eli joined Morning Consult in 2016 from Roll Call, where he reported on House and Senate campaigns after five years of covering state-level politics in the Show Me State while studying at the University of Missouri in Columbia, including contributions to The New York Times, Politico and The Daily Beast. Follow him on Twitter @eyokley. Interested in connecting with Eli to discuss his analysis or for a media engagement or speaking opportunity? Email [email protected].
We want to hear from you. Reach out to this author or your Morning Consult team with any questions or comments.
Contact Us