Almost 3 in 4 Americans Say Trump Uses Twitter Too Much
Poll also finds majority of voters say his Twitter usage is harmful to presidency
Key Takeaways
72% of voters say president's Twitter use is excessive, up from 56% shortly before Trump took office.

59% of voters say Trump's Twitter usage is harmful to his presidency, while 19% say it's helpful.
Almost 3 in 4 registered voters say President Donald Trump's use of Twitter is excessive, and more Republican voters are saying he tweets too often, according to a new poll.
A Morning Consult/Politico survey of 1,995 registered voters from May 23-29 found 72 percent of respondents said Trump uses the social media platform too much, up 16 percentage points from a December 2016 poll.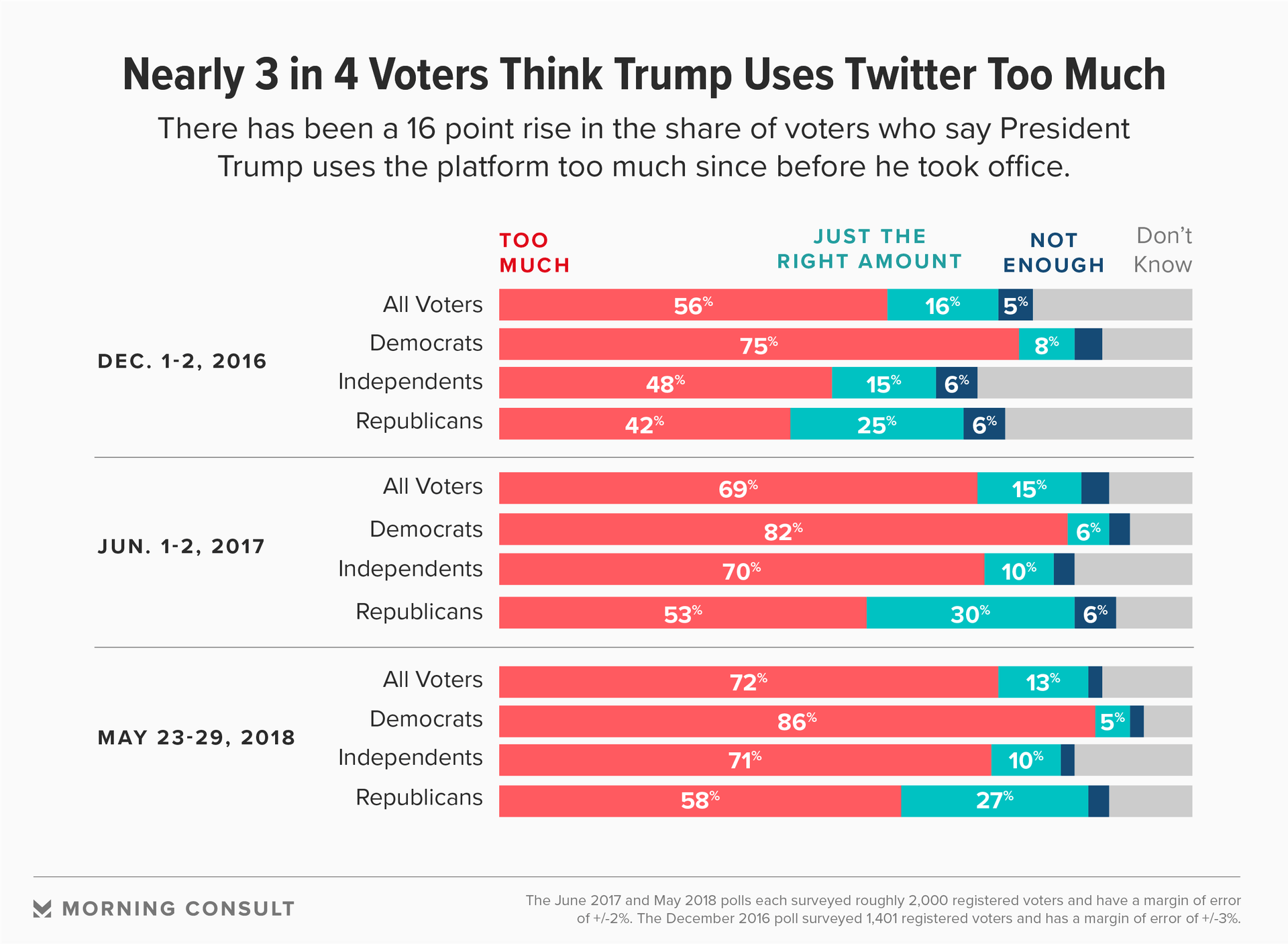 The president's use of Twitter – a place where he offers commentary about things such as the Russia investigation and makes policy pronouncements, sometimes to the chagrin of Republican leaders on Capitol Hill – does not have the support of the GOP base: Fifty-eight percent of Republican voters said Trump uses Twitter too much, compared to 27 percent who said he uses it about the right amount and 3 percent who said he doesn't use it enough.
Since December 2016, the share of Republicans who said Trump's use of the platform is excessive has increased 16 points – more than the 11 point rise among Democrats, to 86 percent, but less than the 23 percent increase among independents, to 71 percent.
The December poll of 1,401 registered voters has a margin of error of plus or minus 3 points, and the most recent survey has a 2 point margin of error.
Republican voters were evenly split, 38 percent to 38 percent, when asked whether the president's use of Twitter is a good or bad thing. Among all voters, 20 percent said his Twitter use is a good thing, while 62 percent disagreed.
Fifty-nine percent of voters said Trump's Twitter usage hurts his presidency, and 19 percent said it helps.
Those habits could have electoral implications, particularly in the November midterms.
When asked whether Trump's tweets are harmful to congressional Republicans seeking re-election this year, 47 percent of voters said they hurt GOP incumbents, while 17 percent said the tweets are helpful. Among Republican voters, a 31 percent plurality said the tweeting helps the party's lawmakers seeking re-election, while 27 percent said it hurts them and 28 percent said there's not much impact either way.
Eli Yokley is Morning Consult's U.S. politics analyst. Prior to his current role, Eli was Morning Consult's senior reporter covering U.S. politics. Eli joined Morning Consult in 2016 from Roll Call, where he reported on House and Senate campaigns after five years of covering state-level politics in the Show Me State while studying at the University of Missouri in Columbia, including contributions to The New York Times, Politico and The Daily Beast. Follow him on Twitter @eyokley. Interested in connecting with Eli to discuss his analysis or for a media engagement or speaking opportunity? Email [email protected].
We want to hear from you. Reach out to this author or your Morning Consult team with any questions or comments.
Contact Us