Exclusive: For Streaming Value, Amazon Prime Video Offers Best Bang for Consumers' Buck, Report Says
Netflix, Disney+ are leaders in original, exclusive content, according to a new Reelgood report
Key Takeaways
Amazon's Prime Video offers consumers the most value for their dollar, with more films and TV shows per dollar than competitors.

Netflix's catalog takes the crown for original series, with original series accounting for 39% of its television catalog.

Disney+ leads in terms of exclusive content, which makes up 89% of its catalog. Prime Video has the lowest share of exclusives at 38%. 
With more streaming options than ever, consumers are faced with the choice of finding the right services for their budget and entertainment needs.
A new Reelgood white paper, shared exclusively with Morning Consult, offers insight into which services offer consumers the most value for their dollar, as well as the leading players in exclusive, original programming.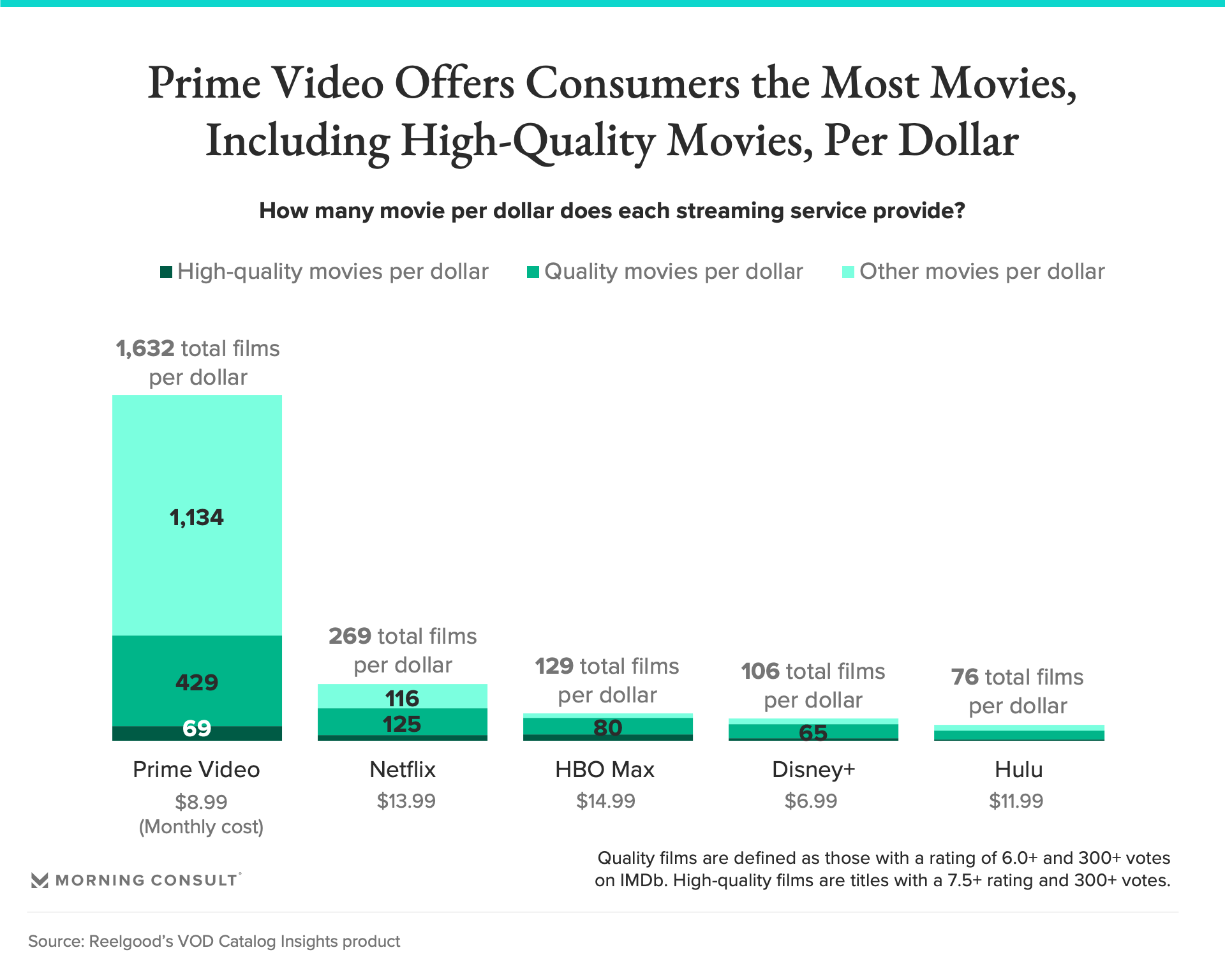 Amazon.com Inc.'s Prime Video service offers the most movies and TV shows, according to the 2021 VOD Catalog Insights Report, along with the most movies and TV shows per dollar. Researchers found that Prime Video's $8.99-per-month tier, which can be purchased separately from the company's larger Prime subscription, offers subscribers 1,632 movies per dollar and 240 TV shows per dollar. 
Prime Video was also the leader in quality films per dollar and high-quality films per dollar. Reelgood defines a "quality movie" as one that has an IMDb rating of 6.0 or higher and a "high-quality movie" as one with an IMDb rating of 7.5 or higher, with both requiring at least 300 votes.
When it came to TV shows per dollar, Prime Video again came out on top, though the service was bested by Netflix Inc. when it came to the ratio of quality TV shows: Netflix's standard pricing of $13.99 per month offers users 81 shows with an IMDb rating of 6.5 or higher per dollar.
When it comes to original TV shows, Netflix leads the pack. Last month, 39 percent of its television programming were originals, up from 25 percent the previous year. WarnerMedia's HBO Max was a close second, with originals accounting for 37 percent of its TV library in January. Hulu's ad-free subscription, at $11.99 per month, came in last, with just 4 percent of its TV programming considered originals.
A Morning Consult analysis of Netflix's U.S. Top 10 list in January found that 62 percent of the titles featured on the list throughout the month were Netflix original series or films.
When looking at each service's exclusive content -- any movie or TV episode that's not available to stream via another subscription video on-demand service or ad-supported video on-demand service -- Walt Disney Co.'s Disney+ is the clear winner. Eighty-nine percent of the streamer's content is exclusive, according to Reelgood, which releases a report on VOD catalogs biannually. 
Netflix is close behind Disney+ at 83 percent, while HBO Max comes in third with 72 percent. Prime Video offers 38 percent exclusive content.
More exclusive programming may lead to more subscribers. Per its last earnings report, Netflix has nearly 74 million paid subscribers in the United States and Canada, while Disney+ has nearly 87 million subscribers, the company said in December. HBO Max and HBO ended 2020 with more than 41 million U.S. subscribers, according to AT&T Inc.'s fourth quarter financials. 
Sarah Shevenock previously worked at Morning Consult as a reporter covering the business of entertainment.
We want to hear from you. Reach out to this author or your Morning Consult team with any questions or comments.
Contact Us