Americans Want More Trade With Major Economic Partners, Poll Shows
Most Americans also express concern about trade war with China
Amid the ongoing trade tensions between the United States and major economic partners, a new Bloomberg Global Business Forum poll conducted by Morning Consult shows that a plurality of Americans want more — not less — trade with major economies such as Canada and the European Union, but are more skeptical when it comes to the economic relationship with China.
The survey was conducted among a sample of 2,202 adults after the June 8-9 Group of Seven summit of major industrial nations, at which President Donald Trump doubled down on his administration's aggressive trade policy toward traditional allies like Canada. The Trump administration moved forward June 1 with tariffs of 25 percent and 15 percent on steel and aluminum, respectively, from Mexico, Canada and the EU.
Among a list of 10 countries included in the June 22-24 survey, Canada garnered the largest share of respondents who said they wanted to increase U.S. trade with the country: Thirty-nine percent said economic ties with the United States' northern neighbor should increase, compared to 8 percent who said they should decrease. Canada makes up 15 percent of total U.S. trade, according to Census Bureau data, making it the United States' second-largest trading partner.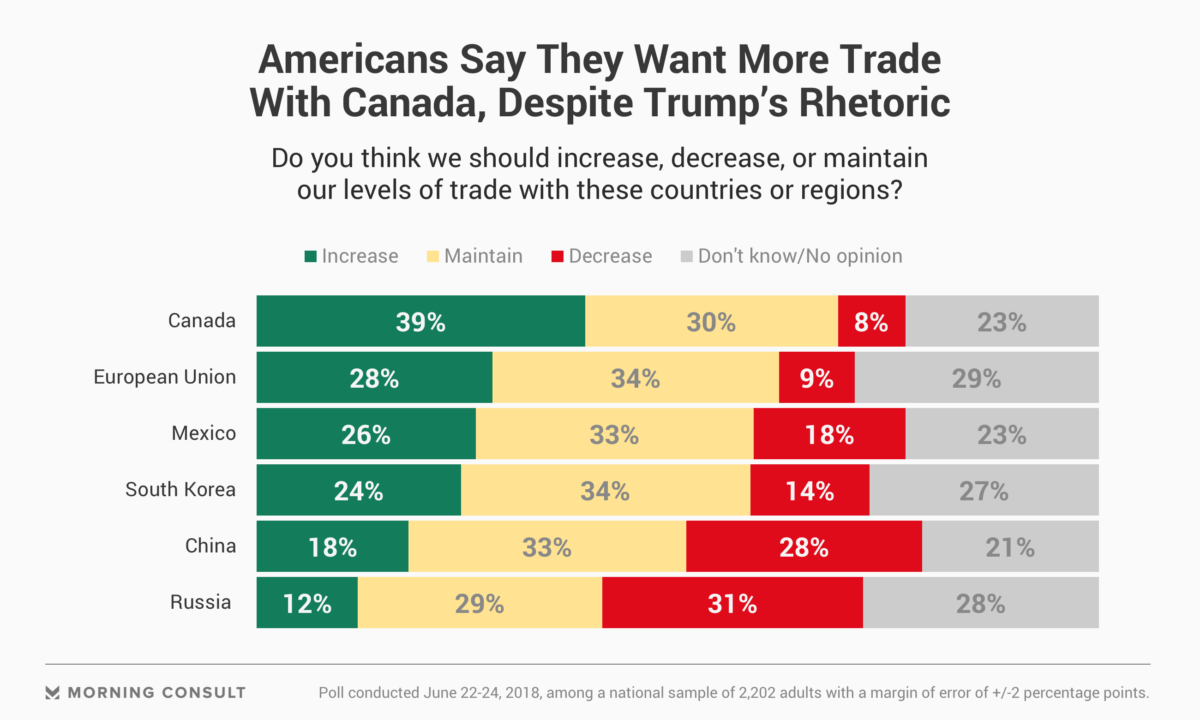 Twenty-eight percent said they wanted increased trade ties with European Union, and 26 percent wanted greater economic ties with Mexico, currently the No. 3 partner. (A third of respondents, a plurality, thought trade with the southern U.S. neighbor should stay the same, and 34 percent said the same about the EU.)
But for China, a larger share of Americans, 28 percent, said they wanted trade with the top U.S. trading partner to decrease, while 18 percent said they wanted closer ties with Beijing. A third of respondents in the poll, which has a margin of error of plus or minus 2 percentage points, thought trade should stay about the same.
The survey, conducted before the United States formally implemented new duties on Chinese imports that prompted retaliatory tariffs from Beijing, also showed 60 percent of Americans were "worried" about the possibility of increased trade tensions with the world's second-largest economy.
Anxiety about a potential trade war was prominent across the country: The Northeast, with 66 percent of respondents, had the largest share by region of Americans saying they're worried about a trade war, while the South had the smallest share with 57 percent.
The poll showed wide support for free trade policies generally, with 63 percent saying they either strongly or somewhat support expanding free trade across borders, compared to 18 percent who said they oppose expansion and 18 percent who didn't know or had no opinion.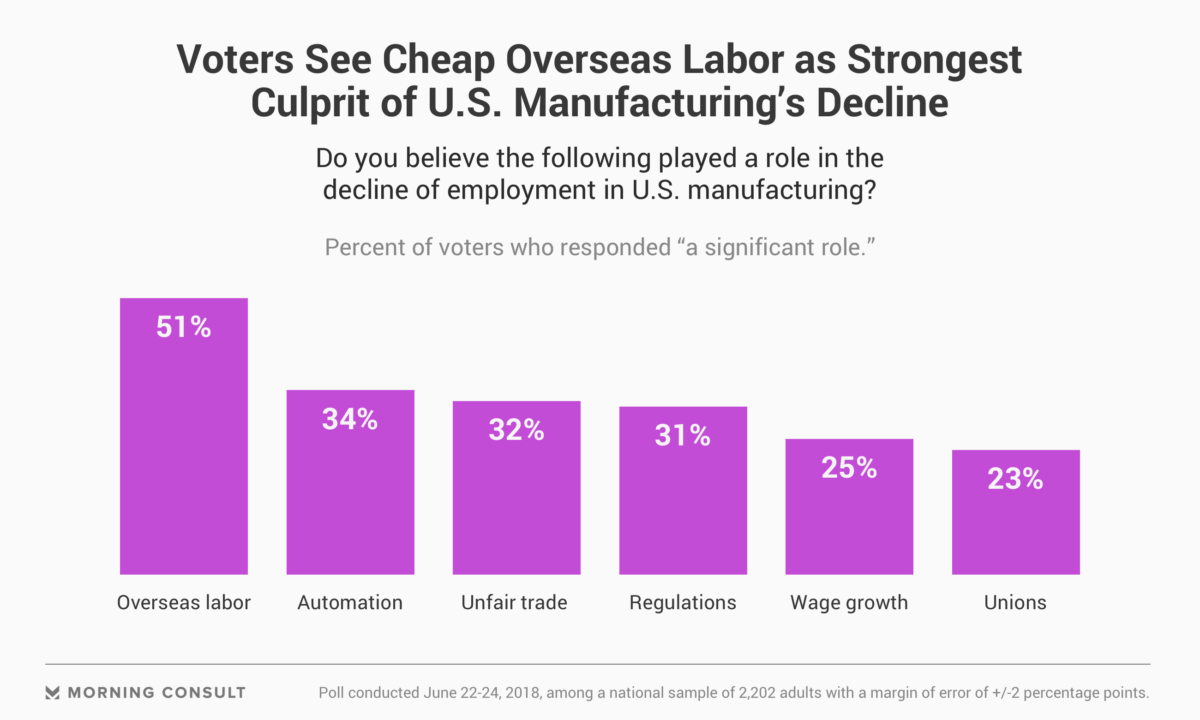 Trump has justified his decisions on trade — particularly his decisions to place tariffs on steel and aluminum imports — by pointing out the decline in employment in the manufacturing sector.
Fifty-one percent of respondents said they think inexpensive overseas labor has played a significant role in the decline of U.S. manufacturing, while smaller shares of respondents blamed unfair trade practices, automation and regulations.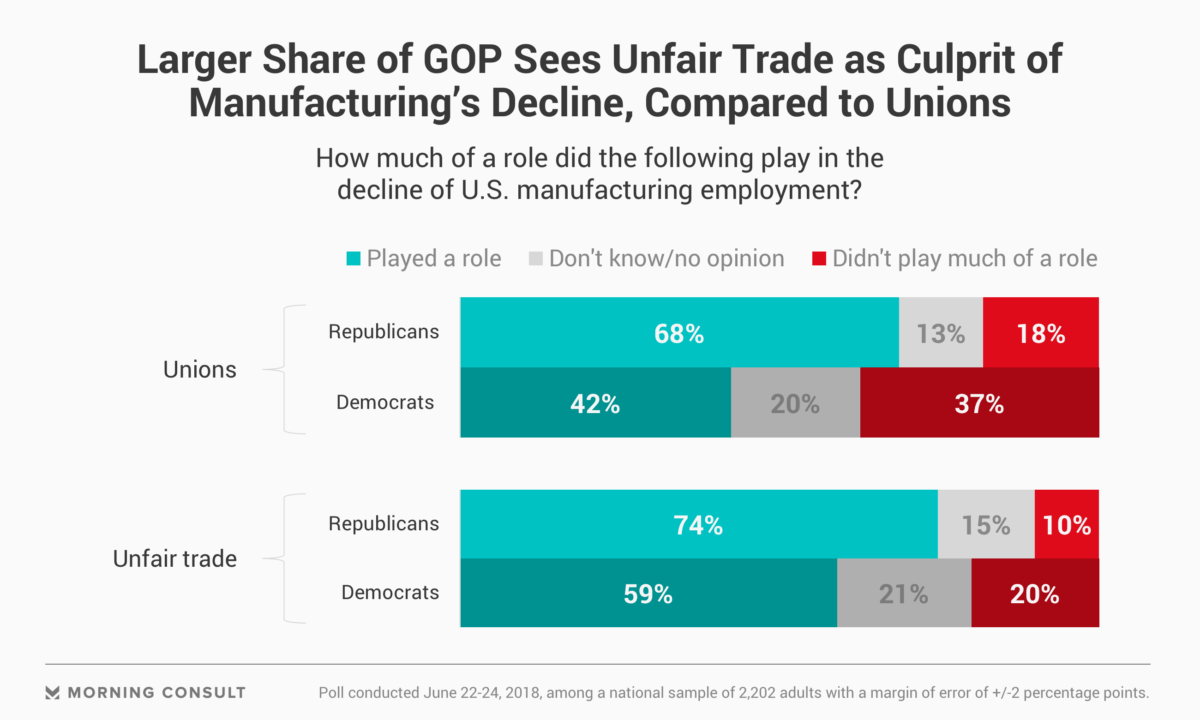 Twenty-three percent of Americans, by contrast, said that trade unions are responsible for the decline by making it too difficult to keep a flexible workforce, though there was a 20-point gap between Republicans and Democrats on the issue. That could be because GOP party leadership has worked to curtail organized labor's power at both state and federal levels.
At the state level, for example, Republican governors in Ohio and Wisconsin have pushed to eliminate collective bargaining for public-sector unions while also advocating for "right to work" laws that chip away at private-sector unions. At the federal level, conservatives recently won a major victory when the Supreme Court ruled that the government cannot require the collection of dues for public-sector unions.
But while Republicans, at 36 percent, were more likely than Democrats, at 16 percent, to say that unions played a role in the loss of manufacturing jobs, a 43 percent plurality of GOP respondents blamed unfair trade practices.
Ryan Rainey previously worked at Morning Consult as a reporter covering finance.
We want to hear from you. Reach out to this author or your Morning Consult team with any questions or comments.
Contact Us