Amid NBA-China Clash, U.S. Consumers Indifferent Toward Global Business Dealings
Poll respondents express little opinion over corporations' role in international dealings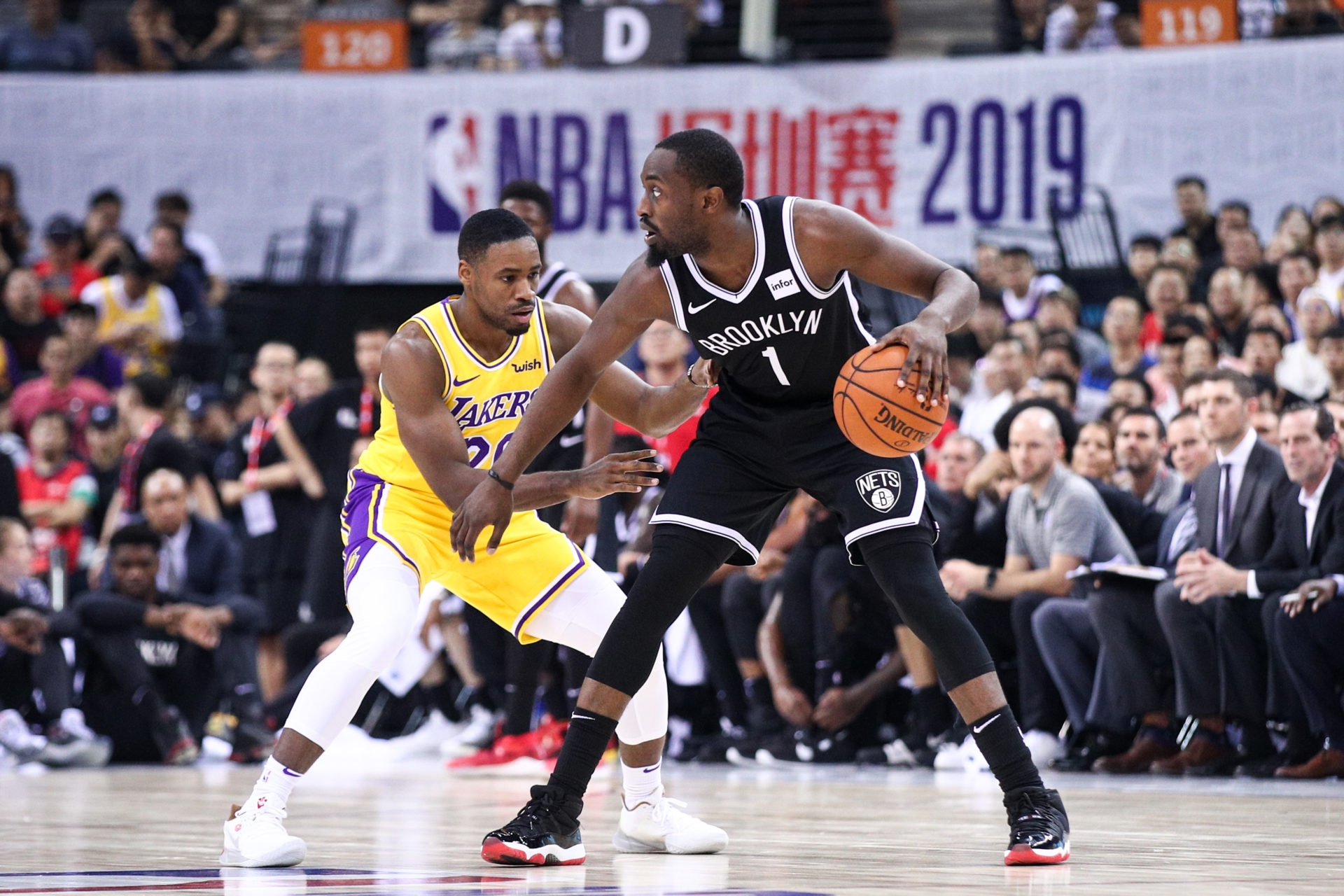 The NBA is the latest American brand to test the patience of the Chinese market, infuriating the country's government with its response to a now-deleted tweet from a Houston Rockets executive backing pro-democracy protests in Hong Kong.
And while the league's initial response to the controversy raised bipartisan hackles in Congress, new Morning Consult polling shows that U.S. consumers are less concerned about corporations' global role on cultural and social responsibility.
The NBA found itself embroiled in Hong Kong's months-long conflict after Houston Rockets general manager Daryl Morey tweeted a message in support of the protesters on Oct. 4. Demonstrations in Hong Kong began in late March, sparked by a bill that would allow local authorities to extradite criminal suspects to China.
The backlash to Morey's tweet was swift. Nearly all of the NBA's major Chinese sponsors suspended their partnerships with the league, and China's state broadcaster announced it would refrain from airing preseason NBA games.
Morey deleted the tweet and issued an apology, and the NBA initially expressed regret that the tweet offended Chinese fans. Then NBA Commissioner Adam Silver released a statement affirming the league's "great affinity" for Chinese fans but noting that he cannot regulate what NBA stakeholders say.
In response, several members of Congress, including Sen. Ted Cruz (R-Texas) and Rep. Alexandria Ocasio-Cortez (D-N.Y.), wrote a letter to Silver, asking the NBA to suspend all Chinese relationships until "government-controlled broadcasters and government-controlled commercial sponsors end their boycott of NBA activities."
The microscope focused on the NBA quickly expanded to encompass the activities of other U.S. companies with strong business ties in China, including Apple Inc. and entertainment company Activision Blizzard Inc.
But an analysis of Morning Consult polling suggests that there's no marked downside for international companies to continue with business as usual in China: Consumers simply don't hold strong opinions on corporate dealings in the second-largest economy in the world.
Most (56 percent) of U.S. adults hold an unfavorable view of China, according to an Oct. 11-13 survey of 2,195 U.S. adults. More support U.S. corporations doing business with China than oppose it, but with a 6 percentage-point margin. The poll has a margin of error of 2 percentage points.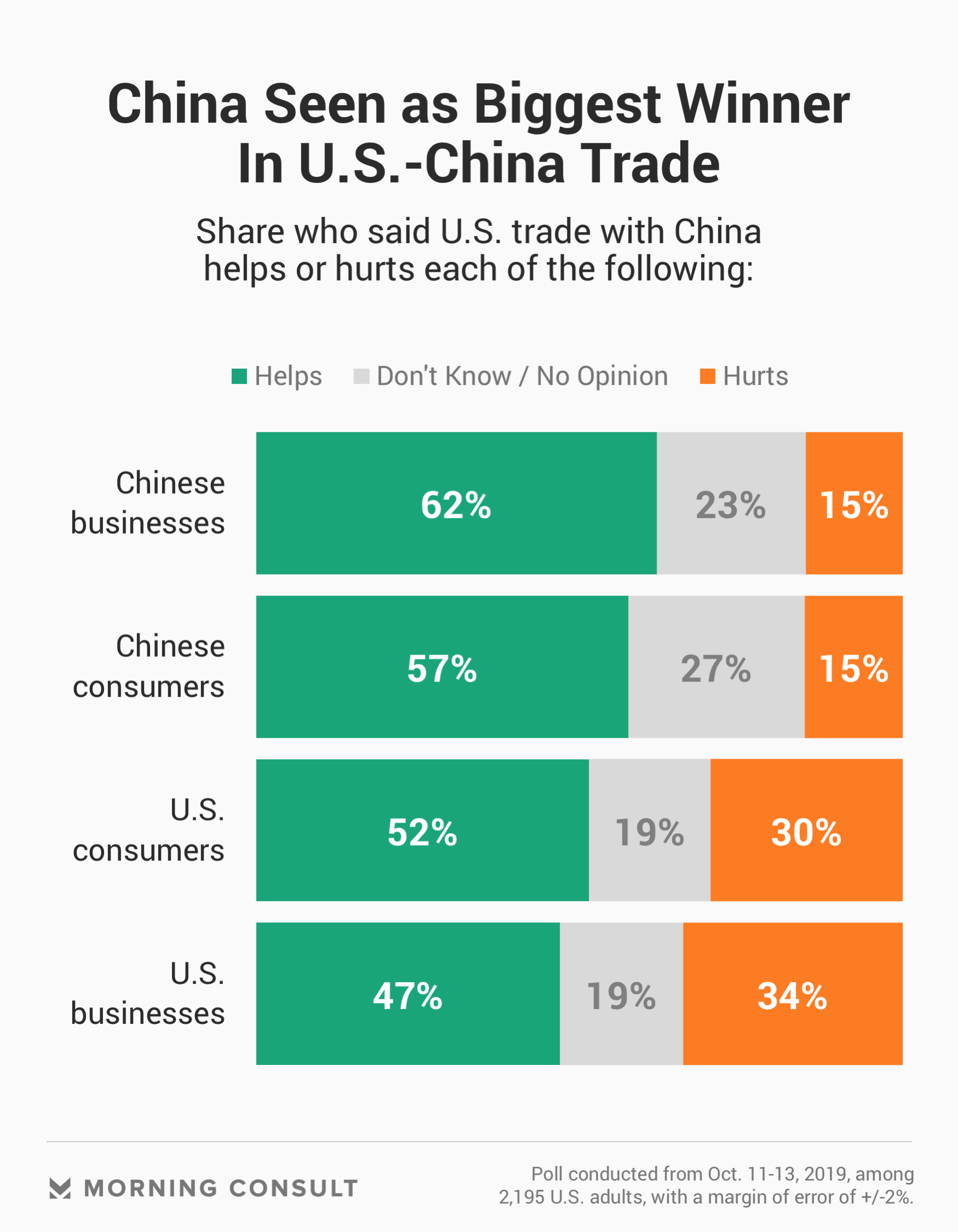 Few put the label "ally" or "enemy" on China — most put the United States' relationship with China somewhere in the middle, either as friendly but not an ally (26 percent) or unfriendly (31 percent). The public is more likely to say business with China helps all involved than they are to say it's harmful to all, but they're more likely to say it hurts the United States than it does China. (An additional survey was conducted Oct. 8-9, 2019, among 1,400 U.S. adults with a margin of error of 3 points.)
Although U.S. businesses have long faced criticism stateside for doing business with China, it's quite common for such companies to bend over backwards to keep Chinese authorities and consumers happy — especially if they've offended China in some way.
For example, American Airlines Inc., Delta Air Lines Inc. and United Airlines Inc. removed references to Taiwan as a separate country from its websites in July 2018 after threats from China, which sees Taiwan as part of its territory. Gap Inc. apologized to China in May 2018 for selling a T-shirt that showed a map without Beijing's territorial claims.
Joanna Piacenza leads Industry Analysis at Morning Consult. Prior to joining Morning Consult, she was an editor at the Public Religion Research Institute, conducting research at the intersection of religion, culture and public policy. Joanna graduated from the University of Wisconsin-Madison with a bachelor's degree in journalism and mass communications and holds a master's degree in religious studies from the University of Colorado Boulder. For speaking opportunities and booking requests, please email [email protected].
We want to hear from you. Reach out to this author or your Morning Consult team with any questions or comments.
Contact Us