Apathy for Hillary Clinton's Endorsement Grows Among Democratic Voters
The 2016 presidential candidate's nod has a big downside among voters overall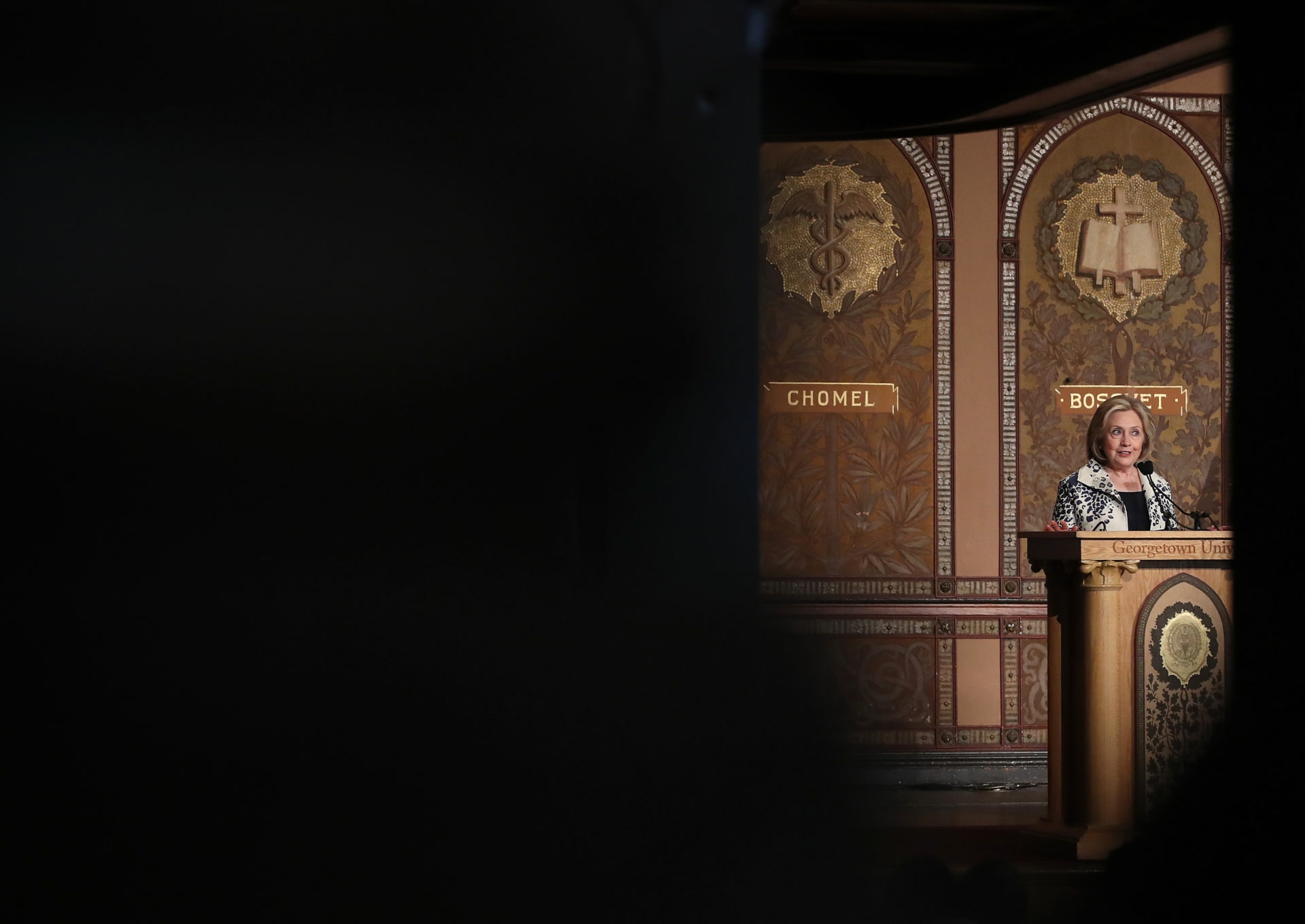 Key Takeaways
52% of Democrats said they'd be more likely to back a candidate endorsed by Clinton, down 13 points from early 2018.

Endorsements from Barack and Michelle Obama have the biggest upside among Democrats and voters overall.

Party leaders' political clout has generally fallen since before last year's midterms.
Hillary Clinton waded into the 2020 Democratic primary conversation last week, implying in an interview that Rep. Tulsi Gabbard of Hawaii -- a Democratic presidential candidate -- was a "Russian asset" being groomed for a third-party run.  
Clinton's critical comments on former White House staffer David Plouffe's "Campaign HQ" podcast sparked a feud between allies of the party's 2016 standard-bearer and one of the lowest-performing candidates in the race, with several other contenders coming to Gabbard's defense. But a new Morning Consult/Politico poll finds that Clinton's clout among Democrats has fallen since early 2018, with voters generally less swayed by endorsements from party leaders than they were before the midterms.
The Oct. 18-21 poll found 52 percent of Democratic voters said they would be more likely to support a candidate endorsed by the former secretary of state, senator and first lady, down 13 percentage points from an early 2018 poll. And the share who said her endorsement would make no difference to their voting intentions rose 11 points, to 27 percent, during that time. That increase was among the largest measured of any Democrat in the survey, and coincided with similar movement regarding her husband, former President Bill Clinton.
Both surveys sampled at least 667 Democratic voters, with 4-point margins of error for the subgroup.
While an endorsement from Hillary Clinton could help with voters ahead of the Democrartic primary, it could bring political pain in a general election: Forty-one percent of registered voters in the poll said they would be less likely to support a candidate endorsed by Clinton, more than any other Democrat tested and matching the negative impact of President Donald Trump's endorsement on the overall electorate.
"There are very few endorsements that wouldn't come with some downside," said Nathan Gonzales, a nonpartisan political analyst and publisher of Inside Elections. "I'm not sure who said it first, but with endorsements, you get some of that person's friends and all of their enemies." 
For now, it is not clear whether any of the top performing Democratic candidates -- former Vice President Joe Biden, Massachusetts Sen. Elizabeth Warren, Vermont Sen. Bernie Sanders, South Bend Mayor Pete Buttigieg of Indiana and California Sen. Kamala Harris -- are seeking an endorsement from Clinton. The five campaigns did not respond to requests for comment, and neither did a spokesman for Clinton. 
Sean McElwee, a progressive activist and co-founder of the progessive research firm Data For Progress, said a top-tier presidential campaign's list of endorsements -- once a signal of a candidate's strength -- has lost some of its value. He noted New York Rep. Alexandria Ocasio-Cortez's endorsement of Sanders over the weekend as an example.
"If Sanders was a politician that a lot of people didn't know, this would be really important," he said, but "most Democrats have a sense of what Sanders is all about."
That kind of endorsement would have more strength with a lesser-known candidate, such as those running further down the ballot, he said, while full backing from someone like former Senate Democratic Leader Harry Reid of Nevada -- who still carries sway with the labor unions that are often the key to a candidate's success in winning the state's caucuses -- would be more useful for a major candidate in a competitive presidential primary,. 
Conversely, "it's not clear" what a Clinton endorsement "signals to voters" or whom it would mobilize, he said.
According to the poll, the most potent endorsements are those of former President Barack Obama and first lady Michelle Obama. The Obamas carry more positive sway with Democratic voters -- and voters overall -- than any of the other eight Democratic names tested, including the three top presidential contenders, Ocasio-Cortez and her fellow progressive freshman Reps. Ilhan Omar (D-Minn.) and Rashida Tlaib (D-Mich.).
Seventy-three percent of Democratic voters said they would be more likely to vote for a candidate endorsed by the 44th president, and 70 percent said the same of the former first lady. And unlike with the Clintons, the poll found that an endorsement from either of the Obamas is a net positive among voters overall for candidates running for public office. 
However, even political figures as popular as the Obamas have seen their endorsement clout wane compared to more than a year ago, with the share of all voters who said their endorsements would make "no difference" rising 6 points during that time.
Eli Yokley is Morning Consult's U.S. politics analyst. Eli joined Morning Consult in 2016 from Roll Call, where he reported on House and Senate campaigns after five years of covering state-level politics in the Show Me State while studying at the University of Missouri in Columbia, including contributions to The New York Times, Politico and The Daily Beast. Follow him on Twitter @eyokley. Interested in connecting with Eli to discuss his analysis or for a media engagement or speaking opportunity? Email [email protected].
We want to hear from you. Reach out to this author or your Morning Consult team with any questions or comments.
Contact Us