Warren's Support Persists Despite Attack-Heavy Democratic Debate in Ohio
Pre- and post-debate polling shows no measurable shift in first-choice support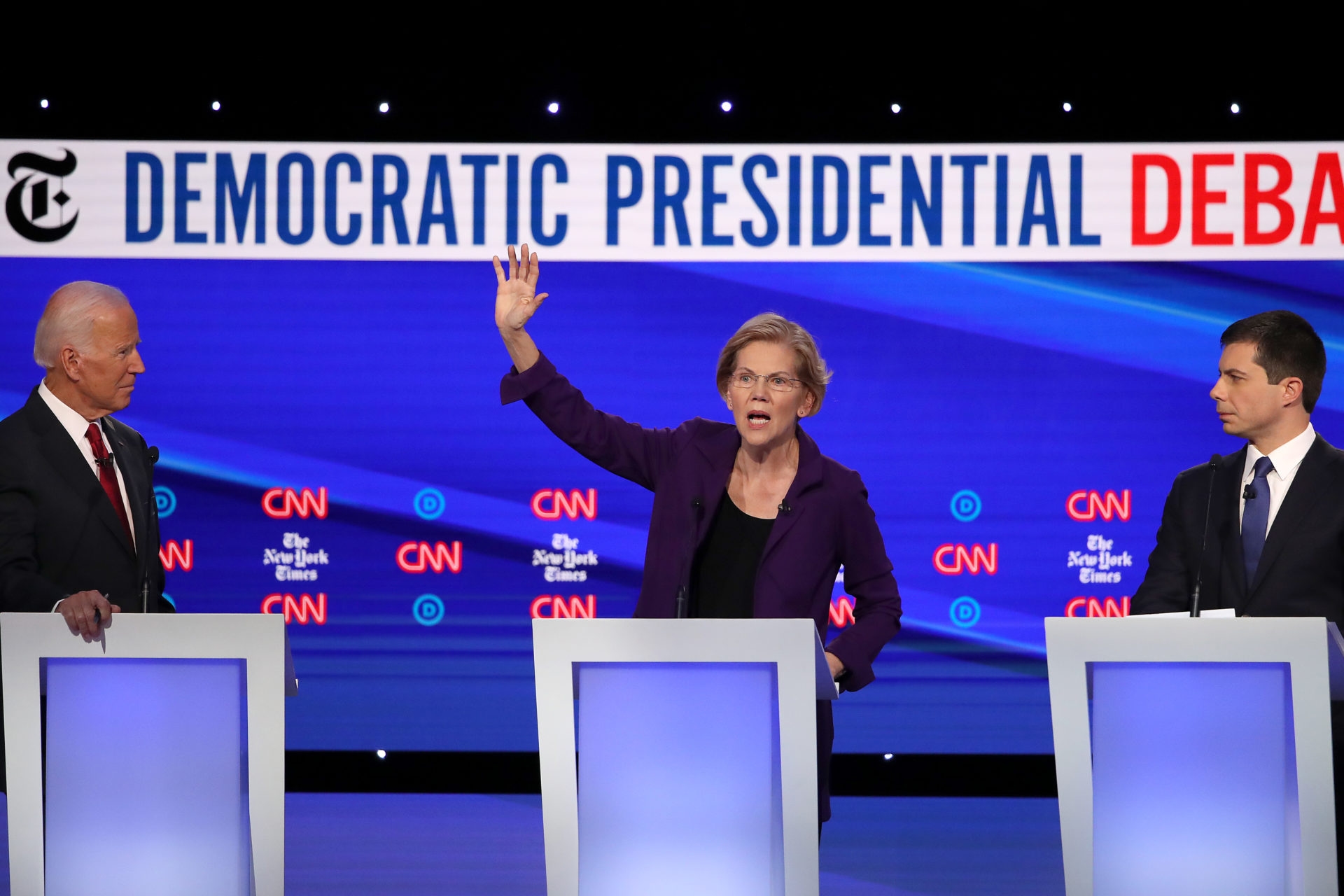 Sen. Elizabeth Warren (D-Mass.) faced an uptick in broadsides from her opponents in Tuesday's Democratic presidential debate, but it did not impact her standing among the party's primary voters.
According to a Morning Consult poll conducted Wednesday, what happened onstage in Westerville, Ohio, did little to change the state of the race, with former Vice President Joe Biden still holding his lead in first-choice support among Democratic primary voters, at 31 percent, and Warren in second place with 21 percent.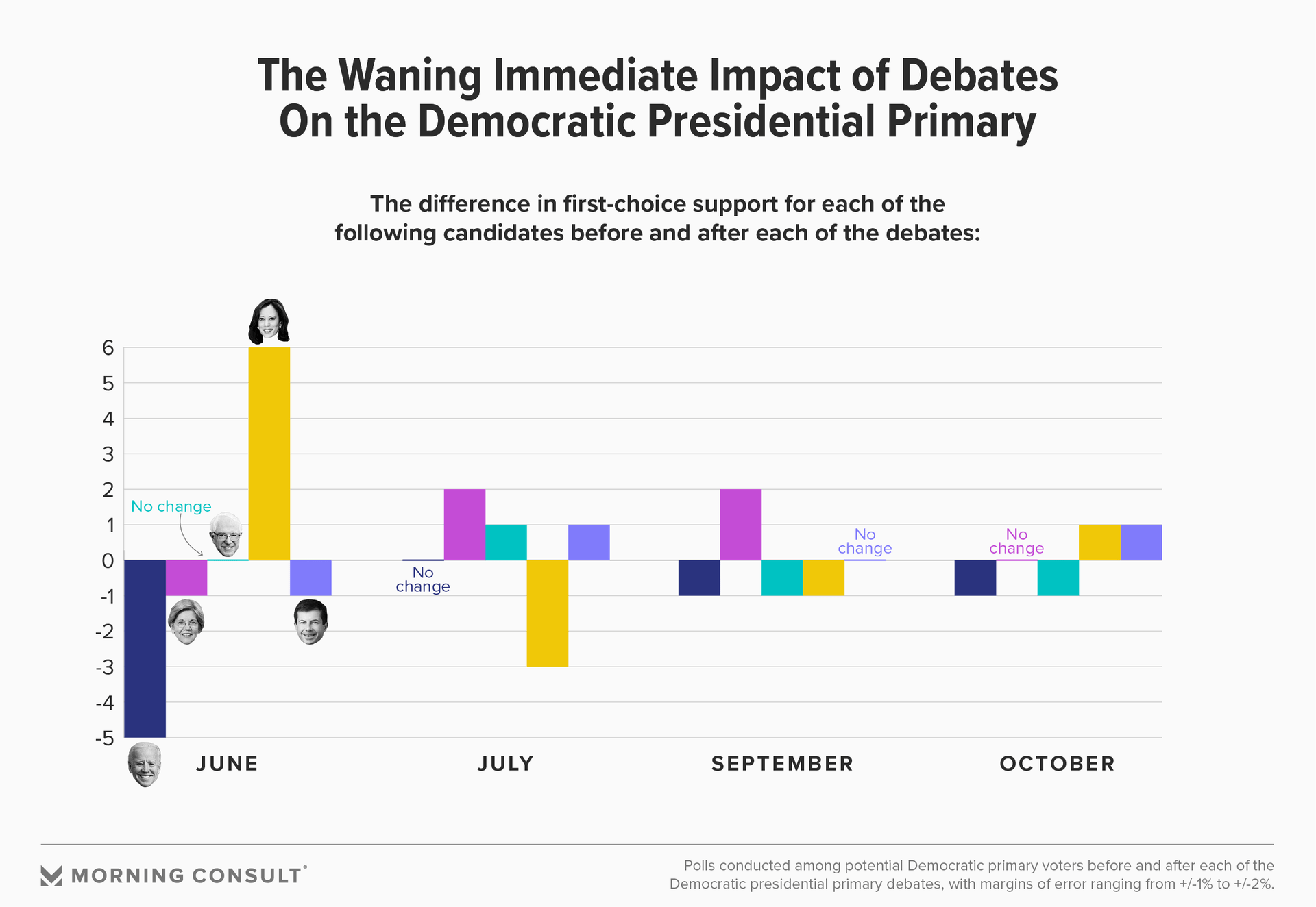 The poll, which surveyed 2,202 registered voters who indicated they may vote in a Democratic primary or caucus in their state, registered less movement among the race's top contenders than was seen before and after the previous debates in June, July and September. 
Viewership for the Oct. 15 debate -- which came the same night as Game 4 of the National League Championship Series -- was down compared to the earlier ones, though it still remains higher than in previous years. According to CNN, which hosted the debate with The New York Times, there were 8.3 million viewers on television, down slightly from the 9.7 million viewers averaged over the two nights of debates the network hosted in July. Online, CNN said it drew 9.4 million livestreams, up significantly from an average of roughly 3 million streams in July.
First-choice support for all of the candidates on the stage did not change beyond 1 percentage point, inside the survey's 2-point margin of error, leaving Vermont Sen. Bernie Sanders (18 percent), California Sen. Kamala Harris (7 percent) and South Bend Mayor Pete Buttigieg of Indiana (6 percent) to round out the race's top five candidates.
But it was not for lack of trying: Buttigieg took direct aim at Warren for not giving a clear answer on how the federal government would fund the "Medicare for All" proposal she supports, and Biden -- who criticized the spending increases that would be required to pay for it -- sought to take credit for corralling the Senate votes that helped create the Consumer Financial Protection Bureau, which Warren spearheaded and has championed. 
While the debates have had little immediate effect on the state of the race, things have shifted in Warren's favor and away from Biden's since before the first round of debates, in Miami, on June 26 and 27. 
Biden's share of first-choice support has dropped 7 points since June 23, while Warren -- who has received the highest average debate score in Morning Consult/Politico post-debate polling and went into Tuesday night with higher expectations than ever -- has strengthened her position by 8 points. Harris, who saw a brief spike in support after the first debates, ended the fourth debate essentially where she began the summer, while first-choice support for Buttigieg and Sanders has not changed during that time period. 
Eli Yokley is Morning Consult's U.S. politics analyst. Prior to his current role, Eli was Morning Consult's senior reporter covering U.S. politics. Eli joined Morning Consult in 2016 from Roll Call, where he reported on House and Senate campaigns after five years of covering state-level politics in the Show Me State while studying at the University of Missouri in Columbia, including contributions to The New York Times, Politico and The Daily Beast. Follow him on Twitter @eyokley. Interested in connecting with Eli to discuss his analysis or for a media engagement or speaking opportunity? Email [email protected].
We want to hear from you. Reach out to this author or your Morning Consult team with any questions or comments.
Contact Us