As Letterman Returns to TV, His Favorability Near Top Among Late-Night Show Hosts
Letterman's monthly interview series is Netflix's second attempt at talk show genre
Key Takeaways
55% of Morning Consult poll respondents have favorable views of Letterman.

Jimmy Fallon of NBC comes in at 59%; Jimmy Kimmel of ABC at 56%.
While Netflix's new interview series, "My Next Guest Needs No Introduction With David Letterman," has a high-profile lineup of guests -- including former President Barack Obama and hip-hop mogul Jay-Z -- the real draw might be the return of the host himself.
The show marks a return to television for Letterman, who retired from CBS' "Late Show" in 2015 after a 22-year run. Nearly three years later, the host carries a 55-percent favorability rating in a Morning Consult survey of 2,201 adults conducted Jan. 9-11.
That's comparable with his some of his former late-night rivals currently on the air, such as Jimmy Fallon of NBC's "Tonight Show Starring Jimmy Fallon" (59 percent favorability rating), and on par with Jimmy Kimmel of ABC's "Jimmy Kimmel Live!" (56 percent). The poll's margin of error is plus or minus 2 percentage points.
Letterman, a 33-year veteran of late night TV, including a previous stint on NBC, beats other current late-night show hosts in recognition and favorability, including his successor at "The Late Show," Stephen Colbert (45 percent), NBC's Seth Meyers (44 percent) and TBS' Conan O'Brien (49 percent).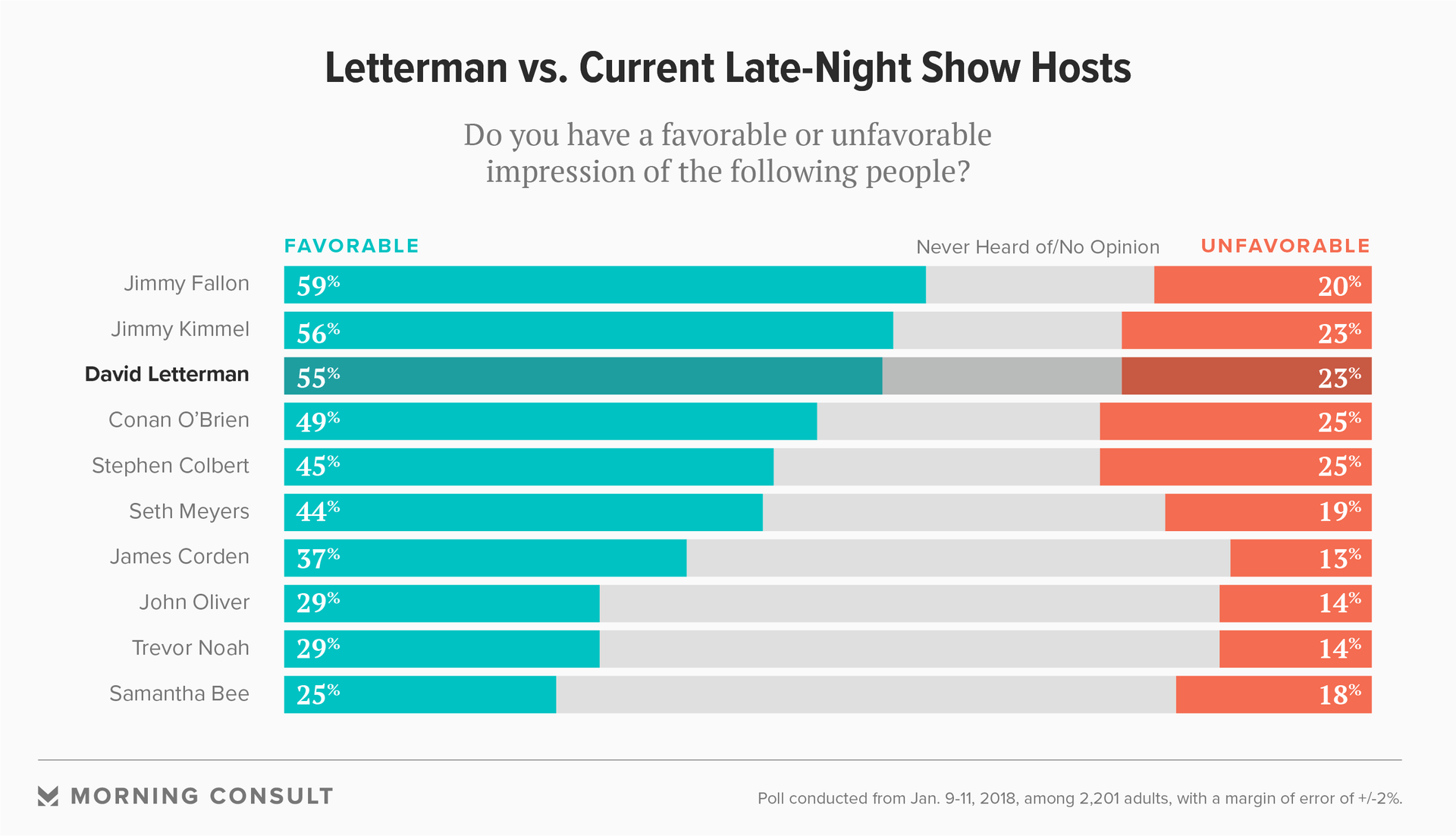 Letterman's monthly interview series will be another go at the talk show genre for Netflix, which ran Chelsea Handler's show, "Chelsea," for two seasons.
In the Morning Consult poll, 30 percent of Netflix users said they plan to watch the new show, with 43 percent saying they do not plan to. 
Netflix, which had a 94-percent favorability rating from its users in the recent poll, has about 52 million U.S. subscribers. 
Streaming services are still trying to define how best to translate certain aspects of television to their sites, said Tom Nunan, a former president of both UPN and NBC Studios and executive producer of the award-winning film "Crash." Nunan is also the founder and partner of Bull's Eye Entertainment.
"Traditional talk feels antithetical to streaming services that are not day-by-day-reliant," Nunan said in a Jan. 11 phone interview. "That's completely contradictory to streaming culture, which is a bingeing culture that's not news-oriented."
Nunan, who also lectures at the UCLA School of Theater, Film and Television, said Letterman's new show should be evaluated as something different: monthly deep dives, rather than the nightly talk shows he is better known for. The Netflix series includes a live audience but few of the other limitations of late-night TV such as scheduling or location constraints.
The host's years of practice in long-form interviews could be the draw for viewers, said Vincent Favale, senior vice president of "Late Night" at CBS who joined the network in 1996 and oversaw "Late Show with David Letterman" through its final episode in 2015.
"Dave is an amazing interviewer: smart, inquisitive and very funny," Favale said in a Jan. 12 email. "I think not being restricted by the time limitations of the traditional late night format will make for a new kind of interview show that only Dave could do."
The first episode of "My Next Guest" premiered Friday as a conversation with former President Barack Obama, his first talk show appearance since leaving the White House. In the 56-minute episode, Obama pokes fun at Letterman's new "biblical"-looking beard and discusses life after the Oval Office, the civil rights movement and his relationship with his mother.
Prior to its airing, the interview generated widespread interest in the public reappearances of both Letterman and Obama, who received a 56-percent favorability rating in the Morning Consult poll.
Among Netflix users, 45 percent said Obama was the guest they were most interested in watching, with actor George Clooney coming in second at 16 percent. Future guests in Letterman's series include Pakistani activist and Nobel Peace Prize laureate Malala Yousafzai, comedian and actress Tina Fey and radio and television personality Howard Stern.
Nunan said viewers who watch the show are likely to watch it because of Letterman, not the guests. When Nunan was working on "The Tonight Show with Jay Leno," "only once in a blue moon" did the guests tip the needle in the ratings, he said.
Netflix did not respond to a request for comment.
Anna Gronewold previously worked at Morning Consult as a reporter covering finance.
We want to hear from you. Reach out to this author or your Morning Consult team with any questions or comments.
Contact Us